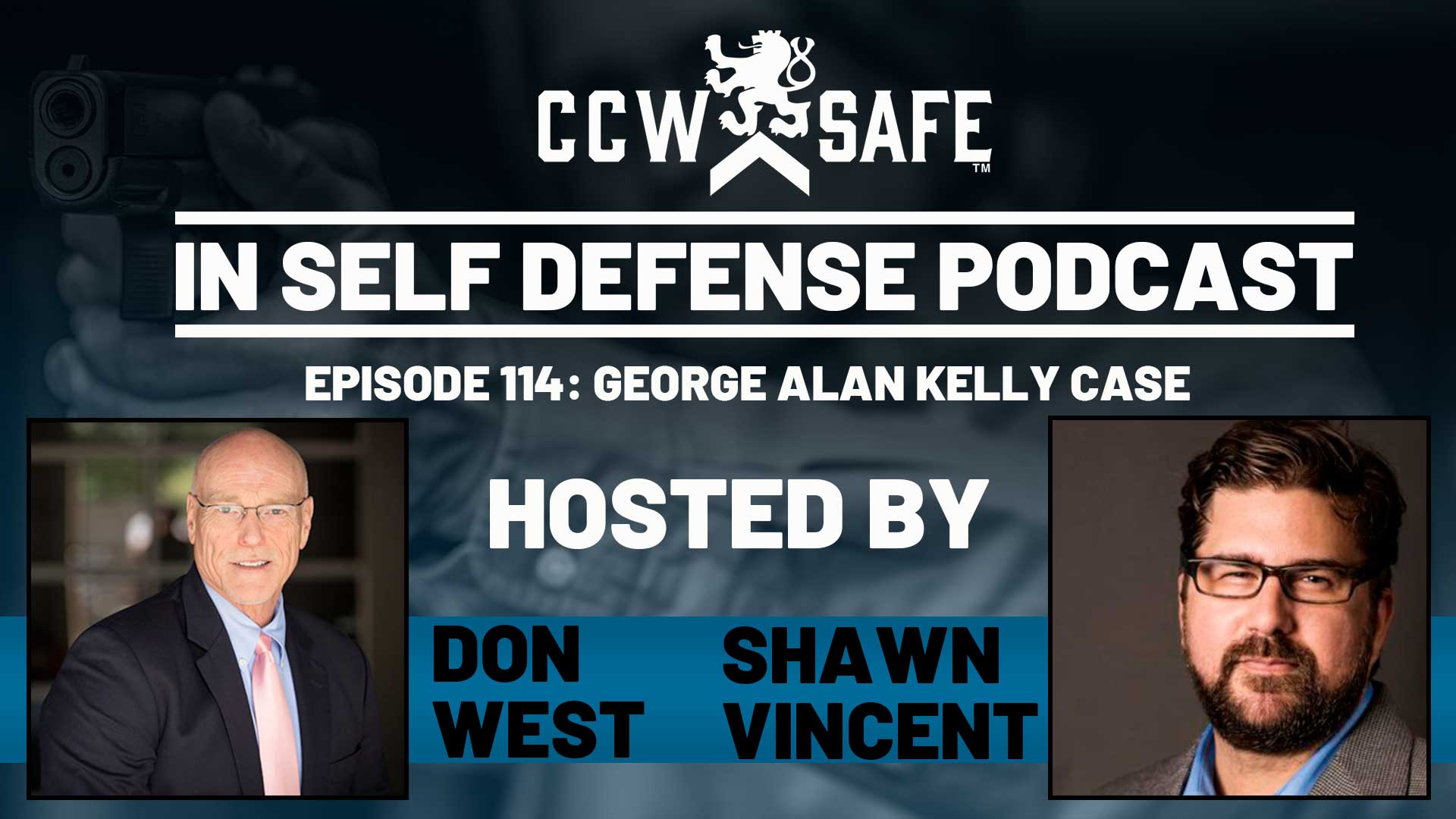 Posted on May 30, 2023 by Justin Collett in Uncategorized
In Self-Defense Podcast 114: The George Alan Kelly Case
Don West and Steve Moses join Shawn Vincent to discuss the case of an Arizona rancher accused of murdering a migrant who was part of a group that crossed the border illegally and trespassed on his property. 
Transcript:
 Shawn Vincent:
Hey everybody, this is Shawn Vincent. Thanks for listening to the podcast today. We'll be exploring the case of George Alan Kelly, perhaps you've heard of it, it's a high-profile case out of Arizona. Kelly is a 73-year-old rancher. His ranch, 170 acres, is just yards away from the Mexican border. He's been arrested on charges of murder. The allegation is he shot and killed a member of a group of migrants who had crossed the border illegally and were on his ranch. He claims that they were armed. He claims that there was a shot fired before fired his shots. It's an interesting case. It brings up important questions about using firearms to defend your property and how your defense of home considerations might be different if you're on a remote expanse of land than if you're in a suburban neighborhood.
Also, there are themes of prairie justice in this. There are allegations that George Alan Kelly was just simply tired of migrants illegally crossing the border and using his property to further their alleged crimes of drug trafficking or human trafficking. And then this is a warning shot case in many ways. George Kelly claims that he fired a warning shot at this group, or several warning shots from his AK-47, discovered only later on that day that one of the people had been struck with a bullet and killed. The case gets more complicated from there. There are a lot of interesting twists in this. There's still a whole lot we don't know. This case is unfolding. It's in the court system, and is currently scheduled for trial in September of 2023. We'll probably revisit this a couple of times as more information comes out. We do the best we can with the information we knew in this podcast to draw some lessons for armed defenders and concealed carriers.
We're going to be joined by Steve Moses. He's a CCW Safe contributor, a well-regarded firearms instructor. He'll talk about some of the tactical challenges that George Kelly faced in this incident and we'll talk, of course, to Don West. He's a venerated criminal defense attorney and national trial counsel for CCW Safe and he'll give us some insight into the very unique legal challenges that Mr. Kelly faces in this case. So here we are. It's my conversation with Don West and Steve Moses on the George Alan Kelly Case.
Shawn Vincent:
Today we're going to talk about the case of George Alan Kelly. He's an Arizona rancher and he's just been charged with second-degree murder for shooting a migrant who was illegally crossing the border. His property is on the border. He's been plagued with his problem. Before I read that he had called the, I don't know, the official bureau in charge of the border, dozens and dozens of times over the course of the last couple of years reporting these things. And on this particular day, he claims that he was having lunch with his wife when a group of men encroached on his property.
And Don, you read the pleading that his lawyer filed that details his testimony pretty clearly. He sends his wife inside. He feels that what he thinks is the leader of this group is armed with an AK-47 and he fires what he describes as warning shots to get them to leave his property, and they leave. And we'll get into some more of this detail, but there are a number of phone calls made to the authorities who are in charge of the border about this. And it's not until later in the day, near sunset I believe, that he discovers about 100, 120 yards maybe from his house, the body of one of the people in that party, shot in the back. And then he called it in and said that the body was on his property. You want to fill in some details there, Don.
Don West:
I got a copy of the statement that his attorney filed with the court, I think it was prior to the preliminary hearing. At that point, Mr. Kelly had actually been charged with first-degree murder, premeditated murder, under Arizona law. Later then it was reduced to second-degree murder and added two counts of assault with a deadly weapon, which is what he currently is faced with in the trial court, but …
Shawn Vincent:
The assault with the deadly weapon would be for the other people in the party, right?
Don West:
Yes, as I recall, the deceased, of course, is the alleged victim of the shooting, but then there were two other individuals who claimed that they were present and saw him pointing the gun, firing the gun in their direction if not at them, but they were not struck and not injured. So this thing happened really fast, meaning charges were brought right away. The highest charge, first-degree premeditated murder, was brought right away, long before the forensics were done, probably long before there was an exhaustive investigation into potential witnesses. One of the witnesses that wound up testifying was actually interviewed in Mexico. They each may have their own sort of agenda and bias, but nonetheless, there was evidence presented that George Alan Kelly fired the gun, at them, in their direction, and that of course one of them was killed and found deceased on the property some hours later.
There is no bullet that has been recovered from the body of the deceased, apparently, it was a through-and-through round. So there's no way at this point, in order for the ballistics work to be done specifically as to his weapon. There were some cartridges, some empty casings rather, found in the area of his porch. And that was more than a hundred yards away from where the body of the deceased was found. It's my understanding that following up there was a more exhaustive search. I think there have been now a total of three search warrants executed at his house, including ATF's involvement with … Steve, you may know more about this, with their ATF canine unit. And my guess, without knowing more … there is, they have trained dogs that can help identify gunpowder or explosives, or something that they would use the dogs for to try to find casings in the general area where the deceased was found.
Because one of the witnesses claims that Mr. Kelly was only about 10 feet away when the shot was fired. And yet there were no casings found in that area in that proximity, as I understand it. So there are lots of facts unknown, lots of facts in dispute. Shawn, I think you may have mentioned, if not you were going to mention it no doubt, there was a radio, a communications radio, found where the deceased was found. He was wearing tactical boots and I believe camouflage clothing. They were described earlier as having large backpacks. So there are all sorts of issues. Were these individuals part of human smuggling? Were they crossing the border to make their way into the United States to stay? Or were they part of a drug smuggling group and the backpacks may have contained fentanyl or who knows what? I think it's sort of commonly understood that these human smuggling things aren't necessarily going to be violent, that it happens so often, people often see these groups coming across the border and moving around.
On the other hand, there's also a lot of drug activity and cartel activity where it's highly likely that they are armed and serious, and more than capable of defending themselves vigorously if they're approached. So we have a radio, we have the sighting that one or more of them had guns. On the other hand, we have some witness statements that they were just on the property passing through. So I'm going to be really interested to see how the forensics play out. But right now, George Alan Kelly was arrested for first-degree murder. He had a $1 million cash bond that he could not post. It was later changed to a surety bond so that he could post it using property and other pledges of collateral. So he was released and is currently not in jail waiting for the case to move forward in the system. As an aside, I was very impressed, am very impressed so far with his legal counsel, a woman named Brenna Larkin, who has done a bang-up job so far from what I can tell and is thorough and aggressive, but she has her work cut out for her.
Shawn Vincent:
Steve, what about this case caught your attention? Besides what Don's mentioned already.
Steve Moses:
I would love to see a picture of where this took place. I'd like to see a picture or photo of where he was allegedly standing, and where the body was found, and where he thought they were when he allegedly fired warning shots. If it was mesquite trees, you would see a lot of that down around the border.  There are some open areas, but there are also a lot of mesquite trees. There can be cactus, all this other stuff. Any of those when struck can affect the trajectory of the bullet. There are people that say, "Well, I want a brush gun." And typically what they're talking about is a big, powerful, slow-moving bullet, because 
they said it'll punch through brush.
Well, the other thing, it can easily be deflected. It can deflect those bullets, especially true with a relatively lightweight and fast-moving round, like a 7.62x39mm bullet, somewhat aerodynamic. And regardless of that bullet's construction, if it's struck a limb, or punched through some brass, I mean through some … Oh, we'll just say light limbs or leaves, or stuff like that, it could very well have deviated. It could have upset the trajectory. There are just all sorts of things that could have taken place. And without seeing that bullet, I don't think we'll ever know.
Shawn Vincent:
Most self-defense cases are affirmative defense cases, which means that the armed defender admits, "Yes, I shot that person, but I did so justifiably." And in this case, the lawyer's propositioning that, in fact, the person who was killed may not have even been killed by Kelly's bullet at all. And that even if he was, Kelly was justified. Don's going to give us a few of those theories of the case.
Shawn Vincent: 
We've got a lot of inconsistent testimony on both sides here. There are still investigations going on, there's still analysis going on. A lot of things that we don't know. A lot of facts are being contested by both sides. And so we're going to begin our conversation on this case without a real solid understanding of what kind of things a jury will ultimately look at in this case and be either stipulated to or to be substantially proven true. And so that means we approach this in a lot of ways looking for lessons for armed defenders and concealed carriers with hypotheticals.
And we are also … Don, you and I defend people in court, we're innocent-unless-proven-guilty kind of guys, and we're advocates for armed defenders. And so I think in this conversation we are going to give a lot of credibility to the defender's testimony I think, and a lot of our discussion will move forward as if that's factual, and we'll talk about some of the lessons we can draw from that. But before we're done, we'll consider what the state's position is. And if their facts are true, or substantially true, we'll discuss what that would mean and maybe pull some different lessons from that. Does that sound fair?
Don West:
It does. I would like to just identify several different theories that are still in play right now as the case is being investigated so that we can touch upon those as maybe the conversation would suggest.
Shawn Vincent:
Sure.
Don West:
So the way that Mr. Kelly's lawyer offered it in her pleading with the court, and I'm going to assume that's his story at this point. And she would be reckless if she didn't verify as much of that as she could, prior to putting it out there, she doesn't have an affirmative requirement to offer his statement at this point. We know that if there's a self-defense claim being made, there needs to be some evidence of self-defense in the record. But this isn't a trial. The preliminary hearing wasn't a trial, it was for the judge to find probable cause only. It's not where you put up your defense necessarily, but she put this in the record and essentially argued that. So we'll start there. And also of course said that some of the information that was offered by law enforcement was somewhat inaccurate or incomplete, or misquoted Mr. Kelly about certain things. And then there was some testimony from the two witnesses, the people that were in this group that were moving through the property.
Shawn Vincent:
Sure, sure. One of which appeared in court with glasses and a hoodie drawn tight and referred to only by his initials, which is, I think as a defendant, kind of distressing to see someone testifying against you who the state won't let be identified.
Don West:
Yes, yes, of course. So let me just point out I think three possible scenarios that will have to be explored and then ultimately included or excluded. 
Kelly's theory is that he heard the shot and that's what got his attention to these men that were moving through his property, in camouflage, with backpacks, and what he described through his lawyers pleading as the leader pointing an AK-47 at him. That's what prompted him to fire a number of rounds well over their head, basically saying he couldn't possibly have fired the fatal shot, because he purposefully fired them way over his head. So the lawyer's theory is that shot that he heard, which got his attention to this group, was fired by one of the drug traffickers or someone else involved in this. And that Kelly in fact didn't fire the fatal shot at all, it was fired by somebody else.
Shawn Vincent:
Sure. And if they never find the bullet, there's no forensic analysis that could link that to his rifle. And the contention is they were all armed with AK-47.
Don West:
That's right.
Shawn Vincent:
So it could have been not even his bullet at all. That's some reasonable doubt that you definitely want a jury to consider later on.
Don West:
And then there was the pile of casings near his porch, which would suggest that if the shooting was from that distance, that's well over a hundred yards away from where the deceased was discovered. Another theory is that, from the testimony of one of the witnesses, Mr. Kelly wasn't on the porch when the fatal shot was fired and some of the other shots. He was down near them and jumped out at them, kind of ambushed them, came out behind bushes, and fired a number of shots at them, including the one that killed the individual, from only a few feet away, maybe 10 feet away, there was a number of shots. And that this witness identified Kelly and also claimed to have seen his stricken friend in his last moments as he fell forward and then died. It's curious that he no longer had the backpack when he was found. And we don't know what else he didn't have when he was found, that he may have had before, like an AK-47.
But nonetheless, that scenario puts Mr. Kelly within just a few feet of these guys, as if he left his porch, went out past his property barn, and then got up close to them before he started firing. It's my understanding, at this point, there haven't been any shell casings found in that general area. And that's why I think that ATF dogs were brought out maybe, or maybe metal detectors, who knows what forensic efforts will be made to identify the actual location where Mr. Kelly fired shots, and he obviously admitted that he has.
And then the third scenario is the one that Steve, I think, probably ascribes to more than the others. And that is that he was firing over their head, thought he was firing over their head, wasn't necessarily trying to hit anyone, but was in fact trying to scare them off from his porch or some distant spot, and one of the rounds went astray, and he accidentally killed this guy, when his purpose was actually just to run them off. So I think you've got theory one, he didn't kill anybody. The shot that was fired was fired from one of the group. Number two, that the witness who claims he was only a few feet away, hasn't been corroborated, that story doesn't have any substance to it.
In fact, that same witness said in addition to shooting at them, Mr. Kelly also shot a horse. Well, there's no dead horse out there either. So that story gets pretty crazy and not reliable. He got the locations wrong and almost as if he was being too helpful trying to fill in the blanks. Of course, he was in custody, so he has a high incentive to get favorable treatment by the system. And then of course the other theory, the one that actually makes sense legally, if he's charged with second-degree murder, which he now is, and that is it was just a stray shot. His goal may have been to scare them off, but in fact, he missed missing and actually wound up shooting the guy.
Shawn Vincent:
So we have the state saying that Kelly was just shooting wildly at these intruders without regard for human life and that makes him guilty of second-degree murder. Kelly's attorney is saying that, "Hey, we think this guy was shot by someone else's bullet. You can't prove that it was Kelly's bullet that did it." And even if that defense fails, we've still got the traditional self-defense argument that Kelly was justified in using deadly force. Here's more on that.
Don West:
So of course the state's going to have to prove that it was George Kelly's bullet that resulted in this guy's death. If they can't prove that, then the case ends at that point I would think, at least the murder case does, maybe the assault cases would continue in some way. But they're going to have to connect the dots on that. And if they don't have direct evidence, then the state would have to rely on circumstantial evidence to connect the dots on that.
Shawn Vincent:
And we know, from what we've read, that that bullet entered and cleanly exited the body of the decedent. So that means if the state's case rests on them being able to find and prove that was the bullet that killed him, gosh, well that bullet could be anywhere. Steve, what do you know about the ballistics of an AK-47 round?
Steve Moses:
We're talking about a high-powered 7.62×39. It's probably just a typical AK-47 round with a heavy copper jacket, they tend not to deform. The bullet, when it hits somebody can typically do one of two things. It either punches straight through, or in some instances the bullet starts tumbling, or what they call yawing, and it becomes a relatively devastating entry when that takes place. So what we could very well have is a circumstance where that bullet went straight through and oh, maybe went a hundred or more yards. There's a decent possibility that that bullet is now in Mexico.
Shawn Vincent:
Now Don, I want to clarify something you said there, because if they can't prove that bullet was his, which means… And they'd have to find the bullet to do that, or they'd have to rule out beyond a reasonable doubt that there was any other guns involved there. So just as a point of procedure there, can the state move forward with this question, the defense saying, "It was someone else's bullet, he was shot by the drug cartel, not by our guy," if they can't prove it? I just wanted you to expound on that a little bit more, is the circumstantial evidence that that could've been his bullet enough to take it to a jury?
Don West:
I think it's enough to take it to a jury. I don't think a judge is going to have the intestinal fortitude to dismiss the case based on that. But I don't know, I shouldn't speculate like that. But my guess is the circumstances are close enough in time that Mr. Kelly admitted firing a number of shots in the general direction of these guys, his defense to having not hit one of them is, "I'm sure I didn't because I pointed the gun so high in the air." Maybe, maybe not. If there is a similar wound that would be made by the gun that he admits he has, in other words the AK-47 he admits he fired, can't be excluded as the gun that caused the fatal injury, then you've got another piece of that puzzle. And I think the question becomes, is all of that circumstantial evidence consistent with guilt or not? If it's consistent with guilt, sure, that's enough to prove that he fired that shot, at least enough to get it to a jury.
If there's clear evidence that's inconsistent with guilt, then it doesn't take a whole lot of circumstantial evidence, inconsistent with guilt, for the conclusion to be unreliable. So for example, if there's a clear forensic determination that the fatal shot could not have been fired by an AK-47, then I think that's very helpful to Mr. Kelly. So I don't know. I don't think we know enough yet. I think that that's probably why the ATF has gone out there with their dogs. My guess is there's going to be a lot of metal detector activity in that area trying to find a projectile. But of course, even if they do find a projectile, how are they going to know? Unless it's clear there's blood on it or something that connects it to that particular shooting.
That's an interesting aspect of it. I think everyone sort of assumed when they heard the story that yes, he fired at these guys, and tragically one of his rounds hit and killed this guy, otherwise, we wouldn't be here. But that has to be tested and challenged, and it's the rightful job of the defense lawyer to be sure that Mr. Kelly isn't convicted unless the state can in fact meet its very high burden of proof. And that doesn't have anything to do with whether or not there would be a separate claim of self-defense. This is a weird case because he said, "First of all, I didn't do it. I'm not the guy that shot him." But I think the subtext is, and his lawyer would say, "but even if he did, he had the legal right to do that, because it is in self-defense."
Shawn Vincent:
We talk about in this podcast, we've explored warning shots a lot, and our conclusion has been that they're almost always a bad idea. And if we are going to assume that this defender was intentionally firing warning shots, then this teaches us a lot of good lessons on why our conclusion's probably correct
There are two scenarios here, if they were warning shots. One is that one of them inadvertently struck and killed somebody while they were running away from him on the property. Or he's going to be charged for somebody being shot that he didn't shoot, but the circumstantial evidence is there because he was firing warning shots, right? If someone else, a drug cartel, shot this guy, now he's suspected of this guy's death because he was firing shots by his own admission on his property. The guy's just in a world of hurt. If he hadn't fired, if he didn't intend to stop the attackers … Steve, let's go back to gun handling 101. Why don't you fire if you're not firing to stop an attacker?
Steve Moses:
First of all, let's just say from a tactical perspective, in that I want these people to break contact. The fact that I fired a warning shot is very much an indication that I may or may not be willing to shoot them. And I think we've seen in the past some instances where people were actually threatening other people with guns, and the response of the person that we'll call the criminal offender was, "Oh, I don't think you're serious about it." So we talked about… There were several instances where people would actually try to come up and take rifles away from the armed homeowner, because they thought that person did not have what it takes to shoot them. So that means "I'm really going to be reluctant to shoot you."
The second thing is that, in many instances, that is a felony. That is, you've committed aggravated assault. Arguably, depending upon where the round, actually the trajectory of the round, that could be considered attempted murder. And finally, we see where people fire warning shots, now sometimes I'm not sure whether they said it was just a warning shot or it actually was a warning shot, and someone died. In this particular instance, we see Kelly saying, "I fired a warning shot" and there is a dead person on his place. So that automatically puts him in a very, very bad place. And that's probably part of the reason we're having this discussion.
Don West:
One last thing on this kind of scenario where your claim is there are a whole bunch of people outside of your house with AK-47s and you don't really know what their intent is, and you know from the area you live in, and what you read and what you've seen in the past, a lot of these people are passing through. It's more likely probably they're passing through in their drug trafficking or their human smuggling than they are targeting you specifically, that they showed up on your property to come get you. And what is likely to happen if all of a sudden these people, committing crimes, but not intending to commit them against you, but rather to use your property to go somewhere else, what happens when you start shooting at them? They have the flight or fight mental state too. They've got to do something. They either have to hightail it out of there, or they have to, in their minds, defend themselves.
Shawn Vincent:
And Don, he's facing these assault charges which are pretty serious on their own. There are no assault charges in this case if he doesn't fire warning shots. A warning shot can be charged as an attempted murderer perhaps, as an aggravated assault, which is serious on its own, even if nobody is struck.
Don West:
Well, we remember Marissa Alexander from Jacksonville whose defense was "I fired a warning shot" at her estranged and violent husband. And of course, the prosecutor framed it as "It wasn't a warning shot, she missed." So you always have that issue, separate and apart from what your actual intent was. But let's make it clear that when you fire a gun, you have gone from displaying, brandishing, the threat to use deadly force, to actually using deadly force. When you fire the gun you have now used deadly force, whether your intent was a warning shot or whether your intent was to actually hit the person.
So first of all, he made that decision. He may not have known that's what he was doing legally, but by firing the gun, he then used deadly force. So the question becomes, was it justified? Or would he be given the benefit of the jury if they were looking at whether they could justify, even if legally it didn't really support it, could they give him a break in this instance? And maybe if he were only charged with assault, they might, thinking that, "Well, look at where this guy was and these people." Even if they believe his story, that these guys were out there with guns, they're going to have to really want to bend in his favor to justify him firing shots in the general area of these guys, even if he didn't hit anybody.
Shawn Vincent:
Remember from the Michael Dunn case, the shooting of Jordan Davis, he had the trial twice, because the jury mistrialed on the murder charge for shooting Jordan Davis. But that first jury, even though they couldn't decide on the murder charge, was in agreement that the shots he fired at a retreating vehicle were attempted murder. And he was convicted for shots that struck and hurt nobody, even when they couldn't agree on the murder charge there.
Don West:
I think that we have to address whether or not he had the right to shoot the person that he believed was pointing an AK-47 at him.
Shawn Vincent:
Sure. And the core legal justification for the use of deadly force is that the shooter feels that there is an imminent threat of great bodily injury or death at the hands of another. And so Steve, nuts and bolts, tactically, does somebody with a rifle at a hundred yards pose an imminent threat of great bodily harm or death?
Steve Moses:
I would say absolutely they can pose a threat and I would say, how imminent it is, I would say extremely imminent. I would be very, very concerned about someone pointing a rifle, much less shooting at me, from a distance of a hundred yards.
Don West:
Interestingly, I wonder how much his own perception and the reliability of that perception enters into this. His claim was that the person that was the leader, pointed an AK-47 right at him, and that's what prompted him to start firing these shots to run them off. That first shot I would think, in response to someone having an AK-47 pointed at you, would be justifiable if you reasonably believe that this person poses an imminent threat of great bodily harm or death. All of a sudden, if he's pointing an AK-47 at you, Steve says, "Sure, that's an imminent threat of great bodily harm or death, because all he has to do is pull the trigger and you're dead."
Can you assume otherwise? That almost gets into some of these other conversations we've had about what was the other guy's intent. Did he actually point the gun at him? Was he intending to use it? We've seen some of those open carry cases, where people respond to someone who's open carrying, claiming that they pointed the gun, that they believed they were about to be killed, when it's not clear that was actually what was going on, but it was a reasonable perception. So if Kelly's version is that he had an AK-47 pointed at him and he needed to respond, then I think there's a pretty compelling argument that shooting this guy under these circumstances would've been justifiable.
I don't know how you justify all of the other rounds. It might depend on what happened after you fired that first one. If they took off at that point and you kept firing, you're no longer facing that imminent threat. I think that they're too far away from the house for you to credibly and plausibly claim that they were in your house, on your curtilage, and that your lethal response to that threat was presumptively … That your reasonable fear of great bodily harm was presumed in that setting. We're talking a big piece of property. These guys are pretty far off. So legally I think it gets pretty complicated. The defense lawyer wants to make it pretty simple, "This guy threatened Mr. Kelly with an AK-47, he pointed it at him, and Kelly's intent was benevolent, in that he fired over their head instead of shooting him."
Shawn Vincent:
Yeah. Yeah, a couple of things there, one… And we talk about curtilage, which is obviously structures or things that are attached to the house. So we're saying that these guys were on his property, but they weren't on or near his house or anything that could be strewed as part of his house. So castle doctrine principle doesn't really apply here. Castle doctrine giving generally in most states, the defender, the assumption that anyone that's there poses a deadly threat or the threat of great bodily harm, just by the fact that they've impinged upon your castle, your home. But a hundred yards off on a huge expanse of property doesn't carry those same presumptions for the defender, that's what you're saying in that case right?
Don West:
Yeah, I think so. I'd want to know more. I don't know why these guys were so close though, a hundred yards isn't that far. If they've got 170 acres to work with and wide open spaces, why would they even get that close, unless they were in fact intending to come to the house, go to the barn, do something? Whether it was innocuous, in the sense they wanted water or shelter and they were just going to hide out since it was daylight for a couple of hours, trying to be undetected. Who knows what they were really thinking? But in my mind, a hundred yards is pretty close. So I would have every reason if I were George Kelly to be worried about it, especially if they were carrying guns, and especially if one seemed to be pointed in my direction.
Shawn Vincent:
A lot of home defense cases that we explore are people in suburban houses facing an unknown intruder outside of their property, but that equation, tactically, is different when you live in a remote place on a big expansive land. And if you see armed people on your property, coming towards your home, you have reasons to be concerned. And we're going to talk a little bit about how to handle that tactical challenge.
Don West:
Don't forget, there's some history and some background here where he lives, what is generally known about what happens along the border. We know from the news recently, there were what? Three or four people kidnapped, that were going into Mexico for a medical procedure and two of them were killed. So we know, lots and lots of violence, unpredictable random violence.
Shawn Vincent:
Yeah and Steve, here's a big issue I wanted to get into with you, because I read about this case in pieces as the news was coming out, and the first thing we know is only the rancher's side of the story. And I'm putting myself in his shoes, the idea of having … Let's just say that they're armed men, with combat fatigues, in a group, on my property, when it's just me, an elderly man, and my wife, that's terrifying. And we've talked before, like in a suburban setting, someone's banging on your door, don't go out the door to challenge an intruder. Go find your hard corner, communicate, and be ready to have the tactical advantage if they get that far.
But I have to think that, let's pretend it's a wooden house, that AK-47 rounds could penetrate easily. And I've got a group of people that, Don, to your point, are suspiciously close to my house, within a hundred yards on a gigantic 170-acre ranch near the border, in this case, it doesn't seem quite as bad an idea to want to make some show, a force, to make sure they don't come and overpower you in your house with rifles. I'm curious what your thought is on that.
Steve Moses:
First of all, I believe that that would be reasonable, especially since at that point they were still a hundred yards away. He did not perceive himself to be under an imminent threat of being shot, or they weren't shooting at him. I don't see anything unreasonable. And telling people, "Leave now." I always say, "Leave now I've called the border patrol. Or, "I've called law enforcement. I'm armed. I will protect myself." And again, nothing quite as stilted as that. Just something like, "Hey, I've got a gun. I'll use it if I have to. I've called 9-1-1 and they're on their way. Y'all need to leave now." And ideally, the people would say, "Okay, well he knows we're coming. He's armed. Okay, what's our objective? And is it worth the risk of going ahead and trying to move closer, or even engage this guy with gunfire?"
And really what would be a good reason for them to engage him with gunfire at that point? I'm going to say under the circumstances, probably the likelihood of that happening is very slim because there's basically nothing for them to gain. So I think that's a good plan. 
By the same token, if they started coming closer, I would just have to play that by ear. It may be at some point, okay, I need to move my position. I need to continue to issue commands. And then it's like, oh my God, I've got no choice. I need to get into my house. And then when I get into my house, the big issue is, especially with multiple potential attackers, is that they can gain entrance into your home from windows on the first level, probably has multiple doors, it may have a garage that is connected in which they can enter the house. You can get a lot of people in there in a very short time.
Shawn Vincent:
Those are great points, Steve. And a lot of what you're saying there, and we've talked about this in other cases in different scenarios, where if there is some distance, then you have, as the armed defender, the opportunity to create either some physical or even the ideological barriers, thresholds that they have to cross. So if you are able to articulate at that distance, "I'm armed." You have your rifle on low ready, you're not pointing it at anyone, you're not firing it, but you're clearly… That's a silhouette that's recognizable I think from a distance. And then you can articulate, "Authorities have been called, don't come closer, leave my property immediately."
Don, if he was able to say that in his statement: "Listen, I had called the authorities, I yelled out to them to leave. They came closer, I warned them again, and then I fired." That's a different story. And he'd be able to justify the threat that he felt along the way. And we had a guest on one time that talked about having a bullhorn or a megaphone as part of your self-defense arsenal, because who has those, cops? I like to throw that out there because I thought that was such a great idea. When it comes to communicating even at a distance, having something like that, as a step that you took before firing a deadly shot, could help you in the aftermath.
Don West:
Yeah, in that scenario that you painted, Shawn, imagine if that had happened as Steve says. You make a display by showing that you have the ability to defend yourself, you have a firearm and you're ready, but you're not threatening them with it at that point. You're using voice commands, or whatever else is available, to tell them that you know they're there and that you want them to leave. You call the police and then you judge each of their reactions. If the reaction is to move closer to you instead of away from you, and as they continue to move closer to you and you tell them, "Stop, I'm calling the police." Or whatever voice command you use, and their response, the leader's response, is to raise his firearm and point at you. I think it's pretty clear what you need to do and probably what you are legally allowed to do at that point. You've done everything to address any ambiguity about what they intended, whether they were, in fact, a real threat or whether they were just wandering through the property, going somewhere else, but had no intent to harm you.
And frankly, even if you shot them at a hundred yards, in my mind, if you are able to recount that sequence, then your training and knowledge, and understanding, all become very, very relevant to why you made those decisions when you did, knowing full well that if you didn't do something about that point in time, if there were a half a dozen or 10 of these guys that were armed, they could have swarmed the house, and you couldn't have done much about it at all at that point. So from a tactical standpoint, even though the uneducated or untrained might say, "Wow, that's too far away, those guys really couldn't have done anything to you. You jumped the gun, you shot too soon." Steve could clearly articulate that and if you were charged, I think an expert witness comes in and talks about exactly why, as that played out like that, it was not just legal, it was the right tactical decision to make too.
Shawn Vincent:
Let's talk about this, because this is a big theme in this case, and I think it actually does have a chance of impacting the trial, even though maybe legally it shouldn't. These people who came on his property were crossing the border illegally. They were probably, and there's some evidence that suggests that they were, involved in other illegal activity beyond just entering illegally, either smuggling drugs or human trafficking. They're not sympathetic, what the prosecutors would call "victims" at this point. And I think in a lot of regards, this rancher's going to have a lot of people's sympathies, that his land has been encroached on by people illegally entering the country and trespassing on his property. I think that would make you unsettled and that would give you… And knowing that it's often drug activity, that the fear that they would be armed, even if they're not apparently armed at first, is there.
What I'm leading to here is unless the state can really tightly show that he didn't face a threat … Let me come at this in a different direction. We talked about prairie justice before. The Byron David Smith case out of Minnesota, where he had been this guy living alone, people had broken into his house before, he's broken into again on Thanksgiving Day, and he'd lay in wait in his basement when the two intruders came down there. One at a time. He shot them and then he executed them when they were incapacitated on his floor. And he claimed self-defense, but the evidence was clear enough that he probably tried to lure … Make it look like he wasn't home to lure somebody in so that he could exact vengeance or get some sort of what I call "prairie justice."
This is a whole different case. He didn't lure anyone onto his property, they weren't even in his house, but he had been, from his point of view, victimized by this crime before and he was sick of it. And there's a theory in the prosecution that this was an opportunity for him to lay down the law. 
And I think some of even the defenders who've done this, feel very justified at the moment. And then later, especially when they've confronted the fact that they've killed somebody. Even Byron David Smith was disgusted by the dead bodies and what happens to a dead body in his basement, and was angry at them for what he thought they made him do. It becomes clear later that something bad has happened here and they weren't as justified as they thought.
We know that excluding almost everything, that the core justification for the use of deadly force is if you're facing the imminent threat of great bodily harm or death at the hands of another. And I think that it's possible in this case, and in a lot of cases, that this idea of either revenge against someone who's harmed you, or threatened you harm, or committed some crime against you, ekes into that decision and sometimes overlaps. Or that there's a sense that "the authorities are not taking care of life or death business here, and I have to step up." Steve, I see you reacting to that. What are your thoughts there and is some of that at play in this case?
Steve Moses:
I think that there is at least a reasonable possibility that the impulse will be to deal with this person right now. There is a possibility that you're angry at that person for doing what they've done, doing it repeatedly, or you're just, like you said so well, "I'm tired of this, I'm not putting up with it anymore." And I'll tell you what, I absolutely understand how that people might feel. As a matter of fact, I think in part, that this is something that occasionally gets law enforcement officers in trouble when they encounter perhaps a repeat offender that seems to be committing these offenses and they're not getting punished, and so, "By golly, we're going to go ahead and we're going to do something now that hopefully will dissuade this person from continuing that kind of conduct."
I think that that is something that concealed carriers and armed homeowners need to think about right now. Make a decision in advance that if that impulse takes place, that you will not act upon it. And I completely understand it, and I've been in positions before and none of the … I'm not talking about a lethal force encounter, in which I basically wanted to confront another person, and if it went physical, I was going to be perfectly happy with it, except I knew that I wouldn't be happy with the outcome. And so to that end, you just got to choke that down. And the cool thing about that, if you want to say it's cool, that is that once you get away from that and you think about what you wanted to do, and what could have happened, and the fact that it didn't happen because you said, "Okay, I'm going to be mature about this." I think probably you'll feel like that was a good decision.
I wonder right now what was going through Mr. Kelly's head when he went out there and he saw something that he thought, "This may be bad." I believe it was his dog that discovered the body of the deceased. And as soon as he got on top of it, can you just imagine the emotions and the thoughts that must have been going through his head like, "Oh oh, I don't think this was a good idea."
Shawn Vincent:
As an armed offender, what you say before and after a self-defense shooting can have a huge impact on your legal defense, and it can even have an impact on whether or not you're even charged in the shooting. And in the George Kelly Case, Mr. Kelly said a lot of things before, he wrote some things, and things after, during the number of phone calls, that are going to give him a real challenge.
We talked about how it seemed like law enforcement was set against this guy from the beginning. They charged him with first-degree, they've downgraded it to second, they gave him a million dollar bond, which is very high in a case like this. But in one of the initial hearings where the defense attorney was trying to adjust bond and get some other concessions, it was brought up by law enforcement that he had changed his story throughout the day, and to see his point he gave too many statements for his own good. And we've seen in the Ted Wafer case, after the fact, a tendency for a defender to try to make their story better from their point of view, and their statement evolves. I would have a theory that in this case, the police seemed so sure he was guilty of a murder here, in part because he kept changing his story, or his story kept evolving throughout the day. Do you think that's a factor?
Don West:
Well, that's the defense lawyer's nightmare, is when you have inconsistent statements by your client. It gives a lot of opportunity to challenge the entire version of the events because there are some inconsistencies. Are they minor inconsistencies? Are they a big deal? Were they made to the same person so there's less chance they weren't misheard or misunderstood? Are they recorded, are they not? But generally speaking, if you say one thing and then you change it even slightly, especially if, as the story progresses, the appearance is you're trying to make yourself look better, maybe downplaying certain things and expanding on things you may have not mentioned before. Yes, you put yourself in a big hole when it comes to credibility, there's this notion of consciousness of guilt, that people say and do things because they feel guilty or they're worried about it, so they try to fix it upfront.
In this case, I'm not yet satisfied. There were as many inconsistencies as what were alleged. I don't know what was recorded. I know there was a question about whether he claimed the individuals were armed or not. Right up front, there was an officer that said "he didn't say they were armed", but then on the other hand, the dispatch that went to look for these guys said they were armed. So that's the sort of thing. Did he say it? Didn't he say it? How did it get lost in translation? Again, that'll have to be all sorted out.
The general advice is exactly right though, as Shawn you've pointed out. Say what you need to say, establish the basics only, and then express your willingness to cooperate, of course, but request an opportunity to talk with counsel. I think in this case that Mr. Kelly didn't know anybody was shot during all of this until the end. And I also think … So then there was a big issue that had to be dealt with. And he did it responsibly. He didn't go bury this guy in the desert that he easily could have, or drag him somewhere with one of his horses and dig a big hole, and pretend nothing ever happened, whether he did it or not. He called the police, he acted responsibly, and that's to his favor.
The other side of it is … And Steve, you point this out before, about warning shots. We all talk about warning shots. We've talked about warning shots forever and ever. I think he didn't know how bad it was to fire warning shots right from the beginning. He may not even have thought he had any liability, any criminal exposure, by firing the warning shots, that he did what anybody would have done in that situation. He took a stand, he was sick of it. He needed to protect himself and then his family. And then, of course, I think it expands into, "This is my property, I'm going to take a stand. You're not allowed on my property. I can use my God-given rights, my constitutional rights, to defend my life and my property, and I will." Well, unfortunately, that's only partially true. When you start firing shots over people's heads to protect your property, that's a whole different kettle of fish, isn't it?
Shawn Vincent:
And it's partially true, Don, depending upon who sits on his jury, because I have a feeling that if the jury is mostly property owners in that part of the country, he's going to get an awful lot of sympathy, and the quote, unquote, "victims" of this shooting are not going to get any sympathy at all. On the other hand, if the jury are a lot of people who maybe they're migrants themselves, or have other sympathies for the people who are crossing, they might judge him much more harshly.
And we've both been involved in cases where… Here's the fascinating thing about a jury: The law is the law. The judge instructs the jury what the law is and gives them guidance on how to proceed. But in the end, the jury can do and decide what the jury wants to do and decide, and they don't have to justify it or explain themselves. And if the jury just doesn't want to convict a 75-year-old man with no criminal background, I assume, from what I've read, of protecting his elderly wife and himself from what clearly seemed to be cartel-type people trespassing on his property, I don't know, the prosecutor has a big mountain to climb, doesn't he?
Don West:
I agree. I agree. And this is one of those cases that you probably win — as a lawyer — you probably win in jury selection if you're lucky enough to get the right jurors that share that view. Although they will profess to follow the law exactly. Take their oath as jurors, their personal perceptions and biases, no doubt will favor in. Including, while they may be told not to have sympathy or base their decision on emotion, this is the kind of case I think where that would drive it significantly. And then you're going to learn, they're going to learn, that the guy that died was a frequent flyer. He, he'd been in the US, he'd been deported, reentry after deportation. He, in some jurors' minds, no doubt will exemplify the problem at the borders. A guy that comes in and out at will with friends for whatever purpose, but no matter why they were there, they were up to no good. And that's how this case will start off I think.
Shawn Vincent:
Don, I want to talk about this as we're starting to wrap up, we talked about how his inconsistent statements, the rancher's inconsistent statements, after the shooting are a lawyer's worst nightmare. This is also a case of what you say, oftentimes well in advance of a use of force scenario, can cause you problems potentially. And in this case, George Alan Kelly self-published a short novella, digitally on Amazon, about a rancher on the border who has to step up and be an enforcer. You read this literary work, I believe. I'd love you to recount perhaps a critical passage from it, and tell me as a lawyer, if that could be admitted to evidence, and what impact that might have on a jury considering what his state of mind was, and what his real motive for firing at these trespassers was.
Don West:
This is a fascinating example of the sorts of things we've talked about before when we tell people, "Don't say stupid stuff on Facebook, don't have stupid bumper stickers that can be interpreted as having a predisposition, or a particular mindset when it comes to firearms and the use of firearms. Don't say things that could come back to be used and claimed by the prosecutor as a window into your thinking." Because of course, ultimately what's going to have to be proven by the prosecutor is what you were thinking, why you were thinking it, and whether what you were thinking, why you're thinking it, when you pulled the trigger is ultimately reasonable.
Now, we have this little wrinkle in this case, not knowing for sure whether it was George Kelly's bullet that wind up killing this guy. But if you get past that and they're able to show that, yes, one of his bullets did kill this guy, now he's going to have to defend for self-defense. That's his best plausible legal defense, is self-defense. That he had the right to shoot these guys because of them being armed, and them encroaching, and not fleeing. And as a result, he needs to be able to show that he was of calm mind, that he wasn't predisposed, and that he responded to something they did, and that's what set this off.
So Mr. Kelly, the self-published author, tells a story about having a ranch near the border, he even uses names that are the same as his and his family members, and the context is there are people coming from across the border up to no good, and in one of the scenarios, some horses that are on the ranch are being stolen, and he's giving chase for people that are stealing his horses. I don't know that that directly relates to the scenario that he found himself in a few weeks ago, but there is his description of some of the events in the book I think that's going to give the prosecutor maybe an opening. Whether it would become admissible will be as a result of a long-fought hearing, and the judge will have to make that decision. The defense lawyer would want to keep this out, I'm sure. Just never have to fight that fight if they can avoid it.
But some of the language in the story that he was saying, I'll pick it up just and read a few sentences of it, where now he's talking about these guys that stole his horse and were headed toward the border, and he could recognize that one of the horses was a horse named Sonny, that was dear to him. So here's where I'm reading, "The riders were less than 100 yards north of the border and riding full out." He, meaning in this instance the character George, "emptied a clip as close to the horses as he could without hitting them, the horses that is." So that's a reference to him firing at these riders on his horses, expressing the concern that he might hit the horses, a whole lot less concern that he might hit the riders.
So, "Emptied a clip as close to the horses as he could without hitting them, the horses that is. The riders pulled up at the border, jumped off and started returning fire. Then they…" Et cetera, et cetera. Then in a few pages, when he's talking with the sheriff about what had happened, the sheriff, I'm reading again, "The sheriff asked if George thought he had hit either of the riders. George told him that if he had hit one, he hadn't hit him hard enough." So again, he's essentially saying he was shooting at the riders, he may have struck one, but if he did, he didn't hit him hard enough, apparently because he didn't find the body somewhere is a reasonable interpretation. "The sheriff didn't reply, he just smiled and shook his head."
Here's I think an important sentence too, when it comes to this prairie justice notion that you're talking about, where you shoot first and ask questions later kind of thing. I'm reading, "George then told the sheriff that if he didn't want him to protect his property by whatever means necessary, he had better arrest him there and then." So it's kind of a challenge, 'I'm going to protect my property even if you won't." 
Reading here again, "The sheriff acted like he didn't hear George, but as he left the ranch, he told George privately that if he ever did shoot a mule, he didn't want to know about it."
Shawn Vincent:
And a mule, meaning a drug trafficker, not a horse-like animal.
Don West:
Yeah. It had nothing to do with jackasses.
Shawn Vincent:
So Don, a lot of cases I've been involved in, both criminally and civilly, there is a pretrial hearing that pretty much makes or breaks the case, outside of any motion to dismiss. So they're going to have a hearing almost assuredly on whether or not this passage, this bit of literature, is presented at trial, and it could potentially make or break the whole defense.
Don West:
Yeah, yeah. How would it be received by the jury? Would they give it significant weight as being a window into his mindset where he's going to shoot first, and ask questions later? Where probably akin to the notion of second-degree murder, is this in fact him saying, "I'm going to shoot at anybody that's threatening me or my property, and that if I hit him, that's tough luck, because the sheriff isn't going to do it. I have to take it into my own hands."
And if they think that was actually a reflection, not just of his thinking when he wrote this, but as a general reflection of his viewpoint, then he's got a script, doesn't he, for what happened in this case. And that he shot at these guys and then if he hit them, fine, if he didn't, so be it. And then after the fact, as you were talking about, he has to backpedal and come up with an explanation — how there's no way he could have shot this guy, he shot way over their heads, et cetera, et cetera. When in fact he and the sheriff are having this private conversation in the book that "well, okay, if I hit one, I hit one. Just don't tell me about it" sort of thing.
Shawn Vincent:
Yeah, and we talk about one of the elements, the classic elements, of second degree murder is that you act without regard for human life, with a depraved mind is some of the language, depending on where you're at. And so I can almost imagine a scenario where a prosecutor, or somebody, finally downloads and reads this book, and gets to that line where he says "he missed them, the horses that is" as absolute evidence that he cares about the horses more than he cares about people, thinking, "You know what, let's make this a second-degree charge because I got the evidence right here that's going to prove it." That's a likely scenario of why the charges got dropped — because they have a much better second-degree case with this evidence in than first-degree. He spelled it out for them, potentially.
Don West:
Yeah. The best prosecution theory is that he was just shooting wildly and randomly in their direction without any regard for whether he hit anybody or not. If he could have, he probably would've. If he didn't, well then they ran off. But that he wasn't very concerned about the actual consequences.
Shawn Vincent:
All right my friends, that's the podcast for today. Thanks for listening through to the end. This is a fascinating case. It's ongoing. I'm sure we're going to revisit it a couple of times before it's all wrapped up. We'll have something new for you very soon. Until then, be smart, stay safe, take care.