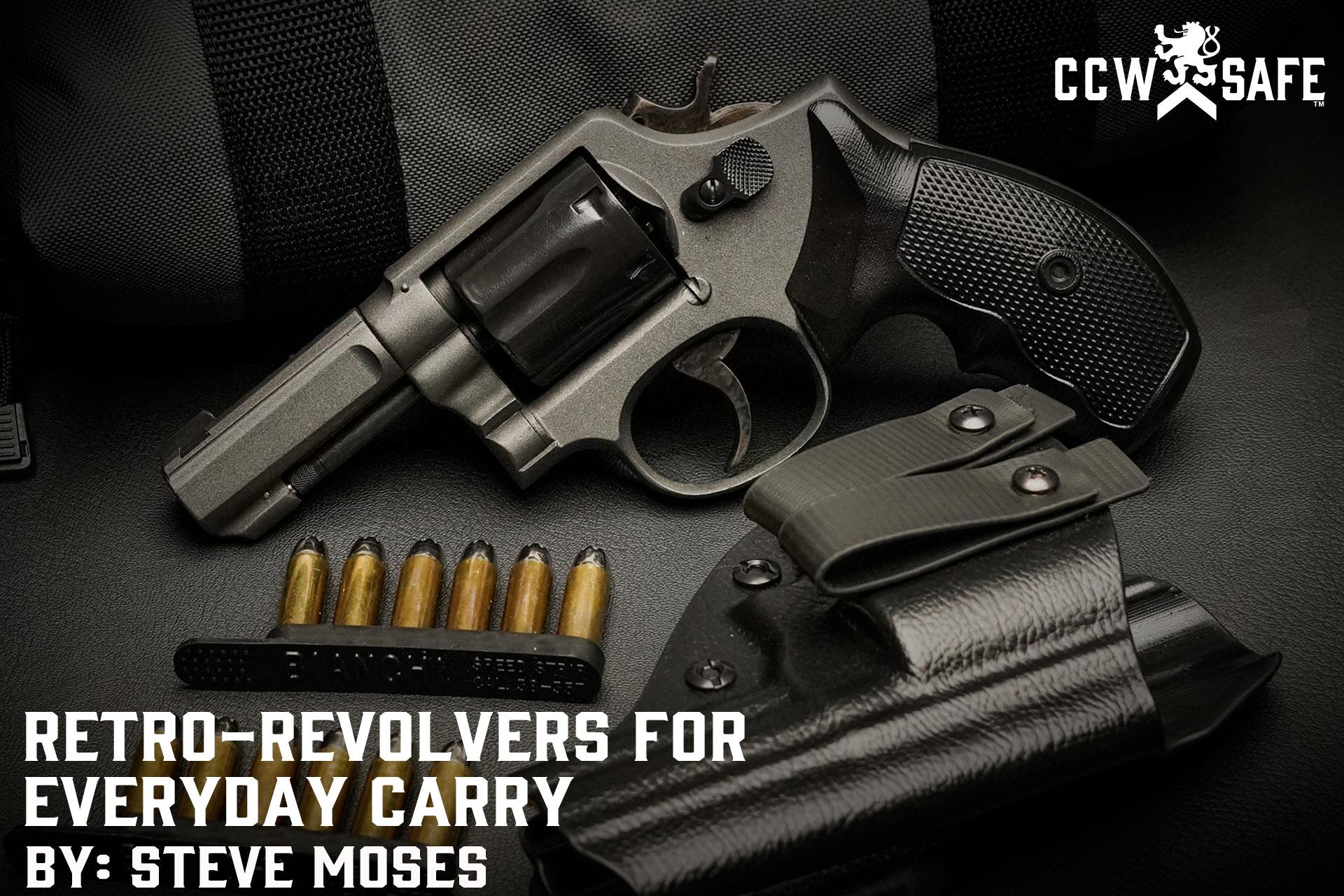 Posted on October 18, 2021 by Steven Moses in Uncategorized
RETRO-REVOLVERS FOR EVERYDAY CARRY
Why do some people like re-built "muscle cars" like the 1970's vintage Mustang GT, Pontiac GTO, Chevrolet Camaro, and Dodge Challenger? There is just something appealing about turning a dream into reality by having a true craftsman rebuild a fifty-year old mechanical device and turn it into a functional piece of equipment that does not contain computers, CNC equipment, and plastic parts. I feel that way about older Smith & Wesson K-frame .38 Special revolvers. There is something that just sets them apart from modern semi-automatic service handguns like the Beretta 92, Glock 19, Smith & Wesson M&P 2.0, and Sig 320.
It likely goes without saying that if a concealed carrier knows that the odds are good that he or she is going to need a concealed handgun on a given day to defend themselves against one or more armed attackers then one of the aforementioned semi-automatic service handguns is the better choice. These handguns hold more ammunition, are easier to shoot well for most people, can be reloaded faster, and most malfunctions can be quickly dealt with. Which begs the question of why a sensible concealed carrier would choose to carry any other handgun. For me, the reasons are simple.
Owning a vintage medium-frame revolver is like owning art. I view a beautifully refurbished vintage medium-frame revolver the same way some of my friends view a rebuilt 1970's muscle car. It is simply a beautiful piece of work that stirs great memories. Rangemaster firearms instructor Tom Givens once said that sentimentality may be one of the main reasons that many experienced concealed carriers choose to carry a revolver.
I spend a lot of time away from people, and when I am around other persons it is mostly in low-density, low-crime areas. Of course, the odds are always greater than zero that I might need a handgun to protect myself and my family, and that is why I bring one. On many of those occasions I grab a revolver. Even a medium-frame revolver tends to conceal better under a lightweight tee shirt than a medium-size frame semi-auto pistol for me, and likely is up to the job if I maintain good general and situational awareness, make good choices about where and when I go to places, and I use any opportunity to not only duck trouble but disengage immediately if I observe any clue that trouble might be ahead.
What caused me to pen this particular article? I recently took possession of a Smith & Wesson Model 10 .38 Special revolver that is maybe fifty years old believed to have been originally issued to a Jordanian Police Officer. This particular handgun had a skinny 4-inch barrel, light pitting, and no remaining bluing. After multiple discussions with good friend and revolver muse Hany Mahmoud, I contacted Dave Fink of Fink's Custom Gunsmithing in Paulden, Arizona and put into motion my plan to put together what I thought might be an ideal concealed carry revolver. I shipped him my ugly duckling revolver along with a spare Smith & Wesson Model 64 stainless steel heavy barrel (more on this later) with hopes of being returned a beautiful swan.
Less than ninety days later I found myself holding a custom revolver that any concealed carrier would be proud to own. I had Dave remove the original barrel and replace it with the heavy Model 64 barrel after cutting it to three inches, crowning the muzzle, machine-slabbing the sides, cutting a Novak front sight channel, and installing a white bead front sight. Revolvers with three-inch barrels are typically easier to conceal than those with four-inch barrels, and it is not possible to install a dovetail cut in the original skinny barrel. I specified a pinned front sight with a plain white bead for use in dim light as I prefer it to front sights with gold beads, fiber optic rods, and tritium vials. He also opened up the rear sight channel in order to improve the sight picture and converted the square butt to round butt configuration, smoothed out the action, polished the internals, and de-horned and bobbed the hammer. Dave applied a beautiful tungsten cerakote finish to the frame and a graphite black cerakote finish to the cylinder, but not before some judicious sandblasting, polishing, and draw filing in order to remove some small pitting. He also case hardened the hammer and trigger. He finished by adding VZ Tactical Diamond grips and hand zeroing it at fifteen yards with .38 Special 110-grain ammunition. The Hornaday 110-grain FTX round is my preferred carry load for my Smith & Wesson 442 Airweight snub nose revolver, and I saw no good reason to choose a different round.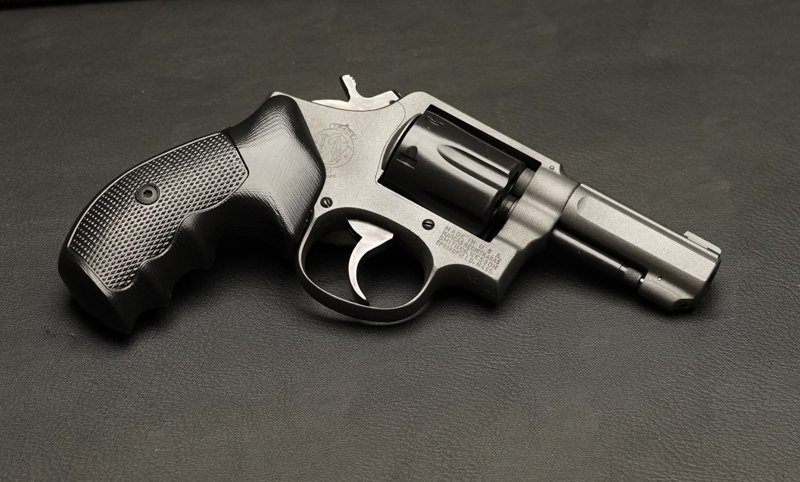 My Model 10 is a compact revolver that carries well and shoots better. It is the best-balanced revolver that I have owned, which I am speculating is due to the combination of three-inch heavy barrel, round butt, and low-profile but highly visible fixed sights. Recoil is mild, and the action is smooth. Measured double-action trigger pull is 9.5 pounds and single-action trigger pull is 2.75 pounds.
I acquired a JM Custom Kydex Appendix holster for conceal carry purposes. Due to the round butt configuration this revolver conceals even better than my Glock 19 when worn in a quality appendix holster under a lightweight tee shirt.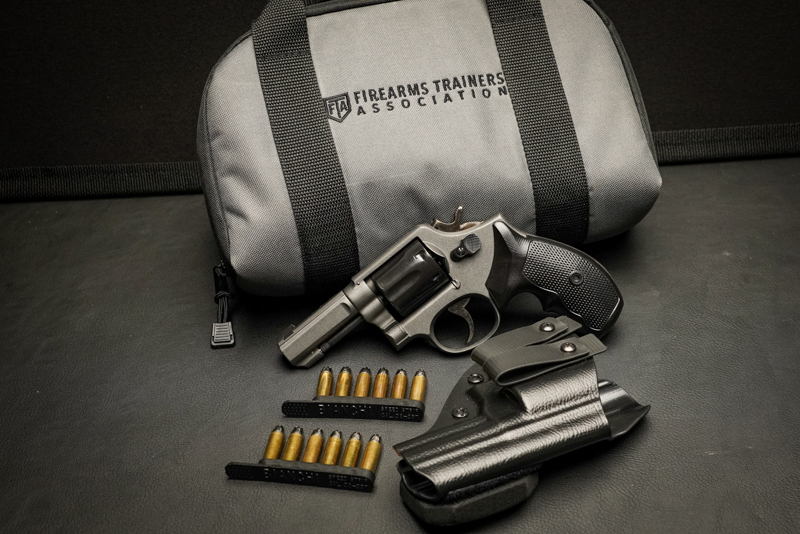 Less than a week after I received the revolver I attended the three-day Rangemaster Master Firearms Instructor course at the MeadHall Range in McLoud, Oklahoma. Required equipment included a medium-frame revolver for use as a concealed carry firearm. Many of the students open-carried full-sized modern Ruger and Smith and Wesson revolvers equipped with high-visibility adjustable sights since a scored test was required, but I was more interested in getting in some quality reps under one of the best trainers in the United States and worked from concealment for the entire block of instruction. We finished with the Rangemaster Defensive Revolver Course Qualification course of fire shooting timed stages from three to fifteen yards, and I was pleased to find that my score was 243 out of a possible 250, which I thought was respectable given the fact that I had only ran fifty rounds through it prior to the class in order to confirm function and reliability.
I realize that that this article will not be of interest to many concealed carriers. That is the reason that I write articles on a variety of topics like legal considerations, home defense, low-light shooting, threat management, emergency treatment of gunshot wounds, road rage, Use of Force, working around physical limitations, and post-incident contact with responding law enforcement. This particular article was directed at readers who may at some point in their lives decide that they would like to own a revolver that was actually built and hand-fitted by skilled craftsmen and then turned it into a firearm that is suitable for concealed carry in many situations.
Steve Moses

Steve Moses has been a defensive firearms trainer for over 26 years and is a licensed Texas Personal Protection Officer with 7 years of experience performing as shift lead on a church security detail for a D/FW area metro-church. Steve is a co-owner and Director of Training for Palisade Training Group, LLC based in Dallas, Texas. Moses is a retired deputy constable and spent over 10 years on a multi-precinct Special Response Team. He owns multiple instructor certifications, including Rangemaster Advanced Handgun Instructor and Defensive Shotgun Instructor, Red Zone Knife Defense Instructor and Adaptive Striking Foundations Instructor, Modern Samurai Project Red Dot Sight Instructor, and State of Texas Personal Protection Officer Instructor. Steve holds a BJJ Brown Belt in Relson Gracie Jiu Jitsu. He is a content contributor for CCW Safe and writes weekly articles on various subjects of interest to concealed carriers. Moses shoots competitively and holds an IDPA Expert rating. Steve is an annual presenter at the Rangemaster Tactical Conference.