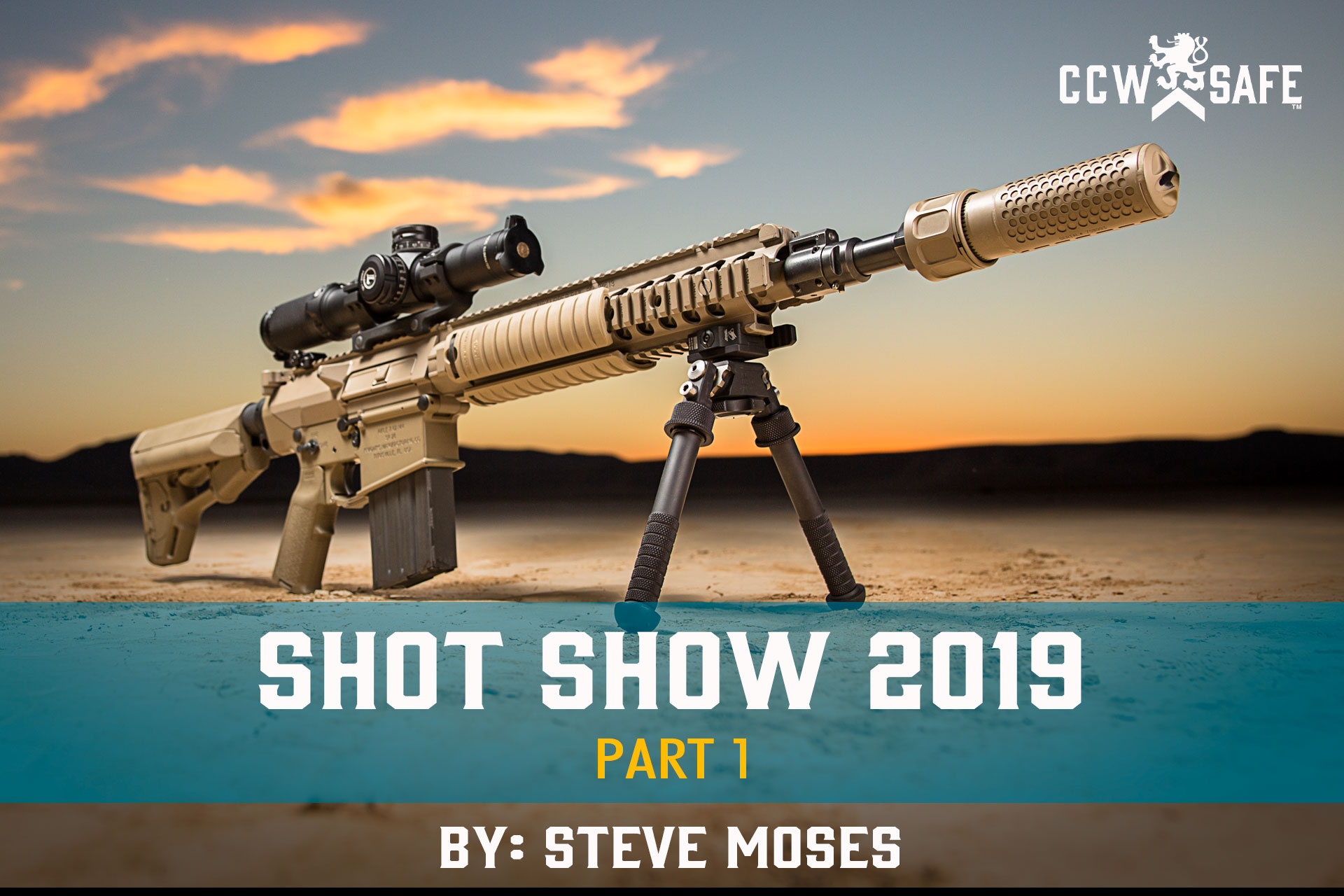 Posted on June 3, 2019 by Steven Moses in Training
SHOT SHOW 2019 Part 1
SHOT SHOW 2019 Part 1:

I walked onto the floor of the 2019 SHOT Show in Las Vegas with a single purpose in mind: find new handguns, gear, and accessories that might be of interest to serious concealed carriers. I spent little time drooling over the latest modern sporting rifles and high-end 1-6 and 1-8 power magnified optics (okay, I did linger there more than I probably should have) and focused on new handguns and useful gear that might appeal to new and experienced concealed carriers alike.
At the 2019 SHOT Show I saw three handguns, a writing instrument, and a handgun safe that I believe are worthy of mentioning. The first handgun was the Glock 48 in 9mm caliber. It is my sincere belief this pistol was the love child of Gaston Glock and an adult version of Goldilocks, conceived under a rainbow in a grassy meadow full of prancing unicorns. The Glock 48 might be the only pistol that a new concealed carrier might ever need or a welcome addition for the experienced concealed carrier who desires a handgun that conceals nearly as well as sub-compact or micro-compact 9mm (when mated with an excellent holster like the Keepers Keeper or Errand models) that also has 10 plus one ammunition capacity and shoots nearly as well as a compact or full-size service pistol.
While length and height are similar to the much-respected Glock 19, the width of the slide is similar in size to the Glock 43 and width of the frame is only slightly larger. The 48's slide sports an attractive silver nPVD finish that reportedly resists corrosion and abrasion quite well. Front slide serrations are a nice touch for those who prefer to grasp the front of the slide in order to do a press check. This is a feature that I like, as it permits me to place my hand in an overhand position on the front of the slide (and behind the muzzle) and use the tip of my index finger to confirm there is a round in the chamber while press-checking when it is too dark to get a visual confirmation.
MSRP for the fixed sight version is believed to be north of $500.00, but a careful shopper should be able to find them for less. I purchased one for myself as soon as I returned to my home state of Texas and shot it the next day. The trigger broke cleanly right around 5.5 pounds with a positive reset, and I found the recoil to be significantly less snappy than that of the Glock 43. In my first attempt to shoot a drill known as "The Test" (10 rounds into a 6-inch circle at 10 yards in 10 seconds or less), I shot it clean. I am unable to articulate how much I liked the ergonomics of the grip and believe that it can be shot well by shooters whose hand size ranges from small to large. I think the Glock 48 is going to be a big winner for Glock in 2019.
Known for making shotguns and rifles since 1919, O.F. Mossberg & Sons' new entry into the concealed carry market has come in the form of the Mossberg MC1sc 9mm pistol. Unfortunately, this handgun has already received some negative comments from the public because it is similar in many ways to other compact polymer-frame pistols already on the shelves. My initial response to this is: if it is affordable, reliable, durable, and shootable, then what is the problem?
The Mossberg MC1sc sports a stainless-steel slide with DLC coating, angular serrations, three-dot low profile sights, and 6 and 7 round clear magazines. The flat-profile trigger has a clean break at approximately 6 pounds and a decent reset. The stainless-steel barrel is 3.4 inches in length. There are multiple variations, including models with a cross-bolt safety, tritium night sights, or a Viridian laser. MSRP for the base model is around $425, which means out-the-door price at many stores will be significantly less.
One caveat: it is not unusual for new handgun models to develop some teething problems during the first year of production. However, I have spoken to several persons in the retail gun business who have shot this pistol that were suitably impressed, and my understanding is that a group of gun writers who were recently invited to attend a Gunsite 250 Pistol Class so equipped with these pistols found them to hold up very well.
---
Steve Moses

Steve is a long-time defensive weapons instructor based out of Texas who has trained hundreds of men and women of all ages for more than two decades on how to better prepare to defend themselves and their loved ones. Steve has completed over 80 private-sector and law enforcement-only defensive weapons and tactics classes, and has trained civilian and law-enforcement officers in six states. Moses is a reserve deputy, former member of a multi-precinct Special Response Team, competitive shooter, and martial artist. Steve has written numerous articles for SWAT Magazine and other publications. Steve is a licensed Texas Level 4 Personal Security Officer and Instructor who was Shift Lead on a mega-church security detail for seven years, and has provided close protection for several former foreign Heads of State. He is currently an instructor at Relson Gracie Jiu Jitsu/Krav Maga in Tyler, Texas and Director of Training for Palisade Training Group (www.ptgtrainingllc.com).