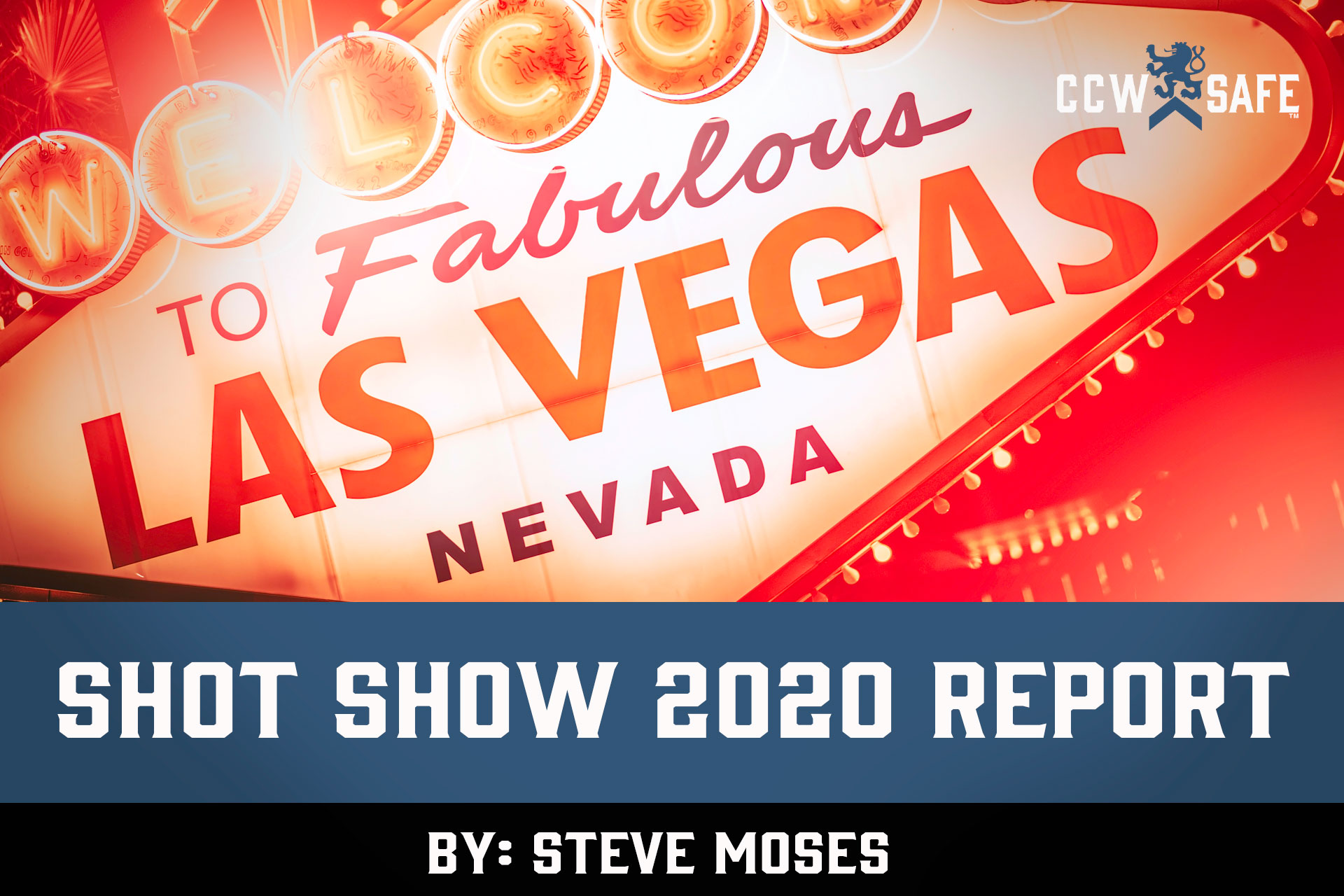 Posted on February 10, 2020 by Steven Moses in Training
2020 SHOT Show Report
2020 SHOT Show Report
The SHOT Show is best described as the nation's largest event for professionals involved in shooting, hunting, and outdoor. Held at the Sands Expo Center in Las Vegas, Nevada, the 2020 convention featured approximately 2,400 exhibitors spread out over close to one million square feet of show space. Estimated attendance was somewhere around 60,000 with attendees arriving from many companies. It is difficult to adequately describe the enormity of the event. It represents an opportunity for a writer such as me to find out about new guns, gear, and trends that I believe are truly applicable to smart conceal carry.
As a long-time concealed carrier and defensive firearms instructor, I tend to view the newest gear and guns with some degree of healthy suspicion. Prior experience has proven that being the latest and greatest does not always mean that something also actually works or functions in an acceptable manner. Items described in this article are items that I might purchase myself with a high expectation of later satisfaction.
I noted three distinct trends based upon either attendee interest or number of competing products of the same line. First, there remains a huge interest in compact semi-automatic pistols. Second, the miniaturized red dot pistol sight is not only here to stay but becoming a big market. Third, everybody wants to shoot better, and there is fast becoming a concealed carrier subset interested in developing their ability to shoot defensive handgun drills at blazing speed who realize that high-dollar double-stack compact pistols with tuned triggers, finely machined slide-to-frame fit, and highly visible sights or red dot optics provide a significant edge. Set out below are some of my finds at the 2020 SHOT Show that I think might be of interest to concealed carriers.
The Holosun HS407K red dot sight with an integral milled rear sight that is designed for compact pistols with narrow slides may be of interest to concealed carriers who favor small handguns like the Sig 365, S&W Shield, and Glocks 43, 43X, and 48. While it is too soon to tell if this red dot sight is going to be another winner for Holosun, it is fast becoming known throughout the defensive shooting community that Holosun has done a good job of developing user-friendly red dot sights that are fairly priced and surprisingly robust and reliable. Another Holosun product that caught my eye was their battery-less BLPS red dot sight. A combination of battery-free design, titanium housing, automatic brightness setting, and three different dot combinations makes me think that this sight might be perfect for a range gun that can be left unattended for months and then put into use without a second thought.
It is always a good sign when a handgun sight on a display ten feet away catches your eye. The Hi-Viz Lightway H3 Express sight uses a combination of tritium and luminescent high visibility "Litepipes" to create a sight picture much like that of the traditional XS Express Sights. These sights might be ideal for concealed carriers whose eyesight is such that more conventional sights would be largely useless in a low-light confrontation with a violent criminal.
Both the Walther Q4 steel and STI Staccato 2011 9mm are examples of fine handguns that can be readily concealed that are not only a joy to shoot but capable of delivering blistering performance. I found myself spending more time than anticipated examining both and admiring their balance, lines, ergonomics, and fine actions. The Q4 is a striker-fired steel-framed pistol with wraparound grip panel, full-length rail, and extended beavertail. Coming in at 40 ounces, recoil will be significantly less than that of similar sized polymer and aluminum frame pistols. Added pluses include a red dot optic cut, highly visible sights, and smooth 5.6-pound trigger. The 4-inch barrel means that the Q4 should be as easily concealed as a Glock 19.

MSRP is $1,399.
The STI Staccato 2011 9mm version that stopped me in my tracks was the Staccato-P-Duo. I started defensive pistol training in 1993 when the venerable 1911 was pretty much the only option and ran them hard for about five years before switching to the Glock platform. Pretty much everything that I disliked about 1911s has been satisfactorily addressed with the Duo. Before I go on and on about the tangibles, I first want to say that the build quality on this pistol is amazing. The fit and finish is similar to that of a much more expensive custom 1911.

Highlights are optic cut, smooth 4.5-pound trigger, Dawson fiber-optic sights, Treebark stipple grips, slim magwell, and DLC finish. Suggested MSRP is $2,499.
The Glock 44 is Glock's first semi-auto pistol chambered in .22 LR. The model I handled seemed to be approximately the same size as a Glock 48 but was far lighter. The slide of the pistol is polymer with inserts. After handling and dry firing the Glock 44, I came away quite impressed. In terms of filling a need for concealed carriers, I remain in a bit of a quandary. A good defensive pistol for concealed carriers needs to be reliable, ergonomic, capable of being fired repeatedly during a chest-to-chest struggle and chambered in a round that achieves a reasonable level of penetration. I don't think the Glock 44 gets a pass in that regard. Having said that, for persons unable to handle a more powerful handgun because of a weakened grip or compromised support arm might find the Glock 44 capable of adequate performance if they do their part. Please note that there is some current internet chatter that suggests that it might be a good idea to wait for six months or so and make sure there are no teething problems (not unusual for new designs). MSRP is around $430.
The Sig P 365XL with Romeo Zero RDS is evidence that Sig is dialed into the concealed carry market and interested in staying competitive with other gunmakers. The original Sig 365 has been very well received by concealed carrier, and the Sig P 365XL with Romeo Zero RDS is likely to pique the interest of 365 advocates who are interested in both greater magazine capacity and red dot optics. The Sig P 365XL comes with both a 12-round flush magazine and 15-round extended magazine, a 3.7-inch barrel, extended beavertail, and optic-cut slide. The pistol comes with the Sig Romeo Zero RDS, which is miniaturized for micro-sized pistols. Interestingly enough, it features an integrated rear sight which allows the concealed carrier to transition to backup iron sights in the event the RDS goes down. I am unsure as to MSRP but have seen it on sale for $679.00.
The Hellcat Micro Compact is Springfield Armory's answer to the popularity of the Sig 365 and Glock 43. It is extremely compact due to its 3-inch barrel and at 18.6 ounces with an extended 13-round magazine relatively easy to carry and conceal. The Hellcat features a rather unique U-Dot sight system that pairs a high-visibility luminescent/tritium front sight and U-notch rear sight.

This is definitely not a traditional sighting system and would require more testing on my part before I would be comfortable saying that I like it or dislike it. It is indeed novel and concealed carriers might find it to be perfect for their purposes. MSRP is $569.00.
One handgun that really caught my attention was the Smith and Wesson M&P 9 Shield EZ. My wife owns and shoots an older Shield very well, and I have nothing but praise for that design.

Many concealed carriers lack the hand strength due to age or infirmity to rack the slide of a properly sprung defensive handgun, which unfortunately limits some to handguns that are less than ideal for effective self-defense. Smith and Wesson addresses this with the Smith and Wesson M&P 9 Shield EZ. Incorporating a grip safety, slide that is extremely easy to rack, and trigger that is both light and crisp. The Shield EZ is an extremely shootable handgun chambered in 9mm. The pistol features a nice texture that makes it easy to control and adjustable white dot rear sight and nicely visible white dot front sight. I am impressed with this pistol and think it definitely is worth checking out for concealed carriers. MSRP is $479.00.
I know, thousands of products in the show and I only addressed a few of them. Trust me, there is no shortage of press when it comes to coverage of new products seen at the 2020 show. CCW Safe's objective is and always will be to protect its members, and one of the best ways to do that is make sure they are fully informed as to what can happen before, during, and after a deadly force encounter with a third person and then becoming as prepared as possible to not only survive the event but retain their freedom and their live savings. A critical part is owning and being able to use defensive tools, and there is no reason to not possess quality equipment that concealed carriers can depend upon. I am unable to recommend without reservation the items described above for the simple reason that I have personally tested none of them. I am also willing to say that every single one of them looked like they had great potential, and I think the chances are good that in the next few years I would say that I can recommend without reservation more than a few of them.
---
Steve Moses

Steve is a long-time defensive weapons instructor based out of Texas who has trained hundreds of men and women of all ages for more than two decades on how to better prepare to defend themselves and their loved ones. Steve has completed over 80 private-sector and law enforcement-only defensive weapons and tactics classes, and has trained civilian and law-enforcement officers in six states. Moses is a reserve deputy, former member of a multi-precinct Special Response Team, competitive shooter, and martial artist. Steve has written numerous articles for SWAT Magazine and other publications. Steve is a licensed Texas Level 4 Personal Security Officer and Instructor who was Shift Lead on a mega-church security detail for seven years, and has provided close protection for several former foreign Heads of State. He is currently an instructor at Relson Gracie Jiu Jitsu/Krav Maga in Tyler, Texas and Director of Training for Palisade Training Group (www.ptgtrainingllc.com).