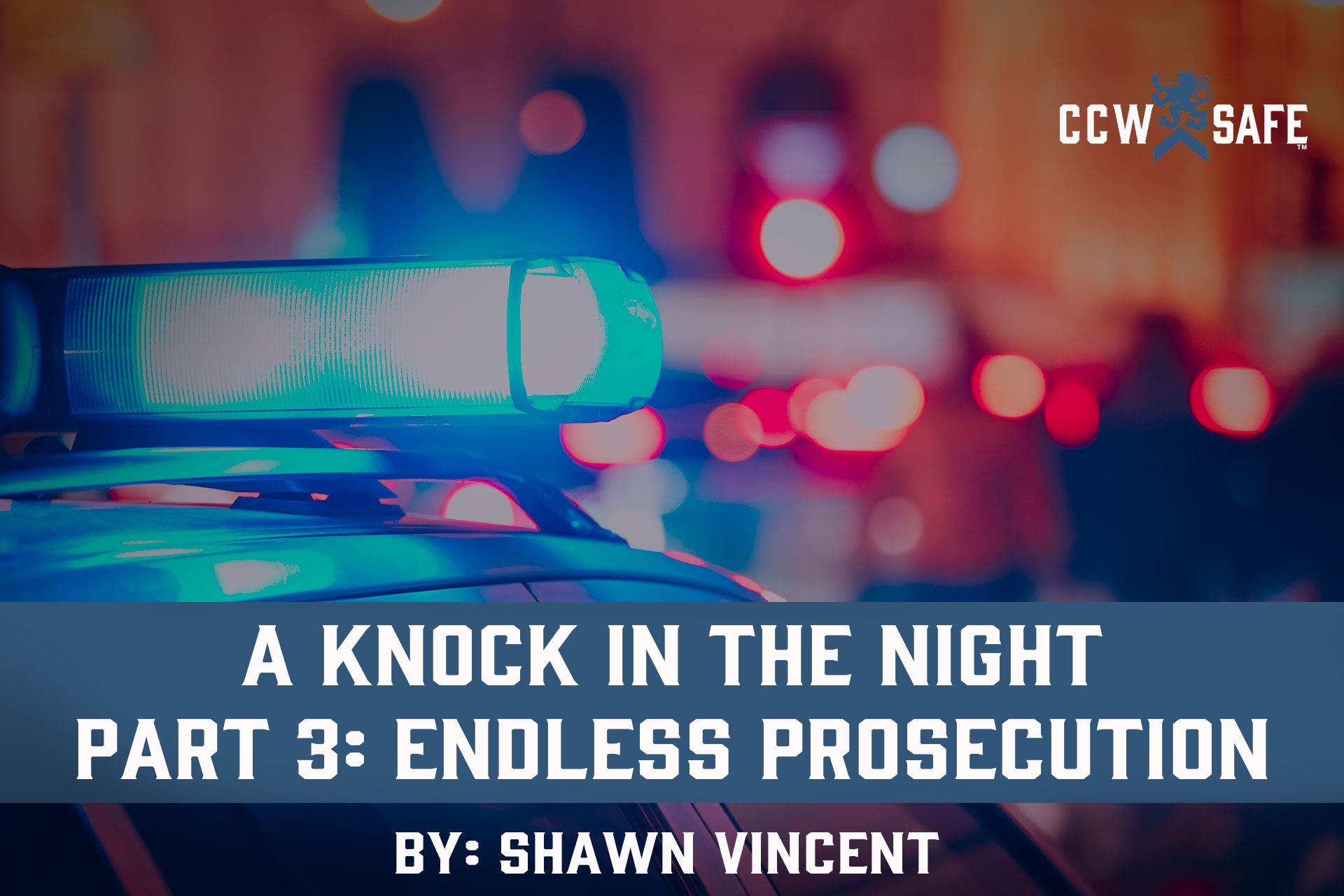 Posted on April 10, 2020 by Shawn Vincent in In Self Defense
A Knock in the Night Part Three: Endless Prosecution
A Knock in the Night
Part Three: Endless Prosecution
The last mention in the press of Greggory Farr's pending criminal trial was on November 6, 2019. The Task & Purpose article mentions a December trial date would likely be pushed back. It was. That means the 35-year-old Army veteran of Iraq and Afghanistan continues to wait for his day in court to face manslaughter charges filed in the wake of the shooting of a Navy sailor, Chief Petty Officer John Hasselbrink.
Farr's future has hung in the balance since the early morning hours of April 15, 2018. That's when Hasselbrink, due to ship out the next morning on the nuclear attack submarine USS Illinois, came back home after a night of heavy drinking. In his impared state, however, Hasselbrink didn't return to his home, but rather the home of Greggory Farr who lived a few doors down in a row of nearly indistinguishable townhomes.
Farr, asleep on the sofa and recovering from an ankle surgery, was startled awake by the sounds of someone manipulating the doorknob and slamming his shoulder into the front door. According to documents filed by Farr's lawyer, the Army vetran called out to the man, and when the stranger failed to respond, he retrieved his rifle. He implored the intruder to leave. He displayed his rifle through an arch window in the door as a warning. When the intruder continued efforts to gain access to Farr's home, he fired a single deadly shot through the locked door.
The tragic encounter triggered a long and uncertain legal fight for Farr. He was charged with manslaughter, and he hired a passionate advocate in attorney Marcus Landsberg who told the court, "It was not Mr. Farr's goal at any time to hurt anybody. The important thing to remember is that he was asleep when he heard someone trying to break into his house."
In an unusual legal quirk, a judge dismissed the charges against Farr due to delays that violated the accused's right to a speedy trial. Don West, veteran criminal defense attorney and National Trial Counsel for CCW Safe, explains that speedy trial is a concept codified in the Constitution designed to prevent the government from violating defendant's due process rights. If the state takes too long to get to trial, the case can be dismissed.
In Farr's case, the judge dismissed his charges without prejudice, which meant the prosecutor could refile charges and try again. This time, prosecutors took the case before a grand jury, and in May of 2019, Farr was indicted on manslaughter charges. Farr voluntarily surrendered, and for a second time, he was arrested for the self-defense shooting of John Hasselbrink.
Farr is out on a $50,000 bond. His lawyer has indicated publicly that he hopes to resolve the case before trial. Clearly, he believes he can negotiate a plea for a lesser charge considering the extraordinary circumstances surrounding the tragic shooting. In the meantime, Farr's future and freedom hangs in the balance. It's a nightmarish limbo that Don West says he wouldn't wish on his worst enemy.
Even if Farr's lawyer works out an acceptable plea to lesser charges, and even if Farr goes to trial and wins an acquittal, the long prosecution has no doubt shattered his family and turned his entire life upside down.
Don West says that criminal defense lawyers often voluntarily waive speedy trial so they can take the time necessary complete private investigations, hire experts, and properly prepare for trial. That's why it can often take 18 months, two years, or even longer for a murder case to go before a jury.
Don also draws a distinction between the concept of speedy trial and a statute of limitations. Speedy trial dictates how soon the state must go to trial unless the defendant waives the right; a statute of limitation governs how long the government has to file criminal charges after an alleged crime. Generally, there is no statute of limitations for murder, which means it is possible for charges to be filed weeks, months, or even years after a shooting. Don says he has personal experience with a client who was involved in a self-defense shooting more than four years ago, and he's never been charged nor exonerated. With each passing day, it becomes less and less likely the man will ever face charges, but nonetheless, the spectre of a possible prosecution may linger for years to come.
The lesson for concealed carriers and gun owners concerned with home defense is that, beyond the obvious life or death consequences of using deadly force, the ramifications, even for a justified defender, can last a lifetime. Every self-defense scenario must be judged on its own merits, but all too frequently, we have encountered self-defense cases that, even when justified, could have been avoided with a little more foresight or better judgment. That's certainly true in Farr's case. If there is any way to safely avoid a self-defense scenario, you should take it. Even if you feel you are justified in using deadly force — even if you are found to be justified in using deadly force — it doesn't mean that there are not consequences that follow in the wake of a self-defense shooting, consequences that can cast a long shadow over the rest of your life.
---
SHAWN VINCENT- LITIGATION CONSULTANT

Shawn Vincent is a litigation consultant who helps select juries in self-defense cases, and he manages public interest of high-profile legal matters. If you have any questions for Shawn, or would like more articles like this, let us know belo