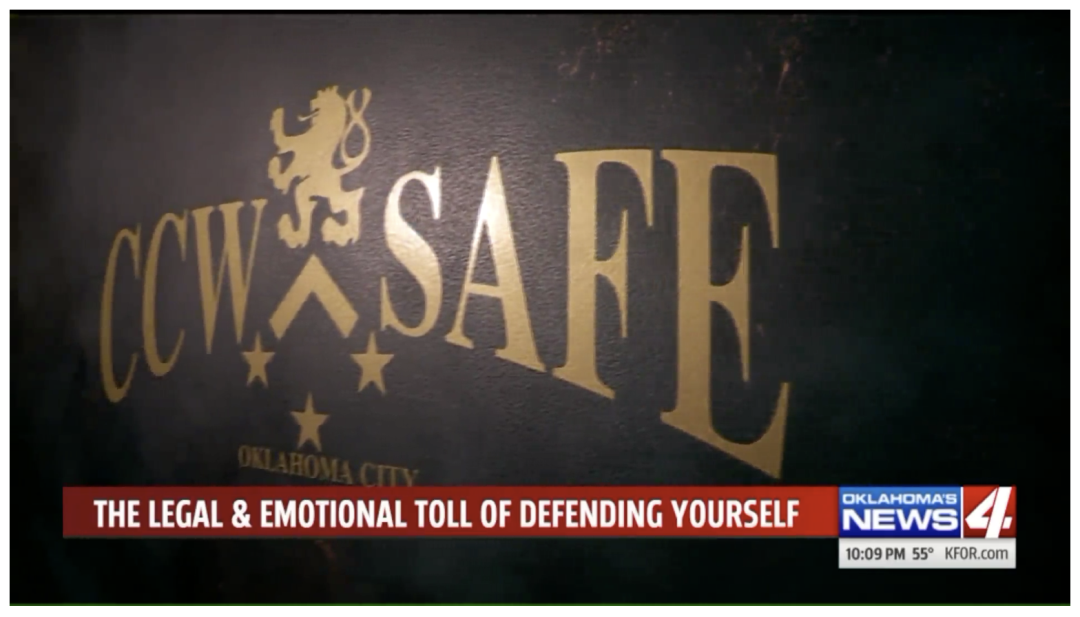 Posted on November 1, 2018 by support@ccwsafe.com in Uncategorized
CCW Safe Featured On Local News
KFOR Channel 4 ran a story on CCW Safe recently, and had a sit down interview with the founder and CEO, Mike Darter. The story was a follow up to a shooting in an Oklahoma City restaurant on May 24th. In that shooting, a suspect entered a restaurant and began shooting patrons. Two armed citizens were there and ended up shooting the suspect, killing him at the scene.
KFOR's Lacey Lett sat down with Mike for an interview about what people face after being involved in a shooting. The below is from the story ran on KFOR.
"This whole company was based off my personal experience as a police officer. I was sued in federal court on a police shooting," CEO Mike Darter said.
Because he was a police officer, the FOP paid for his legal expenses.
But when he left law enforcement Mike couldn`t find any company offering those type of services. So he started his own legal defense company in 2012 made up of other former members of law enforcement and defense attorneys. Most notably defense attorney Don West who represented George Zimmerman.
"Anybody that goes through a critical stress incident, and it can even be a car accident, but especially a self defense shooting it's going to impact your life," Darter said.
CCW Safe has a membership of 40,000 ex-military/law enforcement, and concealed carry permit-holders. They offer training videos and advice on how to get out of a situation first and foremost.
"As a citizen and a concealed carrier, there's a lot of things you can do to avoid situations. It just takes a lot of planning, preparation and avoidance to do so," Darter said.
"You're talking about your freedom. You know all shootings are going to be investigated. There's not going to be a self defense shooting or any shooting that's not going to be investigated,"
But if all else fails, CCW Safe sends resources to help.
They defended Stephen Maddox, who was attacked by a man at a North Carolina motorcycle convention in 2015. Maddox talked with news 4 last year.
"At that point he had me on the ground, he was actually choking me, and I tried to fight to get him off me and couldn't," Stephen Maddox said.
He says four people pulled the attacker off him before going after him again and again.
"He was able to get me to the ground and I fired my weapon to get him off of me," Maddox said.
That man died and Maddox was charged with first degree murder.
CCW Safe flew an investigator to North Carolina the next day.
"He immediately responds no matter where they are in the U.S. In North Carolina I think it happened at 11:45 p.m. The next day by 1 o'clock we had boots on the ground. We had two attorneys hired on a Sunday," Darter said.
Two years later Maddox went to trial.
After only an hour and 20 minutes of deliberations — he was found not guilty. A big win for Maddox and CCW Safe.
"Stephen had joined for $179 a year and we paid out $350,000," Darter said.
Mike says they also offer their members emotional support because they know the toll a self-defense situation can have on a person.
"You know taking a life is not natural, and if it is natural and you don't have any issues then I think there's a bigger problem," Darter said.