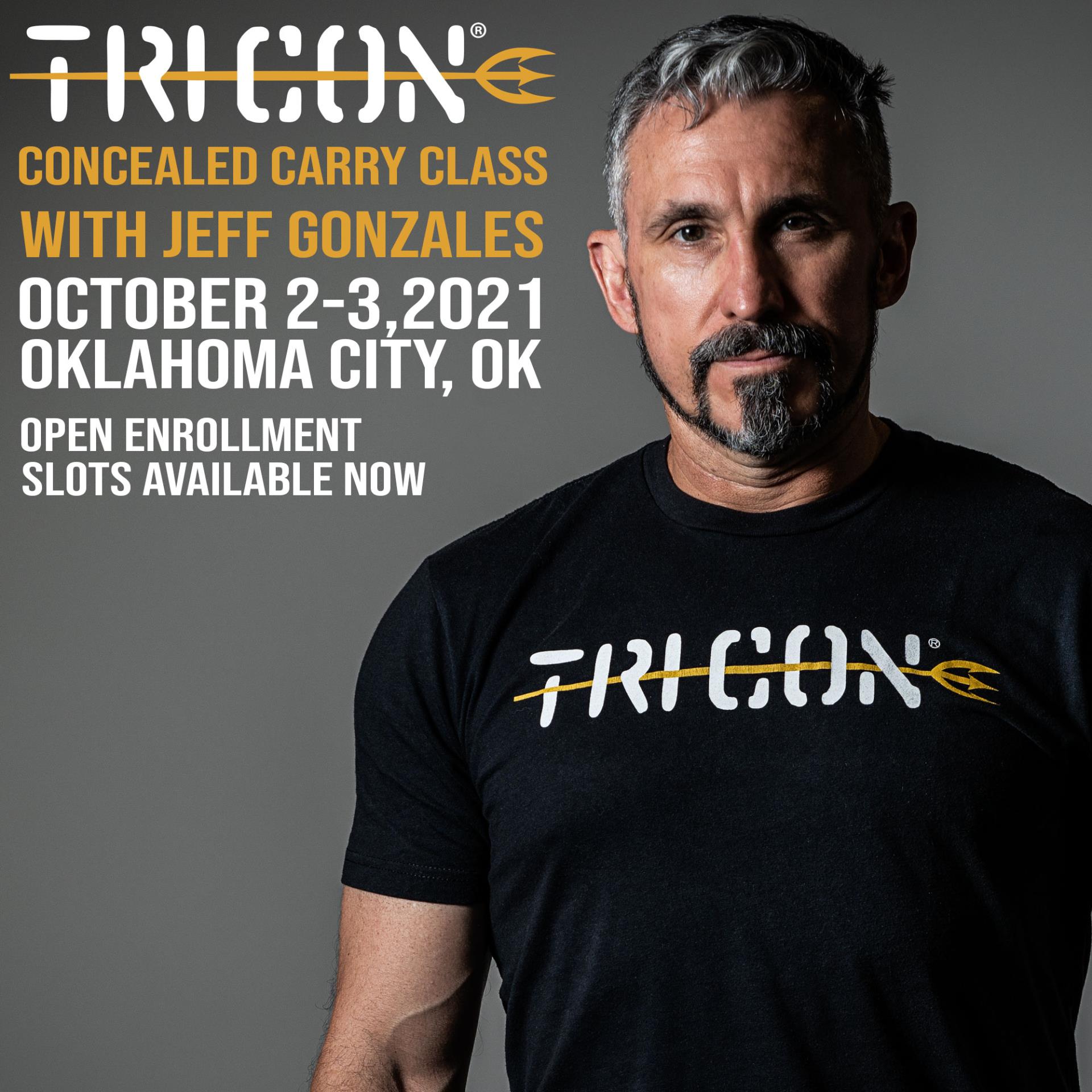 Posted on September 15, 2021 by support@ccwsafe.com in Uncategorized
Concealed Carry Class with Jeff Gonzales
Concealed Carry Class with Jeff Gonzalez
CCW Safe is excited to host Jeff Gonzales of Trident Concepts at our new range facility in Oklahoma City for a two day concealed carry class on October 2-3. This is an open enrollment class open to anyone. Slots are available now at the Trident Concepts website here.
The Course Description is as follows:
The Concealed Carry 2 (202) is an intermediate 2-day class on the fundamentals of everyday carry. In this intermediate carry class, students learn the essential skills for concealing and drawing a pistol under a variety of environmental and logistical considerations. Contact range shooting will focus on quickly defeating the cover garment for fast shots on target while extended range shooting will focus on accuracy under pressure. Subjects include various concealed carry methods, drawstroke techniques, hand position, defeat methodology, supporting equipment and defensive mindset. A major objective is the ability to defeat any cover garment then deliver quick and effective shots to stop an deadly force threat. Supporting objectives include movement, choosing cover garments, verbal commands, ammunition management and strong hand only.
Basic Carry Gear:
Defensive pistol, 9mm recommended
1,000 rounds of practice ammunition
25 rounds of

defense ammunition
5 x pistol magazines minimum (8 for single stacks)
5 x inert training rounds
Training uniform

required:

Polo or T-shirt
Button-down shirt
Jacket or coat
Sweater or hoodie

Concealed carry gear

Sturdy belt
Inside the Waistband (IWB) holster
Outside the Waistband (OWB) holster
Single and or double magazine pouch

Handheld flashlight with pocket clip
Clear/tinted ballistic wrap around eye protection
Hearing protection
Cleaning kit and lubrication
Notebook and pencil
Water and snacks
Open mind
Course cost is $525
Carry Class Prerequisites:
Concealed Carry 1 or similar training such as a State CCW course to get your carry permit.
The course will take place at the new CCW Safe Range Facility named Five-OH Farms in Tuttle, OK. The property is located 20 minutes southwest of downtown Oklahoma City. The facility features an eight lane manicured range that goes out 100 yards and a fully furnished, climate controlled clubhouse for class room presentations.