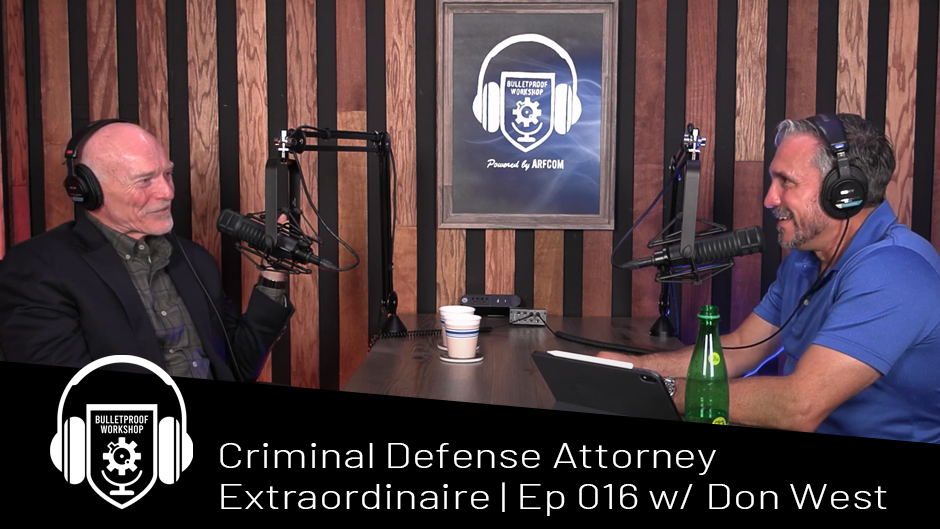 Posted on November 10, 2022 by Justin Collett in Don West
Don West interviewed on the Bulletproof Workshop
Jeff Gonzales, host of the Bulletproof Workshop and President of Trident Concept, sat down with CCW Safe's own National Trial Counsel Don West in Episode 16 of his podcast.
In this interview Don West gives some insight into the reality of going to court post a use-of-force and his experience doing it at the highest level.
Don is a board-certified criminal trial specialist with 35 years of experience as a criminal defense trial lawyer. He has extensive experience representing those forced to defend themselves against unlawful and potentially lethal attacks.  He has personally tried many deadly force self-defense cases during his career, most notably as co-counsel in the highly publicized defense of George Zimmerman in the Trayvon Martin shooting.
About the Bulletproof Workshop:
The Bulletproof Workshop tackles everything from the micro and macro level of our world. Subjects you may already know, but maybe you don't. Their mission is to expand your knowledge base through a diverse guest roster. Guests from all walks of life; teachers, instructors, scientists, corporate workforce, politicians, and everyone in between. Some shows will keep you glued to your chair; others will have you falling out of it laughing. If you walk away a little bit smarter, a little more knowledgeable, a little bit hungry for more, then it was a success.
Learn more about the Bulletproof Workshop here.
Watch the Bulletproof Workshop here.
Jeff also has a new book the Concealed Carry Manual, which you can learn more about here.