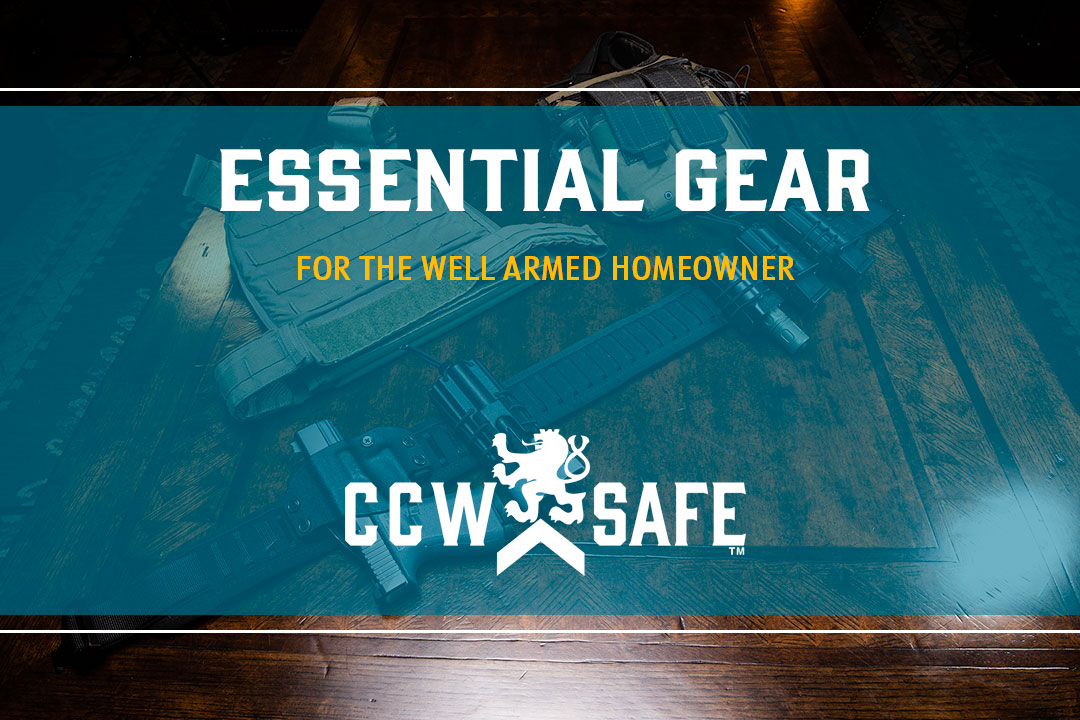 Posted on March 18, 2019 by Steven Moses in Training
ESSENTIAL GEAR FOR THE WELL-ARMED HOMEOWNER
ESSENTIAL GEAR FOR THE WELL-ARMED HOMEOWNER
In 1980, I captured a burglar at gunpoint in the living room of my one-bedroom apartment. After the police arrived and escorted my uninvited guest to jail, I realized that I was largely unprepared for that encounter and sorely lacking in the following three areas:

Training and Skills:

I basically had none, and largely prevailed through little more than having a gun, willingness to engage, and possibly good luck.

Tools: I had a .357 Magnum revolver, no reloads, no flashlight, and no medical supplies in case I had gotten stabbed or shot.

Support gear: Terrycloth bathrobe only.
I have since corrected my training deficit by taking courses in threat management, shooting, and low-light armed movement taught by some of the best instructors in the United States. My chosen tools now include a Glock 19, an extra magazine, a handheld flashlight with a tail-cap control, and a CAT tourniquet. However, I had yet to find the ideal support gear for dealing with a home intrusion until recently. I wanted something that was quick to don over a tee shirt and boxer shorts that would allow me to keep the previously mentioned tools on my person, and equally as important, would allow me to quickly holster my pistol upon arrival by responding law enforcement. I recently discovered the Wilder Tactical, LLC ("WT") Minimalist Belt Pad, and can recommend it in good faith to any man or woman who wants to be better prepared to deal with what is sometimes referred to as the "bump-in-the-night".
The WT Minimalist Belt Pad is brilliant in its simplicity and low-profile design. The user can quickly weave any robust leather or nylon belt through the individual leather slots and bypass multiple slotted sections in order to affix a conventional holster and various pouches. WT also offers cleverly designed magazine, flashlight, and tourniquet pouches made of nylon polymer. Each pouch is comprised of a separate front and back secured with a user-adjustable shock cord. WT uses a robust quick-detachable clip to attach the pouch to the inner belt. This means that a variety of different single-stack and double-stack magazines, flashlights, and tourniquets can be used. This is an especially nice feature if the user decides to change handguns, or alternate between different handguns, as there is no need to also switch magazine pouches.
I have tested my own set-up thoroughly and found it quick to put on, comfortable to wear, and have experienced no significant vertical slippage during an intensive live-fire practice session that included multiple draws and re-holstering. As I write this, the WT Minimalist Belt Pad is selling for $59.00, which is probably less than three boxes of good defensive handgun ammunition. The price of the pouches is likewise very reasonable.
I would urge readers to at a minimum give some thought as to how they might respond to the sound of a door being forced open or some other indication that an unauthorized party is entering or may have entered their home. If time permits, the ability to bring useful tools to bear is a big plus. I can say from personal experience that a floppy bathrobe pocket makes a lousy holster.
---
Steve Moses

Steve is a long-time defensive weapons and instructor based out of Texas who has trained hundreds of men and women of all ages for more than two decades on how to better prepare to defend themselves and their loved ones. Steve has completed over 80 private-sector and law enforcement-only defensive weapons and tactics classes, and has trained civilian and law-enforcement officers in six states. Moses is a reserve deputy, former member of a multi-precinct Special Response Team, competitive shooter, and martial artist. Steve has written numerous articles for SWAT Magazine and other publications. Steve is a licensed Texas Level 4 Personal Security Officer and Instructor who was Shift Lead on a mega-church security detail for seven years, and has provided close protection for several former foreign Heads of State. He is currently an instructor at Relson Gracie Jiu Jitsu/Krav Maga in Tyler, Texas and Director of Training for Palisade Training Group (www.ptgtrainingllc.com).