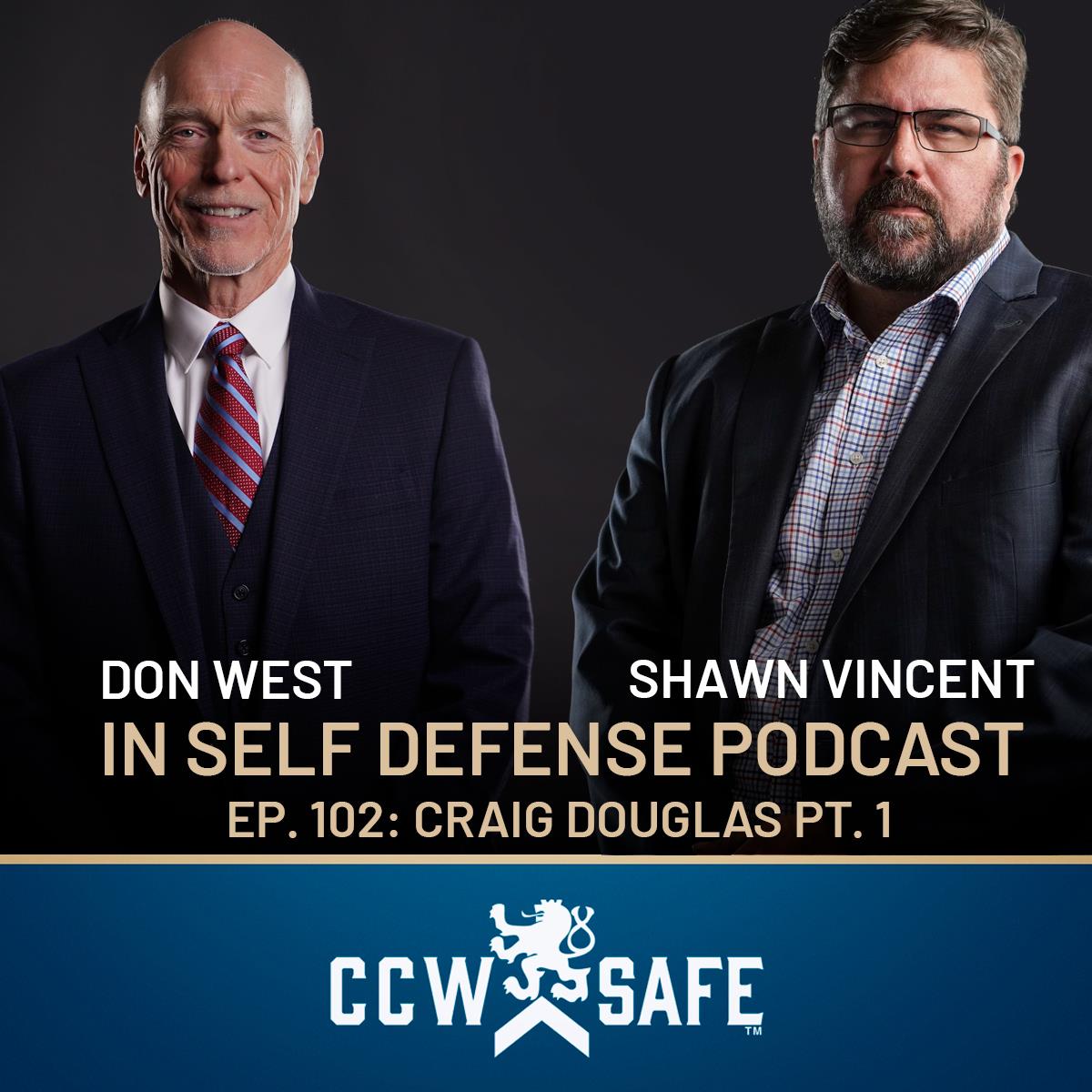 Posted on July 1, 2022 by Grady Epperly in In Self Defense
In Self Defense – Episode 102: Craig Douglas Trial Pt. 1
In the first of a three part series renowned self-defense and firearms instructor Craig Douglass joins Don West, Steve Moses, and Shawn Vincent to discuss how defenders can develop verbal skills to manage interactions with potential aggressors.
The CCW Safe team believes that continuing education is an important component of being a responsible firearms owner/carrier. We offer our free content as food for thought. We try to take a neutral position and encourage the reader to evaluate how they would handle a similar situation. If the content provokes thought we have succeeded in our mission. The opinion of the content provider may not reflect the overall opinion of the company and staff members.
TRANSCRIPT:
Managing Unknown Contacts with Craig Douglas
Shawn Vincent:
Hey everybody, this is Shawn Vincent. Thanks for listening in to the podcast today. Today, I'm pleased that we're going to have part one of three interviews that we've had with Craig Douglas. If you've been in the firearms training business for any amount of time, you've no doubt encountered Craig Douglas' name or his company ShivWorks. He's got an illustrious career. Steve Moses is going to tell you about his experience, if you don't know it already. And speaking of Steve Moses, it's thanks to Steve's sterling reputation in the firearms training business, or industry, that we've been able to bring guests like Craig Douglas to you. So thank you, Steve, for that.
Shawn Vincent:
Our conversation today, we're going to start with a great conversation about managing unknown contacts. A lot of Craig's work is on what he calls "soft skills" or "verbal jujitsu." That's your ability to be alert and recognize suspicious folks and then have the skills to negotiate that ambiguous situation before it turns violent, before you ever think about having to go to the gun.
Shawn Vincent:
Part of that conversation's going to talk about managing dynamic distances. That's how you protect your space when you're out in public, and how you create boundaries in your mind, boundaries that you can use to articulate how an aggressor has infiltrated your space after the fact, how you know when it's time to increase the level of threat when it comes to dealing with unknown contacts. We're going to talk about getting loud without getting angry as part of your verbal jujitsu skillset. And then, I love this idea as someone who's got about a billion Spotify playlists, we talk a little bit about developing a playlist for interactions with unknown contacts. You have to think about what you're going to do, what you're going to say, how you're going to behave before you have these situations so that you've got a script that you can go back to.
Shawn Vincent:
So let's get into this conversation. I'm joined today by Steve Moses, of course, Don West, as always, and a very special guest, Craig Douglas.
Steve Moses:
Well, it pleases me to introduce Craig Douglas to our listening audience. I met Craig, I believe, 2003, 2004 … actually hosted him for a class called ECQC, Extreme Close Quarter Concept. Was it Concepts, Craig?
Craig Douglas:
Yes.
Steve Moses:
Okay. That was in Ennis, Texas … long time ago. I'd heard of him. I wanted to study under him. What I saw was unlike anything that I've ever done. It completely changed the way that I've looked at him. I've been a dedicated student of his ever since then. Any opportunity I have to train under Craig or listen to what Craig puts out, I do that. A lot of how I conduct my life and how I teach today, I base it on what I learned from Craig. So it's just a real honor for me to bring this guy onto this podcast and introduce him to the people that don't know about Craig yet.
Steve Moses:
He's got a very extensive background. He was an undercover narcotics agent, he was a SWAT team commander. I'm just glossing over some of this stuff, that he has seen some things from a perspective that not a lot of other people have seen, and his ability to capture what he has learned and be able to put that in presentable, digestible chunks and present it to other people, it's just awesome. Craig, it's an honor to have you on this podcast.
Craig Douglas:
Steve, it's an honor to be here, man. And just reflecting on when we first met. My first thought is, "Wow, where did that time go?" Almost 20 years, it's amazing. Yeah, thanks for having me. I'm really happy to be here with your audience.
Shawn Vincent:
Yeah. So your website and your program is called ShivWorks, ShivWorks.com, right?
Craig Douglas:
Yeah, that's the brand I operate under, and ShivWorks has been a brand of training and products globally for 20 years. I teach in 48 states, 11 countries outside of the US, all four branches of the US military, five federal law enforcement agencies, and I've had a standing contract within a small section of the intelligence community for about the past seven years.
Shawn Vincent:
One thing I read about the ShivWorks program is that you're taking an interdisciplinary approach to self-defense, right? Your goal here is to give every student empty hand skills of an MMA fighter, the firearm skills of a USPSA grand master, and the verbal agility of a standup comic – and I love that description. I want to ask you a little bit about that interdisciplinary approach because I think for a lot of folks who may be new to self-defense, they may purchase a firearm, get a concealed carry permit … that firearm becomes their solution to self-defense. And you've mentioned there the verbal agility, that's part of the toolbox. Tell me a little bit about that interdisciplinary approach.
Craig Douglas:
That's a big part of what I teach. Many people reference what I think of as verbal agility and as importantly, social literacy, commonly under the umbrella of soft skills. And when instructors mention those terms quite often, there's no other explanation of what that actually means, much less specific tactics or training modalities so people can learn that stuff. That's what I've tried to do because at least in my professional experience, I have found those to be as important, if not more so than marksmanship and gun handling.
Craig Douglas:
I had a 21-year law enforcement career, 11 of those were spent in narcotics, two of those were spent as an undercover officer. And I know how many people I shot in my career. I have no idea how many people I almost shot but chose not to. I have no idea how many people I talked out of shooting me on drug deals. I know the potency and power of a well-placed word, and it's as potent and powerful as a well-placed shot. And I think if one chooses to carry and take the responsibility of carrying a gun in public space, then the onus is even greater that people have parity in those other skills, like good language, good verbal agility, good social literacy, and hand-to-hand skills, if necessary. Yeah, that's what we mean by "interdisciplinary," is that we have all these problem-solving modalities for us because as you've noted, many people, when they start their journey, they get the pistol, they start carrying it, and then that's the only tool, if you will, they have for solving problems and then every problem looks like a "shoot" problem.
Shawn Vincent:
And the most obvious problem where the firearm's appropriate is when you encounter someone else with a firearm who's threatening your life, right? And I think a lot of folks, when they imagine a self-defense scenario, they imagine something like that, an armed robber, an armed burglar, somebody they're approaching where everything's cut and dried. And in our experience, Don, when we look at cases that are in the news, the ones that involve an armed defender defending themselves against somebody with a firearm, those are never controversial. The defender is never facing any legal scrutiny from that, but it's when an armed defender faces someone who ends up being unarmed, at least not traditionally armed, doesn't have a firearm, and then they use their firearm in response to that perceived threat. That's when the real trouble starts, after the fight and the legal analysis of their decision to use deadly force, and we call that the "armed defender's dilemma."
Shawn Vincent:
And I think when you open up self-defense to this into your interdisciplinary approach that includes social literacy, I'd love to have you talk a bit more about that, the verbal skills, and even having … What do you call it? Empty fist, empty hands training, different scenarios? That helps negotiate that dilemma.
Don West:
Well, we all know that the right to use up to and including lethal force does not require that the other person be armed with a deadly weapon. It only means that they pose an imminent threat of great bodily harm or death; that the disproportionality of it all comes in when people don't understand that people can be lethal with their hands, with their fists, with something they grab that's sitting right next to them, and in fact pose an imminent threat of great bodily harm or death, which allows for, and may very well require the use of deadly force.
Don West:
So I think there's a bit of a distortion in the way the general public sees these things that come out. And as a result, in my personal view, having tried a few of them, it's a harder case to defend when you've used a deadly weapon against someone that's at least portrayed as not having a deadly weapon. So the analysis may be a little different. You may have a harder time explaining why this person in fact did pose that imminent threat, but nonetheless, at the end of the day, you don't even have to have a scratch, you only have to have the basis to respond with the use of deadly force. This is justifiable.
Don West:
Obviously, we've talked about and experienced problems where the person has no other skill, no other choice, no other appreciation for that middle ground when responding to someone who is apparently unarmed, and either goes to the gun too quickly, at which point they've then committed a crime, or perhaps too late, and then they're already seriously injured or dead. And so I'm so intrigued to hear the sorts of things that Craig is going to tell us about that space in between sensing what's going on, how you best prepare and defend yourself. And then, of course, I'd love to hear what happens when you are in fact intertwined with someone who has physically attacked. You may have a gun, but you may not even be able to get to it in that situation. It's hard, hard stuff legally, and I imagine even harder tactically to know what to do next.
Shawn Vincent:
And Craig, maybe that starts with identifying and assessing a potential threat.
Craig Douglas:
It does indeed. I developed a strategy template, if you will, for enhancing a person's awareness, avoiding a problem, if you've spotted one, and if you've confirmed a problem that's ambiguous as indeed being hostile, deselecting yourself out – and that's the process, if you will, of managing an unknown contact. That's the language I use. And I'm specific with that. I don't call it dealing with bad guys, because part of the problem is ascertaining and understanding what is and is not a potential threat. A lot of people have biases, real or perceived, in just how they observe people. And one of the things I tell them is, "Look, we're not going to make judgment calls on strangers based on how they look if we were being approached by them in places that may be more conducive to a crime than another, such as a parking garage or a parking lot, it's the right time of day, it's the right place that would facilitate a crime against a person. You know, we're not going to do that anymore. We're going to have a baseline for how we interact with people."
Craig Douglas:
And we already do that with the population that's out there. We do that with children. We don't allow a child, when they're being approached by a stranger, to make a judgment call on how they look. We draw a line in the sand, if you will. We usually give them a hack, right? Like "stranger danger." We say something like that, which is just a little sound bite for consistency. We want our kids consistently doing or not doing something with strangers. And what I tell people is that we're going to do the same things as adults. We're not going to make judgment calls based on how people look.
Craig Douglas:
I don't assume people have street smarts. I don't assume people know what bad guys in a particular part of the country look like. I don't assume they know all the tactics and strategies of street hustlers and armed robbers and that kind of thing. So we employ the strategy template for dealing with an approaching stranger, managing an unknown contact, that essentially consists of, number one, an appreciation for distance and what distance actually means and the mercurial nature of distance, and how a single step can have a fairly significant impact on an outcome. I do a drill where I show the implications of that, and one of the things I try and hone in people and develop is a really, really finely tuned sense of how distance changes and shifts.
Craig Douglas:
The analogy I make is: if you think about driving in bad weather during heavy traffic, if you think about driving in a summer rainstorm, bumper to bumper traffic, you've got this red sea of twinkling brake lights, you're probably very sensitive and attenuated to minor changes in distance. And that's the same lens that I want people holding when they walk around an open space. So once we hammer that home … get that across through some visual demonstrations and exercises, I start going through the three-pronged strategy of managing an unknown contact, which consists of the verbal component, the movement required to maintain distance from someone who is approaching, and finally what to do with your hands.
Craig Douglas:
So there's three elements that coalesce and come together in an effort to maintain a little bit more distance in a somewhat socially acceptable way. So there are three elements of MUC, that's how we acronym it, because we have to have acronyms. There are three elements of that that we practice. Each element has probably 10 minutes of instruction, maybe on all three. It takes me about probably 30 minutes to go through the entire strategy before I pair people up and let them start working.
Shawn Vincent:
That's interesting. You talk about using, particularly these verbal skills and the movement skills, in a way that's socially acceptable. And we joke about this on this podcast frequently that we see a lot of situations where somebody with a firearm in their hand might be quicker to pull the trigger than to say a rude word, right? Or they don't feel comfortable being aggressive verbally. And that's first on your list.
Craig Douglas:
And it's not even being aggressive verbally, Shawn, it's being assertive verbally. So one thing I'll do is: I'll stand there in class and I'll have my assistant instructor and say, "Okay, let's say I'm a mom in a parking garage. I see this person 20 feet away, because I do have good awareness. I don't have my nose in my phone. And as this person's approaching, I understand that if this person's intentions are hostile, not benign, and they get to a certain distance, my chances of mitigating that have gone down. So what should I say, and how should I say it?" Well, people will offer suggestions, "Hey, ask them what's up. Hey, ask them how can you help them."
Craig Douglas:
And I'll do those things, "What's up? How can I help you?" And the person continues to just walk toward me until they can touch my chest. It's a staged demo. So what's the problem with that?
Craig Douglas:
Well, when you say things like, "What's up, what's going on? What do you need? How can I help you," essentially you're inviting someone into a conversation. And average conversational distance for the populace, at least pre-COVID, is right at about wingspan. So if you watch even strangers in public they can make a decision to speak to one another quite often will literally close to within arms reach. So we don't want to do that, and saying things like that invites people in. Then I'll ask the students, "What should we say?" First of all, what are we trying to accomplish with our language? What's the objective of speaking, to begin with?
Craig Douglas:
Well, it's to halt his encroachment. So whatever I say should support that. Is there anything else I don't want to do with that person? Probably don't want to piss him off. If they're a benign person that's walking up to ask you for a set of jumper cables, the last thing you want to do is create a problem where there isn't one. So the objectives are binary with the opening salvo of your language: you're trying to halt someone's approach, not create a problem. What I recommend at least for the opening is people phrase a request that's clear in what you don't want them to do, and is authentic to you. Here's what's authentic to me and seems to work fairly well: "Hey man, can you hold up for a second?"
Craig Douglas:
Now, what sells it is my facial expressions, my tone; I'm not aggressive, I don't have a war face on, I'm not particularly inviting. And it's a definitive ask: I am asking this person not to come any closer to me. it is essentially setting a boundary. It's a polite, assertive ask that's clear. And that quite often will work, especially combined with the right kind of movement and the right kind of hand position.
Craig Douglas:
And from there, if a person chooses to stop, I may then choose to engage in dialogue. What I'm not going to do is engage in a conversation with a stranger as distance is closing. If we are going to make the distinction from monologue to dialogue and get into a conversation, they're going to stop first. That distinction is super important because it maintains the range safety threshold.
Shawn Vincent:
And what is that range that you feel comfortable at?
Craig Douglas:
The bare minimum is a full step outside of wingspan. That's the bare minimum. If I am close enough to touch you, and you are close enough to touch me right at my sleeve length, wingspan, whatever, that is the hot zone. And if someone initiates on you within arms reach and you don't expect it, 10 out of 10 times, you're going to lose. A hundred out of a hundred times, you're going to lose. So at the bare minimum. The bare minimum. And quite often it's environmentally specific. The space that you have in a parking lot is different than the space that you have in a crowded bar, but the bare minimum is a full step outside of wingspan.
Shawn Vincent:
And I see, once you verbally say, "Hey, Hey, hold up," or something like that – that's comfortable to you, now you've asked them to stop, and now there's choices being made, right?
Craig Douglas:
And what you just said is actually not correct, because that was a tell. That wasn't an ask.
Shawn Vincent:
Okay. I got you.
Craig Douglas:
Does that make sense?
Shawn Vincent:
It does. It's less …
Craig Douglas:
Oh, here's the thing: I want to start off with an ask. I absolutely want to start off with an ask, "Hey man, can you hold up?" If that doesn't work, now I'll shift to a tell. Does that make sense? And here's the thing… Don, I'm certainly not an attorney, but I have a lot of time in courtrooms, quite a bit. State and federal court, depositions, trial, suppression hearings. That's articulable, you know?
Craig Douglas:
If you were to tell a jury of your peers in the aftermath, you were to offer an affirmative defense to take the stand, whether you should or shouldn't do that, that's another question. But you were to say, "Ladies and gentlemen, the jury, I asked this person not to come any closer. That didn't seem to work. I asked again because they were coming in too fast, they still came in, so I told them not to come any closer."
Craig Douglas:
You're showing an effort at controlling this potentiality through focused, precise, graduated language. And I think that's important because each ascension, if you will, in this case, within the verbal strategy template is an additional barrier.
Don West:
Oh, sure. And I think you're able to then articulate each aspect of that, and why that caused you to be even more concerned, fearful, or however it is that you are managing this person's response to your ask or your tell, or whatever it is that it then leads to.
Craig Douglas:
One of the things I tell people with the tell is, it's super important on the tell to raise the volume up. So when you shift from ask to tell, if your volume is normally at a two, it should probably jump up to a 10. And a good way of explaining this to police officers or military people is, it's kind of like a bang without the flash. It should be jarring. It should be startling in volume. Volume needs to be understood contextually, but also within a vacuum of not being necessarily linked to aggression and hostility. Most people, when they think I'm going to get loud, they associate that with getting mad or angry. You don't have to do that, right? You can still project volume without necessarily connoting hostility. So if I were to say, "Hey man, can you hold up? Dude, can you hold up? Whoa, back up, man." That bump in volume, if done correctly and it's unexpected, quite often is enough to really put somebody back on their heels.
Craig Douglas:
So that's important, and what's interesting about volume and raising your voice to people – and I see this in the CCW community – a lot of people don't have a hard time pointing a gun at someone, but they cannot raise their voice. So I make people practice doing that, and it's very common, especially with women. Raise your voice, get loud. '"I'm not loud?" "No, no, ma'am, you're not louder."' So we'll practice that.
Craig Douglas:
And then the final part on the verbal side is, we have the discussion about profanity and whether you should or shouldn't. Basically, what I tell people is, "I'm not going to tell you to use or not use profanity, but I want to have a conversation," because a lot of people that teach self-defense skills will say never, ever, ever use profanity. And I can tell you certainly from my law enforcement career, almost all of it being spent on the street, is that profanity is part of everyday lexicon. People use it. People understand it. I don't tell people to use or not used profanity, but I give them some guidelines for doing so. The first is, if you don't normally use profanity, now's not the time to start because you don't want to talk tough, right? Because, here's the thing, if you're not used to talking like that and you come across as inauthentic, street culture most assuredly will call you out on that. So if you don't normally talk like that, don't do it now. And the second variable there is, try not and be insulting with it.
Craig Douglas:
Is there a difference between telling somebody, "Back the fuck up," versus, "Backup, motherfucker?" So in the first example, "fuck" is like an exclamation point, right? It accentuates my message. And the second, I've insulted this guy. I certainly haven't done anything to quell any kind of hostility that may be simmering between he and I. I probably made this situation worse.
Craig Douglas:
So the verbal component of managing an unknown contact consists of asking someone, making sure that request is clear; if that doesn't work, shifting from an ask to tell, bumping volume up as required. And I can always bring that back down, right? If I tell somebody, "Hey man, back up," and it looks like that's going to create the problem, I can always bring it back down, "Hey man, didn't mean to yell at you. You startled me, I got a kid in the hospital. Just stay over there and we can talk." So not only have I brought it back down, I've made an attempt to create some empathy, and at the same time, I've given them an apology, whether they deserve it or not.
Don West:
It almost sounds, Craig, like you can pre-script this in a way that you know what words you're going to use in what part of this sequence so that you're comfortable with them. You're not struggling, grasping for, "Oh, geez. What am I going to say now," in the midst of all of this other stuff going on, because I'm assuming that the verbal stuff is one small aspect of the overall assessment of what's going on, because you've got to look at more than just this guy's feet, and whether this person's stopping or backing up or how he is responding in the big picture, as well.
Craig Douglas:
A hundred percent. That's the thing, Don, we practice this stuff. And the language I use to describe that portion is, I like to think of it much as we would a playlist on a phone. So if you have a playlist on a phone, like, your workout playlist, you have this list of songs that are favorites, that you can warm up to, that you can kind of get through some sets to, and then finally, you've got some really aggressive, hard music so you can get those last few reps.
Craig Douglas:
But the point of it is, you know the order and you know what's coming next. You're a hundred percent correct: we must develop a playlist of things that you can say that are authentic to you, that satisfy these tactical objectives. And what I do is I force people to do that. And it's interesting because it's awkward. It's socially awkward training when I have a class of 20 people, and I go through the initial explanation of the criminal assault paradigm, as I understand it, and managing an unknown contact – I've been speaking now for an hour and 15 minutes – when I cut people loose and they begin to work in pairs. And it's interesting to watch because it sounds easy to do, and like most soft skills where we learn these in PowerPoint and pay lip service to them, but there's no physical training modality.
Craig Douglas:
If people don't actually do this interactively, then the content is not actionable. It's not going to come out. Us just talking about it is not going to do it. We must engage with each other interactively and immersively to learn how to actually do this. And we'll see people screw up the first time. Even if they know they should start up with an ask, a guy will immediately approach and say, "Hey man, what's up," because that's what he's used to saying; or, "Hey man, back up." He starts off with a tell.
Craig Douglas:
So it needs as much practice physically as marksmanship. It's as important as marksmanship. I'll be quite frank: I would argue that it's more important than marksmanship, but the problem is, there have been no modalities of training that exist because there is no live fire analog, there's no Dot Torture, there's no five by five, there's no El Presidente. There's nothing you can do on a range to learn the skill. You must have bodies and space. And it's simple to do, it doesn't require anything… I've done this in a crop circle in the middle of Kansas before with a bunch of dudes. So yeah, it just requires doing the work.
Shawn Vincent:
All right, guys, that's the podcast for today. Thanks for listening through to the end. Next time we're going to continue our conversation with Craig Douglas, and we'll be talking about how doing that work can make you more confident so if your verbal skills don't do the trick and you're forced to meet violence with violence. Until then, be smart, stay safe, take care.