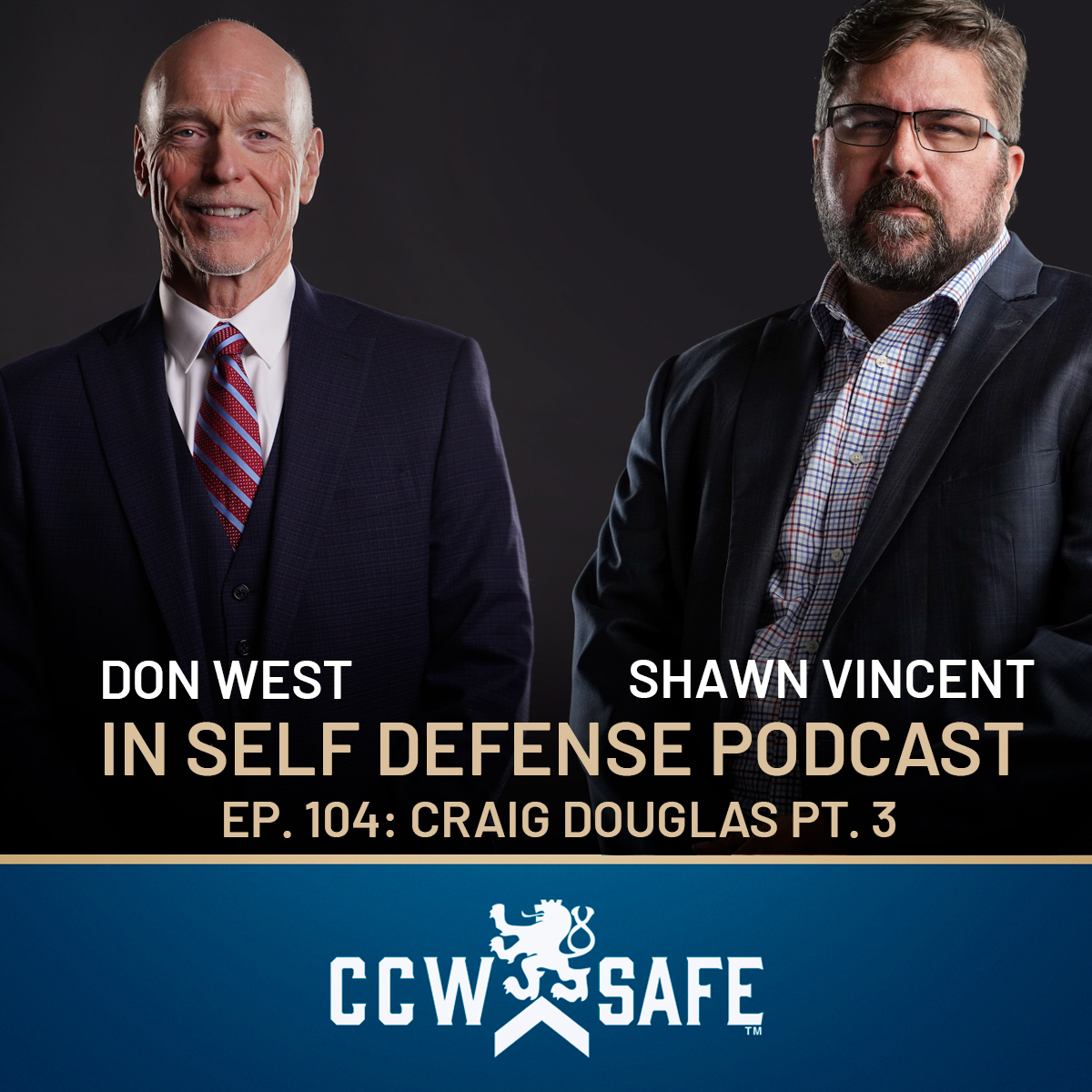 Posted on July 15, 2022 by Justin Collett in In Self Defense
In Self Defense – Episode 104: Craig Douglas Pt. 3
In part three of this three part series Craig Douglas joins Steve Moses, Don West, and Shawn Vincent to talk about developing the skills and mindset required to live an armed lifestyle – one in which a concealed carrier avoids conflict whenever possible and uses force decisively and confidently when it is required.
The CCW Safe team believes that continuing education is an important component of being a responsible firearms owner/carrier. We offer our free content as food for thought. We try to take a neutral position and encourage the reader to evaluate how they would handle a similar situation. If the content provokes thought we have succeeded in our mission. The opinion of the content provider may not reflect the overall opinion of the company and staff members.
TRANSCRIPT:
Craig Douglas on "The Armed Lifestyle"
Shawn Vincent:
In this final part of our conversation with Craig Douglas, we're going to be talking about the armed lifestyle. And that's once you've got the physical and technical chops and you understand how to fire well and shoot safely. And then you've mastered one of the things that Craig Douglas talks about a lot, the soft skills, the verbal jujitsu required to identify and negotiate difficult situations before the threat of violence is there – before it becomes necessary to use your firearm.
Shawn Vincent:
All of those things are part of the skillsets that you need as a competent and confident armed defender. But those all build up towards a mindset that's part of the armed lifestyle. We'll have a conversation in a bit about that. Today's chat begins with a really interesting discussion I think between Don west. He's national trial counsel for CCW Safe, veteran criminal defense attorney, and Craig Douglas; they talk about negotiating ambiguous situations and being able to articulate the decisions that you make after the fact.
Shawn Vincent:
And we've talked about this a little bit before. We're going to talk about it again because I think it's so important. It has to do with creating boundaries or thresholds that you set up that will dictate in advance what your response is going to be to a perceived threat that you encounter out in the world.
Shawn Vincent:
And if you can set up thresholds – like if this person crosses the street, then I'm going to do this, if this person acts in this way, then I'm going to do that. You know what your questions are going to be. Your verbal commands are going to be. You know what stages of defensive display you're willing to do under which circumstances. If you thought these things out in advance, then you can recognize the contingencies as they unfold.
Shawn Vincent:
And then if you have to go to the pistol and you use deadly force, and you're forced to justify yourself after the fact, being able to articulate that whole sequence is going to be hugely beneficial to you in your potential legal defense in the aftermath of a self-defense shooting. That's what this podcast is all about.
Shawn Vincent:
So I want to get into that conversation now. Here's our third and final part of our conversation with Craig Douglas. Thanks to our friend and constant companion, Steve Moses for bringing him to the podcast and to Don West for his fantastic insight in this particular episode.
Shawn Vincent:
We're looking at negotiating these ambiguous situations. And there's that gray area. And I think you used the term, Craig, "graduated" or "graduating" the nuances here. The more lines that you can draw, we call them "thresholds" or "barriers" that we can create out of this gray space that we can see and distinguish and articulate that someone has crossed or chose not to cross, that makes your decision-making much better. And then, Craig, you said that allows you to articulate better.
Shawn Vincent:
And Don isn't that just the crux of the entire aftermath of any self-defense case? If the defender can't articulate what they did, then you have to do it for them after the fact. And the more thresholds that somebody lays down that were crossed that they can explain, the better they are. Not just in front of a jury, but just when they finally have their lawyer involved and can make a detailed statement if they choose to.
Don West:
Well, sometimes people forget that self-defense, while it may be a valid defense to a criminal charge, it is nonetheless an affirmative defense that requires some evidence. You don't automatically get to say it was self defense without explaining why to some degree. Now that explanation could come from other witnesses or other evidence.
Don West:
But typically it has to come from you, because only after there's some evidence of self-defense in the record, does it shifts then away from you having that burden to introduce that evidence to the prosecutor having to disprove it, to the judge being required legally to give the jury the option to find self-defense or actually find that the prosecutor failed to exclude self-defense.
Don West:
So, the more able you are to meet that threshold and more basically to explain what your thinking was. Why did you do what you did when you did it? And if you can clearly explain the moment that you pulled that trigger and everything else that led up to it, then first and foremost, you may not get charged to start with. We've had lots of lethal self-defense shootings, where it ended right at the police level of investigation. They may very well have referred the package to the prosecutor for review, but they never got to a grand jury. They never got to an indictment. They never got in court.
Don West:
So it all goes back to that point. If you were thinking clearly, if you are following the progression, if you were acting reasonably and responsibly in response to that threat, and it's clear to others, of course, the guiding principle is not only does it have to be … Your actions have to be reasonable to yourself, but they have to be reasonable to others too.
Don West:
And if it's evident that they were reasonable and the jury or the police investigator or the prosecutor could say, "Yeah, I probably would've done the same thing in the same situation." You're well on your way to not getting charged to start with. And if you do get charged and the prosecutor has to meet that high burden of proving beyond a reasonable doubt that you didn't act in self-defense, you have a much higher probability of being acquitted. It's all part of the same dynamic.
Shawn Vincent:
So if a self-defense shooting's going to be justified, you are the one that has to justify it?
Don West:
Absolutely. And one of the questions of course that the lawyers ask is, "Well, how do we justify it with or not putting the defender on the stand?" That put it whether somebody takes the stand in a criminal case is Craig can talk about having had experience in the courtroom, seeing how these things play out. That's the $200,000 question for the lawyer and the client. Do you take the stand? Are you going to make it better? Are you not going to make it better? I think the default position typically is, yes. In a self-defense case, the defender needs to explain why they did what they did when they did it. But that's…
Don West:
I can tell you having tried a number of self-defense cases, including several where the attacker was unarmed so to speak, that the hardest cleanup there is fixing the statements that the client made after the fact to the police. When they were anxious, scared, angry, whatever it was … uncounseled, they made statements that then had to be explained.
Don West:
The person may have acted completely legally, but they said something that needed to be explained, or I used the word "fixed." Not to lie about. Not to come up with something fantastic, to create something that didn't happen, but to fix it. To explain that in fact what they did was lawful. But you create these obstacles that make it very, very difficult for your lawyer.
Craig Douglas:
Yeah. I've absolutely seen that. And I think, Don, that's another reason that I spend so much time continually splicing things down. Because like you said, people just assume that it's an automatic right. I'll see someone in a simulation draw a gun, and whatever happens, happens in the aftermath. They do use it, they don't use it to get in a fist fight. Somebody comes along on video and starts saying he's got a gun, because I do stuff like that too just to… Because that's real, and just to inject that.
Craig Douglas:
But I'll ask him in the aftermath, "All right man. So this guy walked up to you, he did X, Y, and Z. And you drew a pistol. Why?" "Well, I was in fear of my life." "All right. Just really?" "Yeah." "You sure?" "Well, he was aggressive." "Was he aggressive or was he persistent?" "I'll think about it." And you're like "Yeah, he really wasn't aggressive." "Okay."
Craig Douglas:
And we just start continually splicing this stuff. And I think again, it's a training issue. A lot of people just, they don't know what… They don't even know how to look at somebody's actions or explain them well. It's not because they're dumb or incapable. They're just not trained in this interdisciplinary global sphere of conflict of anything other than drawing a gun.
Don West:
Well, I think that we wind up at CCW Safe with some members whose response to what's happening in society at the moment is to say for the first time in their life, "I need to get a gun." And they go buy a gun, take the necessary class to get the permit for it if that's required. And then all of a sudden now they're armed.
Don West:
So they think they've solved their problem, which was the thinking that made them want to get a gun in the first place. They may have never been in a fight their entire life or not since junior high school. They may have never even played contact sports where they're used to getting banged around having physical contact with people. No ability to see anything in between everyday common conversational interaction, and somebody actually smacking you in the head.
Don West:
So when you're talking about training and I'm really fascinated to know how you incorporate the physical part of that process. And I know there are parts of your training programs where you're already involved grappling with somebody. They're physically on top of you and you have to then respond to that. But managing unknown contacts may necessarily, it may lead to that hand-to-hand stuff and where it goes.
Don West:
I've heard people comment that there's a difference now between the newest generation of police officers and maybe some police officers a few generations ago. That those people have never been in physical contact with others. That they may very well have gone into law enforcement for all the right reasons, but have not had that kind of life experience that you're talking about, which is every day in certain communities, where people are touching each other, where they have weapons. They express themselves in completely different ways than what the new recruits are used to.
Don West:
And it is training obviously, but it's more than just going to a class, right?
Craig Douglas:
100%. And Don, let's really think about this. Columbine was when? 97, somewhere around there. So '96, '97, somewhere around there. I think '98. One of those '90s. But we've got a whole generation, actually, two now, raised in zero tolerance for any kind of violence whatsoever within school. So kids used to fist fight, and they would push each other. And you learned and experienced that kind of stuff. And now there is absolutely none of that.
Craig Douglas:
So I think it's interesting that like you noted on the law enforcement side, we have people coming into the profession that they've never been in a fist fight. And with police training more often than not being more concerned with the agency than the individual officer's safety, training is dumbed down. And we put these people out on the street and we expect them to navigate and be good at it. We expect them to navigate violence intertwined with ambiguity. And we wonder why they don't do well.
Craig Douglas:
And on the other side of it like you said, with the new CCW person that sees all the things just on the media, because if it bleeds, it leads. That's all they see. And they believe, "Well, that's the world we live in." Which there's some truth to that.
Craig Douglas:
So they're like "I need a gun." And they go through the necessary permitting requirements. And they get a gun and they get their CCW. But here's an interesting number to me: How many actually, after that, lead an armed lifestyle, versus how many of them have the permit and then want the permit and want the gun so they can carry it when they think they need it?
Don West:
Steve talks about that.
Craig Douglas:
I think those people… I don't know. If I thought I needed it, I probably wouldn't go to wherever I thought I had to carry it.
Shawn Vincent:
Craig, tell me a little bit: What is the armed lifestyle? Because you're right. Being a concealed carrier shouldn't mean just having a permit that you paid for, and you had minimum training, and you have a gun straped to you somewhere. It's our conclusion, and from talking to so many people both legally and tactically, is that it's a full mindset commitment. And you're going to behave differently in life when you've got the power of life and death strapped to your body.
Craig Douglas:
Yeah. So armed lifestyle to me would be you probably carry a pistol more often than you don't. You have the requisite, and you have and use and understand the requisite support equipment that goes with an armed lifestyle. You have a real holster. You have a belt that supports that. You may choose to carry a spare magazine. You may choose to carry a blade. You may choose to carry a tourniquet or a flashlight, whatever. There's all the accouterments of the armed lifestyle.
Craig Douglas:
You have gone through training. You think about this stuff. And you alter your behavior, and your behavior now is very much predicated on the fact that you're armed. An armed lifestyle may mean that … And I'm not saying it's right, okay. But maybe you are the person that chooses, "Well, I'm not going to go to this restaurant because they have plastered on the door, no weapons." And the fact that you're armed skews that decision one way or another. That's what I would think of as an armed lifestyle. The pistol really, really, really predicts a lot of your public behavior.
Steve Moses:
And something else I might add is that perhaps it's also good to conduct yourself in a lot of those areas as if you didn't have a pistol. That is, your awareness and your alertness needs to be at such a high level that, "Hey, the last thing I want to do is go for that pistol. And I want to make all my decisions as to where I'm going to go and how I'm going to conduct myself as if I weren't armed."
Craig Douglas:
Yeah. And that we hope people would conduct themselves better without a gun, or with it. It's funny because the other side of that coin Steve maybe, I want to have a gun so I don't have to tell you … So I don't have to worry about getting into a shooting. So somebody talks shit to me, I can punch him in the face. I mean, you never know how somebody's going to interpret stuff like that. But yeah. I think to me that's what an armed lifestyle is, is that the pistol…
Craig Douglas:
And at least in my experience, which certainly isn't absolutely concluded. At least in my experience most people actually are better behaved when they're armed. At least if they're responsible people. I mean, I know we do have people who do reckless things with CCW. I would suspect… And you guys may have the numbers on this, I would suspect that those cases compared to the people that comport themselves better. I would think those cases are a minority. I would think. I sure would hope.
Shawn Vincent:
Craig, we find people getting in trouble –iIt's not because they pick a fight because they're armed and they think they can win. It is they put themselves in a position that results in danger that they probably wouldn't have done had they not been armed.
Shawn Vincent:
The folks who after the pounding had stopped on their front door, who go outside to take a peak, probably wouldn't have done that if they didn't have the extra confidence that they eked from the pistol on the side. Or in road rage, the word that you probably wouldn't have said if you didn't think you could back it up if the guy got out of the car. So they don't make a decision that is immediately life or death, but they allow themselves to put themselves in a position where suddenly they feel like they don't have any other alternatives.
Craig Douglas:
Right.
Steve Moses:
Don, hadn't there been several instances when homeowners have actually gone to confront a neighbor and said, "Well, this may go bad. So I'm going to take a gun with me."
Don West:
Oh, sure. I don't know how to speak to that even, because we have actually had scenarios where that happened and the person eventually before it was all done, got shot and killed. And the decision to take the gun is what precipitated the confrontation, which then of course led to ultimately the shots being fired. We've had situations where trespassers, almost innocent trespassers were met with a displayed firearm.
Don West:
And I think Craig's talking about that. The notion of meeting the threat, meeting the risk with the appropriate amount of force if any force is necessary. But in those situations, a well-placed word or a conversation, or just some verbal de-escalation, no doubt would've solved those problems. They didn't start out as the mugger or the rapist in the parking garage. They started out as neighbors or acquaintances getting involved in something that just got bat shit crazy before it was all done. And either somebody died or somebody went to jail or sometimes both.
Don West:
So, I love the comment about having the wit of a comic. The whole notion that … that's part of your toolkit too. The ability to disengage enough from the emotion of the moment to say something on purpose and specifically to get the kind of response that will slow things down, and de-escalate things.
Craig Douglas:
Some of the most verbally agile people are comics who still work clubs, and have to deal with crowds and hecklers. They're really, really good at that. They are really good at that. If you look at the actual mechanics, the science if you will of comedy, and what those guys do in the moment and just the mental agility, and the verbal agility to be able to not let somebody skew their act, make other people laugh. It really is … I think you can learn a lot from those guys. There's no doubt.
Don West:
In doing it in such a way not to be disrespectful or offensive, at least at first, right?
Craig Douglas:
100%. And again, there's so much learning how to do stuff like that, and we'll … I think that stuff is so important. Bar fights. We'll simulate somebody that came over to you in a place that serves alcohol or a fair or something like that. "Were you looking at my girl? Were you looking at my girl? I saw you looking at my girl." And what'll happen is they'll "No." "Yeah, you were." "No." "Yeah, you were." "No." Nothing's getting done.
Craig Douglas:
And just something like, "Hey man. Yeah. I was looking at her. She looks just like my older sister who passed away from leukemia about 10 years ago. I was missing her and my gaze was lingering on her. And your girl looks just like her. Did not mean to be disrespectful to you. I am sorry."
Don West:
Problem solved probably, right?
Shawn Vincent:
Certainly. It's certainly taken a different direction. The funny thing with standup comedians too, is if you listen to a lot of standup comics talk about how they got started, a lot of them will talk about how being funny kept them out of fights and from getting bullied when they were kids. It's a real power, right?
Don West:
That's amazing.
Craig Douglas:
I think the tactical value of comics and comedy, and I love to laugh. Because I take what I do seriously, but I don't take myself seriously. I think there's a lot of crossover of what those guys do to self-defense.
Steve Moses:
Hey Craig, I have a question for you. This podcast is going to be listened to by persons in all 50 states. Not all of them are going to be able to get access to you or get to one of your classes. Do you have any recommendations perhaps for them in how they may start on the local level to better prepare themselves for some of these engagements like we've talked about? Like the managing unknown contacts, the ability to perhaps protect themselves against the sucker punches. All this other stuff.
Steve Moses:
I mean, how maybe could they start doing that on a local level, and perhaps what do they need to look for in terms of pitfalls? Because I know that after training with you, some of the stuff that I thought would work after being pressure tested, tended to fall apart on me, which caused me to go down another path. And thanks to you, I appreciate that. It's been very good for me. But would you have any advice for those people?
Craig Douglas:
It's hard to substitute good high-quality training without having direct in-person. So I think that … try and get to a class. But here's what I would say. They're all kind of … My content is available and it's not free, but Warrior Poet Society Network has two series that I've done with them.
Craig Douglas:
One is basically ECQC. Steve, it is as I teach it literally in the field. And the other is what I call the Reality of Criminal Assault, which covers managing unknown contacts, criminal assault, and paradigm pre-assault cues. It's Hollywood-level video quality. So if you get a subscription to WPSN… And I don't make anything from that. They paid me for the content and that's it. But it's up and over there. And it's extremely well produced, which is why I partnered with them. Because the quality of the video is so high.
Craig Douglas:
And then after that, really you just need people in space. A like-minded person. I think a subscription to WPSN, watch the content as best as you can, which is the beauty of video and the internet age that we live in. You can pause and try something and then go back to the video. Work with your partners. Get with some blue guns.
Craig Douglas:
And it's not… The cool thing about it is, it's not ammo intensive. You're not paying a range fee. You need a patch. You need a buddy. And you need access to me, which now again due to them, that I'm not there in person. But I mean that content is literally as I teach it in person. So you don't get in-person coaching and correction from me, but you most assuredly get the presentation. I think that's about the best you can do without going to a class, Steve.
Don West:
Let me ask a question though. I'm sorry to interrupt. Let me ask a question about the classes. I'm assuming that a lot of the people that you train are already pretty well trained. They've come from other places or agencies, but do you also offer classes for complete beginners? For people that are really looking for their first kind of experience like this.
Craig Douglas:
It's the same class for everybody. So within a given class, Don, I will have a JSOC commando paying on his own dime. I will have a couple police officers. I'll have training junkies who are citizens, tech guys, lawyers. I will have a soccer mom who heard me on a podcast who got her CCW and is safe coming out of the holster but has never, ever done any kind of physical training before. And everybody trains together. And the course is designed as the place to start, regardless of whether you… The only prerequisite to my coursework is that you have demonstrated safely drawing a gun from a holster.
Don West:
And a lot of the work you do is literally hands-on.
Craig Douglas:
Oh yeah.
Don West:
So this is an opportunity then for people too may have that kind of experience for the first time.
Craig Douglas:
100%. And honestly, that would be my preference. That the first time they feel this, the viscerality of… Here's the thing. It's not a real fight, but it's an honest experience. And your mind doesn't know that it's not a real fight. When I put you in a helmet and you've got somebody on top of you, a 100 pounds heavier than you punching you in the head and tearing your pistol out of your hand.
Craig Douglas:
The first time to feel that viscerality and that kind of terror is in a safe, supportive training environment where it's a simulation. Not when it's for real. So my job is to provide you the benefit of my experience of the things that actually happened to me in the real world without the consequence of real life.
Steve Moses:
Craig, correct me if I'm wrong. But haven't you had a student in your class that was 70 years old?
Craig Douglas:
Actually the oldest guy's 75. The oldest guy that's done ECQC now is 75. And he was not in good health. He was not in good health. I've had a 73-year-old who was in great health that wiped the floor with some young dudes, which was awesome to see.
Don West:
Old guys rock. There you go.
Craig Douglas:
I'm 54. So I mean, I'm no sprint chicken. But yeah. Steve, we routinely have people in their mid-60s.
Steve Moses:
Yes sir.
Craig Douglas:
That's common. But yeah. The oldest guy so far that's done ECQC is 75 years old. But the class is scalable. I'm not going to… Part of what people pay me for is to push them as hard as they subjectively, safely can be pushed. So, that's a big part of it right there. That is they trust me to make sure that they can get as realistic an experience as they can possibly handle for their health, their stature, their age. So, yeah.
Shawn Vincent:
And Craig, do you recommend that anybody who's physically able to, who's interested in self-defense get involved in some martial arts study of some type?
Craig Douglas:
Yeah. I'd like to see people do that. I'd like to see people… I like Brazilian jujitsu for a whole lot of reasons. I mean, it's not all encompassing, but here's the thing. One of the safest ways to experience fear and panic in an unfamiliar environment, i.e the ground. The horizontal plane. One of the safest ways to experience and start just learning how to cope and manage those feelings is BJJ. So, I'm a huge fan of that.
Steve Moses:
Shawn, a great place to start is with Craig's ECQC program. And then continue to train and also start Brazilian jujitsu, regardless of your age.
Shawn Vincent:
Steve, when you invited Craig to come talk with us, was there anything you wanted him to discuss that we didn't hit today?
Steve Moses:
No. I think we've pretty much-covered everything. One of the things that I just really have picked up from Craig over the years is that, this confidence aspect that he was discussing. A lot of people come in without that. After they train, they understand what they can do. Basically, I guess you could say they fake it until they develop some of those abilities to be more assertive.
Steve Moses:
It seems to me that without question, those are the people that handle potentially dangerous situations better than others. They can delay making decisions such as, "Hey, I need to draw a gun." And when they do draw a gun, they're in a position to use it effectively in such a manner that it would later be deemed justifiable.
Steve Moses:
So I'm a big fan of Craig. I mean, like I said, I've known him now since 2004. Every time he puts forth material, I read it. I add to it. And sometimes I feel bad because sometimes when I'm teaching, I forget to give attribution to Craig. But I need to do it virtually every time I ever teach. So I'm just real pleased that he was able to be a guest on this podcast.
Shawn Vincent:
Don, did you have any questions for Craig or comments on things that we discussed today?
Don West:
Well, I can't tell you how appreciative I am that you're here. Thank you for your time and your knowledge and clearly your wisdom in all of this. You have introduced me to aspects of this that I hadn't thought about. And just now, I'm going to start thinking about it. And hopefully, I'll do something about it too. But I'm indebted to you already just for this conversation. That's terrific. Thank you Craig.
Craig Douglas:
Thank you sir.
Shawn Vincent:
To add on what Don said, I learned a number of things today, and we record these podcasts a couple of times a month, and I've been writing about self-defense for six, seven years now. And been involved in self-defense cases with Don dating back 10 years now, right? And as deep as I'm into it, it's fascinating how much more there is to learn. And I think some of the best folks that we've spoken with are not just teachers, but perennial students at this, because you never know too much about this. You're never going to have all of it.
Craig Douglas:
I agree. And on that note, I'm never satisfied that I have all the answers. This is my 20th year teaching this year. My 20th calendar year teaching this year. And more and more, I don't want to rest on my success or my laurels. And I ask myself frequently, "Do I know what I'm talking about? Am I doing the right thing?" I want to make sure that I am correct. So, yeah. I'm with you on continuing to learn and explore and question yourself. Especially as you age, you have more experiences, and you meet more people. I think that's super important. So 100%.
Craig Douglas:
And I can't tell you gentlemen how much I appreciate the opportunity to connect with your audience. It's important for me to do this stuff frequently so people, if they're evaluating me for investment, paying for coming to a class, I want them to know exactly who and what I am. I want them to be able to get on the internet and read after-action reports of people who've attended the class. I want them to be able to hear and see me in public and see how I teach and watch. I'm very transparent when it comes to that. So it's important that as much info and data get out there as possible. So thank you very much. I sure appreciate the opportunity guys.
Shawn Vincent:
Well, and as a final word, why don't you tell folks who are listening where to go to start that journey that they want to get to know you better, Craig.
Craig Douglas:
Okay. So the website is shivworks.com. That's where the calendar is posted. I'm going to… I haven't been real good about updating it here. But I'm going to probably in the next couple of week update the training schedule for the rest of the year. So all the classes will be publicly posted.
Craig Douglas:
They sell out fairly quick. All the classes pretty much book full. So if you find something that you're interested in that's close to you, I'd go ahead and jump on it. Because most classes sell out in a couple of weeks at the most of me posting. I had one sell out in three hours that I posted online here recently in Camden, Tennessee with those guys.
Craig Douglas:
But anyway, so ShivWorks has a YouTube page where you can see ShivWorks media group. I am on Instagram. My handle's @southnarc. There's a ShivWorks media page and ShivWorks products group page on Instagram. So yeah. We're fairly easy to find as far as content products and training.
Shawn Vincent:
All right, guys. That's the podcast for today. Thanks for listening through to the end. We mentioned Columbine in the course of our conversation. But couldn't remember the date. That was April 20th, 1999, the last century. We'll be cooking up something interesting for you soon. We'll have that to you. Until then be smart, stay safe, and take care.