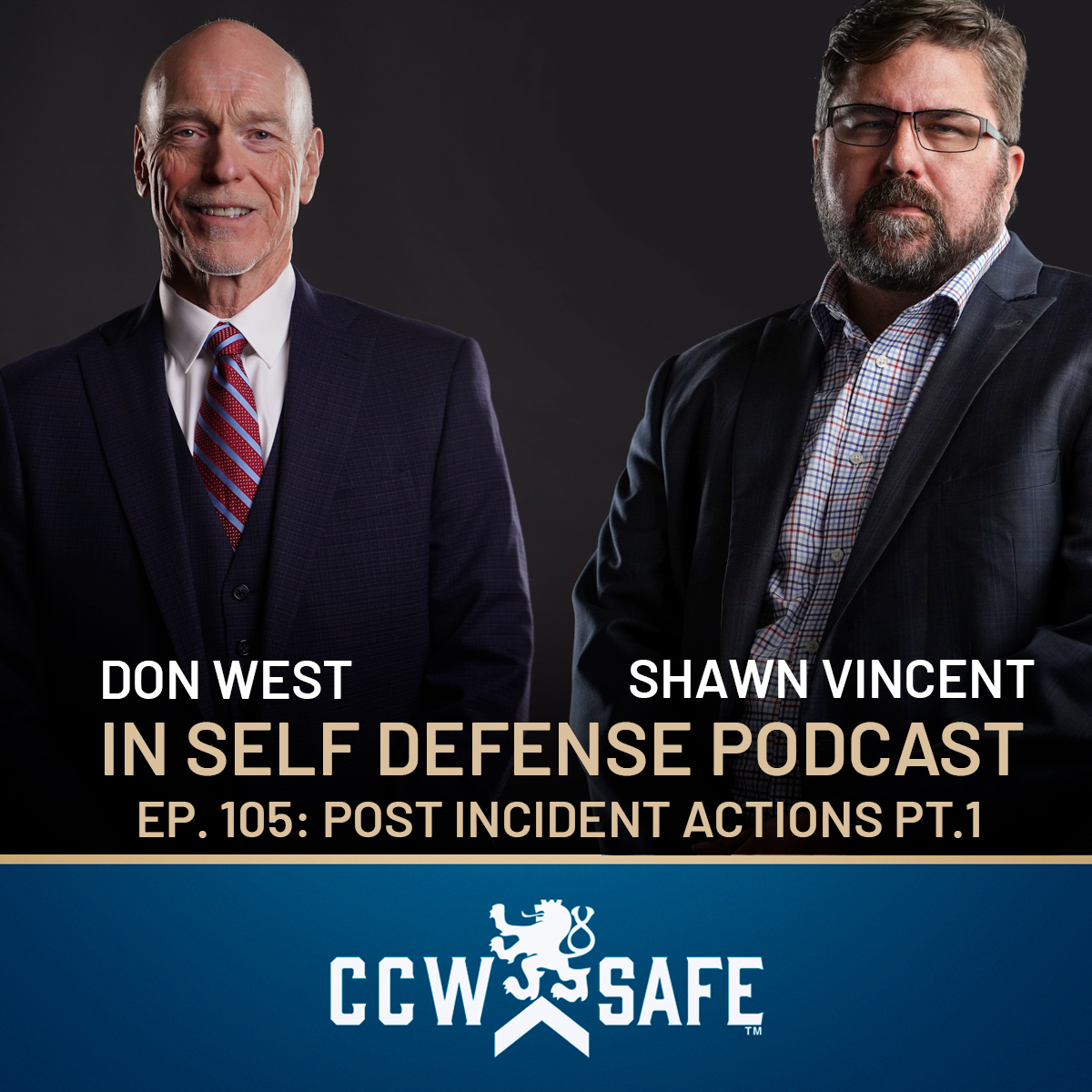 Posted on August 19, 2022 by Justin Collett in In Self Defense
In Self Defense – Episode 105: Post Incident Actions Pt.1
Firearms instructor Steve Moses joins Don West and Shawn Vincent to discuss the critical actions a defender should take in the immediate wake of a self-defense shooting.
The CCW Safe team believes that continuing education is an important component of being a responsible firearms owner/carrier. We offer our free content as food for thought. We try to take a neutral position and encourage the reader to evaluate how they would handle a similar situation. If the content provokes thought we have succeeded in our mission. The opinion of the content provider may not reflect the overall opinion of the company and staff members.
TRANSCRIPT:
Shawn Vincent:
What's happening, everybody? This is Shawn Vincent. Thanks for listening to the podcast. Today is going to be the first part of a conversation I have with, Don West – he's National Trial Counsel for CCW Safe and a veteran criminal defense attorney – and our friend, Steve Moses. Steve is a well-respected firearms instructor, and self-defense instructor. What we're going to be looking at is the founders of CCW Safe, many of them law enforcement officers or former veteran law enforcement officers, along with the folks on the CCW Safe Critical Response Team, also people with a long history in law enforcement and investigating crimes and dealing with homicides – they've put together a list. It's not a comprehensive list or all-inclusive, but it's a great list of talking points for things that armed defenders and concealed carriers should consider about post-incident actions. Those are the events that happen immediately following a self-defense shooting. A lot of concealed carriers obviously imagine a circumstance where they'd be forced to use deadly force to protect themselves in a life or death situation, but it's not as common for armed defenders to even know what the immediate aftermath of a self-defense shooting looks like, what the legal concerns are, what the safety concerns are. From the folks who know, we put together a list of 10 things to consider.
The first issue is going to be balancing the need to stay on the scene and wait for responding officers with the very real necessity that your danger might not be over and making sure that you've secured the area or gotten to a place where you and the people that you're responsible for are safe before you take the next steps. We're going to start that conversation out now. Now, here is me talking to Steve Moses. 
Shawn Vincent:
Steve, you and I had a conversation just recently about how even if you fired and shot somebody, most of the time where if an intruder or an attacker's been shot, they're going to try to break contact and get away. But that doesn't necessarily mean the danger's over, or even if you've incapacitated them partially and they're on the ground, that doesn't mean the danger's done, does it?
Steve Moses:
Oh, that's absolutely correct. Sometimes we're under the misperception that if we shoot somebody, the fight's over. They're going to lay there. Matter of fact, they're always going to be incapable of fighting. The reality is that most people that are shot with handguns survive. If you can make it to the emergency room conscious, there's a very good chance that you're going to be leaving the hospital within a week or so. Handguns are not particularly effective in terms of stopping an aggressor right there on the tracks. Basically, they just drill holes in people. If you do not hit, say for instance, the central nervous system, or perhaps a large vein, artery, or the heart, basically they've got a good chance of continuing the fight, if you will, for 20, 30 seconds.
As a matter of fact, I shared a video with you that we discussed. I believe this was an attempted robbery in South America where a security guard shot another person in the neck. It appears that it pierced the carotid artery. And that gentleman, I guess, I call him a gentleman, basically he stayed in the fight. He was a threat. He was attempting to kill the security guard for probably 15 or 20 seconds before he finally actually just expired of blood loss and passed away there on the scene.
Shawn Vincent:
I recall that video. That video gets perceptively more red as it goes on from the beginning to the end. That's to the point. Don, we talk a lot about, from the legal perspective, that you don't want to really leave the scene of a self-defense shooting, but that there is some provision there when it comes to getting a safe distance from somebody who you don't know if they still pose a threat.
Don West:
Sure. The reason you don't want to leave the scene is because a prosecutor will ask the jury at some point to infer some consciousness of guilt because you fled. It would be viewed negatively in the context of self-defense. On the other hand, if you haven't secured your personal safety, if you're concerned there are others that may be a threat to you, it's vitally important to get to a safe place first, even if that means leaving the scene and going to that place. It doesn't change the other things that we'll talk about that you do in terms of calling 9-1-1 and how you interact with the police. But first and foremost, after you've been involved in a life-threatening event, you have to be sure that your life is no longer threatened and get safe.
There's a bit of a balance. Shawn, you and I, and Steve, we've talked about cases that on their face appeared to be valid self-defense shootings. But because the individual fled, maybe didn't report to the police, but was apprehended sometime later, it clouded their entire self-defense claim even though we think that had they remained at the scene, it would have completely changed the perspective of the investigating officers. That's a consideration. But first and foremost, be safe yourself.
Shawn Vincent:
Well, Mike Darter, who's one of the founders of CCW Safe, talks a lot about the "second fight," right? The first fight is the fight to make sure you get out of a confrontation alive, and then the second fight is the legal fight. And on this point, make sure you're safe. We're still making sure you've survived the first fight territory there.
Steve, there is a sort of window, I think, of threat. Maybe what I'd like you to talk about a little bit is just how dynamic these confrontations are and that they don't always have … I guess we watch Westerns and a guy gets shot on top of a bell tower and he falls out of the bell tower and they're done. We see movies and people get shot and they just fall over and it's over, but that's so rarely the case in actual life. I guess maybe the mindset – if we're looking for a mindset for armed defenders – is that if they have to ever use their firearm in self-defense, the window doesn't close immediately the second they've pulled the trigger.
Steve Moses:
Okay. Well, first of all, that window of opportunity is going to possibly be very short. There may be a build-up to it, at which perhaps there's an interaction with you and the person or there's tension and it's starting to escalate, or it could just be someone that comes upon you in such a manner that implies, hey, this person is a danger to my health and safety. We'll kind of go back to if the person is manifesting the intent to seriously injure or kill me. They have the ability. They have the opportunity. I have to do something right now. There's going to be at some point when that window opens and when that window closes. I think it's important for concealed carers to give some thought to … what might that situation look like?
And that might be you were simply approached by someone, maybe it was a neighbor that was trying to argue with you. It may be a road rage thing where you stopped your vehicle and the person then approached you. You may be in your vehicle and your vehicle stopped and the person approaches you. You may be in your home and a person breaks into your home. I mean, there are all these different scenarios. The most important thing to realize, in my opinion, is that there's going to be a very small window when the use of force, especially deadly force, is going to be probably legal and that window can close pretty quick.
By the same token, even though perhaps we think that window has closed, we're no longer in a position where we must shoot someone, it doesn't mean necessarily that the threat's over. In many of these instances, when people are shot, they run off. They may have never been hit. They may have been wounded. They may have been wounded fatally. And then in some instances, they'll remain at the scene, but that doesn't mean that they're no longer in the fight. They may very well be conscious and talking to you. One of the things that I try to encourage my students to understand is that most of us walk around with about five litters of blood.If we sustain a wound that causes blood loss, it's very possible that we may just faint and fall down on the floor. Well, once you're horizontal like that, your heart does not have to work so hard to get blood back to the brain, and then people pop up, kind of like the Halloween or Friday the 13th characters. And that's something that's very likely and we just have to remain cognizant of that. 
Another thing that I think concealed carers need to understand in terms of remaining at the scene, is that okay, well, why would I leave the scene? Well, examples might be you were in your car when someone… You were at a stoplight when someone came in and tried to carjack you. Pointed a gun at you. You fired. You saw them disappear out of your sight. Rather than stay there, you drove off until you could find a place where there are other people around. And at that particular point, get out of your car, get in a safe place, and then call 9-1-1. 
Another instance that might be – and this happened to one of our students – is that he had a gang member pull a gun on him outside of a restaurant. He shot the gang member. The gang member went down, and other gang members started taunting him and trying to go and pick up the pistol. What happens if another person picks up that pistol? Well, maybe they were going to be a threat, or maybe they were just going to grab the gun. They knew that their partner had been injured and they were going to try to make it look like you had committed … You had shot them wrongly. Well, that's a real good time also to get out of the area. Just give some consideration to doing that. But remember, you want to get to a place of safety and cover as soon as possible. Once you're in there, you may not be the first person to call 9-1-1, but you want to be a close second. And at that point, I'm sure we'll talk about this later, is then when you go ahead and you identify yourself as the victim and that you were forced to shoot another person in self-defense.
Shawn Vincent:
Next up on the list of post-incident actions is to be the first to call 9-1-1. It's commonly said that the first person to call 9-1-1 is often, at least initially, regarded by law enforcement as the victim. You want to make sure that it's clear that that is you. You also want to be aware that that 9-1-1 call is being recorded, so what you say becomes very important. We'll kick off the next segment with me talking to Don West. 
Shawn Vincent:
Don, I'd love to… Because we had some practical experience in this with this in the Stephen Maddox case. Stephen Maddox was a CCW Safe member and he was charged with murder in a self-defense case. You were heavily involved in his defense. CCW Safe got that all the way through trial to a jury that ended up acquitting him in, what, two and a half hours.
Don West:
Or less. Yeah, it was a quick verdict considering the length of the trial and the amount of evidence.
Shawn Vincent:
I bring that up because we know Stephen Maddox, he was attacked by somebody he knew a couple of times. During the third attack, he wrestled him to the ground – Maddox was wrestled to the ground. He had this big guy on top of him and he fired a few times. Steve, to your point, none of them hit anything particularly vital. None of the shots themselves were fatal, but this attacker now was losing a lot of blood. Of course, the defender didn't know that. He was able to, after the shots, wrestle himself out from under this much bigger man, not knowing that the fight was over. Suspecting that it might not, he retreated to around the corner. But I don't think anyone on the jury held that against him, especially considering he was immediately on the phone with 9-1-1 at that point. He'd gotten himself to a safe place. In this particular case, he was actually in the middle of initiating an emergency call to 9-1-1 when the attack came.
Don West:
Well, Shawn, let me illustrate the importance of that by adding a little bit more information to the Maddox case. As those that may have followed the case or listened to us discuss it on the podcast, Stephen Maddox had engaged this fellow on two separate occasions where the attacker attacked him twice. Stephen retreated to where his motorcycle was parked to leave. His first and smart decision, once he got away from this guy was to get out of there, but he didn't know where he was going. He was unfamiliar with the area, and he had a friend he knew that was in the general area where he was. He called 9-1-1 in anticipation of reporting this and then either hung up or was disconnected because he saw his friend.
But that was just before the incident itself. So then when he was attacked and he defended himself, in fact, 9-1-1 called him back. He had not only done everything right in trying to get away, but he had also contacted the police. And then, unfortunately, this fellow just would not stop and he attacked him. Like you said, he was huge. He was known to be capable and violent, known to have weapons, and charged Steve and gave him really no choice whatsoever under those circumstances. But the interesting thing was his first thought was to call 9-1-1. Unfortunately, there wasn't even enough time for some police response before he had to physically defend himself.
Shawn Vincent:
Steve, I want to talk about that. When we see this headline here, be the first to call 9-1-1, your initial thought is, okay, I want to be the first one to call after the incident, but we've seen plenty of incidents where there's a buildup to the confrontation where the defender has an opportunity to safely call 9-1-1. It's imagined in a … You see someone snooping around your house and you're afraid that they're going to try to get in. There's time to initiate – the Charles Dorsey case – There's time to initiate a 9-1-1 call before the confrontation happens. I think that the defender gets a lot of credibility.
We're looking for reasonableness in the defender's actions and calling the authorities was one of the most reasonable things to do in that situation. Do you have any insights, Steve, on how to balance that time between going to the gun and going to the phone?
Steve Moses:
Well, I tell you what, again, it kind of comes back to the opportunity aspect of what it is that justifies perhaps a deadly force response. Basically, it's about "how immediate is the threat?" If I see something developing, actually, what I'd like to do is get away from there or get inside, lock the doors, et cetera, and then call 9-1-1. You know what? I can actually be dealing with 9-1-1 and then have to deal with the threat. As a matter of fact, it appears to me, and I may be mistaken, that basically leaving the phone on while your confrontation actually takes place basically makes 9-1-1 a witness of sorts. By the same token, I also kind of caution our students and other concealed carriers – be careful what you say. Think about that.
Basically, you want to go ahead and tell that person to leave you alone, stay away, if necessary. If you're in a house or something to that effect, you can let them know, "I've got 9-1-1 on the phone, and I'm armed and I will defend myself." But I see no problem, and I would actually encourage concealed carriers to contact 9-1-1 anytime that they think that their life is possibly at risk. The other thing is a lot of people, I think, probably have a bit of reticence, if you will, calling 9-1-1 in case the threat's not real. They really don't want to tie up 9-1-1. As long as you have a legitimate fear for your concern, or you think something is happening that might be a threat to you or others, 9-1-1's going to be just fine with you making that call.
Shawn Vincent:
Don, some of the police officers or former police officers that we deal with have admitted that there's sort of a presumption from the law enforcement response that whoever called 9-1-1 is the good guy. Didn't in Maddox, during closing arguments, they mentioned something like "murderers don't call 9-1-1"?
Don West:
Sure. Yes. In some less serious cases, whether it's even just a fight, the sort of cynical comments that prosecutors and defense lawyers will sometimes make among themselves is the first one to the phone is the victim. There is the perception that if you call and you say, "I've been attacked," or "I've been the victim of an assault," that you are at least initially framed, in the mind of law enforcement, as the victim of the crime. It's not legally necessary to call, but it sure makes a lot of sense if you're safe and you're able to articulate something that's clear and, of course, let's not forget that if you did, in fact, act lawfully. We have a lot of cases that are sort of a gray area where sometimes guns are displayed, sometimes even shots are fired, where it's just not clear.
What the person is wrestling with was do they want to invite law enforcement into this case knowing that maybe they were a little too quick to display their firearm. Some of that it's a little bit nuanced, I think, and probably too difficult to give any general advice other than you should call 9-1-1, but some of these really ridiculous and foolish and unnecessary road rage cases that we get will often result in a display of a handgun where the other person was clearly wrong. And after the gun was displayed, took off. The question there was, well, do you want to invite law enforcement into this, or are you pretty well satisfied that the other motorist is not going to call it in?
Because as we talked about at the beginning, it's do you want to be characterized as the victim or as the defendant? I've talked with people and on rare occasions, we've talked about, do we call it in? What are the chances that the other person did or didn't?  And we make a decision based upon the known facts, because, of course, every case is specific to its facts. The general advice, as we've talked about, absolutely, certainly, if shots are fired, certainly if there are injuries, you need to be the person who reports the incident to 9-1-1. Because otherwise, if the other person does it first, you are having to defend against their story instead of establishing what actually happened to start.
Shawn Vincent:
Let's talk about that for a second. You say you need to be the person – I know from our conversations what you mean is you or someone in your party needs to be the person who calls. It happens to be your spouse who makes the phone call, or someone makes it on your behalf, you still kind of get credit for being the first to call in that particular case.
Don West:
Good point. Yes. Yes, of course. Mm-hmm (affirmative).
Shawn Vincent:
I want to build on what Steve said, and we'll get to you a second, Steve, is that this call's going to be recorded. We know from television that anything you say can and will be used against you in a court of law, if it goes there. Don, I don't think I've been involved in one self-defense shooting case where the 9-1-1 call wasn't a key piece of evidence in the trial. Do you agree with that?
Don West:
Well, I think that's probably exhibit number one, isn't it? This is how it started, ladies and gentlemen. Sure.
Shawn Vincent:
What advice do you have? Not official legal advice, of course, but what things can we consider as an armed defender about what to say and what not to say on that initial call?
Don West:
Shawn, I think first and foremost, you want to identify yourself as the person who was attacked and that you want to identify yourself well enough that when law enforcement responds, they know you are the person that called. You want to dispel any concern initially that you are a threat in some way. You want to be cooperative and concerned. You want to have the appropriate demeanor and attitude and establish the groundwork for law enforcement to view the situation when they respond. As you mentioned, that doesn't have to be you. It can be the person standing next to you or even a witness to the event.
But first and foremost, you want to identify yourself as the person who is calling because they were attacked and had to defend themselves. As you well pointed out, it's going to be recorded, so it's not the time to give a full detailed history of what happened. The briefest of facts sometimes are only necessary to establish this perspective that we're talking about, and then wait until the police get there and decide what to say at that point. We'll talk further in this podcast about some of the other aspects of that interaction with the police on the scene.
Shawn Vincent:
Steve, what did you have in mind before we talk about…
Steve Moses:
Well, one thing I just wanted to say is that my opinion is that a lot of people who are potentially violent are very creative liars. This is something that I have seen based upon my law enforcement career. If you tell another person, "Hey, I'm armed. I will defend myself," even without displaying your gun, but that you implied that you're armed, there is at least a small chance that the other party will call 9-1-1 and accuse you of having waved a gun at them. And so then it becomes a little bit of a he said, she said deal. Law enforcement goes, "Well, do you indeed have a gun on your person?" You go, "Well, yes, I do."
That's something that I kind of encourage my students to give some consideration to. If you believe that that person might call 9-1-1 and they may do it just to cause problems for you, you need to be probably in contact with 9-1-1 or at a very minimum contact… If you're with CCW Safe, which I am, contact them and get them involved. Don, I kind of like to hear your thoughts on that.
Don West:
Steve, if I understand your perspective on it, there are those situations where no shots were fired. There was possibly a display, maybe not a display. There wasn't pointing a gun. But because it was an emotional event that triggered this thing to start with, the so-called aggrieved party decides, well, they'll make a little trouble for this guy. They know he has a gun, and they know that all they need to do is call the police, and say that not only does he have a gun, but he pointed it at him being unarmed and minding his own business. And then you've started that. Yes, I understand that happens. It does happen. Sure. And frankly, sometimes it happens because the other person misperceives what's going on.
They actually may think that they saw the gun. They may think it was pointed at them or their idea of seeing a gun, being held at the ground is that it was pointed at them. Sure. There's all of that possibility and variation and risk, which is one of the reasons that we recommend underlying it all that if you're involved in a situation where you believe could give rise to some potential police investigation, it wasn't just words, that there could be a claim that you displayed a weapon, that you pointed a weapon, that you should be the first person to call. Sure.
Shawn Vincent:
In the course of that conversation, you heard us talk a lot about the Stephen Maddox case. Stephen Maddox is a CCW Safe member and he has given us specific permission to talk about his case in detail. He wants the lessons that could be drawn from his case to be shared with you guys, and that's why we're able to talk about that case in such detail. 
The next item on our list of post-incident actions is to initiate an emergency response. If you've shot somebody in self-defense, then there is a legitimate medical emergency and it's appropriate to ask for help and perhaps even render help if it's safe to do so.
Shawn Vincent:
If you've been involved in a self-defense shooting and you've actually shot somebody, there's a bonafide medical emergency going on here. And even though this might be somebody who just puts you in fear for your life, now it's time to switch gears where if they're incapacitated and you are safe, asking for medical help for the person who's been shot is something that is key to do on this call. If for no other reason, Don, then to a potential juror or to an investigator, it speaks to your mindset about the value of human life if even after this harrowing incident, you're concerned about the life of the person who's been shot.
Don West:
The inquiry will be, were you acting reasonably under the circumstances that caused you to fire your gun at this person? The focus will be mostly on what that person did that presented themselves as a threat, what they said, where they were, and whether they had weapons. What was it they did that gave rise to you believing that you needed to use lethal force, deadly force to defend yourself? Once that happens, the focus then becomes on whether your response was indeed reasonable. One, the jury, the judge, and the police look at as many of the facts as they can gather about the actual shooting. They take a look at: Was the other person armed? How big were they? How fit were they? How close were they?
They analyze, as we've talked about many times, Steve, you touched on it, did they have the ability? Did they have the opportunity? Did they have the intent to cause you that reasonable fear of great bodily harm or death? And if they did and the jury thinks that it's reasonable, then they would find that your conduct was lawful, that you acted in lawful self-defense. On the other hand, if they think that you acted out of anger or revenge or an unreasonable fear, then they will conclude that you didn't have the right to defend yourself under those circumstances. The focus then shifts to you from the very beginning. What was going on in your mind?
Why did you do this? Was your fear reasonable, or were you angry? Did you have any prior history with this person? One of the issues underlying all of that is, how did you act immediately following the self-defense shooting? That you shot somebody because of their threat. And once the threat is over, how do you respond? Are you responding like somebody who's angry and was seeking revenge, or do you respond like someone who, notwithstanding the trauma of the incident to you, acts reasonably and appropriate knowing that someone is injured, maybe even fatally injured, and you do what a reasonable person would do to help save their life by getting medical attention, as well as law enforcement attention?
And as you pointed out, Shawn, that may be the last thing you want to do is try to help the sorry S.O.B that just tried to do this to you. On the other hand, you and I, all of us have seen news reports when a prosecutor has decided not to charge someone involved in a lethal self-defense shooting and one of the reasons cited was that right after the incident, they requested medical help, or they made an attempt themself to offer some sort of medical assistance, depending on their knowledge and abilities and resources and such. It's more than just a general preservation of human life – it's a way to sort of sever that aggressive response that you had to do to a reasonable person's response that the prosecutor and everyone involved in examining the case can then rely on in showing that you did act reasonably at the moment you pulled the trigger. 
That's why they look at social media. That's why they look at prior history. That's why they look at all of that stuff to see at the end of the day, did the person act reasonably in response to a deadly force threat? Or was it for some other reason? I can't tell you how many times I've heard the prosecutor say, "He didn't kill him because he was scared. He killed him because …" and then fill in the blank.
Shawn Vincent:
What are your thoughts, Steve, on looking for help for the attacker?
Steve Moses:
I'm a big advocate of it. I typically carry some minimal first aid equipment on my person, typically a tourniquet, perhaps a chest seal or something. Again, I'm pretty much concerned that this person still poses a threat to me. Does not mean that if I feel like at that exact moment, they don't have the opportunity to get their hands on me, or they no longer have a weapon, I've seen nothing wrong with basically tossing them some of this medical equipment and saying, "Hey, you need to wrap that up right now or put that pressure addressing and hold it right there." I see no problem with that. I think that's possibly a good thing. Again, it just depends upon what you think the level of threat is at that particular moment.
One of the things I'd like to do, if you don't mind, is kind of go back in time, like maybe just prior to making that call as to maybe a few thoughts on what we might need to take into consideration after we have actually displayed the gun or fired the gun at another person. First thing is probably to go ahead and move our position. If we were facing north, I might move either to the east or the west so that I can not only see that particular person, or I can also pick up on anybody that may be coming behind me. I need to make sure that I'm still in a position to continue this fight if necessary, which may mean I need to go ahead and do a magazine reload right then regardless if I think I've only fired a couple of shots.
I need to make sure that I or someone with me has not sustained a life-threatening injury. I certainly don't want to call 9-1-1 while someone, maybe that someone is me, has been struck in the arm or the leg and had an artery severed. I think that that needs to be addressed. And then and only then I would say call 9-1-1. Again, what we've done is we've made sure that the immediate fight is over. We've moved ourselves into a better position. We're now in a position where we can see whether or not people may be coming up from our flank. We've checked ourselves for life-threatening medical injuries. And then at that point, I think the decision to call 9-1-1 is probably in order,
Don West:
Hey, Steve, I'd like to ask a question about a spinoff scenario that you've described. The person who posed the deadly threat to you and warranted the use of deadly force resulting in you shooting them, but not fatally, or at least not to the point that they are unconscious and completely unable to defend themselves or attack you or what have you, what do you think about the situation where the person at that point, while injured, doesn't so much pose a threat to you as much as wants to get away? What they really want to do is they want to get out of dodge. They want to flee and get away to avoid law enforcement or maybe thinking that you might further injure them.
What do you think about the defender's use of force, and I mean that more in a display rather than pulling the trigger, the use of force to detain that person, to keep them, to hold them at gunpoint, waiting for law enforcement?
Steve Moses:
Oh, that's a great question. I'm always going to be an advocate of what Claude Warner said. Our objective here is to force the other person to break contact or we break contact. If they're attempting to leave, that's in effect breaking contact. My only concern would be, and this is a relatively small concern, is that that person might continue to be a threat to third parties whom I am compelled to defend. Basically the same is true for responding law enforcement. You can't shoot somebody to arrest them. You can shoot someone that is fleeing if it's obvious that they, at that particular time, pose an imminent threat to another party.
In regard to most, I think, concealed carrier scenarios, I think their motivation is going to be exactly as you described it – it is to exit the scene. I'm happy about that. That just makes the scene safer for me.
Don West:
Are there some situations where you might hold the person at gunpoint in effect, making a citizen's arrest? Keeping in mind that the legal issues change dramatically at that point. All of a sudden, you're no longer being threatened by this person, but they've just attempted to kill you, but you want to hold them in order for the police to arrest them. I also wanted to know that – if you do that, if you're holding someone at gunpoint waiting for the police, how do you do it? Are there techniques? How do you have them position themselves? How do you maintain your own safety while accomplishing your task, which is to hold this person until the police get there?
Steve Moses:
Well, I think I can tell you how to do it correctly and how to do it incorrectly, because I've done both. Correctly, the thing to do is that if they're seated, basically have them put their hands on top of their head. Even better yet, grab the bottom of their shirt and pull it up over their head so they basically obscure your vision, and then move to a position that if they pull the shirt down, they would not be looking directly at you, or remaining flat on the ground with their hands outspread, palms down. I think all of those are a safe way to do that. I work with church security teams. And in a church security team, obviously, if you had something like that transpire and that person is…
Obviously, if they were a threat, you know that their mindset is such, I definitely will hold that person for the authorities because I need to protect all of the people around me. I'm not trying to take on the position of "I'm going to arrest this guy and make it easy for you." Basically, I want to preserve the safety of everyone around me. 
The way that I did it incorrectly, some … Golly, this was back in 1980, was when the burglar broke into my house. I pinned him up against the front door and told him not to move and threatened to shoot him if he did. He became completely … He became much more confident and much more bold as time goes on. It was pretty obvious that I was going to have to shoot him. And then the police came up and they knocked on the door, and it was the same door I had the guy pinned against, which created a bit of a dilemma. I had to kind of figure that out. 
That's both of my stories. And like I said, I've held people at gunpoint. I've arrested people, essentially both as a civilian and as a law enforcement officer. Your question's very good. There is a correct way to do that if you want to hold them, and it's going to be so that they could not get themselves into a position where they could harm you or anybody else before you would be able to intervene.
By the same token, I would not point my gun at that person. That's something that bad guys do. They point their guns at people. Someone coming up may very well mistake the situation and think that that's the good guy and I'm the bad guy. Unfortunately, people have been shot and killed not only by other concealed carriers, but they've been shot by law enforcement officers. Basically, I want to do something that bad guys don't do, which is maybe is I want to go ahead. I've talked about the low ready position where you point the muzzle directly at the ground, perhaps no more than halfway between you and the threat, or you go to position Sul, which is another default position in which I can pull the handgun in very tight.
We worked out of position Sul. Sul is "south" in Portuguese. When I'm working on … When we were doing high-risk entries. It's a way I can keep the gun pulled in very tight. And of course, you can't see my hands, but I've got the gun pulled in very tight, pointed at the ground.The other thing I can simply do is I can holster my pistol. And if I think that there's still a concern, this guy is going to require an immediate response on my part, I'll keep my hand on the grip. And then if I've got good skills, which I do and I hope that other concealed carriers either do possess them or will at this point try to get them, and I know that I can get my hands back on that gun very quickly, I'll go ahead and holster that pistol.
That's really the safest thing for me. It lessens the chances that I'm going to be mistaken as a bad guy and perhaps challenged or engaged by others.
Don West:
I guess just to put a dot on the "i" on the question of holding someone at gunpoint that doesn't want to be held at gunpoint – a botched robbery, for example, or something when they see the gun and try to run off – the rule is not to chase them. The rule is not to shoot them as they're fleeing. 99.9 times out of a hundred, you let them go. If they want to get out of there, you do the Claude Warner. You do what's safe for you. You might want to be the hero of the day to hold them until the police get there so justice can be served and all of that, but for your safety and for, to some respects, the safety of the other person, if they want to get out of there and they're no longer a threat to you, you let them go.
Steve Moses:
Let them go. Let them go. And that's especially true inside of your own home. If someone has broken into your own home and you've contacted them at gunpoint, displayed a weapon, and they try to leave, and as long as they're going out the same door that they came, that's fine. If they go down a hallway, and I've got other people in the house, basically I'm going to go after them. My thought there is the other people in my house, they can't protect themselves or certainly to the extent that I can. Yes, I'm going to run that person down, and I'm going to try to stop their action, whatever it takes. Ideally, it won't require lethal force. But if that's what it takes to protect another person, indeed, I will do that.
But in most instances, those people don't want to get caught. There are a few instances where people break into houses, and it's hard for me to explain what their motivation is. It may be revenge. It may be they're under the influence of drugs. They are not going to leave. At that particular point, I just don't think we have any choice. If they actually do represent a physical threat that meets all those requirements we talked about, to go ahead and engage them. And if they want to leave prior to them, I'll let them leave.
Shawn Vincent:
All right, guys. That's a podcast for today. Thanks for listening through to the end. Those are the first three points of our 10-point list of post-incident actions to consider in the wake of a self-defense shooting. We'll have more for you soon. Until then, be smart. Stay safe. Take care.