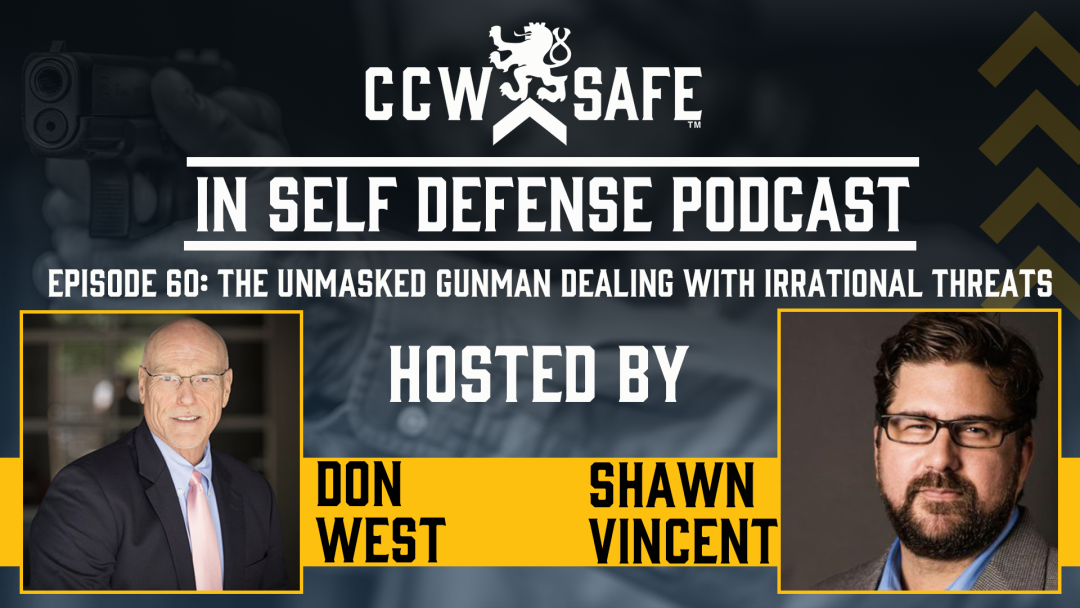 Posted on May 27, 2020 by Shawn Vincent in Uncategorized
In Self Defense – Episode 60: The Unmasked Gunman Dealing With Irrational Threats
Listen to the "In Self Defense" Podcast

In Self Defense – Episode 60: The Unmasked Gunman Dealing With Irrational Threats
Steve Moses joins Don West and Shawn Vincent in a discussion about a security guard who was murdered, ostensibly, for demanding a young woman wear a mask in a retail store. While the shooting was inexcusable, Steve points out some ways the security guard mishandled the situation and offers advice for dealing with irrational people as a concealed carrier.
Transcript:
Shawn Vincent:
This is the In Self-Defense Podcast with Don West and Shawn Vincent exploring high profile self-defense cases and identifying the lessons learned for concealed carriers.
Shawn Vincent:
Hey there, everybody. It's Shawn Vincent speaking. Thanks for listening in. Me and Don West, he's National Trial Counsel for CCW Safe and Steve Moses, who's a weapons instructor with a long-time law enforcement career — he's a contributor for CCW Safe. We got together for a podcast to talk about something completely unrelated to self-defense in the COVID era, and we ended up talking for about half-an-hour about self-defense in the COVID era. It was right after … You may have heard about this. This is a case where a security guard in Michigan was shot after telling a patron that they had to wear a mask to get service. And it brought up a lot of issues. When we were first thinking about how COVID would affect self-defense cases we were thinking about how it would affect people like the security guard who were in a position to enforce the social distancing or the mask wearing thinking that they would end up getting in trouble in self-defense incidents trying to make those enforcements. But it turns out all the cases that we're seeing are from people who are offended that they've been asked to wear a mask or been approached about social distancing, and they're the ones that get violent and use their guns.
Shawn Vincent:
So anyways, that's our issue for our modified broadcast today. I hope you'll enjoy it. And we'll have a full episode next time. This is me, Steve Moses, and Don West talking about self-defense in the COVID era. Enjoy.
Shawn Vincent:
Don, how are you doing?
Don West:
I'm doing very well. Thanks Shawn. Things good at your end?
Shawn Vincent:
Yeah, I can't complain. I'm seeing a lot of my family. So I'm going to consider that a by and large good thing. Playing some board games, eating lots of meals, binging on television.
Don West:
Isn't that what every politician always says when they resign from office sometimes under a cloud, but even sometimes not, they say I'm leaving the pressure of public life to go spend more time with my family. Have you found that those times rewarding?
Shawn Vincent:
Yeah, I'm enjoying it. I'm actually blessed that a number of law firms that I work with are having cases that have some connection to the pandemic. So I thought I would be slow and I'm actually busier than I expected with some new clients that have come out of the woodwork. So I'm almost, I'm blessed and thrilled that I've got work and the income coming into the family, but I'm slightly jealous of everyone who's talking about how bored they are during the pandemic because I almost like to have an excuse to take two weeks off or longer and do some pet projects. But Steve, what's your experience been this last couple of weeks?
Steve:
Well pretty much the same old, same old. We recently moved probably pretty close to a month ago to a house that we had already owned. It's out here in the Texas Hill country and there is no shortage of projects to do around here. There's always something that I can do. So between that and then working on my research for the writings I do for CCW Safe and the Firearms Traders Association and occasionally getting out to the range and working on some skills, I've had very little downtime. And I've actually watched very little television over this period. So pretty much life as usual.
Shawn Vincent:
Yeah. You mentioned the range. My local gun shop that has a range they're allowed to be open for sales, but they police how many people can be in there at a time, but the gun range is closed. And there's just nowhere reasonably nearby where there's an outdoor range. And it got me thinking: there's been this surge in gun sales since this happened. I bet there's a lot of folks out there who've got a new firearm but not had the chance to fire it yet.
Steve:
I think that's probably okay with a large number of them. Basically they just needed to get that firearm in order to give themselves a sense of being able to protect themselves and their families initially. A lot of them, once they get that home, get it loaded. I hate to say this, Shawn, they probably won't touch it again for years. It's something that just kind of causes us no little concern in the training industry.
Shawn Vincent:
And so it's like an insurance policy for them that they'll hopefully never have to cash in.
Steve:
It's like buying a fire extinguisher or 30 days food supply or two months worth of toilet paper. It was just like, "Oh, I feel better. I'm ready for whatever comes now." And that's not really correct.
Shawn Vincent:
Yeah. So, the folks who are actually concerned about whether they've got experience with their firearm are getting that experience. That's what you feel.
Steve:
A small percentage of those are. There's always been only a small percentage of the population that one, that even invested in concealed carry. And then there's a way smaller percentage of those people that actually do the training. So for a lot of us, the ability to be competent with firearms is a priority. And for others, it's just really, it's hard for me to understand because of the way I'm wired, but it's just something that's just not a priority in their lives.
Don West:
Well Steve, I've noticed that you have provided tips to firearm owners, concealed carriers, how they can stay sharp, some practice tips, some general advice about going through this time of social isolation so that they don't get, they don't lose their skills, that they still have a sharp mind as well. And I know I truly appreciate the articles that you've written.
Steve:
Oh, thank you very much Don.
Don West:
And I encourage our listeners and those that somehow come across this podcast at some point to go back through the CCW Safe archives and take a look at those articles if they haven't seen them when they came out.
Steve:
It's much appreciated.
Don West:
So we really appreciate the skill set that you've developed over the years from a tactical standpoint, an operator's standpoint. And we know that when we're able to get you on the podcast with us, we get a different perspective on how a dynamic event might unfold, how things might have taken a different direction had the person attacked either done things a little differently or perhaps knew things they could do differently that they didn't because they didn't have the kind of training and skill set that you do. So anyway, our hat is off to you and we're glad to have you. Welcome.
Steve:
Ah, thank you, gentlemen.
Shawn Vincent:
And Don, we actually have a case in point when it comes to Steve's insight and how a party is going to behave a little bit differently in a confrontation. Last time we had an opportunity to, the three of us, talk, which was our first opportunity for the three of us to talk actually, we spent some time discussing the heightened threat or the heightened opportunity for conflict now that we're in this pandemic, COVID crisis mode. And we discussed a lot of hypothetical scenarios where people encountering each other over social distancing could become a flash point like we see with road rage. And since then we've seen some incidents where just what we talked about happened.
Shawn Vincent:
We had, there's one case I wrote about on the website about a guy in Missoula, Montana, who was at a gas station, convenience store type thing. And a guy was kind of crowding him and he approached them like, "Hey, I'm an old man. I'm susceptible. Do you mind giving me some space?" The other patron took offense to that, went out to the parking lot, and when the old man came out he was confronted by this guy with a shotgun. And then this morning I shared with you this article about a security guard at a dollar store who, there was a girl or young woman who'd come into the store. She wasn't wearing a mask. The security guard approached her about it, told the cashier to refuse her service and then 10 minutes or so later, she comes back with two guys and a conflict ensues and the security guard gets shot in the back of the head. It's a perfect example of this conflict flashpoint that we were afraid was going to occur. Steve, you saw that article. What were your thoughts?
Steve:
Well I tell you what, it was just avoidable in multiple ways. I kind of believe that the security officer was doing what he thought he should do. And that is intervene. He'd been told that people need to wear masks in here. But it's really not his responsibility to physically enforce that. He can very much ask someone, "Hey, please, you need to put your mask on." If they don't do that then he very easily could have contacted the police. And the police could have come there and confronted the person. And actually in many ways, their hands are pretty much tied as what you can and can't do. I mean that was actually probably something where you could give someone a criminal trespass citation and then if they refuse to leave and you'd have to be in most instances, law enforcement that does that, well then you can take action and physically remove the persons.
Steve:
But it's difficult for a lot of us to put ourselves in the security guards' place. Typically, they have, maybe most states require minimal education and training to become a security guard. And some states it's as little as 30 hours. And the people themselves are just not fully prepared to deal with situations like this. And like I said, confronting that person, asking them to do that if they didn't comply, then in that event going ahead and contacting law enforcement and just let it play out. I think that could have allowed that situation to go so much better.
Steve:
One of the things that has occurred to me is that basically COVID-19 with all of these restrictions and regulations is just another opportunity for people who basically may have good intentions to confront other people about their actions. The downside to that is that in some instances some of those people take offense. They feel like they've been disrespected. And just based upon how they've been raised or how they've been programmed from day one, they take great offense to that. And they will take a really severe . . . they'll have a severe response to the point that physical violence comes into play. And in some instances, people are willing to fight, kill, and go to prison rather than feel like, okay, I've been disrespected. Which means people around me are going to look down on me.
Shawn Vincent:
Yeah, Don, doesn't that sound a lot like some of the road rage cases you and I have looked at?
Don West:
This has that written all over it, doesn't it? Let's talk a little bit more about the sequence of events as I understood them from the article. And granted it's limited information, but there were two distinctly separate aspects of this. The first was when the young woman was denied entrance to the store because she didn't have a face mask. And essentially, by the security guard, was told you can't come in and you can't shop here. Even went so far as to tell a cashier, not to serve her or not to cash her out. And the woman became so irate that she was yelling and even spit at the security guard. And he told her to leave. And she did. So that was in a sense, the end of that first thing. And then she leaves, but she comes back 20 minutes later with two guys related, I believe. And that's when that second confrontation took place.
Don West:
And in the second confrontation, I don't have a lot of information about how long that took or who said what, or what, if anything, the security guard might have done that would have further escalated things. But it sounds like to me, these guys came, they'd gotten the version of what happened from the first incident and, without much else going on, one of them shot this poor security guard in the head, and he died. So I, yeah, it sounds like road rage in the sense that it goes from basically nothing to somebody dead in a moment of seconds. In this case, I don't know what the security guard could have done other than the tactical strategy stuff that Steve mentioned at the first say, "You can't come in. I'm going to call the police." And then go ahead and call the police. But I didn't get the impression that he physically threw her out or did something, put hands on or something that would have caused her to be so outraged that she basically enlisted two other people to come back and take care of it. But we know that happened. Steven, I don't know in, go ahead, Shawn, sorry.
Shawn Vincent:
Nah, I'm just saying it's interesting, I've read two articles in the last couple of days about governors of states who have relaxed the mask requirements simply because enforcing it is way more trouble than it's worth. That there is this visceral response to being asked to put a mask on if, as if it, if it's an accusation that you're unclean or dirty or something. People take real deep, grave offense to it to the point where governors of states are saying, "Let's not even bother enforcing this." It's just going to cause problems even for police. I hate to see, and you mentioned in our last conversation Don, that anything that prolongs an encounter with somebody just increases the chances that if they're infected that they're going to infect others.
Don West:
Oh, sure, sure. That's the whole purpose of the mask and the social distancing and whatever awareness that people are asked to have is that the closer you get, then the longer you're there, increases the chances of somebody else getting infected?
Shawn Vincent:
Sure. Well, we're always looking for lessons for concealed carriers. I think the lesson here is to understand that this is a trigger point. And when, when we talk, when you make the choice to carry concealed then it's my position that it's your responsibility to avoid unnecessary confrontations. And right now the quickest way to get into a confrontation that could escalate the violence is these encounters over social distancing and wearing masks.
Don West:
I'm curious from Steve's perspective, is this likely, this event that we've been talking about at the convenience store, I think it was a Family Dollar. Is this likely to have more to it than what we see here in terms of provocation? Do you think somebody said something that was just over the top from another person's perspective that they somehow felt justified because they were disrespected, maybe beyond the mask itself, maybe there was something demeaning or derogatory or challenging in some way. But it took a lot of effort for this woman to leave the store and then come back with armed guys to confront this person. And then knowing, and certainly was highly likely that it was not going to end well, just because of the way it started.
Steve:
Well without some more information, I'm really not sure. I believe that the chances are pretty good that the security guard spoke to the woman in a manner which we would definitely describe as authoritarian. I believe that there is a possibility that the female believed that the way that he treated her was rude and disrespectful. I believe there's a possibility that she wasn't giving much, what's the term here? She really didn't think that she, being forced to wear a mask was justified. And I'm not really sure if she went home and then told the other males and then said, "Come with me." Or she simply told the other males what happened. And they said, "Well, we're not going to let them talk like that to you." At which time they came and she just simply accompanied them. So there's more, there's multiple variables there.
Steve:
The problem is anytime you have a conflict with someone, there's a possibility that, the conflict is going to resume. And there's just with certain groups of people kind of dependent upon their background, where they've been raised? What kind of a family life? Does the family have fewer years of education? Did some of the people that were involved have prior history of being arrested? Had they been exposed to family violence? Had they seen a lot of violence over their lives? There's just a large group of people out there that, that pretty much sums them up. And anytime you have a confrontation, anybody has a confrontation, with another person — it may be one of those persons from that particular group. And that's just something that you have to be aware of. We just need to always be aware that anytime we have an encounter with another person, there's a possibility that it may go sideways. And what we thought was just a reasonable discussion between two people that were rational people, that may not be the case.
Don West:
Well that's an excellent point, Steve. You do not know the mindset of the other person. You can perceive a situation as following a normal course and trajectory, and that if you're upset and they're upset, you just deal with it like you've always dealt with people in your family or in your neighborhood or what. And it goes through its logical progression. And then at the end of it you shake hands or you turn and walk away or what have you, but you can't know how something that's said or done will be received by the other person and what their triggers are and hot points.
Don West:
And my guess is that based upon your comments and my sense of having seen scenarios like this play out over the course of my criminal defense career, because I've certainly represented people who have done things on the spur of the moment that resulted in being arrested — sometimes people hurt or even killed. And then we're trying to reconstruct what happened. But I can see how this may be moved away from the issue specifically of the mask to dealing with something that was more viewed as disrespectful or demeaning, or somehow that these guys had to come back to protect the dignity of this first customer. Who knows where it wen,t and nobody does except the fact that now there's another family that's going to be going to a funeral and another family that's going to have their loved ones in prison for a long time. It's just such an avoidable tragic circumstance.
Don West:
I try to put self-defense cases, if you're going to do general categories, in three buckets. One is the criminal bucket that if you're confronted by someone who wants to rob you or someone's coming into your house with the intent of robbing you or if someone intends a sexual assault, that's the criminal element that you absolutely should defend yourself vigorously against.
Don West:
And then there's, at the other end of the extreme, there's the cases that Shawn and I have talked about that's largely simply a misunderstanding. That's when the drunken frat boy is pounding on the front door or the Uber driver drops the person off at the wrong place. And the other side of the door as a homeowner, who's confused, doesn't know what's going on. The person at the door doesn't know what's going on.
Shawn Vincent:
The tragic misperceptions.
Don West:
Yeah, no one has any criminal intent, but it just that, like you say Shawn, on the tragic misperception may result in somebody being shot or even killed.
Don West:
And then there's kind of this group that sort of just, the knucklehead group, the people that are otherwise leading reasonably normal lives. They may have temper issues. They may have substance abuse issues. But they're out there working and going to school and functioning for the most part. And they come upon each other in a set of circumstances that, as Steve said, just goes sideways. Somebody says something. Somebody does something. Tempers begin to flair and it starts to escalate. And pretty soon something as silly as a public health issue in terms of an acknowledgement that, hey, we're all in this together turns out to be, in a sense, an execution-style murder of a security guard. I mean how do you get your head wrapped around that other than these flash points that you talked about, Shawn, that Steve talks about how, if there's disrespect factored into a way of thinking that may be to some degree a product of how someone was raised or the kind of violence they were exposed to. Or I suppose a history of how they have dealt with other issues in the past all comes rushing to the surface. And then, and then, you know, dang, it's just-
Shawn Vincent:
Yeah. And I guess it's-
Don West:
It's mind blowing.
Shawn Vincent:
And when you were talking about the knucklehead scenario my first thought was that sometimes it only takes one knucklehead to set something off, but also to Steve's point, the security guard in this case handled it poorly. He certainly didn't deserve to be shot over it. And it doesn't excuse the absolutely inexcusable behavior of these fellows that came in and shot him. But we always talk about, Steve, and you've mentioned this, there's opportunity to make choices throughout escalating confrontation. And we talked about it last time and I quoted you in an article I wrote recently where if you're in a store and you're encountered, you encounter someone who's feeling threatening to you or too close to you, you've asked them gently, but firmly to step away. And if he doesn't, then you're going to disengage at that point, you said, because it's not worth dying on that fight. It's not, you don't want to look at the security video of you getting in a fight with somebody over something like that.
Steve:
Oh, absolutely. Absolutely. And we've talked about, okay, well maybe I might be exposed to COVID . . . As a law enforcement officer, one of the things that we were always concerned about was having physical contact with people that had hepatitis or were HIV positive. There's a lot of contagious diseases that people can have that can be easily transmitted through physical contact. So that's something that's been on my mind for, really, ever since I became a police officer, certainly when I was on the special response team, is that I was coming in contact over and over with people that might have infectious diseases. And so now I just look at every physical confrontation as just another opportunity to pick up some bug that I don't want to have. And I was like, okay, I'll give that person some space. I do not want to get in close contact or face to face, bad breath, distance with another person.
Steve:
And so I think, and one more thing I was going to touch on is we're talking about a particular group of people that they take offense readily and they are willing to have a verbal confrontation and even physical confrontation with others in order to retain their respect. Well something that we may forget is that this whole COVID-19 that is causing stress for people may very well be causing additional stress on them. And so a lot of times, I have friends that, we're still working, everything is good — money still coming in. And then we'll start talking about someone else that we know that, oh my gosh! Both of them were in this particular business, they both lost their jobs. They don't know how they're going to make their car payments. They don't know how they're going to make their house payments. If they lose their house, they're probably going to have to move. They're going to take their kids out of school, which is disruptive. So there's a lot of stress on people that are already feeling stressed. And it's just like, okay, it's a little bit like having a situation where you've had a severe drought in a heavily wooded area for a long time.
Steve:
And so now that little spark that maybe before wouldn't have really ignited anything, the chances that it will now have greatly increased. And I think that's just something that we all have to keep in mind is that yeah, we're stressed, but so is everyone else.
Shawn Vincent:
That's great.
Don West:
That's a terrific point. Yup.
Shawn Vincent:
All right guys, that's our show for the day. Thanks for listening in until the end. Next time we'll be back with a full episode on a special case — something, you'll find interesting. In the meantime, be smart, stay safe, take care.