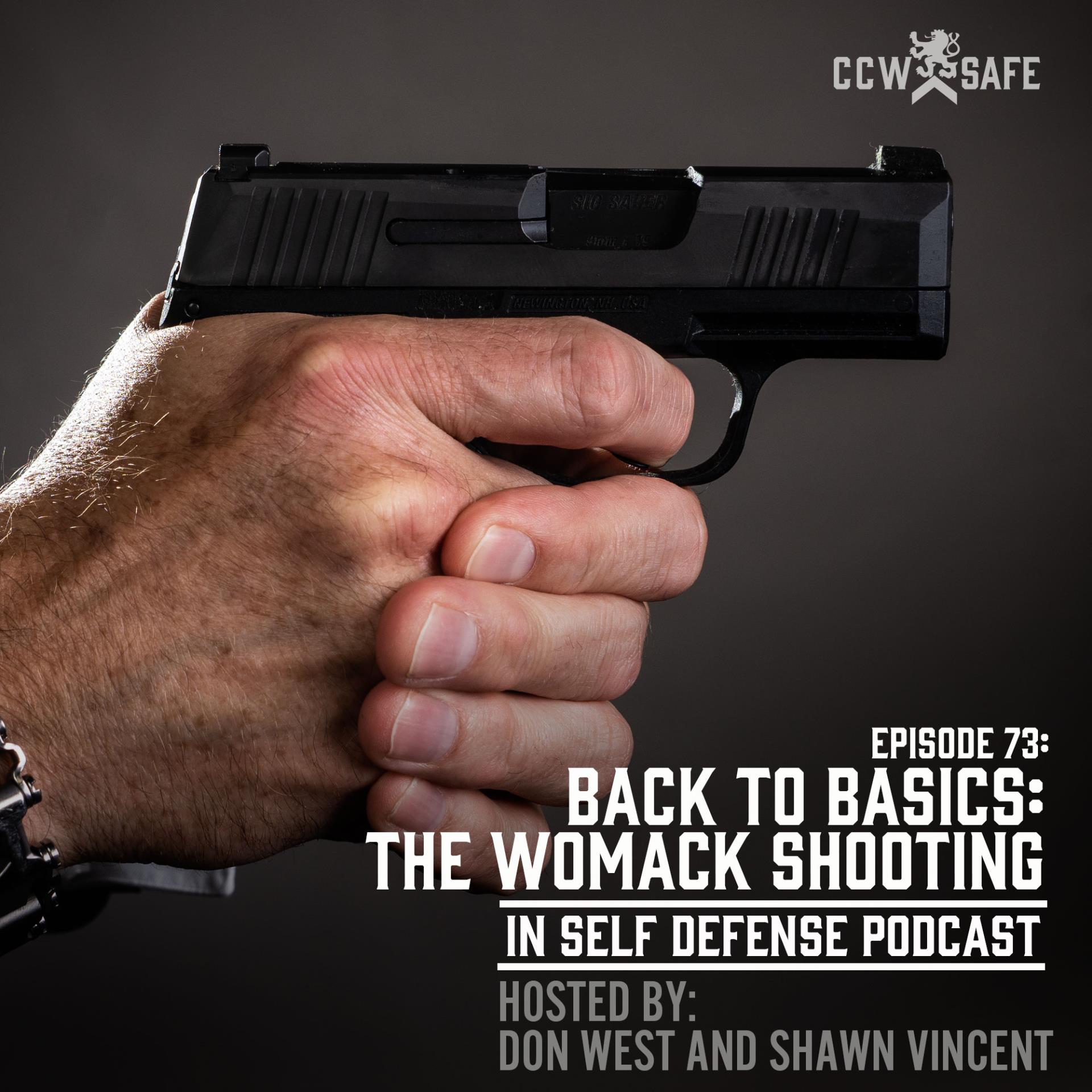 Posted on February 3, 2021 by Shawn Vincent in Uncategorized
In Self Defense – Episode 73: Back to Basics: The Womack Shooting
Listen to the "In Self Defense" Podcast

In Self Defense – Episode 73: Back to Basics: The Womack Shooting
Steves Moses joins Don West and Shawn Vincent to explore one of our Touchstone cases. Although it's agreed that, legally, the defender was completely justified in this shooting, Steve offers some tips to concealed carriers on how to deal with a potential threat before it demands the use of deadly force.
TRANSCRIPT:
Shawn Vincent:
Hey everybody, it's Shawn Vincent. Thanks for listening in. Hey, listen, Don West and I, Don West is National Trial Counsel for CCW Safe and a well-regarded criminal defense attorney with a great history of defending defenders in self-defense cases. He and I have been looking at high profile self-defense cases for the last several years and looking for lessons for concealed carriers. Over the last year or so, we've been joined by our friend, Steve Moses. He's a firearms instructor.
Shawn Vincent:
He's a CCW Safe contributor and a brilliant guy when it comes to talking about the tactical considerations in self-defense. We've decided that we're going to go back through the primary touchstone cases that had the best lessons for concealed carriers. We're going to revisit them with additional insights and Steve's tactical point of view. Today, we're going to revisit the Womack shooting, which is a case where, from a legal perspective, the defender did everything right. From a tactical point of view, Steve Moses has some suggestions.
Shawn Vincent:
You're going to hear the story and you're going to be on the side of the defender. Any criticisms can seem ridiculous considering the circumstances. This defender, while he was ultimately exonerated, went through a three-and-a-half week police investigation before the prosecutor announced publicly that he wouldn't be pressing charges. There were a couple of opportunities to, with 20/20 hindsight, avoid the shooting. While there's no criticism of the defender here, there are opportunities to learn, and we'll explore those.
Shawn Vincent:
This is a case, I think, that's a great example for concealed carriers. It's also a breath of fresh air. We talk about a lot of doom and gloom in this podcast, a lot of cases where defenders made minor mistakes and suffered severe legal repercussions for that. The truth is, when defenders go into a situation with a good mindset and follow the rules and wait until the threat against them is imminent and severe and reasonable, then they come out usually okay. Great lessons here. Here's my conversation with Don West and Steve Moses. Thanks for listening.
Shawn Vincent:
Normally, when we talk about these cases, we refer to them by the name of the defender. This particular case, we don't have the name of the defender because in a rare situation for a high-profile self-defense case, this guy did just about everything right, but it did result in the death of somebody, a homicide. It was investigated for about three-and-a-half weeks. Then at the end, the defender was justified, declared justified, no charges were filed. We are going to refer to this guy as "the defender."
Shawn Vincent:
We refer to this case as the Womack case, because that's the name of the attacker who was shot and killed in this case. Here, I'll give you the set up real quick. Womack loved to play basketball. He was out at a gym at LA Fitness, I believe, outside of Philadelphia. They're doing pick-up basketball. He's playing against this other guy, the defender, who he accused during the game of a traveling foul. An argument ensued. It seemed like throughout the game, these guys had a little bit of tension building up. Then at some point, the fouling became too much.
Shawn Vincent:
Womack threatened the defender. He said he wanted to shoot him in the head, at which point, based on the testimony that we were able to pick up from the news reports, the defender said, "I've had enough of this. I don't need this guy." He packed it in and left. We know from witnesses and surveillance video that Womack essentially followed him out of the gym and waited for him outside of the front entrance. Then when the defender walked out into the dark parking lot to get to the car, Womack followed him. He was shouting obscenities at him.
Shawn Vincent:
Then when he got close, Womack pulled out his Taurus pistol. He racked around into it. The defender's response was to pull his 9mm Glock out of his gym bag, which was already loaded. He fired a shot that hit Womack in the chest. As Womack fell to the ground, he fired two wild shots that hit nearby cars, but injured nobody. He died there on the pavement. Steve, is that what you got from the articles that we've read?
Steve Moses:
Yes, yes, yes. That's pretty much my understanding.
Shawn Vincent:
Don, were there any details from there that I left out that stood out to you?
Don West:
No, I don't think so. I don't know what happened in the gym that resulted in the sequence of who left first. My clear impression was that maybe the defender went into the locker room. He may have been delayed a little bit. I got the impression from the reports that by the time he left the facility and was headed out into the parking lot, that Womack was already out there essentially waiting for him and being prepared to confront him. So that when the defender left and encountered Womack, he would have had reason to be concerned just seeing him out there.
Don West:
Notwithstanding the fact that he wound up pulling a gun based upon what had happened inside the facility on the basketball court and obviously, Womack wasn't content to leave it there, whatever had happened and wanted to continue. The argument continued to escalate as we all know, Shawn, from your recitation of the other facts that wound up to be a deadly encounter.
Shawn Vincent:
Yeah. I research these cases to see if they're worth us talking about and writing about. One of the reasons this one stood out for me is because we are always talking about de-escalation and avoidance. Steve, on our last podcast, we were talking with you about the idea of disengagement completely, not only trying to de-escalate and bring tensions down, but when that doesn't work, just walking away. Here's a guy who did just that. He walked away.
Shawn Vincent:
One of the great arguments for just walking away is if the person happens to follow you and force a re=engagement, then you've demonstrated that you're more reasonable than that person was. He made an effort to avoid the confrontation. I want to read what the Montgomery County district attorney said to reporters when he announced that no charges were going to be filed. He says, "There is no doubt about who shot and killed Womack. The legal issue to be analyzed is whether this was a justifiable killing."
Shawn Vincent:
"To be justified in the shooting of Womack, the shooter had to be in a reasonable fear of death or serious bodily injury. Evidence to support a reasonable fear, would include Womack's threatening words. He's waiting outside of LA Fitness and following him through the parking lot, threatening him again, pulling out a gun, and racking a bullet into the chamber while approaching the other man." Now that I've read that, here's why I want to talk to you first about, Steve, from a tactical point of view. He did what we recommended and he just walked away.
Shawn Vincent:
Then like Don said, it seems like perhaps he would have noticed the guy hanging outside the LA Fitness as he was passing by. If he was being threatened and there was cursing, he certainly would have known that. One thing about the just walk away ideas, you do that if it's safe to do so, right? I remember we were talking about the Alexander Weiss case. That was where the kid got rear-ended by these two hothead teenagers who started making threats when he got out of the car. That if he was to leave, you can do so in a way where you keep your eye on your perceived attacker as you go. Tactically, how do you walk away from something like this?
Steve Moses:
Well, there's so many things that I do not know. A handgun is really … It's most dangerous at closer ranges. That's simply because it's easier for people to hit a target at shorter ranges. It's still extremely dangerous at longer ranges. Even if he was 25 or 50 yards away and the guy was threatening him with a handgun, he, walking away, is not necessarily going to be an issue. There's other things we could do tactically, run to cover. Or basically, just, okay, just plant feet and engage. In this particular instance without knowing all the variables, I do not know.
Steve Moses:
If that person says, for instance, and again, I'm just hypothesizing. If I'd stepped outside that door and I had seen Womack over there waiting for me, then the next thing to do would be turn around and go back inside. That would be probably my choice then in terms of what we would call walking away. Where exactly the encounter took place, the distances, and everything else like that, I really don't know. I would say that there was a good possibility that it was within … I'm just throwing these numbers out there, 15, 20, 25 yards.
Steve Moses:
Maybe you're not necessarily walking away, but you are moving at an accelerated rate of speed to something that might, basically, be cover. Cover is an object which is capable of stopping incoming rounds. On a car, that would probably be something like the engine or behind the axle, something like that. Bullets typically go through a trunk, relatively easy. They may have a little bit of a harder time getting through a car door. They don't have a hard time getting through a car window. That would be taking a cover position. Don't mean to be getting off the weeds. Basically, to me, that's the options that would be available to me.
Shawn Vincent:
Right. That's interesting. First of all, I think we all agree that on the spectrum of justified or unjustified shootings, this one's way on the side of a justified shooting, right?
Steve Moses:
I agree. I agree.
Shawn Vincent:
Yeah. I always like to say that first, because if we're going to look back at what a shooter did right or wrong, we get very critical because we're Monday morning quarterbacking and we have a lot of things that might have done. We, honestly, will never know all the details of what went on there, but that we look for the learning experience here. One thing interesting that you said, Steve, is that in this case, walking away would have been actually sticking around where it was well-lighted, where there were people and where it was less likely that he might have a tense one-on-one counter encounter with this guy. Did I hear that right? Is that what you're talking about?
Steve Moses:
Well, okay. If we're going back to the walking away, are we talking about the encounter in the gym itself?
Shawn Vincent:
Well, I mean, I guess, yeah. Well, first of all, he showed extraordinary judgment and patience with that guy and decided, "I don't need to be here. This is my night to go play basketball and enjoy myself, but this guy's ruining it. I'm going to be the bigger man and walk away from this." That was a smart decision. Now I think you've shown us a scenario where you've had this antagonistic interaction with somebody and now you're leaving. You're about to go off into a dark parking lot on your own. You see that this guy is here waiting for you. You had mentioned that an option for him there would be not to go ahead and put himself in the vulnerable position of going out into the parking lot, but stay where he was safer. Did I misinterpret that?
Steve Moses:
Not necessarily. As I'm listening to you, I'm like, okay, it looks to me like there's a possibility at three different times that an action on the defender sparked was possible. One was in the gymnasium itself. I believe that there was a reference to a heated argument, which suggest us that there were words exchanged. If we're going to really just Monday morning quarterback this thing or in this case, Tuesday morning quarterbacking, let's say, okay, let's avoid the heating argument part in terms of lessons learned. Now I'm not judging this guy for doing that.
Steve Moses:
I understand and he probably didn't think anything about it. That's very common in pick-up basketball games. A heated argument, well, maybe that could have been avoided. A guy wants to argue with you, don't argue. If you decide you need to get away doing so in a manner where no disparaging comments are made as you leave, that's also recommended. That's an opportunity where we could call we're getting both de-escalation and disengagement involved at the same time.
Steve Moses:
When he stepped out of the building itself or looked out the building itself, well, that's another good opportunities, okay, this guy threatened me. Is he out there? Do I look around? Is there a possibility that I see him? If I see him, well, then maybe I just need to turn around and go back in. Then the third possibility or the part of this would be you're actually out there where you're no longer able to go back into the building. The question then becomes, okay, how do I handle this based upon just the totality of the circumstances? Where is my vehicle? Where is he?
Steve Moses:
Do I need to go to my vehicle knowing that someone might intercept me? These are just all things. I don't know that what I do look at it as an opportunity for us to just sit here in our chairs and go, okay, note to self, lesson learned. Note to self again, same thing, look for a person out there who threatened me. Note to self again, I'm walking out to that vehicle. I'm looking around for that person, because that's just good advice anytime. It may not necessarily be someone that you had an argument with, but it could be someone that might want to mug you.
Steve Moses:
Or a group of guys have been drinking, they're looking for a fight. Just keeping your head up on a swivel, I think there's much to be said for that. That again, I just so hate to come back and perceived as being critical of this guy in any way, because I just don't know what all took place.
Shawn Vincent:
Sure. He did so much right. I think what I'd really love to know about this is this third scenario. Let's forget everything that happened before. You're walking through a dark parking lot to your car. Somebody behind you is yelling at you or making threats. It seems to me, Steve, and that someone with your training maybe doesn't let this aggressor get as close as he did or maybe you don't wait as long to try to address the threat. I'm curious, if I'm being followed in a parking lot, it's dark, it's late, I'm towards my car, I'm getting more isolated and someone's coming behind me with this type of aggression. What are some of my options here?
Steve Moses:
Well, you need to be prepared to … Maybe ready to becoming fight time. To that end, I need to do what I can to cause this situation to be deescalate, which is, "Hey, do you want to stand back?" Guy continues. Again, I'm always tempted to do exactly what I would do during these podcasts, which is, I'm going to basically command him to stay back in a very sharp, very loud tone. I want him to understand I mean business. I want to attract others attention. If that person continues to go on, then I'm going to consider the circumstances.
Steve Moses:
Does he have the ability, opportunity, and intent? Can I retreat? Possibly, in that position, if we're talking 10, 15 yards, retreat is becoming less and less of an option. At that particular point, I would actually maybe be in a position where I would go back to that defensive display, which is, I have a gun, I'll use it. I may get my hand on the gun, telling the same thing. If he's moving too fast, I may get two hands on the gun and drive that to a low ready position. Because this guy has already voiced his displeasure with me. He's already said that he was going to shoot me in the head, which would suggest that he may have a gun on his hand, on his position, on his hand. I need to be ready for that situation to go ahead and just take and deal with it.
Shawn Vincent:
Yeah. Because we always say that retreat or disengagement, walking away is the best option when it's safe. I thought, just when I read about how the final moments went down, that the guy pulled his pistol on a guy, racked it, and our guy had to then draw his gun out of his gym bag. I'm going to guess that maybe he knew this guy was coming behind him and got a hand on that thing before that all went down. There is a possibility that he walked away beyond when it was potentially safe to do so. I think this, what you're saying here, we got the voice commands.
Shawn Vincent:
I imagine when you're talking about defensive display, you wrote recently about the holstered ready position. He talked to us about the low ready position. He had this range of defensive postures that he could have gone through when the guy was perhaps a little bit further away from him that would have like draw the line on whether this conflict was going to happen or not in a place where, hopefully, the defender had more of a tactical advantage than this quick draw scenario we see here at the end.
Steve Moses:
Well, absolutely. Again, it's like, okay. Like I said, I may only have a momentary option where putting my hand on my pistol and leaving it holstered works. Things may accelerate so quickly that I need to go either straight to low ready or I need to get that gun up and be prepared to take that shot. A matter of fact, if I'm bringing that gun up and being prepared to take that shot, what I mean, I'm in the position of I'm getting ready to shoot this person because all of my other options have been exhausted.
Shawn Vincent:
Yeah. Let's talk about exhausted options now. This guy racks the pistol right in front of our defender. Don, I pulled a quote from our last conversation on this. If we're talking about imminence and intent on a self-defense case, you said, "Nothing says I'm ready to shoot you like somebody racking a semi-automatic handgun within a few feet of you."
Don West:
Well, I think that's true, not just in the practical sense that they have clearly made the gun ready to fire. They've done the last thing they need to do to be able to shoot you. Racking the gun is one of those Hollywood techniques that people seem to use to underscore the drama and the intensity and the imminence of a gunfight. It's funny that, in Hollywood, people will be shooting at each other for a few minutes and then someone will, I guess, need to put the exclamation point on what they plan to do now. They rack the gun again. It's silly when you think about it in that context.
Don West:
I guarantee you that the defender was not laughing as based upon what he just experienced in the gym. Womack clearly agitated, angry, threatened, lethal force before, now does that last thing necessary to carry it out. Talk about imminence.
Shawn Vincent:
Well, sure. I have a personal belief that if you're going to be a concealed carrier, you might as well carry a loaded weapon. Steve, do you agree with me on that?
Steve Moses:
Absolutely. I wouldn't do it any other way.
Shawn Vincent:
Right. First of all, I think if our defender's weapon is not charged, he might not survive this encounter. If he had to draw it and charge it before he shot, he's done. Then the prosecutor even noted that the act of charging your weapon is this moment where you're not actually defending yourself, but you're telegraphing your intentions. The fact that this other guy's weapon wasn't loaded, gave this extra threshold that he had to cross that made the defender even more justified for shooting him in the chest.
Steve Moses:
I agree with all that.
Don West:
I'm with you. I'm with you on that. Legally and emotionally, to me, that … It's so hard to get inside the mind of the actors in something like this. We really don't know what Womack truly intended. He did everything to make it look like he intended to do. In fact, what he had said inside the gym, put a round in the defender's head, but we don't know because we don't know how much of what was said inside the gym could be characterized as trash talk.
Don West:
Anyone that's played sports has been in a competition of some sort where it went bad and there was some ugly stuff said back and forth, maybe even rising to the level of a threat. Clearly, that's what happened in the gym. Womack said stuff, there was no doubt in exchange. It did escalate to the point of a specific threat to shoot him in the head. No doubt, these guys were experienced gym guys. Womack was an accomplished basketball player, an accomplished athlete. I had read that he played basketball both in high school and college. He was in his late 20s.
Don West:
He was in fine physical condition. I'm going to assume the defender was a competitive basketball player, athletic, strong, the ability to be physical, and that whatever the defender was reading inside the gym when Womack was saying these things based upon this supposed traveling call, it concerned him enough to decide to withdraw from that. I think that's really important because what we're doing at each step of this from a tactical standpoint, and Steve can certainly talk about this, but from a legal standpoint as well, is trying to assess the reality of the threat, the degree of the threat, the imminence of the threat.
Don West:
Because all of that ultimately sets the stage for your decision whether or not you need to use force and, of course, determines whether you are legally allowed to use force. When the defender leaves the gym and Womack's waiting for them and they have more words and Womack comes toward him, and then this case is a whole lot easier because the defenders saw the gun, heard the gun, all of that accompanied by Womack's continued approach. It makes that call really easy.
Don West:
I wonder if most of that had happened, but the defender didn't see a gun, didn't hear a gun, but believed, based upon what had happened inside the gym, that he had won. Then draws the gun or then draws the gun and fires the gun. I think we have a completely different scenario, not to say that the defender wouldn't legally have been justified to display the gun and maybe even to pull the trigger as Womack approached him even without a weapon. That gets a lot dicier as we well know from other cases that we've had.
Shawn Vincent:
Sure. It's actually so dicey that we've been calling that the defender's dilemma. That is an armed defender dealing with a threat that is either unarmed or not apparently armed yet. In this particular case, we have the predicate of the conflict in the gym. We have this threat that I'm going to shoot you in the head, which in the context of a basketball game might not be taking it as a serious threat. In the context of a parking lot, with continued threats and obscenities, takes on new meaning. Then once you've introduced the gun, then all the question marks are gone. You can read the intent as, well, you're foolish not to read the intent at that point.
Don West:
Yeah. I think that's a really interesting spin on that and that Steve has interesting thoughts. The idea of all that Womack did throughout the progression of this incident indicated an intent to use deadly force, to carry out his initial threat. We really don't know. Because if you think about it, it all happened on a basketball court where it may have been words said or some unwritten rule broken that caused Womack to feel particularly aggrieved, offended, justified because of his ego or that the defender showed a lack of due respect in some fashion.
Don West:
The parking lot was carrying that out and that Womack decided to raise his level of intimidation and dominance. It could have been just to prove the point, and that he did not have the specific intent to actually pull the trigger. Although, as Steve well knows, it takes fractions of a second to do that once he's ready. We really don't know what Womack had in his head, whether it was just a put down standoff intimidation thing or whether it was just the last step before pulling the trigger.
Don West:
We do know though, don't we, that from the news reports that after the defender shot him, that Womack actually fired his gun twice. As you mentioned, Shawn, it didn't hit anybody. I guess it hit some parked cars maybe, but he had his finger on the trigger or put his finger on the trigger and was able to pull it twice.
Shawn Vincent:
Well, I think what you're doing is you're painting a scenario where Womack's full of bluster and he's trying to be a badass and make a point, but maybe necessarily didn't intend to go murder the defender next to his car, right?
Don West:
Mm-hmm (affirmative).
Shawn Vincent:
That was one of the possibilities that we have here.
Don West:
Well, the question for Steve, I think, is that he, more than anyone, knows how quickly and dramatically and intensely these things unfold how little time there is for you to make your decision based upon the assessment of a lot of stuff that's going on. Of course, had the defender rightly concluded that Womack didn't actually intend to shoot him and therefore didn't shoot Womack and the whole thing just dissipated when they yelled at each other and nobody died? That would be terrific. That would be a great outcome. How on earth could the defender make that decision consistent with him protecting his life in a clear deadly force situation? What do you do? You have to give the benefit of the doubt to your own survival, don't you, Steve?
Steve Moses:
Absolutely. You have to base your decision upon his actions and his actions were such that it was a clear indication that he was more than likely or possibly going to shoot the defender. I believe everything that you said is absolutely correct, Don. I think it's very much a possibility that, okay, perhaps his intent was to go out there and just humiliate the defender, regain face in front of his buddies and everything. The value in that knowledge to me is just knowing that there are people that will take that action if they believe they've been publicly disrespected.
Steve Moses:
I take that back a step further. Now I'm traveling back in time. Knowing that there are people out there that will kill or threatened to kill if they believe they've been disrespected that would give a concealed carrier maybe an opportunity to de-escalate it right there so that it never moves past that point. To me, that's where all the value of knowing that that person may or may not have had the intent to actually shoot means, okay, was there something I could have done earlier in that series of events that would have caused this not to happen? Once he came out there and he manifested that intent, he had the ability, he had the opportunity, and the defender, obviously, at that time really had no other options. The defender did everything correct in my opinion.
Shawn Vincent:
What I hear you saying, Steve, is that, especially if you're a concealed carrier, sometimes you just have to throw a hothead asshole a bone and let them win these little mind games so that you can walk away from it without having to shoot them.
Steve Moses:
Yeah, you're right, buddy. You're right. "Hey, man. Hey, I'm going to leave. You're right. Sorry about that." Sometimes that's all it takes. If that person then continues to continue to engage, well, now … Ah, I've used this word, but I like this term, you strip the ambiguity away. Okay, this has become a problem. I've done everything that I could to deescalate and disengage. This person is continuing to encroach upon me. I need to be prepared to meet force with force if necessary.
Shawn Vincent:
Well, you've told me a number of times, Steve, that you have three things you're looking at when you're contemplating using deadly force. That is: Does your attacker have the ability, the opportunity, and the intent to kill you here? In this case, we've got once that gun's out, and especially when it's racked, he's got the ability, the opportunity is obviously there. If there's any question about that person's intent, we covered our bases there.
Steve Moses:
Yeah, telling the other person you're going to shoot them in the head is pretty much a good indicator of intent.
Shawn Vincent:
Well, then when do you produce a gun and rack it, that's our confirmation, I think, right?
Steve Moses:
Yes, yes, yes. One thing I would like to point out again, as you know, this Tuesday morning quarterback with literally 20/20 hindsight is the fact that the defender, from what I understand, pulled the Glock far from inside his backpack. I'm not really certain that that is the best way to have a handgun on your person. I understand they were playing basketball. For me, I would have stowed that handgun in the gym locker under lock and key. As soon as I got dressed, I would have put that handgun, which should have been in a holster in a position on my belt where I could have used it.
Steve Moses:
There's two problems I have with pulling that gun from the backpack. One is, it's slow. As Don said, perhaps he actually bought time by virtue of the fact that Womack had to first rack around into his handgun. The second thing is that gun, if that's not in a holster, that's not safe. You reach in there assumed this was probably … It says before the end of the night. It took place in the hours when it was dark. He probably just reached in there and grab that handgun.
Steve Moses:
There's a real possibility that he could have got his finger in the trigger or did get his finger in the trigger and he very easily could have shot himself or fired a negligent round. When that handgun is not on your person, that you need to have quick access to it, I'd like to make sure that that trigger guard is covered. That as much as anything is just to protect me from myself. I tend to, when I grab things, all of my fingers work sympathetically. That is, if I grab with my bottom three fingers, my index finger tends to curly in. That'll put it right inside the trigger guard and possibly right on top of the trigger.
Shawn Vincent:
Yeah. What you're saying, if you're going to conceal carry, then carry.
Steve Moses:
That's right. Do it right.
Shawn Vincent:
Have a holster and do it safely. Really, from a tactical point of view, this unnamed defender is lucky that he got that shot off.
Steve Moses:
I believe that's to be the case.
Shawn Vincent:
All right, guys, that's the podcast today. Thanks for listening in. Next time, we're going to hear more from Don West on the legal aspects of this case. Until then, thanks for listening. Be smart. Stay safe. Take care.