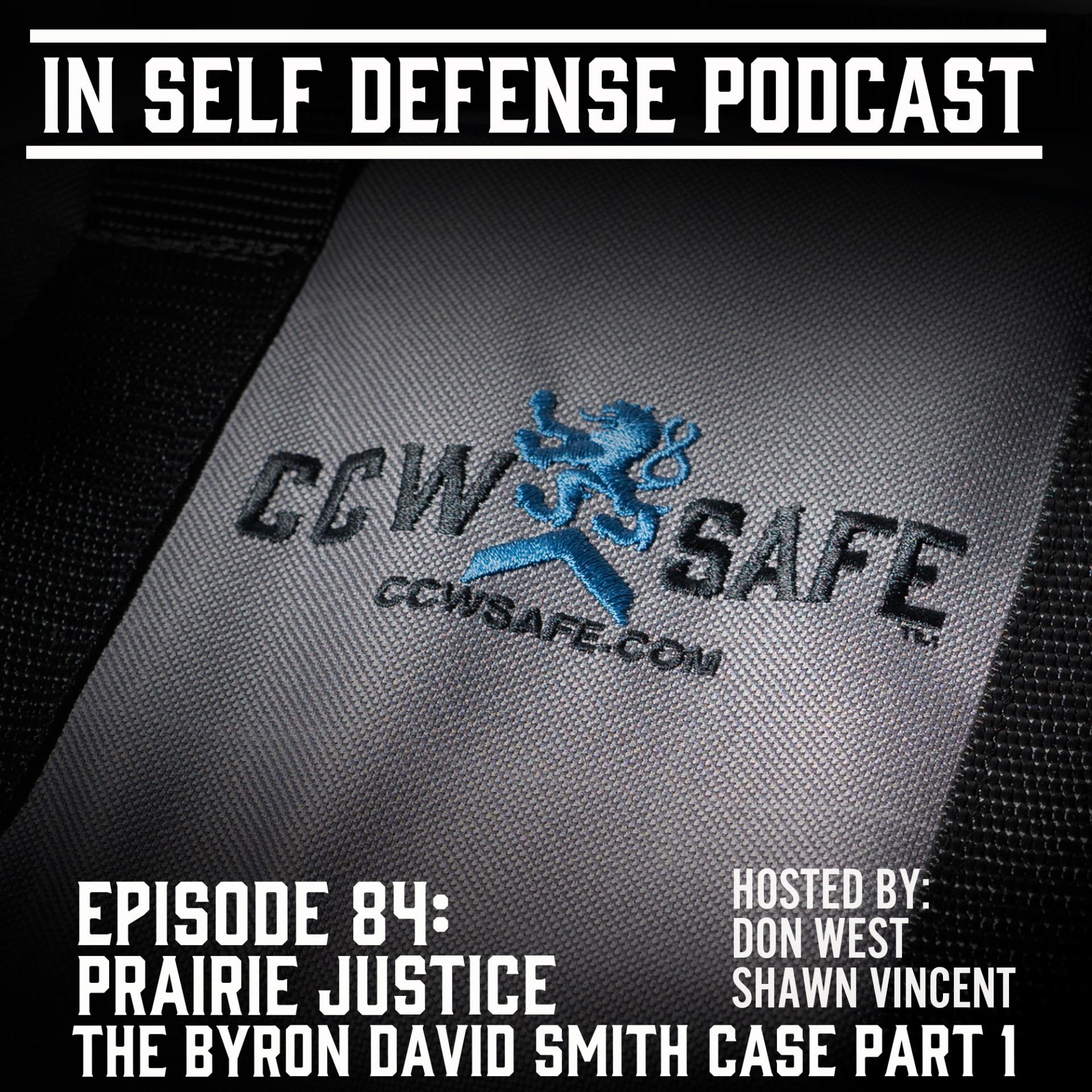 Posted on July 7, 2021 by Shawn Vincent in In Self Defense
In Self Defense – Episode 84: Prairie Justice The Byron David Smith Case Part 1
Listen to the "In Self Defense" Podcast

In Self Defense – Episode 84: Prairie Justice The Byron David Smith Case Part 1
Don West and Steve Moses join Shawn Vincent to take a fresh look at the Byron David Smith case, discussing themes of right and wrong versus legal and illegal and weighing the myths of "prairie justice" against the realities of the American criminal justice system.
The CCW Safe team believes that continuing education is an important component of being a responsible firearms owner/carrier. We offer our free content as food for thought. We try to take a neutral position and encourage the reader to evaluate how they would handle a similar situation. If the content provokes thought we have succeeded in our mission. The opinion of the content provider may not reflect the overall opinion of the company and staff members.
TRANSCRIPT:
Shawn Vincent:
Hey everybody, this is Shawn Vincent. Thanks for listening in to the podcast today. Today we're going to revisit the case of Byron David Smith. This is the case of an armed homeowner who shot two intruders that came into this house, that forcibly broke into his house, and he was ultimately arrested, charged with murder, and convicted by a jury verdict that took only three hours to render.
Shawn Vincent:
During the course of the publicity that surrounded this case, it garnered a lot of attention, a lot of self-defense advocates were up in arms that somebody who was protecting his home from forceful intruders would be not only charged with murder but even convicted. But as the details come out, we find that there are limits to the Castle Doctrine, Byron David Smith certainly crossed those limits. And in our exploration today, we're going to look and see, what does it take to cross the limits of the Castle Doctrine?
Shawn Vincent:
And there's an interesting conversation that we have here about "frontier justice" or "prairie justice," there are comments in this case that Don quotes that said, there's right and there is wrong, and then there is legal and illegal. And from one perspective, there is the criminal justice system in America and then there is a myth of frontier justice or Prairie Justice that persists. One of them is how an armed defender will be held accountable under a court of law, and the other one exists only in our minds and our hearts. And that mindset, I think, can contribute to an armed homeowner making presumptions about the Castle Doctrine that aren't true and could lead them to act beyond the limits of the Castle Doctrine in a self-defense scenario. This is my conversation with Don West and Steve Moses about the Byron David Smith case.
Shawn Vincent:
So hey, gentlemen, I want to talk to you guys today about the Byron David Smith case. This is a case that Don and I, we've explored in the past, and Steve, we've talked to you offline a little bit about this case and you've had a chance to listen to police interviews and the actual recording that Byron Smith made when these two teenagers, in Little Falls, Minnesota, broke into his house on Thanksgiving Day in 2012. And this is a fascinating case, it's a case of extremes because from one point of view we've got a homeowner who shot two teenagers who broke through a window to break into his house. There's a forcible entry into his house, and from one perspective, self-defense is seldom more justified than when you have someone who's broken into your home, the Castle Doctrine. But then once we go through the sequence of events in this case, we're left with a lot of evidence that shows that we had a premeditated murder that played out during the course of these 10-15 minutes that these teenagers broke into the home.
Shawn Vincent:
And I want to quote the Morrison County Sheriff at the time, Michel Wetzel, and he told the Minneapolis Star Tribune that, "This isn't a case about whether you have the right to protect yourself in your home, you clearly do, that's a given," he says, "this is a case about where the limits are before and after a threat to you or your home occurs."
Shawn Vincent:
And Don, one thing that struck me about that too, is we're talking about the limits of the Castle Doctrine, and when this sheriff says, "before and after," the way things play out in this case, we see evidence that this homeowner, Byron Smith, in a way, lured these teenagers in, made it appear that he wasn't there, and he had set up things in such a way where he was prepared to shoot them when they were there. And as we tell the story, we'll find that even after he's incapacitated them and they are certainly no longer a threat, he "finishes them off" and kills them in his basement.
Shawn Vincent:
Steve, I haven't necessarily heard your full perspective on this, but from your research, and the reading you did, and the listening you did, I'd love for you to give me your impression of the sequence of events here that happened that led to this incident.
Steve Moses:
Well, I actually just finished up the audio of the interrogation between Smith and the detective. And at the very end, Smith said something that was very telling in that it appears he did not actually set that up. He moved the pickup that was normally there to another area because he was actually afraid it was going to be burgled. And during the interrogation, when questioned by the detective, he said he moved that, and then all of a sudden, you could just hear this surprise in his voice, he goes, "That's why they came," because apparently, the persons, I believe it was Nick Brady and Haile Kifer, if I'm not mistaken, I think they lived in close proximity to the house and could actually see his house.
Steve Moses:
What he did do was he failed to call 911 when he saw them scouting around his house, this was on the video that he provided. And at that point, he knew they were trying to break in, he was already I believe in the basement, and rather than call 911 he decided to wait and, the best I can tell, actually, it cost him.
Shawn Vincent:
So let me fill in a couple of gaps there. This is Thanksgiving Day, Byron Smith has complained that he's been broken into multiple times. He's retired, he used to work for the State Department, and he was in the Air Force, had a career there. This was a house that his father had built, his father was recently passed away, he himself was World War Two veteran aviator, a fighter pilot of some distinction. And less than a month before this break-in, Smith had called the police and reported about $10,000 worth of valuable gold coins stolen and some irreplaceable, sentimental things such as a medal that his father earned in World War Two and medals that he had earned. He fought Vietnam, did you pick up that? Okay.
Shawn Vincent:
So then he had started wearing a holstered pistol around the house, he felt so insecure about the break-ins that he had, had there. And on this particular day, this thing that you're talking about, he had moved his car down the street, and prosecutors at trial suggested that that meant that he was trying to make it look like nobody was home. Now I heard you say when you listened to his interrogation, he had another reason for that and put two together, maybe that's why they thought he wasn't home. Regardless-
Steve Moses:
He reacted in such a way when he said that, when asked, is that … He seemed genuinely surprised and he goes, "Oh, that's why they chose me on that day." So, it did sound legitimate whether indeed it was or not.
Shawn Vincent:
Interesting. So what we do know is, and we've seen this footage, he had set up four security cameras around his property. And we can see, and he saw, on these security cameras that 18-year-old Haile Kifer and 17-year-old Nick Brady, cousins who lived nearby, in fact, I read one article that they might have actually at one point been paid under the table to do some odd jobs around his house and on his property, they come and you can see them scoping up a house, peeking into Windows. To your point, Steve, instead of calling the police, what Smith does is he goes downstairs, hits record on a tape recorder he's got down there, and he sits down at what the prosecutors at trial described as what a hunter might recognize as a deer stand. He had a table, a chair, he had a mini-14 with him, a 22 caliber revolver, some power bars, some drinks, and a novel to read.
Shawn Vincent:
And then on this haunting audio recording he made of this event, you can hear Brady upstairs walking around, he eventually makes his way down the stairs and he shoots him, he disables him. He tumbles down the stairs, there's an interaction, and he ends up shooting Brady in the face through his outstretched right hand. And then he wraps him in the tarp, drags him into the corner of the basement, sits back down, replaces the rounds that he spent, on his mini-14, and he waits almost another 10 minutes for Haile to come in who's curious why her cousin has not come out of this house.
Shawn Vincent:
She wanders around, you hear her coming down the stairs, her fate is similar. She's shot, she falls down the stairs, she's incapacitated, but this time Smith's mini-14 jams. He says, "Oh, I'm sorry about that," and he pulls out his 22, and he shoots her under her chin, something that he told the interrogators was to put her out of her suffering. And he wraps her up in a tarp, moves her into the corner of the basement, and then fails to do anything more about it until the next day he calls his neighbor to ask for some advice about a lawyer saying that he's "solved the break-ins in the neighborhood." Don, did I leave anything out?
Don West:
No, I don't think that you left anything out that's significant factually. It's interesting because some people laud him as a hero for protecting his home against these intruders, people that he believed had victimized himself on many occasions. And we know that he had been victimized on many occasions, valuable property taken. There seems to be a consensus that he was fearful, notwithstanding his military history and all of that, and his firearms, he was genuinely fearful of being attacked, killed. He expressed to the interrogators that he believed the people that were breaking in had previously taken guns, whether he was orchestrating or setting up a better self-defense claim, I don't know, but it seems evident that guns had been taken in prior burglaries.
Shawn Vincent:
Which meant he is afraid they'd bring those guns and use them on him.
Don West:
Sure. Sure. And then he did those things though, that you touched on, that seemed to cross that line of someone who is concerned almost to the point of obsession, and then to paranoia, and then to derangement. When the jury wound up looking at this case, ultimately, as they look at any case where self-defense is claimed, the bottom line assessment is reasonableness. And they're going to dissect this thing, they're going to consider his history, his favorable history, his training, his background, his history of being victimized to the extent that the judge allows that in any event. And then they're going to take a look at how he handled it, and if at some point in time the jury believes he acted unreasonably under the circumstances, then his claim of self-defense no matter how strong it would presumptively be, by virtue of him being in his own home, if the jury concludes that his actions were unreasonable and that instead of defending himself, he wound up committing a crime, then there is no self-defense claim whatsoever and he becomes guilty of the crime that he was charged with, which was murder, obviously.
Don West:
So, what were the critical moments in this? I would think that the jury would consider whether he had lured them there, this idea of taking the car and moving it. To Steve's point, the jury may cut him some slack. He is presumed to be innocent as to each and every fact related to the case. So the jury might conclude, well, that's a plausible explanation, he wasn't moving the car to lure them, that just was a consequence of a separate, innocent reason for moving the car.
Don West:
And then they take a look at what he did and what he didn't do. Did he call the police at any point in time when he had the opportunity? Where did he position himself within the house? What did he do, if anything, to avoid the direct confrontation? And when he had the opportunity or when they confronted him rather by virtue of coming into that spot in the house where he was, what was his conduct? Was it reasonable? Did he have an opportunity to stop the use of the firearm? Did he have the opportunity to stop the violence, or did it go too far?
Don West:
And I think what grabbed everybody's attention are those things that he did that set it up to make it look like he was planning to kill whoever it was that came in the house. And then, of course, that eerie recording, his statements to the police, and the forensic findings that corroborate that indeed, not only did he shoot them, but he shot them multiple times and that he continued to shoot them after they had been incapacitated for his stated and apparent sole purpose of killing them.
Don West:
So, at each moment in this sequence, the jury evaluates the reasonableness of Mr. Smith's actions, and notwithstanding the incredible protection that the Castle Doctrine and most state law provides a homeowner in defending their property against intruders, it's clear there are lines, and as you quoted the sheriff early on, Shawn, this was the case about those limits and whether those lines and limits were exceeded.
Shawn Vincent:
So, one thing this case makes me think about is there's the American criminal justice system, right, and then there's this, I don't know if I want to call it biblical justice or this American frontier justice, that comes to mind, because when we look at this was a controversial case when it first started. And before we knew all these creepy details about how it seems that he had prepared himself for this intrusion and then essentially executed these teenagers in his basement after he had already shot them and incapacitated him, that there's this sense that these kids who are breaking into his home and committing this fundamental violation, upsetting almost permanently his sense of security in his house, where he's supposed to feel safe, that these teenagers had it coming. And Steve, did you pick up any of those sentiments when you were looking at this case?
Steve Moses:
Absolutely. He was pretty detached towards them when he was in the midst of the interrogation, but during the audio part that he had actually recorded, he made comments like, "Bitch, die, you're dying." And you could hear him say such things as "I was just doing my civic duty. They were just vermin. They needed to be eliminated." It was almost like he was talking to himself just trying to confirm why he had done what he actually did. So I very much got that feeling.
Steve Moses:
It's easy to understand why that man would be in fear, and I got the impression that he basically had made the decision that he was not willing to live in fear anymore, and he believed that this was the only way of being able to handle that. That is, if they were caught, would it be his word against theirs? Would they get a light sentence? Apparently, he had a very poor opinion of the, I'm not sure whether it was Nick's parents or Haile's parents, I believe it might have been Haile's parents, he was concerned that they might be a threat to him. And I just got the impression is, I'm not willing to put up with this anymore, and I'm going to do something about it right now.
Steve Moses:
The opportunity came, he saw them on that video surveillance, and he opted to go down in his basement and set up what I think he thought was a defensive position rather than, A, call the police, or B, even when he heard the glass break, yell at them that he's there, he's armed, they need to get out of the house. So I think that's what took place.
Shawn Vincent:
Steve, you're a firearms instructor and you've worked with, I'm imagining, hundreds and hundreds of students in your time, right?
Steve Moses:
Yes.
Shawn Vincent:
And I'm going to guess that most of those folks weren't lawyers.
Steve Moses:
Yes.
Shawn Vincent:
Yes. And so, one of the reasons why I'm drawn to this case as a topic of conversation is that I feel like there's the actual legal approach to gun ownership and the actual justice that's associated with that, but I also think that there's, I think, people bring another sense of justice to their decision to be gun owners. Not everybody, but some people do. And as much as I know the law, I still think about Wyatt Earp sometimes, I still think about the Wild West, and I still feel … Do you what I'm getting at Steve? And I feel like Byron Smith felt he had been driven to a point where he could take some things to his own hand, and I think that, that represents some fundamental misunderstandings or that he bought into some myths that informed his thinking. Obviously, at some point here, he knew what the Castle Doctrine is and felt that would give him some protection, and maybe he abused that. Do you see any of that at play here?
Steve Moses:
Well, again, I find this so interesting is because it just seemed like his emotions ran from, I'm in fear to if I don't do something, law enforcement and the legal system won't do anything too. I'm not putting up with this anymore. I'm not going to live in fear. I'm going to end this, I'm going to end this now. And so, it was almost like he went from one of those emotions to another and then perhaps cycled back, that I just got the overall feeling is this guy is just crazy, he's just not playing with a full deck.
Don West:
Let me jump in. To your point though, Shawn, as well as to Steve's keen observation that this guy was certainly mentally unstable and he may very well have been delusional to some degree, he clearly was agitated and aggravated from the history of the break ends, and I think he got to the point where he just, "I'm mad as hell and I'm not going to take it anymore." But there may also be some aspect of this that's a common misperception about, call it the Castle Doctrine or call it the defense of your home. And there may very well be plenty of people that think you are morally justified in doing whatever you want to do to anybody that breaks into your house.
Don West:
One of the comments of one of these video pieces on YouTube, you can see some of the video, you can listen to some of the audio and see some of the pictures on YouTube, it's a case that captured the imagination of a lot of people. One of the comments that I read was there's right and wrong, and legal and illegal, and they're not the same. So maybe straightening out this misperception that if somebody breaks into your home, you can do anything you want up to and including killing them, simply by virtue of the fact that they have entered without your permission. And to some degree, I think perhaps Smith thought that, not that he gave it much thought frankly since he had gotten to that point where I don't think his rational mind was in charge anymore. But I think that, as they came down the stairs, he had already concluded that not only would they be dead, but he had the absolute right to do it based upon the past and based upon that moment.
Don West:
And if you think about it, there's something really going on there that someone would be that agitated, that involved, that when a teenage kid is incapacitated and essentially laying on the floor, that he felt justified in the so-called Coup de grace, the moment. And we hear things when we attend classes, and read articles, and people sometimes are just showing off or popping off, but you hear all sorts of crazy stuff when it comes to defending your home, and maybe we ought to talk about that for just a second. This was a case where the limits of home protection were exceeded, and that certainly can occur in a number of situations. So if you're interested, we can talk about that, Shawn.
Shawn Vincent:
Well, let's do that. And before we get there, let's talk about exactly when those limits were exceeded. And from my perspective and having worked on behalf of defendants in self-defense cases, and you are of course a career criminal defense attorney that's worked on lots of self-defense cases, I think you and I, if we were on somebody's team, could have made a pretty good point or a pretty good case beyond moving the truck beforehand to possibly make it look like no one was home. And despite the fact that he had this prepared position in his basement, and Steve, I think we're going to talk to you about that in a little bit, that had he only fired the original shots that caused the teenagers one at a time to stumble down the stairs and fall onto the floor of his basements, that then we can justify those shots.
Shawn Vincent:
We might have some problems about why he didn't call 911 before, during, or after them that we'd have to mitigate, but I think given the protections of the home and how people feel about that, we might be able to mount that defense. Do you agree?
Don West:
Yes, I think that's true. With the protection of the Castle Doctrine that avoids what might be the legal obligation to retreat in some jurisdictions around the country. With the Castle Doctrine, you can stay and protect yourself, and protect your home against people that come in it. Most states enhance the Castle Doctrine with some presumptions. Typically, those presumptions are that if someone enters your home through breaking and entering, that your fear of sustaining great bodily harm or death at their hands is reasonable. So, you go in with the advantage of you being lawfully in fear of great bodily harm or death. And we all know that when you believe you are facing an imminent threat of great bodily harm or death, you have the right to use deadly force in your protection.
Don West:
So there's a presumption, essentially, that you have the right to use deadly force in your home against those that break and enter or otherwise invade your premise. So I think up to that point, you're right, Shawn, it's not the best of all facts, given how it was all set up, nonetheless, I think that he's still in pretty good position to defend that first shot or the first couple of shots as they came down the stairs where he was. So I don't know that at that moment that he could have done anything else other than either try to scare them off or defend himself, and I think the law gives him the benefit of the doubt. And that first shot, while it's awful, it may very well have been lawful. But of course, we all know that it didn't stop there.
Shawn Vincent:
Steve, I wanted to ask you, Don mentioned the limits of the Castle Doctrine and that Smith may have had in his mind a mistaken sense of what the limits of the Castle Doctrine are. And Don, you mentioned that online some of the comments indicate that some folks lean more towards Byron Smith's interpretation and that's the mindset that could get those folks in trouble. Steve, when you're working with folks in your classes, what are some of the myths of home defense that you encounter?
Steve Moses:
Well, there are several. One is that everything needs to take place just completely on the outside of the home, and that's not necessarily true if the person has the means to inflict harm from outside the home. If they're out there and they've got a gun, and that gun was going to shoot through my door, that gun is going to shoot through my storm door, it's going to shoot through a window, they're trying to, at that particular point, throw a Molotov cocktail through that, okay, that's a little bit of a myth. But by the same token, the chances of something like that occurring are just minute. Understand it, but that's typically probably not what's going to happen.
Steve Moses:
The other thing is, is that, basically, it's just like, well, if they come into this house, I own them, they've turned their life over to me. And of course, we've talked about that in previous podcasts, that is not necessarily the case, actually, it's not the case at all. You're only justified to use force to prevent yourself and others from serious injury, or death, or in some cases, I guess, golly, what's that called? Forcible felonies. But you do have a presumption, especially at your home, especially in the evening hours, et cetera, where it's very difficult to see what is taking place and perhaps be able to respond to it timely, I think you have the ability to go ahead and act more preemptively and proactively than you would be out under other circumstances.
Steve Moses:
In this particular instance, I don't like the fact that he went down there and he didn't call 911. But I absolutely understand, it's like, okay, well, perhaps a jury could be convinced that that wasn't something that really was a huge negative for him. When they started coming down the steps, it was interesting, you could very much hear his breathing accelerated, I have every reason to believe that he was genuinely in fear of his life, and if it were me in that same situation, I would be also.
Steve Moses:
He chose to engage them, apparently, just about the time that their lower torso was visible to him. I believe he actually said, "I could see the hips." when asked if he could see a weapon at that poin, he said, "No, I could not see their hands, but I was not willing to give them a chance to use a gun against me before I necessarily saw that." And I go, well, I think that's probably legitimate. So, up to there, I'm going, okay, he fired that shot, the first teen was undoubtedly out of the fight. He then came over there and engaged him several times. After doing so, he actually pulled him over to a tarp and pulled him over to another section of the room. He went back, he reloaded the mini-14, as you described, and he simply waited.
Steve Moses:
I believe his rationale for that was he was afraid that there were more people in the house, or going to come to the house, and he could hear the doorknob upstairs rattling. And so, he said he was not only concerned about the other person in the house, but that other person's relatives because he felt that they were indeed a threat to his life. When she came down the stairs, he again, he shot her. He said later, he wasn't sure whether he hit her or grazed her, but she came down the stairs. And then he went so far as to say that when she came down the stairs, she laughed at him.
Steve Moses:
Now I listened to that audio, I didn't hear what I thought was a laugh, it sounds much more like a gasp or something to that effect, but I can understand that in the moment that he may have thought that. I believe that that angered him which caused him to want to engage her again, but the rifle had malfunction. He went over there, he said that he attempted to, I believe he said, shoot her in the chest with his 22 revolver. Apparently, the first chamber after you rotated the revolver cylinder was empty, it didn't fire. He fired several more rounds into her chest. He actually dragged her over there, put her on the tarp, and said he noticed that she was still gasping and so he … well, I'm just assuming he felt bad about it, he goes, well, I just needed to put her out of her misery, at which time he shot her under the chin. And expressly told the detective that he did that because 22 long rifles don't penetrate well, they don't penetrate bone well, and I wanted that to go up into the cranium.
Steve Moses:
So at this point, you can really tell that he has dehumanized. Really having trouble with that word, I'm going to have to think of another word to take its place. Regardless, he was talking about vermin, he called her a bitch, he said, "That'll put a end to what you're doing." It was really interesting. I really think in part that he thought that audio recording was actually something that he was going to do because it would justify the actions that he took. And then he would appear to me during the interrogation that even after the fact, he still felt very well that everything that he had done was justified.
Shawn Vincent:
So you're suggesting, Steve, that he felt like that audio recording that you've just described, which is super creepy just to hear you describe it, would demonstrate that he was acting in self-defense. Don, they played that recording three times in trial, and it only took the jury three hours to come back with a verdict. Now, when you get a case and a jury comes back in three hours, my experience is that's either really good or really bad.
Don West:
Yes, this is a double homicide, so this isn't just a shoplifting case or a bar fight, this is two people who lost their lives and the person standing trial is facing the rest of their life in prison. So we have to believe that the jury took the case very seriously, they did their jobs well, and no doubt they spent plenty of time considering, reviewing, and discussing the evidence again back in deliberation. So, seems to me that three hours is probably reflective of how long it would have taken them just to be sure that they heard everything right to double-check the boxes, to be sure they understood the judge's instructions, and that they were unanimous in their verdict.
Don West:
It's a relatively short verdict. I mean, sometimes verdicts are measured in minutes, sometimes they're measured in hours, days, or even longer. I had a jury out for a week, week and a half one time, and I had a jury out for four minutes once. So you can't just say that because of how long they were out it's going to mean something. But in a serious case with a short verdict deliberation, you can expect that they were favorably impressed by the prosecution case.
Don West:
Frankly, if I'm going to guess about some of this, I would think that the jury struggled, not so much with the facts, not so much with the law even, but they felt really bad for Byron David Smith. Here is a guy that had lived a long and somewhat decorated life, he contributed to his community, he, what was he involved in? Boy Scouts, I think, he'd been an Eagle Scout in the service. And yes, they felt no doubt really bad for having to do what they believe the law required them to do in this situation.
Don West:
And frankly, I think there were probably some jurors that would align themselves with the problem that Smith had dealing with the series of burglaries, the fact that he was so angry, and frightened, and disgusted with the multiple burglaries and the loss of his sentimental property and just the sense of being violated and they may very well have wanted to acquit him. And maybe had he done a few things differently, there either would have been an acquittal and maybe a conviction for a much lesser offense that would have allowed the judge to give him a break on sentencing.
Don West:
But you had two kids, two teenagers who died who were clearly committing criminal acts, it seems pretty evident that his fear of physical safety was probably misplaced. I don't know if they were drug addicts or just didn't care about other people very much, they're looking for stuff to use or to sell. And so, my sense of this shortness of the verdict is probably a combination of a powerful case and some sympathy for Mr. Smith, but not enough that would carry the day.
Shawn Vincent:
All right, guys, that's the podcast for today. That was part one of my conversation with Don West and Steve Moses about the Byron David Smith case. We'll be back again with another conversation about some of the themes, what he could have done to avoid this shooting, and what his mindset was going into this deadly encounter. Until then, be smart, stay safe, take care.