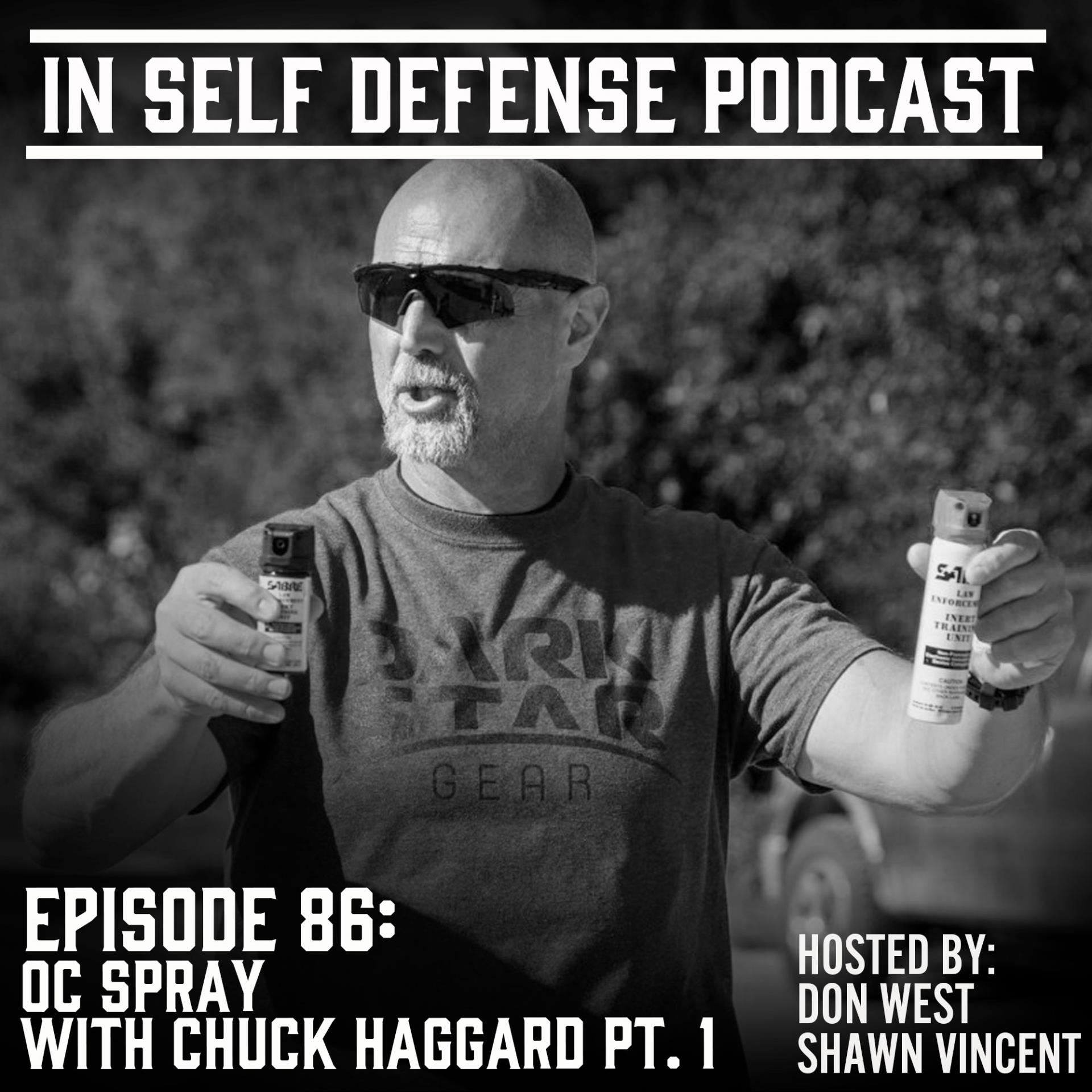 Posted on August 4, 2021 by Shawn Vincent in Home Defense
In Self Defense – Episode 86: OC Spray With Chuck Haggard: Part 1
Listen to the "In Self Defense" Podcast

In Self Defense – Episode 86: OC Spray With Chuck Haggard: Part 1
Steve Moses introduces Don West and Shawn Vincent to Chuck Haggard, a well-known instructor on the use of OC spray. The discussion touches on the legal and tactical benefits of pepper spray, especially when dealing with an unarmed attacker.
The CCW Safe team believes that continuing education is an important component of being a responsible firearms owner/carrier. We offer our free content as food for thought. We try to take a neutral position and encourage the reader to evaluate how they would handle a similar situation. If the content provokes thought we have succeeded in our mission. The opinion of the content provider may not reflect the overall opinion of the company and staff members.
Transcript:
Shawn Vincent:
Hey, everybody. It's Shawn Vincent. Thanks for listening in today. Today, our friend Steve Moses is going to introduce us to Chuck Haggard. Chuck Haggard is a longtime law enforcement officer. He's also a self-defense instructor. He's very well known for instructing people on the use of OC spray, that's pepper spray, both in a law enforcement context and in a civilian defense context. You've heard us talk on this show a lot about the value of OC spray in your self-defense toolkit. Chuck is going to reemphasize that. He's also going to talk a lot about how effective pepper spray is as a less-lethal use of force option. Not all less-lethal use of force options are truly nonlethal. There may be some rare exceptions in the case of OC spray, but Chuck calls it a "weaponized food condiment," which I thought was hilarious.
Shawn Vincent:
He also talks a lot about how in encounters that aren't necessarily immediately lethal, let's say an unarmed attacker or a perceived unarmed attacker, that pepper spray allows you to articulate the level of threat that you thought you faced, and how you chose to respond reasonably to that threat, without having to escalate immediately to the threat or the use of deadly force, that is the use of your firearm. There's an interesting conversation about pre-assault cues, which are signs that a potential attacker might give that they're a threat. What's interesting about those is if you see pre-assault cues, it's probably way too early to resort to something like your firearm. But the display of pepper spray at that point might show that you're not an easy target. On the note of the display of pepper spray, it's interesting: Chuck talks about how OC spray is largely very socially accepted, and that you can carry pepper spray in the places where other weapons are strictly forbidden. It wouldn't be considered illegal for you to have pepper spray out while you're traversing, say, a dark and scary parking lot at night.
Shawn Vincent:
A lot of good practical self-defense reasons to carry OC spray. A lot of good legal reasons to carry OC spray. Then there are some other considerations. This should be part one of our conversation. Next time, we'll bring another 40 minutes or so of some in-depth looks at the tactics of how to use OC spray and the different types of OC spray that are available for you. Thanks for listening. We'll start out with our friend Steve Moses introducing Chuck Haggard.
Steve Moses:
Chuck Haggard is another person that I've introduced to you gentlemen that I originally met at the Rangemaster Tactical Conference. I'm trying to think back to when that was, but Chuck is kind of ageless. He's looked about the same all of these years. Me, not so much. It might have been 10 years or 15 years. Regardless, I've known him for a long time. As a matter of fact, not only have I followed him, I've attended a number of the excellent blocks of instruction that he's taught at the Tech Conference. He was with the Topeka Police Department for over 30 years. He was active in many areas, including SWAT. I think he was actually a SWAT team squad leader and possibly a team leader.
Steve Moses:
He has multiple instructor certifications, many that are recognized throughout the nation. He's also a Range Master, advanced, or possibly a master firearms instructor by this time. Definitely a shotgun instructor because I took that course with him last year. He's also a member of the Firearm Trainers Association. I'm really glad to introduce him. We've talked about the use of OC multiple times. When it really comes to someone that knows all the nitty-gritty about the details, I defer to very few subject matter experts when it comes to OC and the use in the civilian sector. For that, I believe that Chuck Haggard is the man.
Shawn Vincent:
That's a hell of an introduction. Chuck, you had mentioned to me that you also know some jujitsu and some other martial arts. Is that correct?
Chuck Haggard:
Yeah. I've been dabbling… well, I was going to say most of my adult life, but before that. I've done wrestling, boxing, Muay Thai. I've pretty much been sticking with jujitsu as of late the past few years.
Shawn Vincent:
That wouldn't happen to be Brazilian jujitsu, would it?
Chuck Haggard:
It would be.
Shawn Vincent:
I know Steve is both a practitioner and student of Brazilian jujitsu.
Chuck Haggard:
Steve is quite the practitioner. I've got a great deal of respect for him and his skill level and his instruction. He's a good dude.
Shawn Vincent:
I've got to ask you guys because I'm not much of a martial artist — I studied a little bit of kung fu back in the day, but didn't keep up with it — I find that a lot of folks who are interested in self-defense are drawn to Brazilian jujitsu. Do you find that, Chuck? Why do you think that is?
Chuck Haggard:
Because it works. If we look at Brazilian jujitsu and you combine that with almost any kind of legitimate striking art, Western boxing, Muay Thai, things like that, then what you have is a very well-rounded fighter. That all shook out in the UFC early on when you look at when it was a free for all to begin with. They didn't have weight classes or anything like that. A lot of the other arts fell by the wayside because they just did not survive pressure testing. The nice thing about jujitsu is that you can do jujitsu. You can do jujitsu for a lifetime and not get busted up. You don't have to deal with the "this is too dangerous to practice in the dojo" type techniques. You can pressure test things, figure out what works, figure out what doesn't work. It becomes a very long-term learning process for people.
Shawn Vincent:
Yeah, interesting. I know you told me that you have developed a course at one point that was titled essentially something like Tools to Use Between Angry Words and a Firearm," right?
Chuck Haggard:
The original course that I brought out in a non-law enforcement context is a course at the Tac-Con. Tom Gibbons . . . he kind of insisted that I do a class on that because he knew I was doing a lot of teaching in a law enforcement role on this subject. I worded it "Something Between a Harsh Word and a Gun" because it seemed like OC didn't get the viewing or the respect or the attention that I thought it should get in the civilian defensive world.
Shawn Vincent:
Okay.
Chuck Haggard:
I find it in most of my experiences in the law enforcement context. But I think in the law enforcement context, that teaches us some very important lessons that expand out to personal defense type stuff as well.
Shawn Vincent:
We have a friend, Tatiana Whitlock, that Steve introduced us to. She's a firearms instructor. She told us one time about this attitude that she'll see sometimes. She saw a T-shirt that said, "I'm not a pepper spray kind of girl." We had recently talked about a case where a woman was attacked in a parking garage. She managed to get her concealed carry weapon out of her purse and get a couple of shots off, and it ended the attack. She told reporters afterward that, she said, "Some people have pepper spray and some people train in self-defense." As if it were an either-or scenario. Have you found that in the attitudes that you've encountered?
Chuck Haggard:
Yeah. I found the less educated people are in a subject, the more dismissive they are on this sort of thing. I've got experience. My introduction to OC spray in a law enforcement context started back in about 1988. The cop world has much more experience and much longer-term experience with it than the civilian world does, because it was kind of pushed as a less-than-lethal tool, just nowadays, with the introduction to other things, they're constantly trying to introduce things to law enforcement. Tasers, the last thing I saw was a bolo that you fire a bolo out of this device at the suspect. It's supposed to wrap their arms and legs up. People are always trying to come up with the next thing for LEOs to avoid gunfire. Of course, a lot of what cops do is less than deadly force scenarios.
Chuck Haggard:
They have to struggle with people. You have to get people into custody. You're always trying to not hurt people, not hurt, not kill people. Anyway, we've got a lot of experience with it. I have seen the T-shirts. I know Tatiana. I talked to her at length about this sort of thing. I think it's a ridiculous attitude. The expression, "If all you have is a hammer, you treat everything like a nail" comes to mind. The niche for the tool, the situations that they solve. The level of threat you face where you can use that legally. Being able to interdict a situation early with enough force to shortstop it into a non-deadly force scenario, versus having it degenerate into a shooting. All of those things make OC spray a very, very useful tool for anybody to have.
Shawn Vincent:
Sure. One of the things that we've been talking about a lot, Steve, Don, and I on CCW Safe, is what we call the "armed defender's dilemma." That is when an armed defender is basically attacked by an unarmed attacker. There's a disparity of force should that defender go directly to the firearm, even if it's just as a defensive display in some cases. With the title that you gave, you're talking about OC. You're talking about bridging that gap when you're dealing with an unarmed defender. Another tool that you can use that's-less lethal and that provides you more options.
Chuck Haggard:
Absolutely. Everything is about the reasonable articulation of the facts that you found yourself in. You're going to be looked at as, was your use of force reasonable under the circumstances? Basically the reasonable man rule. Pepper spray is absolutely a less than-lethal-tool. There's no known toxicity. Pepper spray doesn't kill people. It's basically a weaponized food condiment. Exposure to Cayenne pepper is ubiquitous across the human experience. If you look at Mexican cuisines, Asian cuisines, Szechuan cuisines, Thai food, there's a lot of hot sauce, hot food that's out there that people consume. Things like allergic reactions and things like that, it's just an extraordinarily rare thing to have happen. There's no known toxic level of OC spray, so you can't poison people with it accidentally or anything like that.
Shawn Vincent:
You cannot overdose on pepper.
Chuck Haggard:
No, no. It's been proven safe for… it does not increase any issues with asthmatics of people who have other issues. Fortunately, typically people who have something like COPD aren't running around out there mugging people. They've got their own problems to deal with it.
Shawn Vincent:
I get it. I actually have asthma, and spicy peppers are good for clearing out the airways frankly.
Chuck Haggard:
It absolutely does, it absolutely does.
Shawn Vincent:
You said something there that really caught my ear. It's a tool that helps you articulate the threat that you face after the fact. Don West is on the line. He's a criminal defense lawyer and National Trial Counsel for CCW Safe. Don, one thing that you've talked to me a lot about is that armed defenders, — or any defender for that matter — they need to really think about how they're going to explain their self-defense choices and articulate that in the aftermath of a use of force event.
Don West:
Exactly right. Along the way, the law enforcement responder, ultimately the prosecutor, the judge perhaps, and then the jury, will have to decide whether or not there was an actual threat. And was the response to that threat reasonable under the totality of the circumstances? Well, if you can't articulate the threat that you faced, it's pretty hard to explain your actions in response. I really like the idea of being able to articulate in a clear way what you believed you were facing. What level of threat it was, and how you then chose to respond to that threat. We all know these are dynamic situations. I hope that Chuck and Steve talk about it in more detail.
Don West:
What may look like somebody aggressively coming towards you in a parking lot that causes your senses to perk up a little bit isn't a threat, at least not yet. You have to take some steps to figure out what is going on with this person. Why are they coming at you? Do they in fact pose a threat? You begin to anticipate that if this circumstance actually develops into a threat, how were you going to respond? When you do those things in sort of a linear fashion, when there are some intermediate steps between seeing some person coming towards you and pointing your gun at them, then you've got a much better ability to avoid an arrest and certainly a successful prosecution.
Shawn Vincent:
Sure. On that point, if you're wrong with a firearm, you've made a life and death decision that carries extraordinary consequences. If you're wrong with pepper spray, "light years away" as you've told me before, as far as the legal ramifications.
Don West:
Yeah. We've had other podcasts where we talk about the transition from nothing to the display of a firearm, and then ultimately to firing the gun. We know without question everywhere in the country that if you fire a gun, you have now used deadly force. If you display a gun in the face of a threat, it's probably not, so long as you don't fire it. But a lot of the circumstances surrounding that, how you handle it, the proportionality of the response to what you believe the threat is. All of that stuff really comes to play dramatically when a firearm is involved. If there is a way to deescalate or to defend yourself without resorting to displaying or using the gun, you are in the best possible position, I think, to be able to defend yourself should you end up being prosecuted for some type of assault crime.
Shawn Vincent:
Yeah. Chuck, Don has just given us a good legal reason why defenders should consider less-lethal options like OC. You explained to me that there's not really a lot of great tools. There's not a large spectrum of tools for less-lethal force out there for defenders to explore.
Chuck Haggard:
I'd like to piggyback what Don just said.
Shawn Vincent:
Yeah, please.
Chuck Haggard:
I've been a cop a long time, taken a lot of reports from people, seen a lot of different types of incidents. Warped self-defense shootings, legit self-defense shootings. Cases that, as I recall, one time we had a local gentleman that killed a guy in a shooting. It was self-defense, but it was prosecuted because it was kind of an imperfect self-defense. As far as the OC spray is concerned, I'll just speak directly to Kansas law because I'm very familiar with it.
Shawn Vincent:
Right.
Chuck Haggard:
Most states have something similar. Here, we talked about the consequences of what we're doing. Here, if you pull a gun on somebody, display the gun, point it at them, whatever the case may be. If you do that incorrectly and you're found to have committed a criminal act, that's the felony crime of aggravated assault because you put that other person in reasonable fear of death or great bodily harm.
Shawn Vincent:
Sure.
Chuck Haggard:
Obviously, if you shoot them, it might be an aggravated battery. You might be prosecuted for attempted murder, or if they pass away, for some sort of manslaughter. Second-degree or first-degree murder, whatever the case may be.
Shawn Vincent:
Yeah, you're going to wind up in a world of hurt.
Chuck Haggard:
Whereas if you pepper spray somebody, and let's just say you really screwed up and it was the wrong guy, you would be prosecuted for a misdemeanor simple battery because it would be considered the same level of force as if you punched him in the nose. The flip side of that is, that Don alluded to, was the justification for your defense. If you're going to use a gun, what do you have to be able to articulate? That you are… and I see people in the gun world use this as though it's some sort of "get out of jail" magic incantation. "I was in fear for my life."
Shawn Vincent:
Right, as if you can just declare it and it's true.
Chuck Haggard:
Yeah. "Okay, we didn't realize that. You can go now." You have to be in reasonable fear of death or great bodily harm to utilize deadly force to defend yourself or somebody else. Then the courts get to decide, the jury gets to decide, if it goes that far, if you were reasonable or not.
Shawn Vincent:
Right, including whatever 12 people they've put on that jury. Including the crazy cat lady, and the librarian, and the art teacher who may have very different views on self-defense than you do.
Chuck Haggard:
Oh, exactly.
Don West:
This is Don. I've been watching a live stream of a criminal trial off and on for the last several days. I bet I have heard the word "reasonable" out of every participant's mouth in this trial more than 200 times, probably 50 times today. That's the qualifier on every action that's being evaluated in the course of a self-defense or in an excessive use of force case.
Chuck Haggard:
Absolutely the case. If we look at what level of justification do you have to have, Don, would you find it easier to justify, "I was in fear he was going to punch me," versus "I was in reasonable fear of death or great bodily harm?" I think you might agree that it's easier to justify a reasonable fear that I thought that guy was going to hit me, versus I was in reasonable fear of death or great bodily harm. So, I had to utilize deadly force in defense.
Shawn Vincent:
Right. You're talking about the guy who has the ability to punch you, but not the clear ability to kill you dead. He is apparently unarmed in that scenario.
Chuck Haggard:
Yeah. If you have let's say a very common urban scenario that turns into a strong-arm robbery, purse snatch, that sort of thing. An aggressive panhandler. The guy has got his fist balled up. He's very angry, screaming at you. That sort of thing. That's pre-assault cues. That's pre-assault behavior. It's very easy, I believe, in a situation like that, to articulate, "I was in fear of being physically assaulted" as opposed to "I was reasonably in fear of my life." It's a much lower level of reasonable articulation in my experience.
Shawn Vincent:
Yeah. You said something there that really caught my attention. You called it a pre-assault cue, a pre-assault behavior. Steve, you talk a lot about managing contacts when you're out and about and staying alert and identifying people who may cause a threat. I think Chuck's term there, "pre-assault behavior," it's something that we look for. That's when we start opening the window when we may have to defend ourselves, but we're not in immediate fear of imminent death or great bodily harm. But we're concerned with it. Do you think people conflate that concern that an assault might happen with an assault is happening?
Steve Moses:
I believe so. We talked about before, I feel like I'm just always beating a dead horse when I say before we can take some sort of action in terms of a physical action, we need to have a reason to believe that the other person had the ability and the intent and the opportunity to injure us or kill us. Commit certain, oh my gosh, what are those calls? Foreseeable felonies. And really had no other good options. If that is in effect and you believe that is about to happen, and that person is exhibiting some cues, some physical cues, I'm sure Chuck can elaborate on this even better than I can, that would cause me to believe that that person was contemplating an assault. That is, what was their stance? Was their stance bladed with maybe their power side back? Did they shift their weight? Were they stroking their face kind of as a stress reliever? Were they looking at a potential target area? Were they looking around for witnesses or anybody else that might intervene? Then what is going on at that particular time?
Steve Moses:
Is that person completely across the body of a car, or are they within let's say maybe two arm's lengths, where they could actually lunge and get their hands on me possibly before I could do anything that might save my life, or at least save me from a beating? In that particular instance, I think that something that Chuck is talking about, I think that could be very viable if you're clearly able to articulate that. And it's in a manner where reasonable people would agree. The problem is, just because that person made me nervous or looked at me funny, that in of itself, I don't think that warrants a response. That's especially true if you have the ability to go ahead and create distance.
Shawn Vincent:
Claude Warner, the Tactical Professor, likes to say, "Paint them orange." What I'm hearing you say, Steve, is just because someone made you nervous, doesn't mean you can paint them orange. Chuck, you see this pre-assault behavior. You're a concealed carrier. You're carrying OC spray. How are you mitigating that encounter?
Chuck Haggard:
When I'm looking for pre-assault cues, there's a whole body of those that we've codified in a group of trainers that I have. Best named by my friend Craig Douglas is what he terms his MUC module, M-U-C: Managing Unknown Contacts. When you're dealing with people in a street encounter and you don't know what their intentions are. Are they good? Are they ill? You kind of have to negotiate that obstacle, if you will. Things that we look for currently include grooming cues, target glancing. Often picking or plucking, patting behavior. They will tell you if they have a weapon on them.
Chuck Haggard:
If they take a fighting stance, if they make a definitive weight shift into an athletic or fighting stance, that's typically something that happens right before somebody throws… most people that aren't trained fighters throw a big John Wayne haymaker at you — it is how they throw a punch. When they do that, they've got to prep their footwork to throw an effective punch. Sometimes people will outright tell you. If a guy says that he's going to kick your ass, then the safe thing to do is take his word for it. When you've got people yelling at you, they're red-faced, you can see the veins in their neck, things like that. Balling up their fists, muscular tension in their body. Very angry speech, that sort of thing. All of that goes into painting the picture of pre-assault cues. If you look at, like here in Kansas, an assault isn't a physical act. But it's the threat of a battery is what constitutes an assault.
Shawn Vincent:
Okay.
Chuck Haggard:
If you put somebody in fear that they are going to be physically assaulted, if they're going to be punched in the face, whatever the case may be, that's an assault. You can use physical force to defend yourself at that level. I believe it's much easier to articulate that you're facing that level of threat than… in some of these cases that I looked over in an email, things that were imperfect self-defense where people who use a gun for self-defense in a case where the court of the jury found, no, that is not a deadly force scenario. Let's use the generic term, "You shot an unarmed guy. You weren't really in reasonable fear of great death or bodily harm. You shouldn't have used a gun in that context." But people use a gun often in those cases because they didn't have any other training or any other options to fall back on.
Shawn Vincent:
Before we get into that other training and other options, the legal litigation consultant in me wants to take a quick break and say that sometimes, someone telling them they're going to kick your ass, you should believe them. Don will tell us of course that that's not enough to use force. But there also has to be clearly the opportunity and the ability to do so combined with believable intent. Is that right, Don?
Don West:
Well, yeah. That's what Steve was saying a moment ago. Having the ability to carry out the threats. Having the opportunity, they are within a close enough range that they can actually accomplish that or can accomplish it in short order. And of course that they actually intend to do it, that they're not just trash-talking or running their mouth in some way. Of course, now the fact that they say, "I'm going to kick your ass" and even intend to it and can at least get close enough to hit you, does not allow you to explain, as Chuck was talking about, to the police officer or to the jury later. "Well, I was in fear of great bodily harm or death. I was in fear for my life. That's when that guy raised his hand and said, 'I am going to kick your ass' that I shot him between the eyes."
Don West:
We're talking about a non-deadly force threat, at least at that point. Any response to that threat has to be proportional to the force that is being threatened. That's sort of the zero to 100 kind of thing. Now, as Chuck and Steve will certainly help us understand, they're the martial artist guys. They can defend themselves better with their hands than you and I can, Shawn.
Shawn Vincent:
I will vouch for that.
Don West:
The people attacking us may very well have those skills too. They are much more capable with their hands as an attacker than you and I could use ours to defend ourselves. But when you're talking about what appears to be an unarmed attacker, and you're considering whether or not to shoot them, then of course this whole notion of size and capacity and ability and intent and all of that factors in under this huge umbrella of "reasonableness." But your decision-making has to be based upon your assessment of all of those things that make you believe this person intends to do what they said they're going to do, and possibly can. And then whether or not, even if that's true, rises to the level of a deadly force threat that would justify more of the actual use of deadly force.
Don West:
A lot of people get in trouble because they don't really know for sure what's going to happen. What has happened already may not rise to that level, but they pull the gun anyway. If nothing more happens at that point, they could very well find themselves arrested for aggravated assault, or some kind of brandishing charge, and often do. We see those cases, as you guys long know. One thing that Chuck mentioned, let me emphasize, about a simple assault versus an aggravated assault. The law in Florida is similar in that the assault is the threat.
Don West:
The consummation of the assault into the physical contact becomes the battery. But anytime you introduce a firearm into the scenario, you run the risk of a crime that you could be charged with being enhanced from a misdemeanor to a felony, which is bad enough. But many, many firearms charges also carry with it not only the potential punishment of a felony, the stigma of a felony conviction. But many of them have a mandatory minimum prison sentence, which simply means that if you are convinced of that crime, the judge has no choice whatsoever. Must in fact impose whatever that minimum prison sentence is, whether they want to or not. Whenever you introduce a firearm into a situation like this, you've really raised the stakes, raised the risk. I'm hoping that we're going to have a better understanding in the next half hour or 45 minutes of what we can do to avoid that, what in some ways is a true life or death situation or decision.
Shawn Vincent:
Sure. What Chuck proposed for us is the options in training. Chuck, I assume that means that you feel that people can't, excuse me, can't just go buy some pepper spray and assume they know how to use it and can deploy it effectively.
Chuck Haggard:
Well, what my analogy would be is pistols. They're very, very simple. You grip them consistently, you line up the sights, and then you press the trigger without disturbing the first two things that you did.
Shawn Vincent:
Right.
Chuck Haggard:
That's all there is to it. But how easy is that to actually be competent with? Just because something-
Shawn Vincent:
And competent in a stressful situation.
Chuck Haggard:
Yeah. To utilize things effectively, we have to know how to best utilize a tool, when to introduce it. The best tactics for that. I know a lot of people think, oh, it's pepper spray. You spray it. That's all there is to it. I did a class in Ohio. I was hosted by some friends of mine at the range in Ohio. I did a non-law enforcement instructor school for OC spray. I had a pretty full class. A lot of the people that were in there were already concealed carry instructors or NRA instructors. Had some sort of instructor background, but wanted to introduce OC as part of the defensive program that they offer at where they're teaching.
Chuck Haggard:
A lot of them were really shocked when we got into live person drilling with inert spray. So, kind of a low-level force on force. How easy it was to miss, how easy it was to not get an effective hit with the OC spray when we were doing that drilling. They didn't realize the differences in canister size, types of patterns, formulations, things like that. It's very easy in the modern market to buy poor quality OC that isn't going… just like you can buy poor quality guns. I don't personally want to try and defend my life with a $120 pistol if I can afford to get something better. It's easy to buy poor-quality spray. What I do in my class is I educate people on the best options of how to use that and how to integrate those tactics into surviving a street encounter.
Shawn Vincent:
Can you give us a quick tour of the different types of sprays and patterns there are to be considered?
Chuck Haggard:
Fist some misinformation dispelling: OC spray, one thing I see on the internet a lot is OC spray for people and bear spray are two different things. The active ingredient is exactly the same thing. The OC ingredient, oleoresin capsicum, or the capsicum content of the spray, is what makes it hot. That's the effective part of it that we want to put on the target. OC is very effective on people. It's very effective on dogs, which is another reason that I carry it. It's also, in a bear spray context, has been proven through studies in Atlanta and other places to be very effective on bears.
Chuck Haggard:
We can utilize it as a tool to avoid firing our guns in many scenarios. One of those being when I walk my dogs, I have small dogs. We've all heard stories of say somebody's loose big dog, a lot of people like to denigrate pit bulls. I actually like the breed, but you see these stories of say a pit bull attacks somebody's poodle type thing. If I can avoid firing shots in an urban setting, and if I can avoid shooting a dog because I'm a dog person, then I can avoid all that by using the pepper spray. That's another defensive option that avails to us that's a pretty good option. The types of sprays that are commonly in use, you have a cone shape mists or kind of a fog type of pattern. You have the larger, full-size foggers that unfortunately we've seen a lot of in some of the riot videos over the past year and a half.
Chuck Haggard:
You have a streamer, which is a much more concentrated stream. Kind of a smaller version of what you would see coming out of a kid's super soaker or squirt gun. Then you have different formulations, like gels, foams, things like that. You have to kind of, just like with firearms, you have to make an educated choice. One of my mentors, Pat Rogers, was famously saying all the time, "Mission drives the gear train." We have to know what we want to accomplish to know what gear we need to purchase. Then have some training on how to utilize that to the best effect. Yeah, a lot of misinformation out there. A lot of sources I see on the internet where I see they really get the information on this subject wrong.
Shawn Vincent:
What I hear you saying is that there's not necessarily a right or wrong configuration or format to get, but you have to match the tool with the problem that you're going to face.
Chuck Haggard:
Yeah, pretty much. Pretty much. Then of course, just like with handguns, maybe say you need something for very deep concealment. You've got a Ruger LCP or you've got a Smith & Wesson J Frame. You might have a smaller gun that you're giving up… you know you're giving up some effectiveness to gain some concealability and portability. Or you might go to a larger gun, say a Glock or a 1911 or something like that. Well, there are analogies for that in the OC spray world as well. There are the little tiny key chain things that are almost ubiquitous now, that you see a lot of in ladies' purses.
Shawn Vincent:
Sure.
Chuck Haggard:
Then progressively larger units, all the way up to bear sprays, which are almost the size of a small fire extinguisher. One of the things I do throw out to people is, OC is the one thing that I have seen across the board that in our society, even with people pushing gun control — pepper spray is very socially accepted. I know locally, we have a large, very large corporate office. They move a lot of money. They have a large office staff and they have a lot of ladies working in their offices. They have a "no weapons" policy. A lot of those ladies have pepper spray on their key chain or in their purses.
Chuck Haggard:
Nobody even considers that a violation of their weapon policy. It is common to see ladies with pepper spray on their key chain. It is the one weapon that you can… let's say you're leaving the office late and you have to walk across the proverbial dark parking lot. You can have your pepper spray in your hand, and it's socially acceptable. Nobody really thinks anything of it. Whereas you can't pull your pistol and negotiate that parking lot at low ready.
Shawn Vincent:
Right.
Chuck Haggard:
Somebody is going to call the SWAT team on you. The advantage that gives you in these transitional spaces, where these types of assaults or criminal activity occur is: think how much faster you are on the draw when you already have your hand on the gun. Now basically you get to cheat. Your pepper spray is already in your hand, so your reaction time to some sort of criminal assault or threat of criminal assault is extraordinarily fast.
Shawn Vincent:
Yeah, that's a great point. Don, I've seen a few scenarios where people have totally jumped the gun and used their pepper spray as an offensive weapon and weren't justified in that. Whereas you say that just displaying the firearm could end up becoming felony assault, the display of pepper spray, I've never actually seen anyone get arrested for displaying pepper spray before.
Don West:
No, I haven't either. I've never represented anyone who has been charged with that. I suppose there are circumstances under which it might happen. But I'll tell you, if I'm going to defend someone who is accused of assault because they displayed a can of pepper spray as opposed to displaying a firearm, bring on the first one.
Shawn Vincent:
All right, guys. That's the podcast for today. Thanks for listening through to the end. Next time, we're going to pick up right where we left off, which is the strategic display of pepper spray to defend yourself in pre-assault conditions. Then we'll roll into the types of pepper spray and the tactics and training required to make good use of it. Until then, thanks for listening. Be smart, stay safe. Take care.