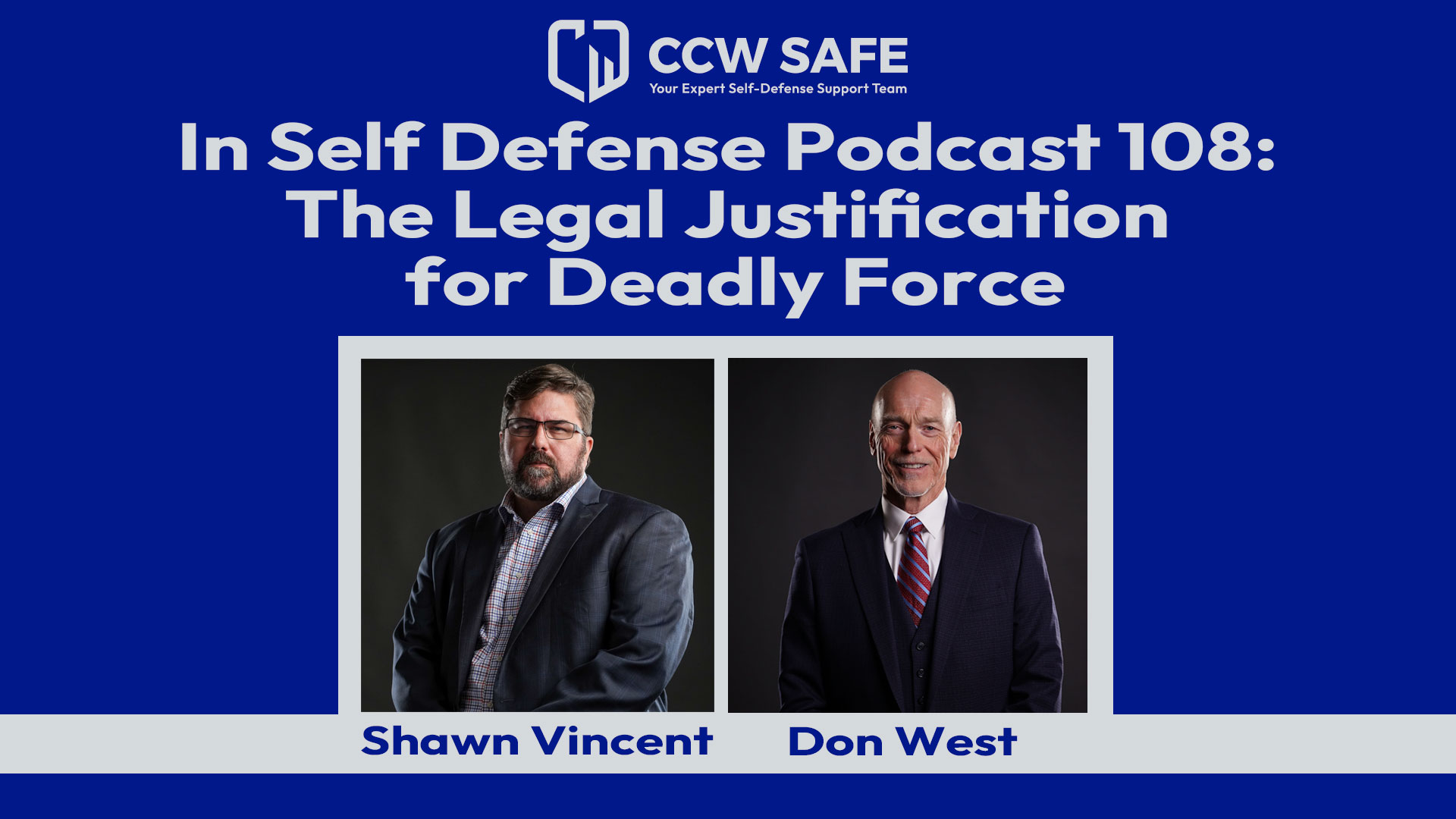 Posted on October 28, 2022 by Justin Collett in Don West, In Self Defense, Shawn Vincent
In Self-Defense Podcast 108: The Legal Justification for Deadly Force
Don West, Steve Moses, and Shawn Vincent discuss the basic legal tenants for the justifiable use of deadly force and how that relates to practical, tactical considerations for concealed carriers. 
Transcript:
Shawn Vincent:
Hey everybody, it's Shawn Vincent. Thanks for listening in to the podcast today. Often on this podcast, we look in-depth into high-profile self-defense cases, and we pick them apart looking for the lessons learned for concealed carriers. And of course, that presumes that everyone listening understands what the legal requirements for the justifiable use of deadly force are. And those legal requirements are that the armed defender have a reasonable belief that they face an imminent threat of great bodily injury or death — to themselves or to another in their care — by the hands of an aggressor. And it's only then in almost every circumstance that the use of deadly force from a citizen is justified.
We're going to bring in our friend, of course, Don West. He's National Trial Counsel for CCW Safe, a veteran criminal defense attorney, and we'll also be talking to Steve Moses, who is himself a CCW Safe contributor, and a well-regarded firearms and self-defense instructor.
We're going to break down those legal tenets with Don and then we're going to turn to Steve and he's going to translate the legal aspects to something that's more tangible and tactical for the armed defender. And he's going to talk about how an attacker must have the ability, the intent, and the opportunity to cause great bodily injury or death before the responsible concealed carrier should resort to the firearm in self-defense. That can be tricky sometimes. And in the course of our conversation, we're going to talk a little bit about how to decipher the nuance, especially when we're, as an armed defender, approached by a seemingly unarmed attacker who nonetheless means business and still has the ability, even with bare fists to cause great bodily injury or death. And we'll wrap up with a pop culture reference that I think gets to the point of this whole issue in an interesting way. So thanks again for listening. This is my conversation with Don West and Steve Moses on the basic tenets of justifiable use of deadly force.
Shawn Vincent: 
We're in a tricky situation because we've got 50 states and 50 sets of laws and things are a little bit different from jurisdiction to jurisdiction. And when we talk about self-defense and we write about self-defense, I usually take the track of being the most conservative. When I think about a self-defense policy, I'm looking at setting that according to the rules in the states, the laws in the states that are perhaps most restrictive or perhaps most unforgiving to armed defenders. And then if you happen to be in a state where the laws are more forgiving, you've got that much more leeway in your actions which could become chaotic in a real life or death situation.
So from all of our conversations, broadly speaking, and tell me if I'm off base here, the use of deadly force is generally justified when someone has a reasonable belief that they face an imminent threat of great bodily injury or death at the hands of another.
Don West:
That's the core principle, and I think that that core principle applies with some minor tweaks and variations within the 50 states, but that's the core principle that applies in every state, that if you are facing an imminent threat, imminent threat meaning the immediate threat of great bodily harm or death or serious bodily harm or death, that's the injury part, then you have the right to use deadly force to prevent yourself from being seriously injured or killed. And that's it, that's what the core definition is. Of course, within that, there are lots of words that can be defined further, but if you are facing an imminent threat of great bodily harm or death, you have the legal right to use deadly force in self-defense.
Shawn Vincent:
So let's work backward because it starts out with, you need to have a reasonable belief that you're facing this threat and that it's imminent and that it's great enough to cause serious bodily injury or death. And these are all, in many ways, subjective terms: what "great bodily" injury is, what "imminent means." They're not really well-defined legally because the law couldn't possibly imagine every circumstance where these things would happen.
Don West:
Yeah, yeah. Yes, exactly. That's right. So let's talk. Well, you talk about the belief that the individual must have, and then there's also that assessment and scrutiny at a trial when the jury decides whether the person's conduct was reasonable, did they actually have a reasonable belief? So we can break that out into subjective and objective in a way. So your reasonable belief that you are facing an imminent threat of great bodily harm or death must be reasonable to you. That's sort of your subjective aspect.
The belief is that that's what you think has happened, that you reasonably believe that if you don't act in self-defense that you'll be seriously injured or killed. The more objective side of it is that your conduct is then evaluated later from the jury's standpoint, where they in a sense, put themselves in your shoes and decide whether your conduct, under those circumstances that you faced, was reasonable from their standpoint. So reasonable belief means not only what you believe under the circumstances that you are facing, but also ultimately whether or not the jury also accepts that your belief of the threat was reasonable.
Shawn Vincent:
And when you emphasize "belief" there, sort of strangely, that means you could be wrong, fundamentally, about the imminence or the nature of the threat. But if you reasonably believed that the threat was real and a jury or another decider of fact agrees that that was a reasonable belief, even if you were wrong, then that could still be a justifiable use of force.
Don West:
A more specific legal definition of reasonable belief is a reasonable belief means a belief that would be held by an ordinary and prudent man. Obviously, gender makes no difference, but that's the old legal standard. Reasonable belief means a belief that would be held by an ordinary and prudent man in the same circumstances as the actor. It doesn't mean that you have to be factually correct, as you're saying. You could misinterpret the circumstances and in fact be wrong, that the threat wasn't as you perceived it to be. But as long as your perception of what is happening, based upon all of the circumstances surrounding you at the moment and even your background and training, if that tells you, you are facing an imminent threat of great bodily harm or death, you have the legal right to respond to it even if it turns out afterward that you were mistaken. So that's exactly right, Shawn.
Shawn Vincent:
And the scenario that I could imagine where you'd have that reasonable belief of being mistaken is if some stranger approached you aggressively with a gun that ended up being fake, they may not have had the ability to kill you at that point, or even the intent, but as a defender facing a stranger with what looks like a real gun, you have every reasonable belief that your life is in danger at that moment.
Don West:
All of the things being equal, if that person … had it been a real gun, had the ability and the intent and the opportunity to do that, yes, that's a good example. Of course, if that same gun-appearing device has a big orange plug in the barrel or some other indication to you that it is not a genuine firearm, and so that you are not facing that imminent threat of great bodily harm or death, you could say, "I saw a gun," but if you knew it wasn't an operable gun, then your belief would not be reasonable. So yes, it works both ways then.
Shawn Vincent:
So in the course of his legal description there, Don brings up the tactical considerations of ability, opportunity, and intent. We're going to turn now to Steve Moses to explain that in more detail.
Steve, Don talked about ability, opportunity, and intent as elements. They're not necessarily legal elements, but they're definitely tactical elements that I know you've encountered in the training world and teach to the students that you teach as a firearms instructor — as to how to judge whether the use of deadly force is justified. So I'd love to take a minute here and talk about those three things. And you tell me where's a good place to start. You want to start with ability, opportunity, or intent, or maybe we can talk about them altogether. Sure. So tell me about what we know or how we can assess somebody's ability to cause that great bodily injury or death.
Steve Moses:
Well, when you kind of consider the fact that most concealed carriers have that same ability that they can cause someone else grievous injury or kill them simply by using their gun, then they have the ability. Police officers that are wearing a gun, they have the ability. "Ability" simply means that they have, potentially, the skills and perhaps definitely the tools to accomplish something that without intent or opportunity, then that's not quite yet to that point where, okay, I can respond to that particular person. So ability just simply is, could this person, if they desire to, injure me, kill me, or commit a forcible felony?
Shawn Vincent:
And when somebody has a firearm, that ability's certainly there and clear. If they have a baseball bat, they may have that ability. But if it's a grown man, 300 pounds with a baseball bat, the ability is much more likely than, say, an eight-year-old with a Whiffle Ball bat, so there's a spectrum.
Steve Moses:
Or you know that that person has additional skills or you've got disparity of numbers. There are two, three, or four of them. They also have the ability.
Shawn Vincent:
And so ability alone isn't enough to justify the use of deadly force because just because someone has a firearm, let's say a law enforcement officer who's having lunch, the intent's not there. So why don't you talk about intent a little bit?
Steve Moses:
Well, intent is the most difficult thing to ascertain because, really, that's taking place within the mind of the person that you're then dealing with. And so what we need to do is, we need to, to the best of our ability, is assess their intent and see if they have intent along with ability and opportunity. So that same person with the baseball bat, that at that moment is on the other side of a car — or a person with an edged weapon that is on the outside of your house and trying to beat down the door, or is at an extended distance (which is actually farther away than we think in terms of their ability to harm us). A lot of people think, oh, the 21-foot rule, I'm only in danger if that person is within 21 feet. That really had nothing to do with it, it just simply meant that the average person can cover 21 feet in 1.5 seconds, which is faster than most of us can see, respond, and react. And so that's just something that we use as something to give us an additional reason to be cautious about how we're handling that situation.
So if that person has the ability, if that person has the opportunity, and that person has the intent, then in that particular case, we're probably justified in responding with force or deadly force.
Shawn Vincent:
Sure. And intent has a lot to do with situational context. So we were using the baseball bat analogy. If you're at a little league game and somebody approaches you quickly with a baseball bat, probably they don't have the intent to use it. But if you're in a dark alley and a guy says, "Give your money," and he has a baseball bat, the intent is clear. Somebody wielding a knife in a kitchen cooking dinner has a different intent than somebody who approaches your car at an intersection late at night and raps it on your window, right?
Steve Moses:
Yes. And the difficulty for concealed carriers maybe is that that person will intentionally conceal their intent until such time that they can get within what we might call "striking range" in order to go ahead and commit the act, whatever it is that they intended to do to you.
Shawn Vincent:
Sure. Well, and before we come back to Don on some of the legal terms associated with ability, intent, and opportunity, let's bring the opportunity back into it. You mentioned it a little bit, but somebody might have the ability, let's say a knife, and the intent, the desire to do you harm. But as you said, if they're on the other side of a tall fence or on the other side of even a car, that opportunity for them to follow through on that intent to do you harm, that's not there quite yet. There's a window, right?
Steve Moses:
Well, speaking of windows, they don't quite have the opportunity. If you're seated in your car, your doors are locked and your window is up and there's someone with their bare hands or maybe perhaps even a blunt instrument at that time that's screaming and yelling at you, at that particular moment, they do not have the opportunity to cause you injury. By the same token, it can change it very quickly, but it's not going to be the same as a person that's outside of that car even if the window's up, the doors are locked … that instead of having a blunt instrument, they have a firearm. So in that particular instance, and if they're saying, "I'm going to shoot you," or they have a gun, they're pointing the gun at you, they're outside your car, it's locked and everything, they still have all three elements, at least to me, that would justify a deadly force response.
Shawn Vincent:
So Steve just gave a great example there of a good scenario where the ability, opportunity, and intent were all present, but in the real-life scenarios that we look at, that's not always quite so clear. So here's me and Don talking about some of those more difficult nuances that get people in trouble.
Don, would you agree in the cases that we've been involved with personally and cases that we've studied, that some of the most tragic cases are when you had an otherwise good-intentioned defender who makes a mistaken judgment on just one of these things about the ability, the opportunity, or the intent.
Don West:
That's exactly right. And that's so difficult because, as Steve was explaining, it depends so much on the context and the events leading up to it. Your perceptions, your misperceptions, and of course, I think that it's something that isn't emphasized enough — it also depends to some degree on your own experience and training, how much understanding do you have about your own ability to defend yourself and being able to assess the true nature of the threat that you're facing. I think we find all too often that people that have good reasons to get their carry permit and to own a firearm don't necessarily see it through to get additional training, either the physical operational training they need to be confident and capable. They don't get the legal training either, at least understanding what those limits are when you're actually facing a deadly force threat. Because of course, you can't use deadly force unless you are facing a deadly force threat.
And I think that's the context you're talking about, Shawn, how difficult it is in that split second. And that's what "imminent" is. Imminent means immediate, right now, that split-second decision that you have to make, whether in fact you are facing a deadly force threat. If you are, and we know it doesn't have to be perfect because there's some range of context and even mistakes that will allow you to act in that moment, you only then can use deadly force. So frankly, any force up to and including deadly force.
Since we've been sort of talking about definitions of things, we know that your ability to use deadly force depends on your perception of someone else using deadly force against you. Deadly force, at least in one definition under Texas law, is the force that is intended or known by the actor, the person employing the force, or in the manner of its use or intended use can cause death or serious bodily injury. So death, we know what that means. If you're facing something that's truly life-threatening, that's a little more clear than when you're facing something that you know is 
serious.
You also have the right to use deadly force to prevent someone from using sufficient force that can cause you or is intended to cause you serious bodily injury. So that makes it a little more difficult because you have to assess that as well. What is the likely harm that could come from this person if they carry through on their threat? Well, the difference between bodily injury and serious bodily injury is not quite as clear, perhaps, where a serious bodily injury has more specific terms such as a substantial risk of death or an injury that could cause death or serious permanent disfigurement or protracted loss or impairment of the function of any bodily member or organ. That's a pretty hard call to make when someone's approaching you with a weapon. How serious they are, how much damage they can do. Or even the guy you talked about before, the 300-pound guy that's got some training that's facing you with their fists, how serious is the threat? How much harm do they intend? Is it serious bodily injury or is it bodily injury, which is so far down on the scale that simply means pain?
In some respects, bodily injury just means that you have incurred some sensation of pain or an impairment of a physical condition. You put all of that stuff together and it makes it extremely difficult to exercise the kind of decisions that you have to make in the spur of the moment, which is why I emphasize the importance of the tactical training and also understanding where those legal lines are. And of course, understanding generally what the law requires or a law allows for in terms of your response based upon the type of weapon, whether there is a weapon, whether the weapon itself is per se, the use of deadly force, or something in the middle. It might not be an eight-year-old with a Whiffle Ball bat, it might be a 25-year-old with a Whiffle Ball bat and a crowbar in the other hand. So I don't know if I answered your question. I know I rambled around quite a bit.
Shawn Vincent:
Yeah, well you mentioned the tactical training. That's really essential to being able to assess those threats. And Steve, that's where we turn to you: kind of run through that range. Don talks about, as you say, "pro se," when someone represents themself in court. When you have a gun, that's clearly deadly force. What do you call that legally?
Don West:
Presumptive.
Shawn Vincent:
Well, okay, sure.
Don West:
I'm sorry. You were thinking of "per se." Pro se is right. It's an individual who chooses to represent himself or herself in court.
Shawn Vincent:
A fool for a client.
Don West:
"Per se," meaning as a matter of law – deadly force as a matter of law.
Shawn Vincent:
So "per se," Steve, we can assume that an actual loaded firearm is the threat of deadly force. When we see these cases when a defender encounters someone who attacks him with a knife, pretty easy to make the assumption that a knife is definitely the use of deadly force. But then we go down that line, crowbar, baseball bat, brick, Whiffle Ball bat, bare fists. Now, this assessment becomes more difficult, and having some tactical training can help you navigate that. Would you agree, Steve?
Steve Moses:
Oh, I absolutely agree. I think understanding the basics of the use of force laws that are applicable in your state, I think they're pretty much the same in every state. Combined with the skills that you might need and the skills that I would encourage concealed carriers to try to develop is going to be the ability to shoot accurately, to shoot quickly, to be able to present a weapon from concealment, and at a minimum, have a default response to someone that tries to strike you with an open or closed fist. So if you have those skills, then the next thing probably that you would want to do is work on your tactics. And my tactics in a situation like that is, okay, first of all, does this person have the ability? Well, I can't always say, I mean they may very well have very good MMA or Brazilian jiu-jitsu skills, so they without anything are very dangerous.
They may have their hands in the pocket of their hoodie or under their shirt in which there may be a concealed weapon. There are many things that I can't really tell about ability, but if I know in terms of opportunity, I've got varying distances at which I'm at risk. For the most part, most of the defensive encounters in which concealed carriers find themselves involved in take place at relatively close range — I want to say probably 15 feet. 15 feet, 15 to 18 feet, that's about the length of a car. So if I can say that, okay, there's a possibility that this person has the opportunity, there's a possibility that this person has the ability, then what can I do to find out what that person's intent is? And for most of us, probably the best way to accomplish that is going to be creating distance, breaking contact, and issuing challenges.
And so if you simply say, "Stay away from me. Stay back. I'm leaving," something to that extent, and you make an attempt to create distance and that person then ignores that and they close on you, well then you have to go ahead and judge the other. We know that they probably have opportunity, then the question becomes ability. And so concealed carriers that don't do anything but rely on a handgun, well guess what, they only have one tool in their toolbox, which is basically the equivalent of a hammer. So that person that may be the perceived attacker may not really have the ability to cause serious injury or death, but if we respond to that particular person with deadly force, then that could be a very bad day for us.
So if we have additional training and such, just as OC, take OC use to supplement your handgun. I really don't know if this person is going to, I don't think they can kill me right now, I think they may have the intent to injure me. I know they have the opportunity. Well, being able to default OC, you've issued a challenge, you've got your OC out, you tell them to stay back and they continue to come on. Well, that may be a very good time to use OC.
Shawn Vincent:
And people might know OC as pepper spray.
Steve Moses:
That's correct. I'm sorry. That is correct, yeah, yeah, pepper spray.
Shawn Vincent:
And what you're talking about is when you're facing threat where the level of force, it's ambiguous whether they can actually kill you or cause serious bodily injury, then a less-lethal force option is on the table where a lethal force option might not be appropriate yet.
Steve Moses:
That's correct. Along with creating distance and or challenging, if you're not able to create that distance.
Shawn Vincent:
Well, we're talking to one of the things Don touched on was legally what qualifies as serious or great bodily injury as opposed to just bodily injury. And for someone who's a martial artist and has practiced Brazilian jiu-jitsu for a long time, what can you tell us about the difference between bodily injury and serious bodily injury?
Steve Moses:
Well, I feel like I've suffered both at some time, probably as a result of my training. The difference is with a bodily injury, it's pain, it's temporary. In my estimation, it's fixable. If someone comes up and hits me with a sucker punch and knocks me back about two or three feet and I'm still standing and that person is not continuing their assault, I'm going to say, "Ah, that is not serious bodily injury." I probably better not respond with deadly force or threaten to even use deadly force. There is a difference between someone that is trying to strike you in the head with enough force to concuss you or kill you, grabbing you by the ears while they're in the mount position, and pounding your head on the concrete. To me, that's a very real concern, which is serious bodily injury. But things that I see would be something that would perhaps would break a bone, perhaps create a laceration or a puncture wound that's so serious that I could be incapacitated or my health and my life threatened or get their hands around my throat.
There are a lot of martial artists that are very accomplished in applying chokes and strangles, and those are used to either cut off your airway or just cut off the blood flow from your carotid arteries that go to your brain by doing so and leaving it on for three or four minutes. They could cause just irreparable brain damage or even death.
Shawn Vincent:
Yeah, pretty clear. So something that's going to require a visit to the doctor for sure and corrective surgery or some other fashion, that's certainly serious bodily injury.
Steve Moses:
Damage to eyes, damage to organs. I think there are some technical and legal terms that may vary from state to state, but there is a difference between getting slapped or punched or pushed to the ground and someone that is trying to land consecutive punches on you. Obviously, if you're threatened by somebody that maybe looks like Mike Tyson, and no offense to Mike Tyson, he was a great boxer, but I mean somebody like that could really put a lot, or create a lot of damage on you if you allowed them to strike you. So in that particular matter, I don't necessarily say, "Oh, that guy's threatened to fight me. He's within range." Probably what I'd prefer to do if that person is trying to cause any kind of an issue, is back out of there, challenge if necessary, perhaps even go to lawful defensive display all the way up to … If I have to, I would shoot somebody that was approaching me that had all of those abilities, had the size, had the physical ability, had the opportunity.
Police officers face that on a lot of occasions, and I think we've seen even some riots and protests result of what turned out to be completely lawful shootings in which a person was believed, okay, this person shot an unarmed person. What was it, "y=You can't bring a gun to a fistfight?" I think that was perhaps stated in the, was that the Rittenhouse case?
Don West:
You hear that almost every self-defense case where the defender had a weapon and the so-called victim didn't. Pardon me. Yeah, that's a common trope by prosecutors that want to emphasize the disparity of force. And that's, of course, to minimize the threat that a person can do without an additional weapon other than their hands or feet or what have you, as compared with someone who has a deadly force ability, a firearm or knife or something. That, of course, begs the question that you don't have to have any injury whatsoever in order to defend yourself against what you believe is an imminent injury. So you not only have to assess how serious the threat is and the fact that it's going to happen right now, whether or not it rises to the level of deadly force, meaning that you would be seriously injured or even killed if you allowed it to take place, and intervene before that happens.
There's no requirement that you actually be injured or that you even be touched to some degree. It's that formula. If you are in that position facing an imminent threat or an immediate threat of great bodily harm that we've been talking about — the broken bones, the disfigurement, the loss of bodily function or death. In some respects, the instruction's a little misleading because, obviously, if you are killed, you have sustained a serious bodily injury. It doesn't get any worse than that. So in fact, I think if you kind of put that aside a little bit, the death part, and just talk about what is the injury that you are facing that justifies the use of deadly force, up to and including deadly force, it may not take deadly force to neutralize the threat. But if you are facing a true deadly force threat, your assessment really is, how bad am I going to get hurt if this person is allowed to continue with the attack?
Shawn Vincent:
We've encountered cases where there's a law enforcement suspicion that the armed defender didn't truly believe they faced an imminent threat of great bodily harm or death, and that they took some physical action that may not have been legal or justifiable from an aggressor as an excuse to use deadly force. And in this next clip, Don's going to use a pop culture reference to illustrate that point.
Don West:
I did want to ask something. I don't know if we can get anywhere with this part of the discussion, but Steve, I was having this memory as you were talking about a video clip that probably everyone on the planet has seen by now in some form or fashion. It was when Chris Rock, the comedian-actor, had said something offensive, at least was perceived as being offensive, by Will Smith's wife or by Will Smith during an award show. And Will Smith gets up out of his seat, approaches the stage, approaches Chris Rock as he is standing there – no doubt trying to figure out "What does this fellow mean?" What's he going to do up here? And he gets within arm's reach, and he hits Chris Rock with, I believe, an open hand. Would you agree at that point that Chris Rock did not have the legal right to use deadly force against Will Smith? He couldn't have shot him at that point.
Steve Moses:
I absolutely agree. I absolutely agree. Everything that Will did after he struck was kind of an indication that he was not coming forward. He did not go ahead and jump on Chris. So absolutely, I agree that would not have been an incident in which deadly force would've been justified. And I think that's something that's really, really important for concealed carriers to understand — that just because someone may punch you or punched you once does not justify a deadly force response. By the same token, you need to take that very seriously. You need to create distance as soon as you can, and you need to tell that person to back off. If they continue to aggress upon you, well then you can amp up the use of force in my opinion. But I would definitely not at that particular part, even expose a gun or bring a gun to bear unless I felt like, okay, this person is intent on harming me seriously or killing me. And he's in the act, he's imminently about to do that right now.
Don West:
So let's play that out just a little bit more, if you don't mind. What if Will Smith had used a closed fist and Chris Rock saw it coming and didn't wait to get hit? In my mind, he could not have used deadly force at that point to prevent himself from being hit with a closed fist, even in the face. He might have been able to get back or get out of the way and avoid it, but I don't think he could have used deadly force to prevent Will Smith from hitting him.
On the other hand, what if Will hit him in the face, knocked him down, and then got on top of Chris Rock and put his hands on his throat, and started choking him? Well, in my view, you can choke someone to death. It's not easy, necessarily, but you certainly can do it. You can inflict serious bodily harm by strangulation, no doubt. It may take a little while to do that. But would you perceive that scenario where he hits him with a closed fist, knocks him down, and then continues the assault by mounting him or straddling him and putting his hands on his throat?
Steve Moses:
I would. I would, absolutely. And one of the things I might add is, one — it may be difficult to defend yourself against that punch. And by the same token, there's training in place to conceal carriers who are motivated. Most of it is based upon the Craig Douglas method of what they call "three-point cover" in which you cover up your head with your arms in such a manner that you absorb any strikes on your arms and not your head. And the second thing is, in regard to chokes and everything, there is a litany of chokes and strangles that persons that are trained in martial arts that can apply, that can take you out of the fight in about four seconds.
And so that's something that, okay, we don't have a lot of time, is someone, yeah, gets their hands on your throat, what you say is exactly true, I think it's very hard to strangle someone with just your bare hands. I know it happens, but it's difficult to do. But there are all sorts of different ways using judo and Brazilian jiu-jitsu-based techniques to apply chokes and strangles to a person. And basically, you can put them in a position where they can't respond, they can't defend themselves, and that's very dangerous.
Don West:
I know there's some carotid artery stuff and carotid nerve stuff that can incapacitate someone like you say very, very quickly. However, assuming under that scenario, I know this is almost getting to the point of being silly, but I like the idea of playing it out. You, as a trained martial arts person and physically fit and having been there, done that before, physically engaged with people. In that scenario, if you were knocked down and someone had tried to grab you by the neck, you have some physical skill and ability to use force less than deadly force to prevent yourself from being strangled, I assume. And I also assume you would try that for most people. Most people. So you could use force and wouldn't necessarily have to use deadly force, even though the way this plays out, you may have been legally allowed to use deadly force.
So that's sort of my point is, even if you are legally allowed to use deadly force, you don't have to. You can use any amount of force up to and including deadly force. But there could be a scenario where you were fearful of losing consciousness, there was no relenting by your attacker, and you would have the ability and the legal right to use deadly force to prevent yourself from being seriously injured or killed in exactly the same scenario that we've sort of been hypothesizing.
Shawn Vincent:
All right guys, that's the podcast for today. Thanks for listening through to the end. If there's one thing that I hope you got out of today's conversation is that there's no one rote rule for when the use of deadly force is justified. So much of it depends upon the circumstance and the elements we talked about.
Next time, we're going to take our conversation a step further. We talked about the core principles of when the use of deadly force is justified, but there are other things that can influence whether a shooting is justifiable and whether the armed defender deserves the subjective forgiveability that he or she will need to clear their name and to justify the use of force. Until then, be smart, stay safe. Take care.