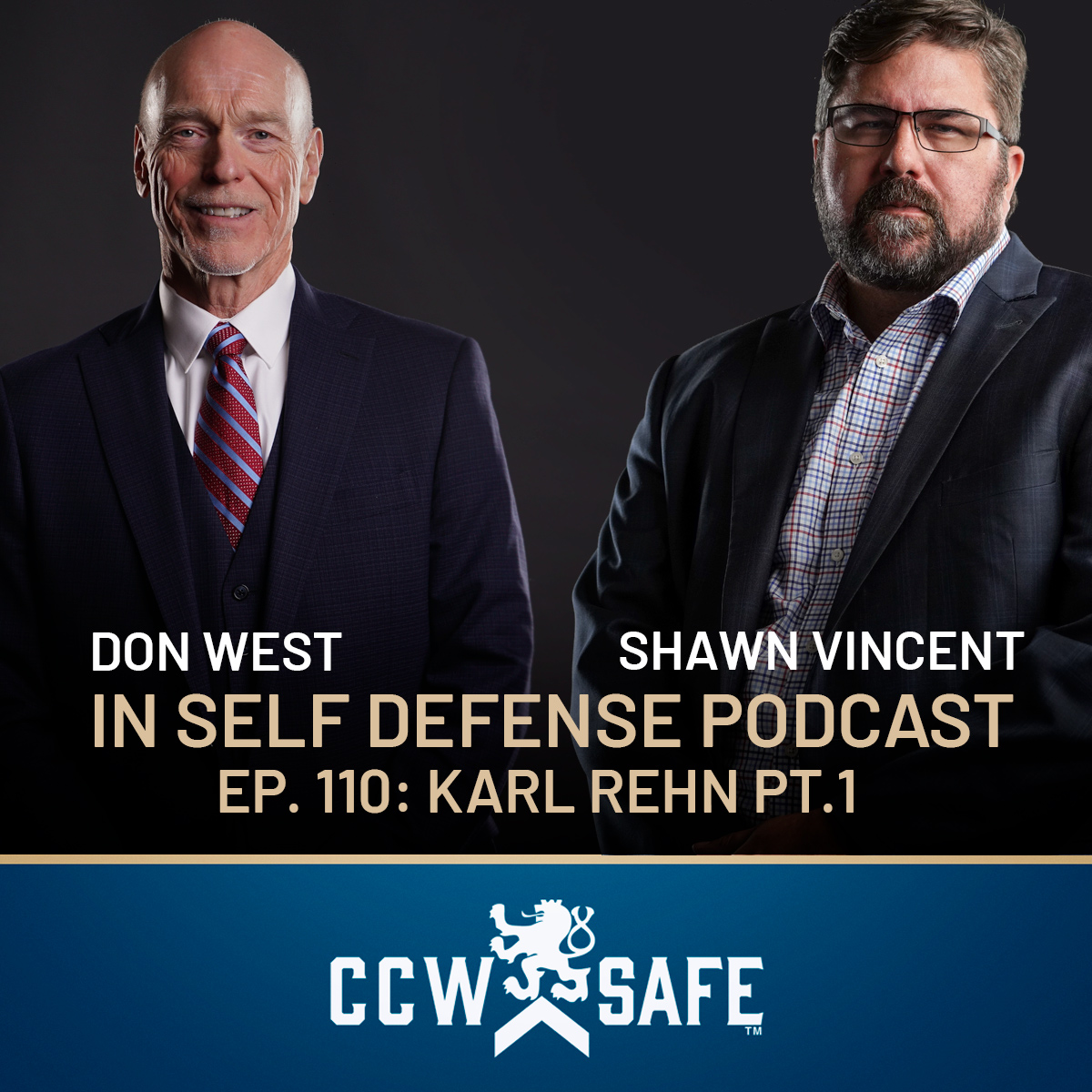 Posted on November 21, 2022 by Justin Collett in Don West, In Self Defense, Shawn Vincent
In Self-Defense Podcast 110: Karl Rehn Pt. 1
Karl Rehn, the founder of KR Training, joins Don, Steve, and Shawn to talk about the need for training beyond the requirements for obtaining a concealed carry permit. 
Transcript:
Shawn Vincent:
Hey everybody, thanks for listening in to the podcast today. I'm Shawn Vincent. I'm glad you're here. Today, we're going to be talking with the remarkable Karl Rehn. Karl Rehn is a firearms instructor. He's been a firearms instructor since before Texas became a concealed carry state. One of the big themes of our podcast today is that concealed carriers who have confidence in their skills, particularly their draw skills, are less likely to get jumpy and less likely to go to their gun too quickly in a difficult situation, and that means they have more time to assess a threat and to exercise other options that aren't deadly and don't carry the same legal risk. Karl has calculated that only about 1% of concealed carriers have taken any more training than what was required to get their concealed carry permit.
We also have a conversation about how a lot of the cases that we've explored on this podcast, a lot of the cases that we've been involved in from a professional point of view (and that means that the defender made some mistakes and is facing legal peril), these are very often cases where the armed defender had little to no training whatsoever. Which means … if you have some training beyond your basic concealed carry requirements, you're ahead of the game. I want to take a minute to thank Steve Moses for introducing us to Karl Rehn. If it weren't for Steve's sterling reputation in the firearms training industry, we wouldn't have any of the fantastic guests that we're able to bring to you, so thank you, Steve. And we're going to start today's podcast with Steve telling you about Karl Rehn's bonafides. Thanks for listening in.
Steve Moses:
Karl is a great guy. He's one of the best instructors, one of the most insightful analytical instructor friends of mine. I probably met Karl somewhere in the vicinity of 15-plus years ago at the Tactical Conference. I believe that one was in Memphis, Tennessee. Since then, Karl and I have both been a presenter at those. We had an opportunity virtually to reconnect every single year. I myself have taken several classes from Karl, including a Force on Force Instructor, one of the better classes that I've ever taken. As a matter of fact, I wrote an article on the subject for CCW Safe, and one of the other things that I've actually done is after a rather medieval wrist surgery, I was having some trouble getting my defensive shooting technique back in order. And I'm like, "Okay, I need to go and take instructions from someone."
And I'm like going, "Oh, that's Karl." Went down, spent a day with Karl. Karl got me squared away again and he is so analytical in the way that he approaches everything. He's an engineer by background, has a tremendous resume, multiple, multiple instructor certifications. He's a very good writer. And we started talking, I believe you and me, and Don also about the small percentage of concealed carriers that actually train other than purchasing their firearm and taking it home or maybe at best, taking some concealed handgun training, doing some concealed handgun training requirements, which typically may be no more than 25 or 50 rounds. I thought he would be a very, very good guest, perhaps delving into why there is such a small enough percentage of concealed carriers who actually train and why it might actually be in their best interest if indeed they did train.
Shawn Vincent:
Karl, let me get a little bit more about your background. At your website … your training business is KR Training.
Karl Rehn:
That's right.
Shawn Vincent:
And I'm at your website at krtraining.com. Your central Texas's best oldest, largest firearms training school since 1991.
Karl Rehn:
We've been doing it a long time. We were the only business in 1991 and we've expanded. I've got about a dozen people that help me teach classes. I have multiple folks that teach as lead instructors. I have a big staff, have a lot of folks with a lot of experience, a lot of diverse experience. We've got law enforcement, we've got military, we've got competition shooters, we've got armed citizens, including one of my staff that was involved in a home defense shooting and got the full legal experience of that, military, I'm sorry, martial arts experience and medical experience. We're very fortunate. I've attracted a pretty good group of folks over the years that have stuck with me and we mostly stay home and teach classes at our home facility, but occasionally we go out on the road a couple of three or four times a year, I can be found on the road teaching classes, but I'm not an every-weekend-on-a-plane traveling trainer like a lot of folks are.
Shawn Vincent:
What happened in 1991 that started you on this course that made you decide to begin a program and training facility?
Karl Rehn:
I'm going to wind the clock back a little bit more. 1988, I started shooting USPSA and Steel Challenge matches and I was fortunate enough to have a young man named Chip McCormick who was a two-time Steel Challenge world champion, agree to coach me a little bit and some of the local USPSA guys started coaching me. And by 1991, Chip had to convince me to accompany him to the Steel Challenge World Speed Shooting Championships. And by then I was winning a lot of the local matches and people started asking me if I could coach them. And then many of my non-shooting, non-gun-owning friends and coworkers, people started asking me, "Hey, you do this gun thing, I'd like to learn about guns." And I was doing so many informal coaching and training things that I finally decided I should just get more organized and offer it as a group class, more of an organized process.
And that's really what started, I was only teaching maybe three or four classes a year in 1991. And then thankfully we had George W. Bush as governor, he signed the concealed carry thing in 1995, and all of a sudden everyone in Texas wanted handgun training. They wanted the concealed carry class. Most of them didn't want anything else, but they did want the concealed carry class. And really the rocket ship launched about 1995. But prior to that, I was teaching classes. We had a website back in 1993 back when Mosaic was the only browser. I've been an early gun culture 2.0 person, advertising classes on the internet and promoting myself online.
Shawn Vincent:
You started as a competitive shooter?
Karl Rehn:
I did.
Shawn Vincent:
And during that time, did you also have a personal defense interest in firearms?
Karl Rehn:
What happened was as I gained skill and confidence in my ability to use the gun, then yes, that changed my perspective. I went from having the gun in a case locked up at the apartment to keeping the gun loaded, then carrying a gun with me in my vehicle because that was all you could do in Texas legally until we had carry permits where you could carry on your person. But I carried on my person the very first minute that it was legal to do so when Texas had … We were out to dinner, that was New Year's Eve 1995, and my wife, Penny, and I, we were both concealed handgun instructors and both had already gotten our handgun permits because the instructors got their licenses early and we literally walked out the door of the event we were at and it was 12:01 and we both put on guns and carried on our ride home, simply on principle.
Shawn Vincent:
It's almost hard to imagine now a Texas where concealed carry is not the law.
Karl Rehn:
It was the whole time I grew up. I was 30 years old before. 1995, I was 30 and that was when everything really started.
Steve Moses:
Shawn, something I'd like to add right now is, and I think this is significant, Karl is an outstanding competitive shooter and has a USPSA Master rating, correct me if I'm mistaken here, Karl, in five different categories. Is that correct?
Karl Rehn:
Once upon a time I hit Grand Master in five divisions and old age has slowed me down and I no longer shoot at the Grand Master level, but there was a brief period — late forties, early fifties — when I was really peaking up on my skills and hit a really good run of basically every summer I would change divisions and just shoot as many classifiers as I could and manage to do it five years in a row. And then the sixth year, old age, decrepitude, and other things finally caused me to not hit that goal. And I'm a Master in the other three divisions, but Grand Master in five. But honestly now if I went to a Nationals, I'm not at that level. I don't practice that to that quantity and I shoot very few matches anymore. I'm always busy teaching on the weekends, so I've fallen off on that.
Shawn Vincent:
One of the themes that we've been exploring lately on our podcast is that your self-defense strategy has to be built around a realistic assessment of what your actual skills and capabilities are. And we just heard Karl talk about "old age and decrepitude." And the truth is that everybody approaches this with a different skill level and a different set of experiences and physical capabilities. And we're going to talk to Karl here a little bit about how you can use training to adjust your self-defense tactics to those abilities.
Don West:
I might jump in here for just a second because you talk about old age and maybe losing half a step. How has that experience that you now have lived through impacted your training when you have folks taking your classes that are maybe more advanced in their years and in fact maybe have a little slower reflexes, a little slower uptake on what's happening around them?
Karl Rehn:
I get a lot of students that are 65 plus and that's one of the things, as he and I talked, I said the thing for him is he's not going to be doing Brazilian jujitsu in the parking lot with some dude. He's not going to outrun some 18-year-old that's trying to stab him with a screwdriver to get his wallet or his car keys. And it does affect tactics and it affects, I think, the timing of even when you pull the gun, when you put your hand on your gun, when you let somebody know that you have a gun. Because if you know that your draw time is two seconds and not the Instagram one second, whip it out and get the one perfect take to claim the record second draw. If you know your real-world draw is two seconds, that's going to change how you act in situations.
And luckily, disparity of force is a concept that's certainly respected here in Texas. And older people that have less physical skills, absolutely it should encourage them to carry more often and to train, particularly with accuracy, you may not have the fastest draw, but you still need to get the best hit first as best you can. Mainly I just get disappointed because I have all my old records from 30 years ago and I can say, "I used to be able to run this drill at this time, and now the best I can do is this much." And part of it is practice time, to be honest, to really get to that level, you have to pretty much be obsessed and practice every day, dry fire every day and shoot multiple times a week, and shoot a thousand rounds a month or 2000 rounds a month or a thousand rounds per practice session, like I used to do, and money and time and all those things.
Life stacks up and that's one of the things that affected the way I run my training business is realizing over time the whole training business model in the US, for the most part, is built on this idea that young men, mostly with some young women that are all maybe in the 30 to 50 year old age range with disposable money and time have $500 to $800 that they can devote to a two day all weekend, all-encompassing course. And the lack of shorter courses offered at a similar level is a very big impediment. Going back to the reason I'm here, why don't a lot of people train? People have jobs, they have kids, they have hobbies, they have other things they have to get done on a weekend and a lot of people don't have $3,500 or they don't have $800 to go to a two or three-day road class.
They got a hundred bucks and four hours and if there's nothing there that fits that time and budget, they're not going to do it. And that's going back to your question Don, older people do not have the endurance, physical endurance to get through some two or three-day classes. My 80-year-old student, bless his heart, after five hours of our six-hour course, he didn't pass the final shooting test. And when I offered him a reshoot, he said, "No, I'll come back another day when I'm fresh and I'm rested and I've done some practice and I know I can pass your test, but I can't pass your test today being tired and worn out like I am now." And I said, "Great." He's going to come back when he's rested and ready and well-prepared. And I have no doubt that he would pass that test. But he also had the good sense to say, "I'm done for today. I'm worn out."
Shawn Vincent:
In light of all this, I asked Karl to let us know what the minimum qualifications are for someone to be a responsible, competent, concealed carrier. Here's what Karl had to say, and spoiler alert, it means having more than the basic class that was required to get your concealed carry permit.
Karl Rehn:
Okay, that's a great question. If Steve didn't mention it, but John Daub, one of my assistant instructors, and I, we've actually written a book that's become quite popular. It's called "Strategies and Standards for Defensive Handgun Training." The book is out there, you can order it from us, you can get it from Amazon and I recommend the large version because it's got easier to read print and larger graphs are a little bit better, more visible. But John's section of that book is all about minimum competency and we present a lot on that. And the first thing to understand is none of the state standards are realistic and relevant. None. As I tell my students in Texas, our state standard was designed to answer the question, what is the lowest possible skill level that we can test to that says this person is safe to carry a gun in public?
That's different from the answer to the question, what is the minimum set of performance standards someone should have to be well prepared to save their own life? Catch the nuance there, that being safe to carry just means you're not a hazard to others. Actually having a minimum competency set that's realistically useful, that is to save your own life or the people you care about. There are no state standards that are developed to that second question. None. Most of the training classes that are out there from the traveling trainers in particular, and honestly I would say the new NRA CCW course that they've developed, their shooting test on that one is a very good shooting baseline standard. And there are some institutional classes out there that'll go beyond the safe carry minimum that are okay. What we did is we started with a list of skills.
It's not even speed and accuracy, just tasks. Number one that's not tested virtually in any state is the ability to draw from concealment. And that's the area where most people actually need formal training because in holster selection, in draw technique, in every aspect of carrying, I spend more time working on that with students than anything else. They show up, they ordered a holster off the internet, the gun rides too low, they can't grip it when the gun's in the holster, the angle is wrong, it's uncomfortable — there's so many problems. And at the risk of going down a rabbit hole, one of the challenges that regular people, the 99% people, face is you go to the gun store … There's no way to try on a holster or test it in any way at the store before you buy it. Gun stores, by their very design, market to the lowest common denominator.
They're going to carry the $20 dealer-cost holster. There's so many gun models out there, they can't carry a perfect holster for every gun that's ever been made, understand? And the one size fits all holsters mean they don't really fit anything very well. And it's virtually impossible for someone. If you go buy shoes, you can go to the shoe store and they have a bazillion models of shoes and they have them in every size. There's no analog to that for holster selling. And what happens is people buy garbage at the gun show or the shop and then they come to a class like mine. I'm like, "That's just not going to work." And the very first thing we do before we even start the class, we catch them in the parking lot and we bring them over to the safe area and we go through their stuff and we actually try to catch holster problems.
We go through their gear, and I have more than 70 different loaner holsters now in my collection because of necessity. We look at their gear and their body and where they want to carry and all that and say, "This is what you need." We loan them holsters for class. And then after class they actually figure out what they need or what position they would like to carry in, what's going to work for them. And they've actually got experience using it. And now they can go forward and spend once and not end up with, like me, with a box of 70 loaner holsters that they try. But that's a huge impediment. And yet that skill is the one, if they can't get the gun out quickly and get a good firing grip on the gun when it comes out of the holster from concealment, then that affects their shooting.
And it may affect their tactics because if their draw is slow and awkward or if they get a bad grip on the gun, that first shot may be all they get. It's got to either be fast and accurate or it might be too late. And that whole aspect of the industry, the holster makers produce a lot of good holsters. But the gap between the internet website and the people actually getting the holster and using it, and even if they get it, if they don't get formal training in how to draw properly, they're muzzling their hand, they're muzzling their abdomen, they're prying the holster open with their fingers trying to put the gun back in it. It's all manner of literally unsafe, very dangerous behaviors that people engage in because the gear doesn't work for them.
Steve Moses:
When you have a student that has a holster that they're not comfortable with, they are so much more likely to go ahead and draw their handgun in order to confront something that they perceive to be a threat and later be charged with a misdemeanor or felony crime. You have a student that knows that, "Okay, I can get my draw out, I can get my gun out between myself and this other person maybe within say even two seconds." What that allows that student to do is it allows them to maybe manage that situation a little bit more, work on their social skills and not feel compelled to get their gun out way too early and get themselves in trouble later.
Shawn Vincent:
If you're not confident in your draw skills, you feel like you need more time to get that out and you will jump the gun essentially?
Karl Rehn:
That's absolutely correct. A hundred percent correct that people that have confidence in their draw, people that have confidence in their hand-to-hand skills, people that have confidence in their ability to use pepper spray, confidence typically causes people to hold back and act later because they have a better perspective of how much time and space they need and actually when they're in danger. When do you believe? One of the things we tell people is a simple guideline. Your one-line guidance to use deadly force: if you think you're about to die in the next two to three seconds, then you should probably be using deadly force. And if you don't, you don't believe that, then you should be looking for other alternatives. You should be looking for other solutions as best you can, but you have to have the skill to save your life within that three-second window, which basically means the gun needs to get out a second and a half, two seconds and you need to be able to get two, three, four shots out of it in before the three second time the window was up.
And somebody asked me for my definition of what competence with a handgun is relative to being able to defend yourself and carry in public. That should be a good start. Carry the gun the way you're going to carry it when you're out in public and can you get it out and can you get two, three, four shots off and hit a six-inch circle or an eight-inch circle, preferably a six-inch circle in three seconds, somewhere between three to five yards. That's a pretty common profile for self-defense shooting in public. And if they start with that definition, that's our baseline minimum competency concept. And it's not so much can you hit at 15 yards, it's can you hit in the three to seven car length range. Tom Givens has got data on all 68 of his students that were involved in shootings and most of them were in the three to seven-yard range, a few at the 15 to 20-yard range.
But the most common denominator was they had the gun with them. And as Tom will tell you if you haven't talked to him about this stuff.
Shawn Vincent:
We have.
Karl Rehn:
He has three forfeits. Students that didn't have gun with them. And part of that is minimum competency is you have to have the gun with you. Not in the car, not in a backpack, not in your purse, not in your laptop bag. You've got to be able to get the gun out from wherever it is. And in Texas, the 99% are in love with the idea of the car gun or the truck gun, or the glove box gun as an equivalent, "I have the gun in the car." Okay, you're in the 7-Eleven getting a slurpy or a candy bar or whatever and the dude starts robbing the 7-Eleven. What good is that gun to you if it's in the glove box of your car?
Shawn Vincent:
Karl, and I think every case that we've seen, where somebody encountered a situation where they had to say, "I need my gun for this. I'm going to go get it," ends in prosecution. If you go retreat to get a gun and go back to a fight, you're in a really precarious legal spot.
Karl Rehn:
And in Texas the popularity of the idea of the truck gun, "I'm going to carry my AR or whatever in the car," and it's always, "If something happens, I'm going to run back to my car and go back to the fight with my AR." It's like, "Why go back to the fight?" "I got to get my family." "Why didn't you take your family with you when you ran to the car? Why didn't you get in the car and drive away?" Unless it's your specific job to protect all those other people. The other problem with that whole concept of course is law enforcement's being trained that when you get to the scene of an active shooter situation, the guy with the long gun is probably the active shooter — that culturally, socially, if you see somebody wearing a holster that has a handgun, there's a reasonable belief that person might be an armed citizen, but somebody running around with a Tac Vest and AR that they fetched out of their vehicle, you're going to look like the wrong person in that situation.
And there's a whole bunch of layers. And I have no friends on the internet when I talk about how I don't like the magnets for the cars, I don't like truck guns, I don't like car guns. I would rather have you have the smallest most ineffective gun in the world, in your pocket as opposed to whatever is in your vehicle because that smaller gun is going to do you far more good. And the other reason people don't carry is employer policies and all the various restrictions on where you can carry. And that's I think legislatively the biggest hurdle now for the gun rights movement in Texas is we got to knock down more of the no gun zones because now we have people that have skill and willingness to carry that they can't because they're going to be fired.
Shawn Vincent:
Karl, who's also a trained engineer, did a little statistical analysis on how many people get any training beyond the bare minimum required to become licensed concealed carriers. And he found that number is around 1% and he's going to talk to us a little bit about why that's the case and what you should do to make sure you're not part of the 99%.
Karl Rehn:
Years ago with the Rangemaster Tactical Conference … Let me back up a step. Tom Givens has been a tremendous mentor to me over the years and very generous in allowing me to present at his Rangemaster Tactical Conferences year after year after year. I'm one of the longest-running presenters. I think I've done 24 of them, either 23 or 24 of the 25 years of the conference I've been a presenter. And before I figured out that a lot of people were just presenting the same thing over and over again every year, I thought I was supposed to come up with new material every year. That allowed me to accumulate a tremendous amount of stuff. Every year I had a project, "What am I going to teach this year? I got to come up with something new." One year I started diving into what we had done to change the marketing of our business.
And this goes back to us trying to get more people into class and we chopped up our program into four-hour blocks. And I took the Walmart approach to the marketing of training. $99, four-hour class, and stack enough four-hour classes together you end up with a 40-hour program that covers essentially everything that a five-day class at one of the big schools or even some of what even police academy level 40 to 60 hours of handgun training in the police academy. They're going to get the same kind of stuff. They just get it in four-hour chunks, which is different from the traveling trainer 16 or 24-hour class model. And because I'm local, people will come see me. And from an educational standpoint, it's better if you do four hours of training and then go practice for a while and come back and get the next four hours of training.
Because you're going to digest it. If you go to college, they don't give you the entire curriculum for the semester in one session. You get it an hour or two at a time over months. And this whole industry model of 16 hour or two-day classes that are built for the convenience of the traveling trainer who flies in on Friday, teaches class Saturday and Sunday, flies home on Monday with a suitcase full of cash. And it works good for them. It doesn't work as good for the students. And what I started teaching about and this beyond the 1%, I started looking at numbers. It's like, "How do you estimate how many people are involved in training?" I know how many people we train a year and I can look online and I know where most of the other schools are, and I look at their calendar and how many classes they run and I know that most of them run between somewhere between eight and 20 people in most classes.
I can look up USPSA membership, I can look up IDPA membership, I can look up Hunter Education courses, I can look up the state statistics on carry permit classes. I had all this data and it's in the book. If you get the book, it's in the book or if you go to blog.krtraining.com and you search for beyond the 1%, my original PowerPoint presentation that I gave at Tac-Con is there, it's a 10-part blog post article, but basically comes down to right now we have about 2 million carry permit holders in Texas, probably more now that we have permitless carry. But if you look at that, there are maybe 10,000 to 20,000 people a year that participate in anything beyond what the state mandatory training is. And many of them, it's a one-and-done. That's the other problem with the traveling trainer model.
I know people that have, "I went to Thunder Ranch 10 years ago, I'm done. I don't need any more training." "Let's get you out on the range and see how much you remember. No matter how good that training was, what can you do right now today?" Because it doesn't matter what you could do 10 years ago, it's "Okay, you're in the Walmart parking lot and you need to pull your gun. What's your draw time now? What's your ability to get a hit?" And all this goes back to the mindset that this one-and-done, I took my carry permit class once and I'm one and done. The big difference between the 1% and the 99% is the 99% believe that their skills are good enough, but they cannot identify the tasks nor can they identify the performance standards as to what good enough is.
Go ask any of your friends or associates that have carry permits and you say, "Don't tell me what the state standards are. Tell me what you think top five tasks you need to be able to do with your carry pistol and what are the speed and accuracy goals related to self-defense, not related to winning a pin or winning a prize or whatever, but how good do I need to shoot to hit someone in the heart-lung area at five yards in the Walmart parking lot? What do you think? What do you need to do to be able to ready to do that?" They don't answer. They have no answer, they have no concept, they've never considered it. It's the Dunning-Kruger problem, "I did it once in a class somewhere, so I'm sure I can do it again." Except that's really not what happens when you put that theory to the test, for a lot of folks.
Shawn Vincent:
In addition to being a firearms trainer, Karl Rehn also serves as an expert witness in legal cases that involve the use of force or the use of deadly force. And he, Don, and I had a conversation about how cases that we've been involved in legally, frequently involve armed defender who wasn't very well trained. And we asked Karl if that was his experience as well.
Karl Rehn:
I'm working on multiple cases as an expert witness currently, and the most common denominator is often not even a carry permit, but at a minimum, their training stopped at the carry permit level. And we do a lot of scenario-based force-on-force courses. And the common thread in there is if you do these things, then either you avoid the situation entirely, you divert or avert the situation through your actions that doesn't result in shots being fired. Or in the rare case where you fire shots, then your situation is such that it doesn't go to trial.
I've never had a student that's been involved in a situation where they pulled their gun actually go to trial. All of the people I've worked with or worked for as an expert witness were not students of mine originally. And the mistakes that they made are, for the most part, that led them into those situations would be obviously preventable to anyone that had training beyond the state minimum. And people, they don't think about that. If the case is bad enough, the situation is fuzzy or gray or questionable enough that it goes to trial, that usually involves a number of decisions that you turn the clock back and say, "Hey, probably shouldn't have done that. That wasn't too smart."
Shawn Vincent:
Don, I wanted to get a reaction from you on what Karl talked about with the training and how often the people who have good training avoid real serious legal ramifications. And we've seen the folks that we've studied often didn't have very good training.
Don West:
I think that's right. Not only not very good training in their ability to operate the firearm within that window, what Karl is saying is a realistic standard of being able to draw, present, aim, and fire the gun within three seconds or so. We certainly see lots of people that can't do that. They know they can't do that or they've never even attempted to do that. Their first response to some sort of perceived threat, even one they probably would acknowledge as not life-threatening at that point, is to draw the gun and display it. Sometimes it's also accompanied by firing the gun, but usually, the cases that we see where people get in trouble from the brandishing context is the gun comes out too quickly. It becomes the first decision they make when they're trying to defend themselves as opposed to … I think what Karl's talking about is there's a spectrum here.
There's a continuum of the skills that you need that take practice not only to be able to draw and fire the gun, but also to be able to appreciate the context of the threat, to have confidence in your own physical ability to respond to a threat short of actually shooting them, which would include physical contact, pepper spray and those sorts of things. In the cases that we've seen that have resulted in prosecutions, I think there's typically two things that happen. One, it's someone that gets overwhelmed so quickly that they decide to discharge the firearm often with lethal consequences and it's a close call. Sometimes they're acquitted, sometimes they're convicted. But almost across the board, when we look at these cases carefully, there was a moment before the decision to shoot had to be made where there were other options that either were not appreciated or were not taken.
Karl, I really appreciated your comments about seeing the bigger picture and incorporating the ability to avoid the fight just as much as being able to win the fight that you wind up in. Steve made the comment earlier about force-on-force training that he took with you. Is that the stuff you do in your force-on-force training? Is it expanding the self-defense context to simply that moment when you have decided to pull the trigger?
Karl Rehn:
Absolutely. To earn my 40 hour challenge coin, students have to complete eight hours of tactics training. The first four hours, you start out with a discussion of proper tactics in different situations, and then we do red gun non-firing, no projectiles, little mini scenarios including learning how to use an inert pepper spray. And that first four hour class talks about concepts of range and distance, how close can you let someone get before they can follow your draw? Some of this is influenced by Craig Douglas's ECQC material, but we're not grappling on the ground with people, but we are trying to teach them basic concepts of unarmed, punching, kicking, and grabbing in terms of where are you at risk for these things, in terms of understanding and managing distance and reacting the old Jeff Cooper color codes.
When you go into condition orange, we teach that's when you need to be moving your feet. And here's the nice thing now that Texas has open carry, if you're carrying concealed, you can raise your cover garment, get your garment out of the way, and get a firing grip on your pistol in the holster without really being in danger of being accused of doing anything more than open carry. Simply gripping a holstered pistol, Lee Weems, who's a great trainer, calls it holster-ready. And if you look at people's draw times, you can take someone with a three-second draw and you can give them a one-second draw simply by letting them get the garment out of the way and advancing their draws stroke to the point that they have their hand on the pistol in a full firing grip.
At that point, virtually everyone can get the gun out of the holster and to the target. The majority of the delay in getting most draws from concealment accomplished is getting the garment out of the way in getting that firing grip on the pistol. We teach that as one. On the range, sometimes we yell "Gun," and it's time to draw and shoot, but we also use the challenge command. The challenge command, you can clear your cover garment and you grip your pistol in the holster. Then if you have to issue a second challenge, you quickly draw to a muzzle averted ready position where the gun may not be pointed. And we teach two different muzzle versions or muzzle positions for ready. One is muzzle averted, not pointed at anyone. The other is a little bit further along in the draw stroke where the muzzle is pointed at them, but the gun's not up at the eye target line, and the fingers are off the trigger.
There are steps in the draw, step one in the draw, you grip the pistol. Step two, the gun comes out and the muzzle is averted. Step three, both hands are together and the gun is starting toward the target but not the eye line. And then four is the gun all the way up. And we actually teach all of those as controlled, deliberate responses depend on the situation because so many situations, the data, if you go into the data, during the Obama era, the CDC did that study and they said there was as many as two million defensive gun uses every year. That's not two million shots fired cases. That's two million where a gun came out, or two million where someone made it clear to the other person, "I have a gun." And that checks the box as a defensive gun use. A lot of people, that practice, and I'm going to pick on the modern internet crowd, they're so fixated on the only goal they care about is the one-second concealment draw. They don't practice the sub-one-second draw to ready.
Shawn Vincent:
All right, everybody that's the podcast for today. Thanks for listening through to the end. We've got a lot more with Karl Rehn, so tune in next time. He's going to give us a real-life story of one of his students who use their training to find another option to the use of deadly force to resolve a potentially deadly situation. Until then, be smart, stay safe, take care.