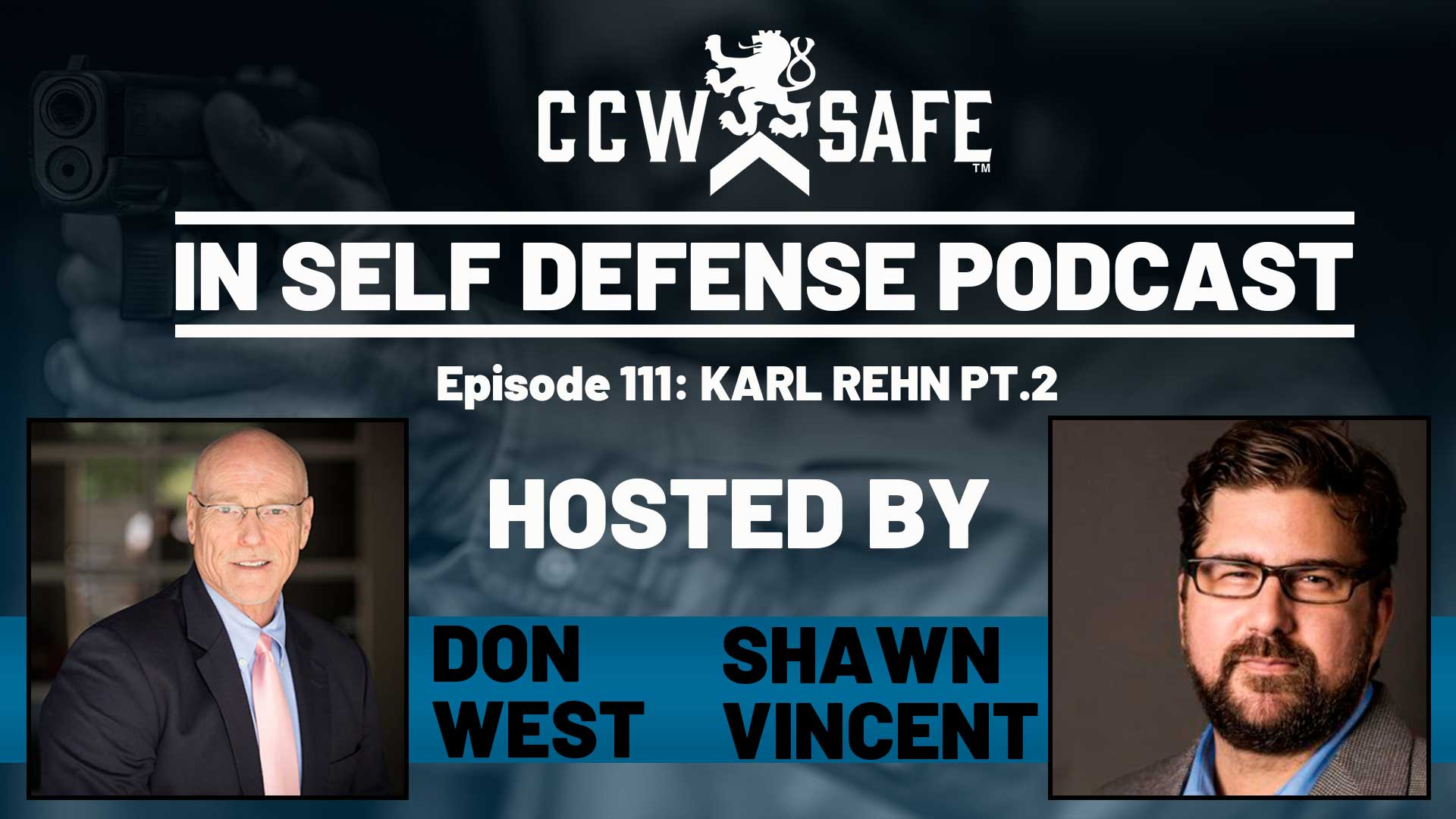 Posted on December 6, 2022 by Justin Collett in Don West, In Self Defense, Shawn Vincent
In Self-Defense Podcast 111: Karl Rehn Pt. 2
Karl Rehn discusses how he designs his Force-on-Force training to simulate real-world self-defense situations, and how experience as an expert in self-defense trials gives him unique insight into how untrained defenders make mistakes in real-life circumstances. 
Transcript:
Shawn Vincent:
Hey, everybody. Thanks for listening in to the podcast. I'm Shawn Vincent, glad you're here. This week, we're back with part two of our conversation with Karl Rehn. Karl Rehn is the founder of KR Training, KRTraining.com. He's been teaching people how to shoot and defend themselves since before Texas had a concealed carry law. Karl is a friend and colleague of Steve Moses. Thank you again, Steve, for bringing such great guests to our show.
Today we're going to carry on our conversation. One thing about Karl that's fascinating is he also serves as an expert witness in the prosecutions of armed defenders who face legal consequences in the wake of their self-defense shooting. He represents the armed defenders and as a use-of-force expert, tries to make the case as to why their use of deadly force should be considered self-defense. That gives him an extraordinary perspective on real-world scenarios where real defenders get into some trouble for how they decided to deploy deadly force. There's a lot of great lessons to learn from that, and we're going to have an opportunity to hear some of those real-world experiences today.
As we were wrapping up our last podcast with Karl Rehn, Karl mentioned the importance of managing time and distance in an encounter with a potential threat and how your training and your experience, and having confidence in your skills gives you more options on how to deal with an unknown threat. We talked a little bit about how defensive display of a firearm, strategically, when appropriate, can be a viable alternative to going directly to deadly force. Karl has an example from one of his students where he had a couple of encounters and used some of his training to successfully negotiate those complicated self-defense situations. Here's Karl:
Karl Rehn:
I had a student last year who I firmly believe his training with us made the situation have a much better outcome. He had a homeless person that was pounding on his front door, trying to get in. He had left the house. His wife calls him from in the house. She says, "Please come back to the house. There's a strange man pounding on the front door, demanding to be let in." He pulls up. He gets out of his car. He draws to what we call our "position two," which was the gun is out, and it's against his ribcage basically with the muzzle averted. He's talking to the guy, and he never points the gun at the guy. Well, the wife also called 9-1-1. Police officer pulls up, sees my student with his gun out, and calmly says to him, "I'm here now. You can put your gun away," and my student holstered, and they continued on.
If I believe my student had had less training and less calmness and presence of mind and he had had the gun up and be looking at the guy over the sights with his finger on the trigger when the cop rolled up, I would certainly expect that that would be a far worse outcome for the student and far higher intensity interaction with the police officer where the cop might have been telling him, "Drop the gun. Drop the gun." Unfortunately, sometimes people have guns in their hand, and they get yelled at, and they turn with a gun in their hand because that's a natural reaction. In this case, the whole situation was handled very well. But, mainly it was because my student had been trained to draw to that muzzle-averted position, as opposed to just whip the gun out there and point it at somebody with your finger on the trigger as your first response. Does that make sense?
Shawn Vincent:
Yeah, that makes absolute sense. What I'm picking up is that the law enforcement officer recognized with that position that this is a guy who's in control of his firearm, and it's clearly the result of some training.
Karl Rehn:
I believe that the patrol officer recognized the behavior of a trained person.
Shawn Vincent:
Yeah, and said, "This is probably not the bad guy," and was able to put things together.
Karl Rehn:
Well, yeah, that part was obvious. The homeless guy was at the front door, pounding on it. My student was at a good enough distance that the guy couldn't have gotten up and grabbed his gun. He wasn't on top of the guy. They had separated because, again, my student had confidence with his …
Shawn Vincent:
… managing that distance.
Karl Rehn:
His shooting skills, and yeah, he said it was seven or eight yards. He deliberately maintained a lot of distance so that if the guy charged at him, he had time and space to respond. He wasn't right on top of the person, pointing the gun in his face. That's another one of those differences. Untrained people, when we want to be aggressive with someone, we get right up in their face. We look at him in the nose. We get our hand up. We do all these human proxemics, body language behaviors.
The student consciously did not do those things, I believe because we had explained that you don't need to do those things. When you get close to somebody with a gun in your hand, the likelihood that you can fight over the gun or end up having to shoot the gun because you don't have time. He used all those things and successfully managed this situation where he was never in handcuffs or there were never any criminal charges. He put his gun back in the holster. The police officer, they didn't even discuss the fact that he had a gun again, according to the student account. Once he holstered the pistol back in his holster, then the rest of the encounter, the gun, his having a gun was never … It was just never an issue.
Shawn Vincent:
Yeah. I want to underscore something Don said earlier and relate it to that fantastic example. Don, you said one of our big conclusions from all the work that we've done and all the cases that we've explored is that there's almost always a choice that the armed defender makes before pulling the trigger that could have changed the course of the whole encounter in a very dramatic way and probably in most cases precluded the need to discharge the firearm. Karl, in that example that you gave, there's an armed defender who's well trained, understands distance, managed himself in a way where he didn't actually end up having to fire that weapon. That happens all the time, I think, when people are able to avoid a shooting because they've had the type of training that you're talking about.
Karl Rehn:
Yeah. Well, in this case, this person … this was his second encounter. Austin, Texas has a large homeless population, mental illness, erratic behavior, drug use. Austin has a prosecutor that is anti-police and anti-armed citizen. So, there's a lot of challenges for my students in the Austin area. In this case, this student had had another encounter prior to this one with a homeless person in a parking lot months prior. He didn't handle it as well. Nothing went bad, but it was a case where he got too close. He had his hand on his gun, and he moved closer to the homeless person. The homeless person basically taunted him and said, "You can't shoot me. You can't shoot me for not moving when you tell me to move." The homeless person was smart enough to realize — and he basically called my student's bluff. The student, they were finally rescued when the manager of the store that the student was in the parking lot of walked outside and told the homeless person to leave, because the manager could claim this guy was trespassing.
But, when they were both in the parking lot, there was nothing there. I think that particular student, realizing that he had kind of screwed up or put himself in an awkward situation, I think that also had a great deal of value that he reconsidered. We had a long conversation after that one. Some of our discussions afterward, that's when we talked about some of these other things. I think that also had a great deal to do with the fact that he managed the second one far better. But, again he didn't overreact. He didn't pull his gun the first time. He knew that he couldn't pull his gun, but he was stuck psychologically, because he was thinking that he couldn't retreat, and he couldn't go back in the store. His emotional response, your natural emotional response was he moved closer and wanted to intimidate and do those things that we try to do. We try to win an aggressive argument. I guarantee you that first experience affected his behavior the second time around.
Shawn Vincent:
Those real-world examples that Karl just gave us demonstrate how armed defender needs to have skills that go beyond just their gun handling and their shooting skills, and that understanding, a tactical understanding of how to handle unknown contacts, potential threats is key. In our last podcast, Don talked to Karl about his force-on-force training. Karl is going to explain a bit about what that is and why he sometimes has trouble getting students to explore that part of their practice. Here is Karl:
Karl Rehn:
Don, your comment about force-on-force, when they do the four hours of force-on-force scenarios with us, they are not ninjas repelling from helicopters with a six-man gunfight with SWAT team stuff. You're in the 7-Eleven. You're in the parking lot. We'll put six or eight people in a scenario where most of the people are just regular bystanders or random people in the scenario. You may or may not even be in the scenario. There are scenarios we run where the bad guy comes in and robs the 7-Eleven, and the carry permit holder is over in the deli eating a slice of pizza. The carry permit holder's correct response is to move to cover, observe, at best possibly draw to a retention position, if they decide that anything needs to be done. But, they practice. The whole goal of that four-hour block of training is to give them life experience. Like the other student had the life experience with the actual homeless person, we're trying to give them relevant life experience.
Something I do that's different in force-on-force training that others that do force-on-force training don't do is every student is involved in learning in every scenario. In a four-hour class, students get to do eight, 12, 16 different scenarios. They may get to be the bad guy. They may be the clerk. They may be the responding police officer. They may be the unarmed bystander in the store. But, they get that lived experience. Traditional force on force is you all wait outside, and one at a time, the person goes in and goes through the scenario. Everybody else does nothing, and you get one scenario per hour, if it's a well-run program. You may get one scenario every two or three hours. We try to maximize the amount of learning that takes place. So, students get a lot more life experience in that course. Now, the funny thing is motivating people to take the force-on-force and the tactics courses, I have two students in class on Saturday. They've completed everything in my program except that four-hour non-shooting, non-force-on-force tactics class.
Don West:
Why is that? Why are they reluctant or hesitant?
Karl Rehn:
Everybody wants happy, fun shooting gun time. Everybody wants to take their toys to the range, and they want to shoot a lot of bullets, and they want that 1,000-round, two-day, 500-round, 1,000-round happy, fun gun shooting class because we like shooting. Nobody wants to talk about that fact, that people take shooting classes because it's fun to take shooting classes. They don't need another carbine class. They don't need a plate carrier. They don't need a battle belt. It's fun to put all that stuff on and do all these things that largely have no context in your life. But, learning how to deal with a homeless person in a parking lot using inert pepper spray, that's not sexy or cool, or fun. It doesn't lead to Instagram views. It doesn't help your social media popularity. And, it's just not as much fun as yelling contact and blasting off a mag of AR rounds at 10 yards.
Don West:
But, in some ways though, Karl, that means they're missing the point in many ways. If you're going to learn how to defend yourself within the context that you find yourself, which is going to be one of those everyday type scenarios, you have to start with the mindset, don't you? That's what you want to learn how to do, and then set about actually learning to do it.
Karl Rehn:
Many people are in this, even many in the training junkie world, the people that take tons of classes. It's fun. They come because it's fun. It's the same reason people shoot matches. It's fun to go to the range and shoot your gun and hang out with shooters and not be socially persecuted for having a gun and not dealing with all that and hanging out with like-minded people and just having a good time hanging out. Sometimes, people come to these classes because they want to hang out with someone that is famous. Well, I'm going to go take …
When I was taking classes from Chip, I was telling my friends, "You don't understand. This is taking golf lessons from Jack Nicklaus. When you go take a class from a national champion shooter or a Delta Force guy, any of these famous celebrity-type people, it's cool to go do that. You can learn a lot from being around them, but still, there's guys that will do that, and then they carry the 38 snub in their pocket with no holster at dinner or put their $3,000 AR 15 back in their truck. When they go to dinner, they may not even have a gun. There's people with shooting matches that don't carry.
Don West:
That sort of reminds me of the guy that wants to spend his retirement fishing and swimming and forgets that when he goes out in his boat to fish that he doesn't know how to swim after all. So, he misses the very thing that could save his life and save the life of his family, skipping over that part to get to the fun part.
Steve Moses:
In reference to classes like force on force, do you think that part of the reason that people may be reluctant to take classes like that is fear of failure in front of other people?
Karl Rehn:
Absolutely, absolutely. Yeah, you're not going to fail when you're shooting a paper target, and there's no penalty if you shoot a miss or a D zone hit or whatever. It's not a big deal. But, yeah, emotionally it can be crushing to run a scenario and fail completely at it. That's why at home, my program, we take an approach that, okay, we're going to do the classroom lecture to explain to you what the answers are. Then, we're going to do the red gun and the inert pepper spray stuff where you get to practice doing things correctly. Then, we're going to put you in the scenario.
If we haven't prepared you for the scenario, if we haven't taught you what you need to win before we send you into the scenario, then we haven't trained you properly. I think to a certain degree, it's a straw man, but everybody always says, "Well, these force on force programs, the instructors come in, and they're so much better. They just set people up to fail." I haven't really seen that. I think the majority of people that do force on force don't do that. But, the perception is out there that that's what it's.
Steve Moses:
Well, go ahead.
Karl Rehn:
It shows the lack of confidence that the people have in their abilities to do these things, which should motivate them to go get the training to be better at it. But, it doesn't. Well, I'll go take another carbine class.
Steve Moses:
Well, one of the things I think taking classes like that actually does is the very fact that you're putting yourself in a stressful position which, basically, you can fail in front of others. If you continue to go ahead and just say, "I'm going to do it anyway," you take classes like that. You engage in competitions. After a while, that actually becomes a form of stress inoculation. The very fact that you participated in something like that actually prepares you better for a real-life encounter out in the street or someone trying to break into your house.
Karl Rehn:
Absolutely, absolutely, the life experience part of it. Well, for example when I was an early competition shooter, my first local match, that was super stressful. By my 30th local match, it was no stress at all. My first area championship, very stressful. My fourth area championship, not so much. My first world speed shooting championship match was clammy hands. Oh, my god, I can't believe I'm shooting the world championship match. Of course, I came in 120th. It wasn't like I was at risk of winning the thing at that level. And, I shot pretty good actually for where I was at that time to come in 120th. I went home fairly happy with that, but then looking at the difference between where I was and where I wanted to be, as I practiced harder and harder, the stress of going to the match changed.
Yes, absolutely, when you subject yourself to low-level stress, the low-level stress becomes less stressful. The higher level, what was it Jim Cirillo once wrote in his book? His actual shooting incidents were less stressful than some of the PPC matches that he'd shot, which I think people don't understand that. But, to a certain degree, given that he had been a street cop and had drawn guns on people quite a bit, it wasn't his first time to point a gun at someone when he actually had to pull the trigger. That part is sort of neglected. I think more important than the PPC matches is the fact that he had years of life experience in situations that could have easily become a shooting situation. So, when the trigger finally needed to be pulled, it just wasn't a novel experience to him. John Hearne talks about that, how the key to performance in stressful situations is not having it be a novel experience.
Shawn Vincent:
In this next segment of the podcast, Karl is going to talk about the phenomenon that some armed defenders have, that they get emotionally involved in a confrontation, and they forget that they can sometimes simply walk away without having to elevate to the use of deadly force. We're going to talk about the idea of preclusion to avoid deadly conflict. And, we're going to talk a little bit about how what you say on social media can come back to help you or hurt you, if you should face charges after a self-defense shooting.
Shawn Vincent: 
I wanted to circle back, Karl, to something that you said about that student's encounter with the homeless person. Less sexy even than managing OC spray is going in and getting a manager and asking them to trespass the vagrant who's hanging out by your car. You also mentioned that for some folks, it doesn't occur to them when they get entwined with somebody in one of these confrontations that they can simply back up and probably walk away if they can do so safely. Do you find that with your students, that somehow the imagination of alternative options here besides going through with a confrontation even exists?
Karl Rehn:
Well, for example with vehicles, if you're between the Walmart store and your vehicle, and you're determined to go to your vehicle, then you have it in your mind that it's your right that you should be allowed to go to your vehicle, and if someone interacts with you at your vehicle that you need to stay and defend your vehicle. Really, it's emotional, right? It's emotional. There is a couple of guys on the internet on one of the forums that I'm on that was complaining about tactical cowards. We're training a generation of tactical cowards who won't do the right thing. Well, that's a guy that hasn't been close enough to these situations, I think, to really understand how bad things can go.
The point that I make to students now that they really don't … many don't ever think about is this. One of my assistant instructors was involved in a self-defense shooting. It was on the front page of the local newspaper. It was talked about on talk radio. While he was eventually no-bill by the grand jury, it was six months out of his life. Now, anytime he goes to look for a new job, and they Google his name, guess what's going to pop up. You can't hide from it. If you've been involved in incidents, it sticks around a lot longer. It's got legs. So, if your name is printed in an online article related to self-defense, then you're going to be answering up to that.
Or, simply what if he makes the top five list on a set of things, and the HR people Google all their names to look for negative stuff, and that pops up? And, it's some San Francisco-based company that's all anti-gun. They go, "Well, all five of these resumes are good. This guy has been involved with self-defense shooting. We're going to pitch that one right out. That's straight to the trash can." People don't think of the consequences related to that downstream either. So, I'm not telling people don't defend yourself. There are situations where that becomes the right answer. There are unavoidable situations where you can't get out of it, and you need to recognize those. But, the same token, be aware that the downstream consequences can be things that you didn't even anticipate.
Shawn Vincent:
Yeah, we say you don't win a criminal prosecution. You merely survive it, because of some of the consequences that you talked about there.
Karl Rehn:
Yeah, in this case, that individual has always been very judicious about what he posted on social media and what his online presence was. When we got the case file from the police department, they had gone and printed out everything they could find on the internet about it. They were looking at all that as character evaluation. That affected his case positively, but for example, I'm involved with an expert witness case right now where one of the people involved posted death threats on Facebook. It's part of the police case file where her statements online absolutely contributed to his mindset and his perception that he was in danger, which led to him having a gun with him at the time that the incident happened. People think that they can just get on the internet and post whatever they want, make whatever threats they want. Again, that stuff hangs around. It hangs around, and it can affect the cases.
Shawn Vincent:
I told you that Karl also serves often as an expert witness on behalf of armed defenders who face prosecution after a self-defense shooting. That experience makes him a particularly effective firearms instructor since he can talk about things from both perspectives, the fight and then the legal fight afterward. We're going to talk to him a little bit about some real-life cases that he's working on to give us some real-world perspective.
Don West:
Karl, Shawn and I approach these situations from the legal perspective, usually after everything has happened. We're there trying to pick the jury and argue legal issues and present the elements of self-defense in court, trying to rebut prosecution evidence, that sort of thing, whereas Steve is the tactical guy. He's the guy that can get it done when it needs to get done and has the insight and experience to know when those other choices exist, when you can avoid and deescalate, and the confidence to know that he has a little more time than most people before he has to actually present and fire the gun. So, you put all of that together, and we've got the full picture of a self-defense scenario. But, I'm interested at this point in hearing a little bit more about the kinds of issues, the circumstances under which you might be called as an expert witness. I'm assuming as an expert witness, you are in a legal proceeding, perhaps civil, perhaps criminal. I'd like to know how this situation that resulted in someone claiming self-defense winds up in the courtroom with you on the stand.
Karl Rehn:
Well, there's a wide range of them, right? Well, I shouldn't even tell you the city, but there was a case where a young man was hired by a nightclub to be a bouncer or security person. At the end of it, he ended up shooting someone that charged at him physically larger than he was. The video evidence in that case was what saved him, that the video of his actions, because interestingly enough, he used a muzzle-averted position. He drew his gun to a muzzle-averted position, had it close to his body like in a weapon retention, don't grab my gun kind of position. The other person kept advancing toward him. He kept backing up, backing up, backing up. Finally, the guy lunged, tried to grab his gun. He was able to fend that first attack off.
When the guy made a second attack and tried to grab his gun, the client fired one shot, backed up. The person he shot fell down, and he cooperated with police. The video that came from an across-the-street video camera actually is what saved him. Finally, after a year in jail of being delayed and denied a trial, he finally was given his time in court, and it took three hours for the jury to acquit. Basically, I provided a video analysis, and they presented that. I explained essentially that the risk that someone grabs your gun, that they're going to shoot you with it, that that's a serious concern and that any police officer that had been trained, someone tries to grab your gun — it's pretty standard, somebody tries to disarm you and take your gun away. In this case, this guy had some military training, and so that helped.
What did you know, and when did you know it, right? But, several of the other cases went the other way when people didn't know what they didn't know and got into basic violations of moving too close with a gun out, setting a gun down where someone else could pick it up. That's a case I'm working right now. The person had a gun, and he sets it down on the sofa where the person he's having the dispute with … I think he was trying to de-escalate the situation, and the other person grabbed the gun. They ended up fighting over the gun, and they both got shot with that gun in the process of the resolution of it.
Don West:
In that first situation, you were allowed to testify as an expert from the perspective of a trained person seeing someone, experiencing someone try to get the gun and what that means in context and what a reasonable response to that would be.
Karl Rehn:
Right, and that's going to come up again, this case that I'm talking about now where they set the gun on a sofa and they fought over it. What I'm going to end up getting paid to do, if the family can find the money to do it, is we're going to do a video recreation of what we believe happened. That's sort of interesting. There's no video of that one. However, there was a police officer was standing right outside the door, pounding on the door, asking to be let in while the incident was happening. So, there's audio from the police officer's body cam, audio and video. So, we were able to get the timing of what happened, because you can hear. You can't understand the words, but you can hear who's speaking in the timing, and you can hear the timing of the shots, the sequence of the shots. You can get the timing of the incident from that.
Then, after the first couple shots were fired, the police officer kicks open the door. You can see where people ended up after the shots were fired, literally milliseconds after the shots were fired. There are two people laying on the ground, and we know where they were. The only problem is one person is dead, and the other person is on trial. The challenge is trying to give the jury a concept of what actually happened and trying to come up with a hypothesis that matches the physical evidence and the body camera and what is possible based on how fast people can move and what can occur. So, we're going to take his account and all the evidence we have and try to construct a video replication of what we believe happened using all of those things, trying to make our story line up as best we can with all the material that we have to hopefully make it where they can't poke holes in it and say, "Well, that couldn't have happened that way."
Because of the timing, in particular, there's a limited amount of things that can happen. There's only so far people can move in a second or a second and a half. There are multiple shots being fired, and we know where the bullets ended up and who they ended up in, and when they missed, where they went. So, we have a fair amount of data. We even have scuff marks on the wall where the ejected brass from the gun hit and chipped the paint on the wall. So, we even know from the forensic evidence where someone was standing when the shots were fired. We have a lot of data to work with. Like Steve said, I have a background in engineering. I have a master's degree in acoustics. I've got 3,000 hours of formal training from 90 different trainers in all the huge, broad spectrum of things. So, really I'm having to use all of that stuff to try to put something together, which I think will hopefully become the accepted version of based on what we know, this is what happened.
Because, the good news for the client is if we put that together, that does help his case. Given all the circumstances, it's still … the jury is probably going to have to decide whether him shooting after he got his gun back. That still may end up being a judgment call on the jury. That's going to be a hard one. All we're going to be able to do is show the urgency and the timing and the need that he realistically believed that since he'd been shot twice with his own gun, and then he gets the gun back in his hand, and the other person is still close enough to grab the gun back again, that not firing versus firing, that's going to be the decision, right? Well, you got shot. You got your gun back. Why did you shoot? Well, the person was still close enough that we could have fought over the gun again, and I was afraid that I was going to get shot again if I lost control of the gun, perfectly reasonable thing for someone to believe in that situation, particularly after they've been shot twice.
Don West:
Sure. You will be challenged. There will be motions filed. There will be hearings outside the presence of the jury. We've been involved in cases where we had what we thought was very competent, qualified, narrow expert testimony that the court narrowed further or even excluded the use of force expert. I think a lot of judges frown on that. They don't want an expert coming in and substituting their opinion or their judgment for that of the jury.
Karl Rehn:
That first case I told you about, the bouncer nightclub case, I was actually not allowed to testify. But, the lawyer that presented the case used the written material I gave him. We had the video, and I gave a moment by moment, frame by frame analysis of the video in a written form to the lawyer, because we were afraid that I might be excluded from testifying. But, he used that information when he presented the case and was able to essentially show them the video. He presented my analysis of it to the jury anyway.
Don West:
Yeah, so you went from a testifying expert to more of a consulting expert, that you helped the lawyer make a better presentation than he would have made without your assistance, sort did an end run around the judge's decision to exclude you as a witness to get the material in front of the jury, just through a different …
Karl Rehn:
Worked another case, that one where I read all those text messages. I never actually ended up testifying or having to go to court, because the lawyer kept working with … The defense lawyer kept working with the prosecutor. They went back and forth repeatedly until they got down to a plea deal that was acceptable to the client, because that one had some issues. That was fun for me, because I ended up, in our discussions, I was always the prosecutor, and I was always the one asking, "Well, how are you going to answer this question? How are we going to respond to this? What if they ask this? How do we address this?" There were enough problems with the client's behavior, particularly after their life history between the two of them became clear. It went from intruder in the house to ex-boyfriend, a love triangle. There were a number of complicating factors.
Don West:
Well, we talk about those kinds of things when Shawn and I and Steve do these case analysis. We talk about experiences we've had in court ourselves. A couple of things from this part of the conversation jump out at me. One is there's no guarantee that the testimony will be admitted. There very well may be some problems with the case to start with. The one that really caught my ear was the one where the video ultimately saved the guy that was the former bouncer, I guess, where the guy was trying to get his gun.
What were the operative words I heard there were "he spent a year in jail before the jury acquitted him in three hours." So, there's a lost year, a year in jail for what seemed to be a fairly obvious legitimate use of force. We don't want to get there if we can ever avoid it. That's the emphasis and the critical importance. If there is a way to avoid having to use deadly force, you've solved all of the problems before they've even started. We've seen lots of cases. Well, Shawn and I have had clients that have been acquitted, walked out of the courtroom completely not guilty. But, look at what their lives were like for that year or two after the incident until they were acquitted.
Karl Rehn:
That's definitely this particular client. He didn't have the financial resources. This was a public defender lawyer, and he had to get approval to pay me for my time from the court. One of the issues that came up in that case was when this person refused to leave, the client called a friend of his and says, "I'm going to need my gun." The friend brought him his pistol, and that's on the video. You see the car pull up, and the friend literally hands him a pistol out of the car window and then drives off, leaving him standing there on the sidewalk with this person instead of calling the police. At that point, he attempted to solve the problem himself without, and that was one of the issues that came up was why didn't he call the police? There's always a gotcha in there somewhere.
Shawn Vincent:
As we wrap up today's podcast, we're going to talk a little bit more about what Karl offers in his training and let you know how you could take advantage of that if you wanted to. He's got a website, it's KRTraining.com, that's KRTraining.com, Karl Rehn. You can take a look and see what he has to offer. He's there in Austin, Texas. Here's Don talking to Karl a little bit about what you can learn from his workshops.
Don West:
Karl, I think it would be helpful to talk about the components one more time of your training, the big picture of what you do, what you're trying to accomplish, and why it's so important to go through the entire program. Now, you've organized it in such a way that it's blocks you can take at different points in time. I assume you don't have to do them all in the same weekend or the same week, but what is it you're hoping to get or that you want the students to get at the end of the process? Then, just before we finally wrap up, I'm fascinated by your music career, so maybe take a second and tell what your other day job is.
Karl Rehn:
Oh, gosh. Okay, well, I'll try to be short on that one. Let's go back to the training program. So, everything in our world is … we spend a lot of time thinking about priority of skills. The assumption is if you only take, for example, if you only take defensive one, in four hours, we teach you how to draw from the holster and get effective hits and teach them to shoot at a speed that's realistic. So, if you get the book and you look at our minimum competency standards, really after that four-hour course, we get people up to what we consider absolute minimum competency is. We don't expect everyone that takes a single class from us is going to go through the whole 40-hour program. I had a student recently complete the program. It's taken him 15 years to get through it, right?
There are people that knock out the whole program in a year, and there are people that knock it out over a long period of time. What we do is we schedule two, three, or four of those classes over a weekend. Some people come, and they take one four-hour class, and they come back later. Some people take one four-hour class and never come back. Our retention rate is pretty good for that, but the whole idea is we prioritized all the stuff that's normally taught. You look at Gunsite 250, which is sort of the gold standard for this kind of training, and we look at all the things taught in that, or Thunder Ranch, the old five-day Thunder Ranch defensive handgun one, what's taught in that. We've prioritized all that stuff based on the likelihood of need.
For example, reloads is way down the list. Drawing from concealment is number one on the list. Getting effective hits in the three to seven-yard range, number two on the list. But, then after that, it's the decision-making stuff. If they do the whole thing, they get hours and hours, 16, 20 hours of shooting drills, plus low light shooting, plus force on force, plus the tactics stuff. We're using Brian and Shelley Hill's Image Based Decisional Drills, which is a fantastic program. If you haven't had them on your podcast, I would tell you get ahold of Brian and Shelley and get them to tell you about the IBFE program, which is genius, absolute genius for teaching decision-making under stress. They have an instructor program. That can be done as a precursor to force-on-force training by any instructor anywhere, and really one of the most exciting things that I can point out about new things that are going on that we use, and a lot of people are using it too.
But, at the end of 40 hours, they get a whole block, and it includes decision making, thinking with a gun in your hand, pepper spray, 3D targets, shoot house work, live fire shoot house work. They get the force-on-force stuff. I take the force-on-force on the road. If I can plug that, I'll be in Baton Rouge in January. FRC is hosting me. They have a two-story indoor shoot house with a car in it. We're going to run two days of scenarios there. It'll be two different one-day classes. I'm going to Culpeper, Virginia in June. I'll be at the Range Master Tactical Conference in March. I'll be at the NRA conference in April, and I offer classes every weekend at home.
Now, the people that are going to go to the KR Training website right now, they're not going to see very much, because we haven't posted our 2023 schedule yet. But, if you check back or if you subscribe to our email list or follow us on Facebook or Twitter or Instagram or any of that, when we announce classes, we post it everywhere. We've got all kinds of stuff going on. Right now, we're at the end of the year slow down. We close our range for deer season. Our neighbors tolerate a lot of shooting 10 months out of the year, and the last two months, we go quiet. So, that's my time to reorganize for the next year, work on writing a new book, work on the website, work on promotional stuff. I'll get organized for 2023, so you're catching us right in the lull period where you're not going to see a bunch of stuff. But, we've been running classes hard and heavy for the last 10 months.
Shawn Vincent:
And, where's that range, Karl?
Karl Rehn:
It's the KR Training range. It's the A zone range. We own it. It's a 100-acre facility, and it's got a classroom.
Shawn Vincent:
Yeah, where is it in the world?
Karl Rehn:
Oh, Central Texas, just outside of Austin, Texas. Our last class of the year is Steve Moses and Palisades training coming down to do the church security instructor class for us. We've got a sold out class with 20 students in it, and a lot of excited people ready, ready for that, including me. I'm looking forward to taking that class quite a bit. With regards to the music, I've been playing music in bars since I was about … oh, gosh, 1983. That's a long time, almost 40, 50 years. 40 years? I don't know. I've lost count, 40 years. Last year, I played 180 performances as a musician, various events, everything from Cowboy Church to the YO Ranch and the Houston Rodeo. I played with a bunch of different bands. That's just an ongoing thing.
If you go to Karl Rehn Music on YouTube, I've got tons of videos, and I've got albums out on Amazon e-music and iTunes and all that stuff. That's just an ongoing thing. After I retired from 30 years of working for the State of Texas doing various research and instructional tasks, I went from doing military R&D to teaching homeland security classes over my career with the state. Now, I'm retired from that. Yeah, all I do is play music for people and teach people about shooting and self-defense. Now, I'm doing more church security assessments and expert witness work and trying to finish another book. So, there's always something going on.
Don West:
Your day must be longer than 24 hours. I don't know how all you fit that in, but good for you, good for you.
Karl Rehn:
Staff of assistant instructors that help me do a lot of things.
Shawn Vincent:
I'm sorry. I'm sorry, Karl, you're overqualified to be on our podcast.
Karl Rehn:
Oh, no.
Shawn Vincent:
All right, everybody. That's the podcast for today. Thanks for listening through to the end. I'm working with Don and Steve on a little something. We're going to be covering the fundamentals of home defense. Until then, be smart. Stay safe. Take care.