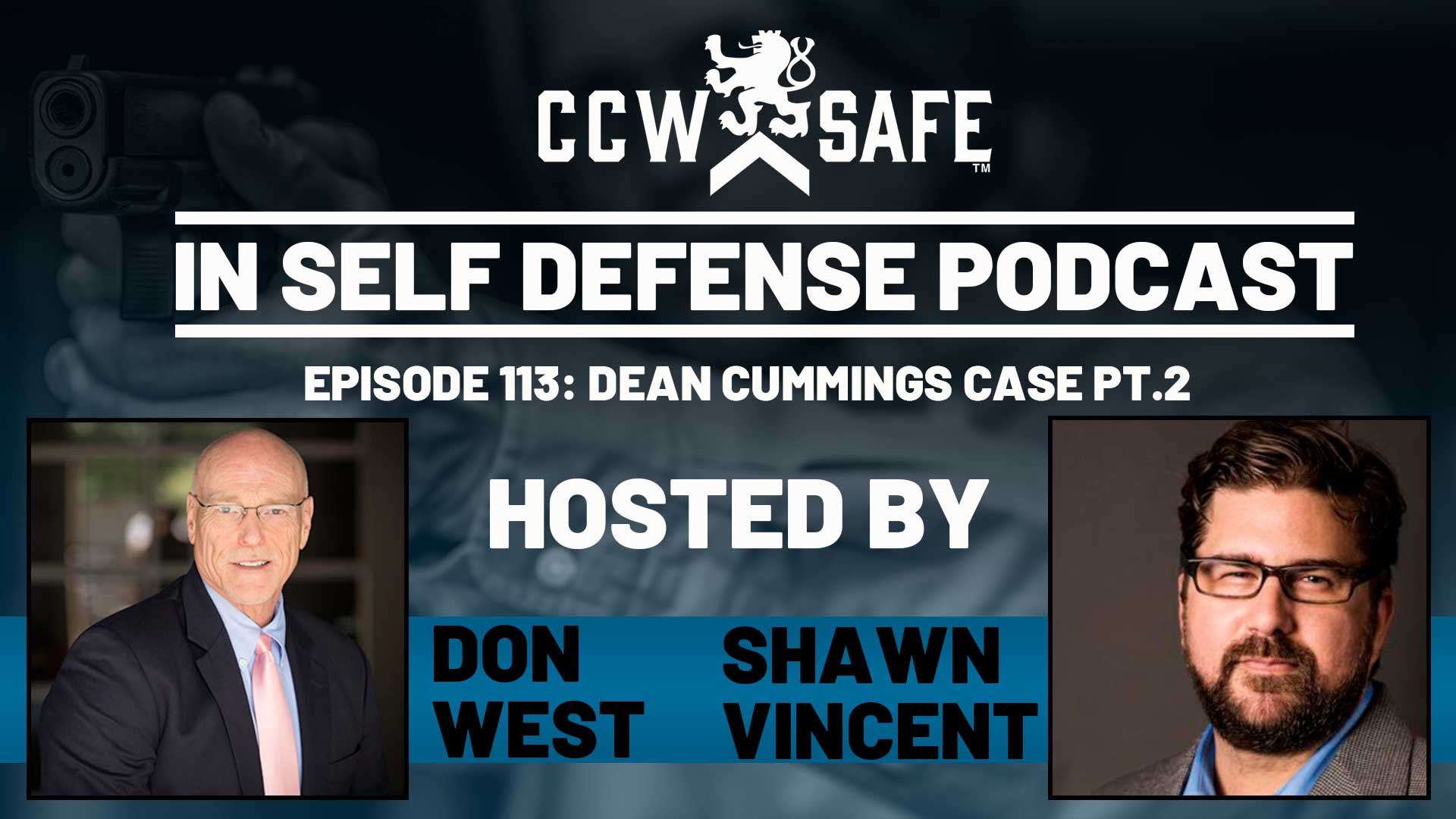 Posted on March 30, 2023 by Justin Collett in In Self Defense
In Self-Defense Podcast 113: The Dean Cummings Case Pt.2
Don West, Steve Moses, and Shawn Vincent talk about the power of the defendant's testimony in the Dean Cummings case, along with issues associated with the poor police investigations, and critical errors made by the prosecutor during trial. 
Transcript:
Hey, everybody. I'm Shawn Vincent. Thanks for listening in to the podcast today as part two of our conversation about the Dean Cummings' case. If you have the opportunity and you didn't listen to it, stop right now, go back, listen to the last podcast. This podcast will make more sense if you do, but if you can't do that, you don't want to do that, here's what you need to know. Dean Cummings shot Guillermo Arriola on his property in remote New Mexico back in February of 2020. Dean was interested in buying the property from Guillermo Arriola. Guillermo Arriola allowed Dean Cummings to park his fifth wheel on the property for $300 rent a month so he could explore it, decide if it was really something he wanted to buy. He decided that he did. The two men had become friendly during that time, but once there was a contract on the property, things started to get a little bit more contentious.
Dean had been allowed to use Guillermo's manufactured home that was out there on the property. He was out there one day when he didn't expect Guillermo to be there. He was scoping in his rifle so he could hunt for barbary sheep out there on the property. He left the rifle leaning against the wall, went back to his fifth wheel, surprised to see Guillermo come when he wasn't expected. Guillermo started unloading groceries in his home. Dean went over there to talk to him. The conversation turned to some of the problems that they're having with the contract.
Dean accused Guillermo of being a scammer and according to Dean's testimony, that made Guillermo outrageously angry. He started attacking him. He had a canister in his hand, some mace, some pepper spray. At some point in this melee, Dean was sprayed with it. He fell to the ground. He tried to get away, scooting down the hallway. He went past his rifle. He grabbed his rifle and he got pushed down a total of three times. Guillermo was trying to strike him with the canister that was in his hand. He tried to get his hands on the rifle and take it from Dean. That's when Dean decided he needed to put up or shut up. He said, "If he gets this rifle, I'm dead." And so he was able to get control of it, fired a number of rounds, 11 rounds total. Two of them struck Guillermo fatally.
What happens next is a little unusual. Cummings believes he's been hit with this pepper spray. He calls it a chemical agent. His eyes are burning. He's having trouble breathing. It's on his skin. The skin is burning. He's convinced and sure that Arriola is deceased. He takes his time. Dean uses water to rinse his eyes. It doesn't work. It makes it sting more. He gets soap. He cleans that off. He cleans off his skin. He takes off his clothes. He rinses that. He puts it in the back of his pickup truck. He gets control of his breath, and that all takes some time.
Eventually, he knows he needs to contact the authorities. Out on the property, they don't have cell reception. There's this peak about four miles from this remote New Mexico property where they know they can get a cell signal. A motorcyclist passed. Dean tries to get his attention. He fails. He gets out on the road. He ends up connecting with this cyclist at that peak. He says, "I can't get a cell signal. Here's what happened. I've shot a guy in self-defense. Can you call it in?" That guy calls 9-1-1. There are a few emergency phone calls. When Dean is able to get bars on his phone, he calls in his own 9-1-1 call. They're remote. He asks this witness if could he come back to the property to be a witness for him to see the site. He does. He sees this dead guy. He leaves. Dean waits hours, it seems, for police to arrive.
When he finally is concerned that they're not coming or that there's been a miscommunication, he decides he's going to go back out to that peak, call them back where he can get reception. A quarter mile away from the property, he encounters law enforcement and he turns off his truck. He listens to their commands. He turns himself in. He submits to their authority is what I mean to say. He declares self-defense. He says that he feels devastated. He points out evidence that he thinks is critical to his self-defense claim. He cooperates in every way, but he is arrested nonetheless.
A grand jury charges him, indicts him for second-degree murder. It sets up a long prosecution, over two years. There are mental health issues that come up, and there were questions about whether Dean was competent at one point to stand trial. We talked about that in the last episode. It doesn't come up much today.
So today, I'm joined by Steve Moses. He's a CCW Safe contributor. He's a well-respected firearms instructor. Of course, Don West, who is National Trial Counsel for CCW Safe and, in my opinion, a legendary criminal defense attorney with huge experience in self-defense cases. We're going to talk about this case — some of the issues we didn't get to in part one. Keep your ears open. We're going to talk about a big thing in this case, maybe never would've happened, if Dean had properly stored and handled his rifle in the first place.
Here's a real important thing: Dean Cummings ended up being a fantastic witness for himself when he took the stand in this case, and his testimony fit the physical evidence and was a huge part of why he was acquitted in this case. The prosecutor struggled to cross-examine him and there were motions for mistrial, which is a fascinating quirk, part of the legal drama of this that Don and I nerd out about a lot. And then there's something that happened. All those behaviors that I explained post-incident, the defense attorney in this case, Nicole Moss, argued were the things that an innocent man would do, not a guilty man. And we talk a lot about "consciousness of guilt" and how that can affect a defender's self-defense claim. In this case, we have "consciousness of innocence," I think. We'll talk to Steve a little bit more about safe gun handling when it comes to rifles and self-defense scenarios.
Let's get to it. Thanks for listening in. Here's my conversation with Steve Moses and Don West about the Dean Cummings case.
Shawn Vincent: 
I want to ask you, Steve. Cummings essentially admits on the stand that he made a mistake by leaving his rifle leaning against the wall. He just did not expect Arriola to come home at that time. It was unexpected. He usually wasn't there at that time of the day. So he thought it was fine there. When he was back in his trailer, he had left his rifle in Arriola's house. He comes home. He started unloading groceries. He's like, "Oh, the rifle is over there. I'm not comfortable with it there." And it happened to be there when the fight broke out and it became part of the fight.
There might not be a whole lot to say on that other than I think all those other people, Don, who testified that they had an encounter with Arriola with pepper spray survived the encounter and so did Guillermo Arriola. In this case, there happened to be a rifle with a 30-round magazine laying nearby, and now it became a deadly encounter because the rifle was there, arguably because it had not been properly cared for when it wasn't in its intended use.
Don West:
It's interesting that there were some indications in the trial testimony that there was nothing that Cummings could have done to stop Arriola's attack. Even if the attack was basically with his hands or the canister or the spray because of the way when Cummings was challenged on cross-examination by the prosecutor about the gun being loaded, Cummings responded by saying, "When he knocked me into the hallway as I retreated towards the bathroom, I racked the gun." So we've got a guy with an AR-15. With, like you say, a 30-round magazine, who racks the gun within feet of the guy that's attacking him, and that still doesn't deter him. That tells the person being attacked a whole lot about the person that's attacking, whether they've lost their mind, whether they are overcome by rage or stupidity. But nonetheless, that makes it pretty clear in my mind that this guy isn't going to stop because he's afraid of getting shot. Do you think so, Steve?
Steve Moses:
I believe so. Again, Cummings said, "I was knocked down." I suspect a big part of it was not that so much he was knocked down, that he stumbled is what I think when he was going backwards. I don't think that he anticipated using that AR-15 for anything because, as I understood, it had two scope covers that went over the ends of the scope, the objectives of the scope that he had actually attached with electrical tape because they didn't fit properly. And so I suspect that he saw that rifle. He was in fear of being sprayed. He went ahead, grabbed the rifle. And again, I have no idea what Guillermo is doing at this time.
It almost appears to me that Guillermo is not continuing … He's not progressing with a continual assault where he's constantly applying forward pressure to Cummings. Maybe spray, stop, move some more. It just seemed to me like there were these little small breaks in the action in which the distance between the two parties must have increased cause otherwise, I cannot imagine that he would have given Cummings the chance to pick up that rifle and rack it if he was basically just right on top of it.
Don West:
I have a question for you about that. I'm not particularly familiar with the firearm that is at issue, but I'm wondering, is that a firearm where you could put a full magazine plus one? Could you have a round in the chamber plus 30 in the magazine so effectively, having 31 bullets?
Steve Moses:
It's doable, but most people do not do that unless they're anticipating shooting it immediately. It's far safer to go ahead and just store the gun. Ideally, it shouldn't even have a magazine in it if you don't have control of it. But I guess maybe the next best thing would be to have the magazine in there and leave the chamber empty.
Don West:
Yeah, I think that's what he says he did. What came to my mind was we don't know because I didn't hear any evidence, if I missed it, I'm sorry, but this is a comment on the inadequacy or the sloppiness of the police investigation. That was the thing they wouldn't have figured out as far as I can tell. They know how many shots were fired because they have the casings and they have the magazine, but even that got confused at trial because they brought in two magazines. One didn't even fit the gun. And I'm getting the impression that if the state could have proven that he had the capacity to fire 31 shots because the magazine was full and there was one in the chamber, that would have contradicted his own testimony that he racked the gun when he stumbled backward and go a lot more toward their theory that he was planning or preparing in some way to kill Arriola at some point.
That's the point of the evidence here, is when you have contradictory testimony or incomplete testimony, you have to turn to the physical evidence to try to get those answers. And because the physical evidence was either untested or contaminated or just wasn't even properly collected for further analysis, you can't go to those sources and prove whether someone's story is plausible or credible or simply made up and without the ability for the prosecutor to do that. And clearly, they were incapable of doing that with the physical evidence because of the way the evidence was handled — that it wasn't tested properly or even tested at all. You get to the point where it's just two people arguing with each other. You did. No, I didn't. Yes, you did. No, I didn't kind of stuff. And the prosecutor can't win that fight.
They have to prove beyond a reasonable doubt that Mr. Cummings did not act in self-defense. Even though they tried desperately during the trial to suggest to the jury all they had to find was Mr. Cummings somehow was acting unreasonably. That's not the test. That's not the test at all. On second-degree murder, they just have to find basically that he killed somebody without it being justifiable or excusable, meaning not in self-defense or not accidental, and that's about it, frankly.
If for manslaughter, they have to prove that he killed somebody, not excusable or not justifiable, but under what New Mexico calls sufficient provocation, so a second-degree murder becomes manslaughter if it's sufficiently provoked, which is what we often hear as heat-of-the-moment, sudden attack, heat-of-passion kind of stuff that will mitigate from second-degree to manslaughter. But otherwise, unless they had some pretty compelling evidence that it wasn't self-defense, they were stuck with his story, and they should have known that right from the beginning. That was no secret. Even though the state complained that he didn't claim self-defense, it's evident that he did. And I would think that in those situations, all the resources and effort would be you try to collect evidence that supports or refutes self-defense because that becomes the whole issue of the case. It's no longer a "whodunit." It's just a question of what were the circumstances.
Shawn Vincent:
Well, and Don, to that point, the defense attorney, when she stood up to begin her 42 minutes of closing arguments, reminded the jury what you just said that the state's job is to prove beyond a reasonable doubt that it was not self-defense. Right? So there's that logical twist there that I think a lot of prosecutors who don't deal with self-defense cases struggle with.
And in this particular case, Dean Cummings' story of what happened did not significantly go against any of the credible physical evidence that we had. So essentially, he had a story that he told relatively the same at the beginning on the stand and was reinforced in his cross-examination. It never really changed, and none of his details in any credible way disputed the evidence that we had, so he's got a real solid story. The prosecutors would have to have their own story that fit the same evidence to even try to break that, and they never really had a logical narrative of what happened beyond this random notion that he set this whole thing up as an excuse to murder him, which didn't seem to make sense.
Don West:
Yeah. There was never a prosecution theory that, like you say, that was consistent with the evidence either from the beginning or even there at the end. I suppose they hoped that it would reveal itself during his cross-examination. That's the only opportunity where what they didn't know about his mental state or his behavior or his thinking or his reasoning could come out, but that would require a much more effective cross-examination, a much more compelling presentation to … If you think about it, guys, the prosecutor was stuck with a very challenging job of trying to break him. If you think about that, it had to be a Perry Mason moment, didn't it, in some ways?
Shawn Vincent:
Well, I was thinking she was looking for the, "did you order the Code Red?" to get him rattled and say, "You're goddamn right I did," but he wouldn't take any of her bait. You could see her just melting down that nothing she tried would work and if she got anywhere close, the defense would object and throw her off her game.
Don West:
Yeah. And I think that also was compounded, the ineffectiveness of that in terms of its impact, was compounded just because of some of the procedural stuff and some of the missteps that were made early in the prosecution's cross-examination that probably turned the judge against her. And the judge, although was very calm and collected and clearly impartial, nonetheless was always calling them to the bench to address evidentiary issues. And there were at least two incidents during cross-examination, which were a solid basis for a mistrial; one, which was almost automatic, and the other, which should be taken seriously. And that's how it started off.
So the prosecutor was knocked on her heels right at the beginning when she made … misspoke. I don't think it was necessarily designed for the way it came out, but nonetheless, when she made the comment early in the cross-examination when one of her questions was objected to about some personal background on Mr. Cummings, she made the comment in open court, "Well, the state didn't have the chance to interview Mr. Cummings." Well, that's a clear no-no legally. That's a comment on the defendant's constitutional right to remain silent. Just like a police officer can't say, "I asked him questions but he wouldn't answer me." And because she started off that way, there was a big flurry of activity. The jury was sent out. There was an admonishment of sorts. And I think any lawyer would've been thrown off their game had they had to deal with that early on. And then …
Shawn Vincent:
Because there was a call for a mistrial immediately.
Don West:
Yes.
Shawn Vincent:
The defense said, "I want a mistrial." And if your most important cross-examination in the whole case starts out with you giving the other side a reason, a viable reason to call a mistrial, that shakes your nerves, doesn't it?
Don West:
I'll suggest to you an experience that I had where I had a comment on the right to remain silent by a police officer in a case I was trying at one time. And the judge heard it, and made it pretty clear that it was inappropriate, but denied the motion for mistrial just as this judge denied the motion for a mistrial. We went on to try the case. Cummings was obviously acquitted, but my client was convicted at the end of this case. And the judge, I think, was probably waiting for the verdict because, after the verdict, he said, "I've reconsidered my ruling on the motion for mistrial based upon that improper comment, and I'm going to grant it." So I think he was trying to get off the hook if the guy was acquitted, but I swear then we tried the case again and he was acquitted. So whether that was the key thing …
Shawn Vincent:
It could have made a difference. You never know, but it …
Don West:
Yeah, it could have. But I think if I were the defense lawyers, I would think I had a new trial in my back pocket at that point, especially in a close case with some of this contentious evidence. They didn't have a whole lot to lose at that point. I think they had one in the bank. But the other problem that she faced pretty quickly in the cross-examination was …
Shawn Vincent:
The prosecutor did, right.
Don West:
The prosecutor, when she was questioning Mr. Cummings about the call he made with the reporter and they were talking about the content of that, and Cummings said, "I can't remember," or wasn't particularly responsive to one of her questions, and she wanted to impeach him with the recording. And she said, "Would you like to listen to the jail call?" So by that question, she just told the jury and the world that he had been and still was in jail effectively. You can't do that either. You can't tell the jury that someone is in jail because that means they can't get bond or maybe they've got other charges or who knows what and how that could be interpreted. So that was a big misstep as well. I don't know that it …
Shawn Vincent:
I loved his response to that question too. He's like, "Not particularly."
Don West:
Yeah. He was a cool cucumber without being snarky or condescending. He was sincere in his response, but he wasn't letting her push him around either. That's high marks for his … and that's a credit to the lawyers for preparing him. It's a credit to himself for not getting flustered. And of course, as he alluded to it, he had the last two and a half years to think about stuff, so he had gone over this a few times in his mind.
Shawn Vincent:
You know what I'd like to talk about now? The defense lawyer in her closing arguments said that everything Dean Cummings did after the shooting were the actions of an innocent man. We've talked on this podcast before about "consciousness of guilt evidence." Defenders who didn't call 9-1-1 right away. They ran. They hid the weapon. They did things that make them look like they didn't act in self-defense. Often, when we think pretty clearly they did, but they realize that there's a homicide and that they're in trouble.
Dean Cummings knew. He actually told the witness that he found, McCulloch, he said, "I'm in a bit of trouble here." He knew this was going to be rough. He knew there was going to be an encounter with police. He wanted it to be safe. He knew he wanted to contact authorities as soon as he could. If he had in fact been pepper sprayed, he tried to get control of his breathing and the effects of that, but then he left the property, encountered a witness, told the witness what had happened, asked them to call 9-1-1. And then as soon as he had bars on his phones, he made his own call. There were a total of four calls I think that the witness made. And then he said, "I want you to come back with me and see the scene. I want you to see what happened so that someone else can say what happened."
And then he made his weapon safe for law enforcement when they came. He didn't want to get shot. And then when he did meet with them, he turned his diesel truck off so he could hear their commands. He followed all their commands. He was taken safely into custody. And then he showed them the key piece of evidence that he thought was important to reinforce his self-defense claim. He made his self-defense claim right away. "It was self-defense. It was self-defense."He expressed his regret that the tragedy happened, even though the officers tried to say he didn't. They have audio of him saying that he was devastated.
And then in cross-examination, the prosecutor tried to pin him like, "Well, you didn't say it was Mace," or things that he didn't say. He actually tells her, "Well, I didn't want to make too many statements without a lawyer." In a lot of ways, his behavior is as we would prescribe a defender to behave under certain circumstances post-incident, at least as they were told to us. Do you agree with that? His behavior afterward was pretty … It certainly was the actions of someone who seemed innocent.
Don West:
I think so. When you identify each individual step, what he did, what his objective was in doing it. I think where the prosecutor was taking exception was how long all of that took. Sure, he went to call 9-1-1. He did call 9-1-1. He apparently expressed the appropriate emotion, although limited, when he spoke with law enforcement and that thing. But it was probably 45 minutes before he left the trailer. Another 45 minutes or so, as I think he described it, as he was talking with this witness, David McCulloch, the motorcycle guy, before he essentially told him what had happened and asked McCulloch to make the call to 9-1-1 because he had service. His explanation for that was he didn't know if McCulloch was friends with Arriola, so he needed to check him out and know whether he could trust him before he told him that stuff.
There's some question about how long that whole sequence took from beginning to end. Even though he may have taken many of the steps that we would suggest anybody should take, what was his thinking? Why would it take so long? He had plenty of time to do anything that he wanted to do, whether it was stage the scene or to orchestrate his story or any of that stuff. There was plenty of time on the clock. But at the same time, when you look at it piece by piece, he did all the right stuff.
I've been thinking about that. And the one thing that stands out to me that I think might help explain a lot of that from his thinking, and that might very well be whether he absolutely believed that Guillermo Arriola was dead, that the wounds were immediately fatal and that there was nothing at all that could be done to help him, that he was absolutely gone. And if there was somebody half a mile away, it was still too late. Well, if that was his thinking, then there really wasn't as much of a hurry to do these things as the prosecutor or even we might think there would be. There was no reason to get help medically. And now the next part of it was notifying the police and making clear what had happened.
In the sequence, it was comfortable for him too, being a stranger in a strange land. You know that book, of course. He's not from around there, at least not in recent years. He doesn't really know anybody. He just shot and killed a guy that's apparently, except for the drugs, alcohol, and Mace, otherwise a pretty upstanding member of society. I can see how he would be a little confused. And we also know that he may have had some other mental health issues on board that might affect his linear decision-making.
I heard the defense lawyers say that stuff. I agree in principle, and I think that maybe if he absolutely knew there was no medical attention that could be helpful, it doesn't seem quite as odd that things happened as slowly as they did. I don't know if that makes sense to you guys. That's the only thing I can come up with.
Shawn Vincent:
And when she pushed him on the time between when the shooting happened according to his recollection and when he finally met up with David McCulloch, he said, "Well, you know what? It must have happened later. I didn't have a watch on, so I must have been wrong." So the timeline even shifts. The responding officers didn't even know how long they were out there or even when the sun set, and there was a lot of space. The timeline is a little hard to pin down. He gets some benefit there.
Don West:
That whole idea of law enforcement, the officer on the stand who could not testify even close when the sun sets in February and missed it by several hours. So when you put that kind of shadow on one officer whose testimony would be critical and then you have other officers not following through on obvious tasks that would be done from a forensic standpoint, the whole prosecution case is clouded. So none of the accusations they make in challenging what Dean Cummings may have said or even done at certain points has any rebuttal because the investigation wasn't done effectively. There was nothing they could do to respond to his statements unless he did himself in, and we know that he didn't.
Shawn Vincent:
Steve, I always like to take any example or any opportunity in these cases that we explore to talk about proper gun safety and proper gun handling. You've told us over and over again the four foundations of safe gun handling. And there was this insane incident during the cross-examination of Cummings, during the trial where the prosecutor takes this rifle that was out of evidence and wants … She's going to play Arriola. She wants him to reenact the shooting with the actual rifle that he had used. He's uncomfortable with it. At some point, they asked the bailiff to make sure it's clear that there's no bullets in there, and then they shut the whole thing down before they get too far into it. Even the judge is like, "Wait a minute. This is a terrible idea." Would you take a minute and explain how many of the four fundamental rules of proper safe gun handling were violated during that insane exhibition in the courtroom?
Steve Moses:
Well, let's start with number one. Treat all guns as if they were loaded. Number two, never point the muzzle at anything you're not willing to shoot and destroy.
Don West :
Just ignore my laughing in the background.
Steve Moses:
Keep your finger off …
Shawn Vincent:
Maybe he wanted to shoot and destroy the prosecutor in this case but shouldn't.
Steve Moses:
Keep your finger off the trigger until your sites are aligned with the target with the intent to shoot. And number four, which is my favorite, be sure of what lies around and behind your target. And I think that she did a stellar job of hitting all four.
Shawn Vincent:
So when the judge is on the other side of the prosecutor, he's like, "Whoa. Wait a minute. Maybe this is not a great way to do this." I think that demonstrates how few people understand firearms and understand how they work and understand how to behave with them. The prosecutor who's, I'm going to guess, prosecuted a firearm-related homicide before in her career would do this. And there's a lot of ignorance about firearms involved, even in people involved in these homicide cases. We come to it now with a lot of understanding of how self-defense works, Steve, both tactically and practically in your life, and Don, both from a criminal defense perspective, but I'm willing to say that if you put the three of us in any courtroom where there's a self-defense trial going on, we probably know more than everyone else in the courtroom, including the judge and the lawyers, unless they're of a particular caliber with a certain experience. Would you disagree?
Steve Moses:
Oh, I completely agree. One of the things that really struck home with me from the perspective of being a concealed carrier is watching the prosecutor's closing argument and the lengths that she would go to in order to basically cause this man to be convicted of a second-degree felony. Some of the things that she said made no sense to me whatsoever. Many of it would've probably been believed by the jury had there not been a competent defense attorney to refute that. And it really drives home to me why having coverage with a company like CCW Safe is so critical for concealed carriers because now you can see what that prosecutor … how they may build a case and direct it. And if you don't have the proper people in place that have experience and the ability to handle some of the things that she said, I think you could very well find yourself convicted of a crime and perhaps spending many, many years and perhaps the rest of your life in prison.
Shawn Vincent:
Don, something got prejudiced in the system right off the bat that they were convinced this was a murder and they were just going to prosecute him no matter what, no matter how bad their evidence was, no matter how bad the investigation was. I think they just were hell-bent on it. They were going to see it through one way or the other. But by the time you get done with this trial, I found myself in a little bit of disbelief that they would've gone through all of that, considering the evidence that they actually had. To Steve's point, they just latched onto it and went for it.
Here's the deal. We know that this guy was in jail for almost two years while this was going on. They're not going to apologize for that, are they, now that he's out? He has no real recourse. They're not going to give him money. They're not going to make up for his lost income and the loss of life he had over those two years. They're gone.
Don West:
Absolutely gone, as if his life is two and a half years shorter now, but I suspect it's considerably shorter than that as a result of what he's gone through the last two and a half years. That's a hard two and a half years. Every day waking up not knowing whether at the end of this process, you're going to get to go home or you're going to spend the rest of your life in prison. And Steve's point is well taken. Whether it was politically driven, I don't know whether there was some aspect to that. It could have just been Arriola was our guy. He was our local guy. He was our resident. And this is somebody from out of town who shot and killed one of our upstanding citizens and we're not going to let him get away with it.
And once they bring it into the courtroom, of course, we all know that before it gets into the courtroom, the prosecutor is completely in charge. They're handling the grand jury. They're marshaling the evidence. They're putting the probable cause affidavit together. They're objecting to bond. There are some things the defense lawyer can do — but not very much in the scheme of things.
The best thing the defense lawyer can do, and that is to zealously defend the case and hope for an acquittal, doesn't happen until the end of that process. He was stuck there for two and a half years. Of course, some of it had to deal with his own mental health issues and other, no doubt, delays related just to the trial of a high-profile case. But he doesn't get that time back. That's for sure. He doesn't have a job. He has limited access to friends. Maybe his access to reporters should have been even more limited, but nonetheless, he's living in a bubble. That's a hard way to spend your time pretrial.
I do not have insight as to why he didn't have bond. I would've thought he would've had bond. But on a very serious crime, typically first-degree and sometimes second-degree murder, it's within the discretion of the court. There are plenty of people who either don't get bond because the offense is serious and they don't have sufficient ties to the community or there could be a high bond set without sufficient resources. I wouldn't have thought that was his case, but I don't know, except I do know that he spent about two and a half years before he got to go home.
Shawn Vincent:
So one of the things, we're always looking for lessons for concealed carriers, this case is crazy. I think a lot of people listening to this will say, "Well, I'm not going to be out in the middle of the desert with a guy who's drunk with cocaine and get in a fight with a rifle. That doesn't seem to apply to my home defense concern or my personal defense concern for the city that I live in." But Don, you and I have talked about this a lot that we can go back through and there's usually a decision that the armed defender made before the use of deadly force that would've changed the scenario. Steve, you talk a lot about having situational awareness and deselecting yourself as a target, and living your life in a way that you're going to avoid unnecessary conflicts that are going to lead to potentially the use of deadly force.
So in this case, I think that he acknowledged that he shouldn't have left that rifle with a full magazine just lying around. If that rifle had been properly stored in his trailer maybe with a magazine not in it, not in a place where it was accessible like that, then it doesn't come into this in that there's probably never an imminent fear of death or great bodily harm that results from this little fray that they get into. Do you think I'm wrong there, Steve?
Steve Moses:
No. If you have an issue with someone, going to them and then calling them a scammer is almost never a good idea. We just talk about it. I know that people think that I should be able … We have free speech. I should be able to tell people what I think, and that I should be able to do that without fear of any consequences. We don't control how other people think and feel and will react. And so he certainly could have handled the whole thing where there was some contract issue in a different manner, and certainly not going over there and getting into what appeared to be a heated argument. That's especially true for people that have concealed handguns and where they say, "Yeah, I knew I needed to confront my neighbor and I took my gun because I just didn't think it would be safe." Well, if you think it's not safe there without a gun, you're not safe with a gun.
I think this is just one of those things where probably the location of the gun maybe pretty much contributed to what took place. Had that gun not been there, it probably would have been a completely different thing. Of course, we don't know that, but you can certainly understand that if you've got this guy here who thinks he's being sprayed, he's fearful of this other guy, apparently he's got some paranoia going on, it's not unreasonable that if he's found himself in that situation and he saw that gun, he may have thought that gun was the only way he could have solved that situation. And he may very well have thought that Guillermo would've instantly backed down. But as we saw in the Rittenhouse trial, the fact that someone has a rifle in their hands does not mean necessarily that they're not going to be attacked.
Don West:
Since we're talking about the gun and avoidance and the absence of the gun may very well have prevented a fight for the gun, and it's clear to me that it was the fight for the gun that resulted in the use of the lethal force that. But for Arriola trying to get the gun, the other circumstances probably would not have justified the use of deadly force, but at least there's a better argument on that.
What about the nine shots that missed? I know Cummings said a couple of them were fired on purpose, but then it seems like there's half a dozen or more that were fired because Arriola was only hit twice. Does that tell you that Cummings was probably firing warning shots or does it tell you there was really a struggle that was causing the gun to fire wildly? Or does that in and of itself upset the credibility of the explanation that Cummings gave about how the shots came to be fired?
I'm going to assume, first of all, and correct me if I'm wrong, that the shots that hit Arriola were the last two shots, or at least the one to the head would've been the last shot because that would've been incapacitating. The one to the chest would've taken a while, but I'm going to assume that all but those two shots were probably misses. What do you think?
Steve Moses:
I think so. I tried to pay careful attention to see where the bullet strikes were. I would've liked to have seen what the exterior of that trailer or mobile home looked like in terms of where those exits were. It looked to me like there were several hits on that floor that were almost splashes, which indicated that they were shot at an extremely low angle that is not downward but maybe almost horizontally. I have no idea where those shots went. I suspect that they were all fired maybe from the same position or largely from the same position simply because much of that brass ended up over next to the wall in an area where Guillermo expired. Matter of fact, it's literally almost in a big blood pile. And so firing those guns, the gun probably was nearly horizontal. I'm just again speculating.
The rounds would come out, perhaps hit the wall, come back, hit Guillermo's body. And that's why we ended up with such a weird brass pile that's all in a small compressed area against that wall. If I could answer that question, but without more information, I'm just unsure.
Shawn Vincent:
Well, here's why you can't answer that question, Steve, is because the state didn't do a forensic reconstruction of the shooting. The defense hired their own expert that had limited access to the evidence well after the fact. Nobody went out to do a reconstruction of that scene and tried to answer those questions. And that was part of the defense that it was incomplete and a bad investigation. We know we can't answer those questions.
Don West:
And if you can't answer the questions, the state can't prove its case, in my view, in a situation like this.
I would like to second Steve's comments though about the value of CCW Safe or a like company in a situation like this. We know this case took two and a half years. Had Dean Cummings been a CCW Safe member, his lawyers would've been paid in full. The expert witnesses would've been paid. Investigators would have been paid. Had he had bail up to the coverage limits of his plan, the bail bond premiums would have been paid. And what I'm guessing, just looking at the resources, the amount of time, the lawyering, and the evidence preparation by the defense, we're talking several hundred thousand dollars when you add it all up. And it's worth every penny, frankly. Look, Dean Cummings now has the rest of his life back. The money isn't the important thing, but if you don't have it, it gets pretty important.
And especially as Steve points out, you can't control the prosecution. Dean Cummings had no say in whether he was prosecuted at all and no control over pretty much how long that prosecution took. And then fortunately to his benefit, ultimately, it wasn't particularly effective. So I second Steve's comments about there are situations where having a legal expenses plan like CCW Safe is that catastrophic coverage that you need if you're faced with one of these catastrophic events in your life.
Shawn Vincent:
After we recorded this podcast, I had a nice email exchange with Dean Cummings' lawyer, Nicole Moss, and she gave us a little insight into the pretrial work that she did and some of the things that really made a big difference in the case. So Don and I got back together to talk a little bit about some of those insights that she gave us. Here's me and Don West talking about some of the legal minutiae that we think is interesting that contributed to the acquittal.
I mentioned to Nicole Moss, who was Dean Cummings' lawyer, that we felt like a lot of her pretrial work, a lot of the work in this case, most of the important work in this case, was done before trial, which is often the case. And the folks who casually watch trials don't necessarily know how much work goes in before you get to picking a jury and opening arguments. I'm pulling up my email here. She agreed that most of that important work was done beforehand. And she says specifically the critical work was their investigation of the decedent, Guillermo Arriola. They tracked down numerous people who had been victimized by Mr. Arriola, particularly with the Mace, people who had been Maced by him, and they were able to have a few of them testify at trial.
So that means, Don, that they hired, I'm going to assume an investigator, who I can imagine in my mind was out driving around in the desert, interviewing people where they lived on these remote properties, finding who knew him, who had an interaction with him and started getting stories of people who had had confrontations with him until they found someone who had been Maced and was willing to come testify at trial about that. That's a huge day if you're the defense attorney in this case, right?
Don West:
That's the big day. Yeah, that's the home run that you hope for in a case that might otherwise be a lot closer — a lot more difficult for a jury to resolve. Now I'm just thinking, as you talk about it, what that experience must have been of course for the lawyer getting that news but also, how about for the investigator? That's pretty cool to do good old-fashioned investigative work. It could have involved sitting at the diner in whatever town was nearby, just getting a hint from somebody or a clue or hearing a story. They even wind up developing evidence that in addition to Mr. Arriola using his pepper spray or Mace against several people, he committed what I think would be the unforgivable offense of spraying the dog. Dogs and children, as soon as you offend that …
Shawn Vincent:
Yeah. Or anyway, you'd say, hey … He mentioned one time that he had attacked somebody's car with a hammer. Do you know this? Oh yeah, I know who that is. I can introduce you. When you have that moment. And if I was going to make a TV dramatization of this, I'd like to imagine … we know that in this case, there wasn't cell reception out at the property where the shooting happened, and so Cummings had to drive some four miles away to this peak where they knew they could get cell reception. They used to go out there to make their phone calls. So I'd like to imagine that this investigator had to drive … He's got this great news. He knows he just made the case up to this peak and stand on top of his truck to get three bars and try to …
Don West:
It's fascinating too how that played out and they got that information and it was ultimately communicated. That would have been through the efforts of the defense team that hired the private investigator to do that. Interestingly, I think that had the state, had the prosecution uncovered that evidence, they would've been required to disclose it under some prevailing constitutional provisions, the idea of Brady v. Maryland, exculpatory things, information that's developed. We have no reason to think that's what happened. We think the defense team discovered it through their own effort and hard work, not that they were given that information by the prosecutor. And I think in New Mexico, unlike just a handful of states, there's no discovery depositions in criminal cases. So that's just good hard work, peeling off the layers and chasing down leads and coming up with that notion that you get a string that you pull on and then you just keep developing and developing until you either strike out or you hit the home run.
Shawn Vincent:
And sometimes, we talked in the main part of the podcast about how the state or even the law enforcement agency investigating this seemed prejudiced against Cummings from the outset. I think they went into this investigation thinking this guy murdered him. And the defense attorney suggests during her closing arguments, because it's this other expert that they hired that recreated the fight with the rifle at the end.
Don West:
That's right.
Shawn Vincent:
And it turns out the law enforcement and the prosecutors never hired their own expert to forensically recreate, ballistically, how the shooting went, so they didn't have that evidence. So the defense team found an expert, hired them, and she says in her email that their expert, Aaron Rundell, that they hired proved invaluable to defense because he went and he was able to explain why these two cartridges is expelled this way instead of where the other nine went in the opposite direction, explained why these two bullet holes on the floor would've been done in such a way and how that might indicate where things went.
The evidence that he prepared reinforced Dean Cummings's story of what happened, and the state had no evidence of their own, they had no expert of their own to refute any of that. They missed that opportunity. And she suggests in her closing arguments, the reason they didn't do it is because they knew it would be bad for their case. Maybe the reason they didn't go look for these character witnesses for Arriola is because they knew it would be bad for their case.
Don West:
I think that's a very interesting observation and certainly is true in my experience that, on both counts, that you don't want to dig in a place where you're afraid you'll find something that you don't want to find.
Shawn Vincent:
That's good for the other side. Yeah.
Don West:
Especially if you have to turn it over.
Shawn Vincent:
Of course. And what's interesting, you talk about the Brady material that it's not reciprocal, not in criminal prosecutions. The prosecutors, if they have something that could be exculpatory, they have to turn it over. As a defense attorney, if you hire an expert and you don't really like what they have to say, you're not obligated to turn that over to the prosecutors.
Don West:
Typically, that's correct. Yes. You have the right to consult with experts, and provide them information under the work product privilege for them to reach an opinion. And then you have the choice if that opinion is helpful, whether or not to call that witness. And if the opinion is not helpful, you have the right not to choose to call that person, and you usually have the right not to disclose that person and their findings to the other side.
Shawn Vincent:
All of this costs money. It costs a lot of the attorney's time and it costs the experts that they hire their time and resources. It's expensive is what I'm trying to say, and it's one of those costs that a lot of folks might not think about that can make a murder trial so expensive. It was outside experts that prove critical to Cummings' defense, and those are folks who expect to get paid and they can be expensive.
Don West:
You see that over and over again. Especially someone who doesn't have hands-on experience in the criminal justice system thinks that once you've hired the lawyer and paid the lawyer, the cost is over. And it may not even be the biggest cost of the case. Forensic experts that you're talking about ballistic experts, pathologists that fall into that area of expertise for which their opinions may be admissible because the judge performing this gate-keeping role decides they are sufficiently qualified to offer opinions in their areas of expertise. Well, it takes a lot of time and effort to put all of that together, meaning a lot of hours.
And of course, the people that have that kind of expertise, that have invested the time in their education and training and are experienced and have good reputations aren't cheap. They may cost just as much per hour and often more than the attorneys. So tens of thousands of dollars are not uncommon for experts in a case, and maybe even an individual expert could cost $5,000 or $10,000 or more depending on their role and how extensive their work is. And yet, it's absolutely critical in maybe providing that single piece of evidence that the jury needs to understand the case fully. Maybe from the defense standpoint to make it absolutely clear that there is reasonable doubt, that there is a significant question about what happened and how it happened.
And of course, in a criminal defense case, a criminal case, a self-defense case, the state has to prove the crime itself. But in addition to that, has to prove that it was not in self defense. So an expert like we're talking about here with ballistics experience, forensic crime scene reconstruction, can fill in those gaps that the jury has. And then you have the psychological power of it looking like the state either didn't do their job or trying to play hide the ball because they didn't offer the information. They didn't give the jury what they really needed to make a reliable decision. And they go to the defense. The defense puts on someone who's qualified and compelling, and who knows what saved the day because the case was pretty lousy for the state no matter what, but you can lose those cases if you don't do your job.
My hat is off. I commend the defense for being as capable, professional and thorough. The thoroughness has a lot to do with it. And back to your point, if you don't have the money, then you don't have all of the pieces of the puzzle that you need.
Shawn Vincent:
Before we wrap up, I want to brag on you a little bit, Don. When it comes to the importance of experts, we've identified that they're hugely important and can make or break a trial. But I think if you're going to be the type of attorney who is good at finding and qualifying experts, you have to have the mental capacity to become an amateur enthusiast in the subject at hand. You need to know enough about voice recognition to know what the hell your expert is talking about. You need to know enough about ballistics to know what your forensic reconstructionist is talking about. And that requires a lot of homework. I think there's a lot of great trial attorneys who are great on their feet in the courtroom, but to have an attorney who can sit down and has the capacity to ask the right questions, to spend the time to really do the homework, to understand what's going on so that you can make best use of that expert.
And an expert, they can't just be good at what they do. They also have to be good at testifying in court, and they need someone who's going to give a solid direct examination of them to get the best out of them. If the members of CCW Safe don't know this, they're lucky that you're on the team, and that's one of the things that you'll do as the player-coach in these cases, is to make sure that the experts that we need for a case are there and that they're going to have the opportunity to showcase what they've got for the benefit of our case.
Don West:
Well, that's very kind. Thank you. I think that it's important when you're touching on any area of expertise for the lawyer to fully appreciate how much they don't know. That's hard for most lawyers. Lawyers think they know everything, and if they don't, they'll fake it, but that's pretty damaging if you're putting on a case that's heavy on forensic stuff. So the first thing is knowing what you don't know and then finding someone that can help you teach at least enough to become literate in it.
So oftentimes, when you're involved in a case that needs expert testimony, there's really two areas of expertise. What I often do is hire the consulting expert. If I think there's an area where expert testimony may be helpful, I hire a consulting expert to help me understand, to the extent that I can, what the issue is, how to ask good questions, and maybe help me prepare for depositions or cross-examination. And then there's the question of, well, is there an issue that we could benefit from using our own expert in court? That is possibly the consulting expert that's helped educate me, but it may very well be a different expert that I would call a testifying expert where the person is engaged specifically to understand the case, to form opinions, and then to be able to effectively communicate that to a jury. And as you point out, the ability to communicate and to withstand aggressive cross-examination is a different skill necessarily from what it takes to understand the issue and even teach somebody about it.
Shawn Vincent:
Yeah, exactly.
Don West:
That becomes really important, sure, and expensive.
Shawn Vincent:
Expensive, complicated and hard, which is why we can talk about it endlessly apparently.
Don West:
So since we're talking about self-defense cases, we can touch upon just very briefly, there's of course the crime scene type expert. You might have a blood splatter expert, a firearms expert if the operation of the gun is at issue, a ballistics expert, maybe a tool mark identification expert, someone might be able to identify fragments or shell casings from a particular gun. From the medical side, if there's a lethal shooting, you're going to have a forensic pathologist talk about cause of death. It might be even more important to talk about trajectory of the bullet. Maybe even more important yet to talk about gunshot residue, tattooing, stippling, the sorts of things that will help make it clear how far it was from the muzzle to the person. Is it a couple of inches? Is it several feet?
All of that combines to either corroborate or refute witness testimony. And unless you've got an expert that's way out there in an untested or unsupported area of expertise, and sometimes that's what the gatekeeper, the judge, does, is they say, "No, that person isn't an expert or that's not an area for which expert testimony is admissible yet for one reason or another." And they can exclude all of that stuff. And the goal is to allow only the information that's reliable and the experts that are recognized and acknowledged in their field to be allowed to testify. But you put all that stuff together and then you have a forensic roadmap in which to compare the testimony. And that's I think how you get to the other side, especially when there are conflicting witness statements.
Shawn Vincent:
Sure. And if you really want to make it fun, you can just have the high-profile trial of the century and then be right in between the scientific standards that the court is going to use to decide whether your evidence is admissible or not. Right?
Don West:
And that's where you are when you have things like voice identification. Even these days, some of the tool mark identification, the tool mark meaning the shell fragments, for example, whether they match up and whether you can say they came from the same gun or not. All that stuff is subject to being challenged. And there's a few things that are pretty much well settled, but you'd be surprised how often whole areas of forensic expertise are discounted. We've seen that somewhat in some of the tool mark stuff, and we see it in handwriting, for example. That's not nearly what it used to be in terms of its likelihood of being admitted.
Anyway, before we get too distracted, this has been an interesting conversation for me, an interesting case, and I've really enjoyed talking with you about it, Shawn. I know your background and your expertise puts you right in the courtroom from the very beginning, even well before the case gets to the courtroom, and helping identify those issues that are important to the success of the case and how that may relate to helping identify those jurors that you think will be able to understand the issues and hopefully sympathetic to the case, frankly. We won't deny that we look for jurors that we think will be favorable to us, but we sure want to get rid of those that we think have a bias against us.
Shawn Vincent:
Yeah. And if we think we have a good case, we just want people who can be fair. In a lot of these self-defense cases when we're going to trial, we pretty much are convinced that we have a great case if we can just get somebody who will listen to it fairly and understand what's going on. We feel like we're going to give a good result. So lots of fun, Don.
Don West:
Good deal.
Shawn Vincent:
Our kind of fun, the macabre homicide fun.
All right, guys. That's the podcast for today. Thanks for listening through to the end. We're busy finding more cases to have more conversations and find more lessons for concealed carriers. Stay tuned. Until then, be smart, stay safe, take care.