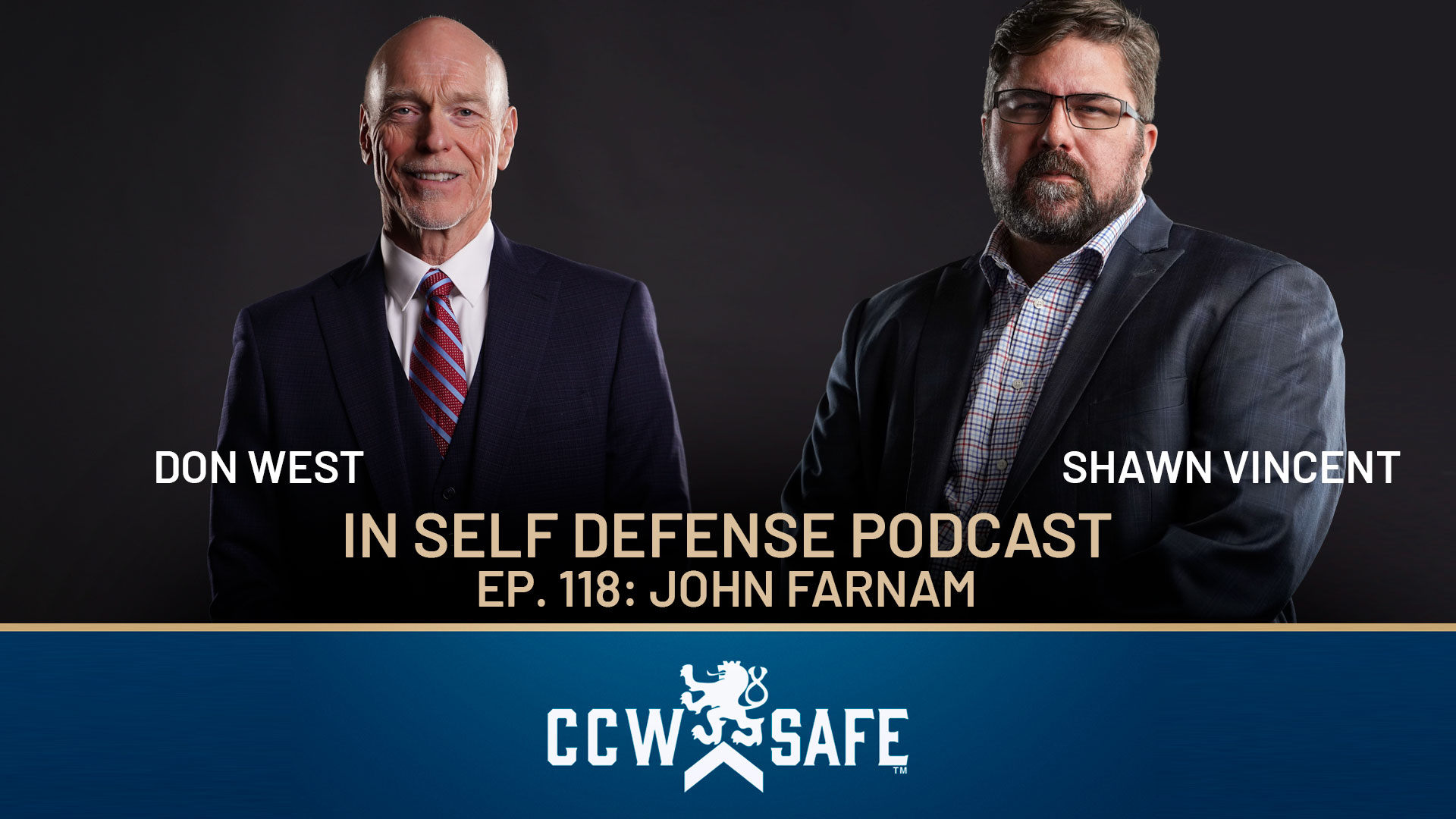 Posted on July 26, 2023 by Justin Collett in Uncategorized
In Self Defense Podcast 118: John Farnam
Legendary firearms instructor John Farnam talks to the gang about "soft skills" that can keep an armed defender out of avoidable conflicts, and make them hard to convict after a necessary use of force incident. 
Shawn Vincent:
Hey everybody, it's Shawn Vincent. Thanks for listening in to the podcast today. Those quotes that you heard in our intro are from none other than John Farnam. John is the founder of Defense Training International. He's a well-regarded firearms instructor. John is a combat veteran. He served in Vietnam. After his service of the country, he was a law enforcement officer. He received training both as a serviceman and as a police officer in firearms. He found that that training wasn't complete, that it didn't necessarily give the trainees the experience they needed to become responsible armed citizens.
In private life, after his service, he decided he might be able to do it a little bit better. He founded Defense Training International. He's been doing it for decades now. We're lucky to have him on the show. Thanks to our friend Steve Moses, himself a well-regarded firearms instructor. He's got the best friends in the industry and he's convinced them to appear on our show, and we're super grateful for that. Our conversation today, is wide-ranging, but let's jump right into it. I want you guys to meet John Farnam if you don't know him already.
John Farnam:
The idea that we carry guns — and pistols at least — and they're instantly ready to go. When I went through my police training, they ran all cold ranges and don't load that gun until I give you permission and unload it immediately after you shoot, and Jeff Cooper was the original one to point out: this is nonsense. We have to teach people that you can carry loaded guns around. This later was applied to our rifle courses where I do a course called Urban Rifle, where the rifles are carried by the students and they're loaded all the time, and just to get students used to that you can do this, it's not unsafe. It's something that the rifles we use are designed to do exactly this, and even today in much of the competition and in some of the instruction, they still run cold ranges and I think that is dangerously obsolete.
Shawn Vincent:
Just because it's not the real world. If you have an unloaded firearm, you're essentially unarmed, and that doesn't do anybody good.
John Farnam:
Well, as I keep on quoting Jeff Cooper, but I think he's the one I first heard this from, but a gun that's perfectly safe is perfectly useless. These are deadly weapons that we're carrying around. They're designed to kill people and we don't apologize for that. I don't think it's possible to handle deadly weapons safely. I don't think that's possible. In fact, I don't like to use the word safe because that implies a guarantee. I think we can handle deadly weapons carefully, but no matter whose system you use or no matter what system you adhere to or what procedure you adhere to …
Shawn Vincent:
There's risk, right?
John Farnam:
… there may be an accident may be in your future. Risk attaches to having guns around. Risk attaches to not having guns around. You don't get a risk-free life, and in the end, go ahead …
Shawn Vincent:
No, and one thing I was thinking as I was reviewing your website, but I think that feeds into a lot of conversation about the mindset of the carrier.
John Farnam:
Yes.
Shawn Vincent:
Right? Being aware that you have a deadly weapon on you.
John Farnam:
Yes.
Shawn Vincent:
That you've recognized the potential that you will meet a deadly threat in the course of your life. You've resolved to be willing to address that threat with deadly force, and now you've adopted this dedication to defend yourself, and along with that comes responsibility, but I got a sense from what you'd written on your website that having that self-defense mindset is key to being if not safe, then responsible and careful.
John Farnam:
You put it very well. All this stuff we have to think through, we have to think through ahead of time. Of course, none of us look forward to any terrible thing happening, but carrying a gun around on a regular basis is very analogous to wearing a seatbelt when you climb in your car. I don't put a seatbelt on because I expect to be in an accident. If I expect to be in an accident, I wouldn't get in the car. We regard wearing a seatbelt to be a reasonable precaution, and by the same token, we carry guns on a regular basis, and this is another philosophical issue we run into of course, because people say, "Well, I carry a gun when I go to certain parts of town or something like that, but I don't the rest of the time." Well, that's analogous to saying, "Well, I only put a seatbelt on when I go on the freeway, but the rest of the time, I don't wear it." We would laugh at logic like that. That's utter nonsense. Either wear it or don't, and I tell my students saying, either carry a gun or don't, but please don't insult my intelligence by trying to convince me you can divide your day into safe and dangerous times.
Shawn Vincent:
It's a permanent mindset that you adopt.
John Farnam:
Yes.
Shawn Vincent:
In your point of view, if you're going to be a concealed carrier, you're a concealed carrier, and that's the choice you've made, and so you're always in that mindset.
John Farnam:
It's a way of life and it requires a commitment and it requires for us to endure certain inconveniences. As you know, carrying it around on a daily basis is a confounded nuisance. Many manufacturers of holsters and all that will say things like, "It's so comfortable, you won't know you have it on." Oh yes, you will. Oh yes, you will. It's a nuisance and in a perfect world, I certainly wouldn't bother with it, but it's one of the discomforts and inconveniences and annoyances we endure in exchange for the protection it provides us.
Shawn Vincent:
I asked John and Steve what they thought had changed most in the firearms training industry in the last 20 years, and they both agreed that there's now more of an emphasis on hard skills, that's operating the firearm, than there is on soft skills, and that is the mindset, avoidance, preclusion, and de-escalation tactics that can serve to keep an armed defender out of trouble before they're forced to resort to their firearm as a last defense against aggressor. Here's Steve to start us out.
Steve, you said you've been working with John for 20-plus years now, and I'd love for you, I think you could ask some questions. I would really love to know how the industry's changed during that time and what the mindset and the priorities of the students that you guys encounter are between now and then, how that's evolved.
Steve Moses:
Well, that's a good question. Back in the day, as we say, the people that were seeking out this kind of training were very, very interested in the defensive use of handguns, and much of what we did was, we wanted to be better prepared for that day that we hoped that never came, so that included not only having good gun handling skills and competent combat accuracy or marksmanship available to us, that we knew what a deadly force incident may look like, what we could do to perhaps make ourselves less likely to be selected as a victim, if selected, what we could do to deter that person or disengage and if forced to fight, fight back effectively in such a manner that there was a high probability that we would go home unscathed.
During the last few years, you have seen kind of an explosion in the training industry. There used to be probably, back in, when I was doing this in the mid-nineties, there were probably 20 or 30 firearm trainers throughout the United States that I was aware of that were actually doing train training on any kind of a real quality level. John, of course, was one. Since that time, there's probably hundreds if not thousands.
And there are people that are opening up firearm training schools or starting training every day. Many of them, as they would say, they were last year's students and they are this year's instructor.
John Farnam:
Exactly.
Steve Moses:
And in my opinion also, we're seeing a little bit less focus on what's really involved in being in a potentially lethal force confrontation with another person. There's much more emphasis on guns, equipment, gear, sub-second draws, quick splits. That is times between from the time one shot is fired to another shot. A lot of people are posting their performances on Facebook so everybody else can kind of ooh and awe. I don't think that's necessarily a bad thing in that it has brought into the community maybe a lot of people that would not be here otherwise, but by the same token, now I have to search a lot harder for instructors that I want to continue to train under.
John Farnam:
Well, that's right. A great deal of our instruction, and you and I both do this, has little to do with the operation of a machine. We talk about lifestyle. What are the kinds of things I can do to make a lethal confrontation in my life less likely? This includes places you go, people you associate with, the ways you dress, your language, all kinds of stuff. We also have to talk about the aftermath. Dealing with the criminal justice system and what kinds of things you can expect, and what kinds of things you have to do beforehand and afterward to maintain your options and protect yourself. All this is part of your training, too, and unfortunately, many of the people you mentioned — who like to go out and shoot thousands of rounds and all that, and just concentrate on the proficiently operating machine – fail to address that part. I think spending the next 20 years in a penitentiary is nearly as bad a result as being severely injured in a fight, and we have to address both issues.
Shawn Vincent:
In this next segment, John makes a great point that a lot of prosecutors are politicians. They're elected to that position and sometimes how they prosecute firearm offenses and self-defense claims can be influenced by their constituency. It means that armed defenders now more than ever, need to be aware of the legal challenges that may come in the wake of a self-defense shooting.
Shawn Vincent:
One thing on your website, John, that struck my attention was I'd never seen anybody mention courtroom demeanor as one of the skills that they might provide.
John Farnam:
Yes. Yes. You have to know what to say, what not to say, ahead of time. When you're involved in an incident like this, I can promise you the local prosecutor will scour the internet looking at your Facebook page, all your social media, your emails and everything else, looking for things you have said that may reflect badly on you. In the cases I'm involved in, judges never used to let this stuff in. It was when the prosecutor or the plaintiff's attorney tried to introduce this, they say, "Objection. That's irrelevant. That has nothing to do with the case."
What I'm seeing today, and it's quite a trend is, judges are letting this stuff in. Churches you go to, organizations you're members of — why is that relevant? And yet the jury's going to hear this, and so we have to start thinking about this now, in advance, and make sure that we're not out there making threatening comments or appearing to cheerlead for some violent event and doing that in print on some social media page. I can promise you the prosecutor will find that and the jury will probably hear it, and it won't be to your benefit.
Shawn Vincent:
Do you sense a disconnect from a lot of the students that come to you between what their actual concerns are  … or let me ask you this way:  Do you feel like people have a really bad idea of what the criminal justice system is like and how likely they are to face a prosecution for what they, in their minds, think is clear cut self-defense?
John Farnam:
I'm afraid there's very little that's clear cut. One of the pieces, I say this tongue in cheek of course, but one of the pieces of advice I give to my students: don't get involved in a shooting during an election year. It's going to widely depend on the part of the country you're in. The particular jurisdiction, the individual prosecutor and his personal philosophy. We're seeing some prosecutors now that have been essentially put into office by outsiders like Soros who has sponsored several, and they get elected and they've got a definite anti-gun, anti-self-defense agenda, anti-police agenda.
Prosecutors shouldn't have agendas, but we're seeing it. They do. Not much you can do about that. What you can do on your end is try to make yourself hard to convict, make yourself an unattractive case, and it all comes down to, I suppose, we need to be good people. Not perfect, God knows, but we need to be good people. We don't need to go to stupid places and associate with stupid people and be involved in stupid sorts of things. That's what, on the head end, that's what gets people into trouble. Steve and I try to set the example here by being a colossal bore, and we love to succeed.
Shawn Vincent:
"A colossal bore." Tell me more about that, because what I think you're saying there is when you look at deselecting yourself as a target, which is a term that Steve taught me that I really like.
John Farnam:
Yes.
Shawn Vincent:
Situational awareness.
John Farnam:
Yes.
Shawn Vincent:
If it's not safe to go there without a gun, it's not safe to go there with a gun. These are mindset things that I think some people … we hear it a lot like, "Oh, am I just supposed to be a victim?" or "I have a right to be there."
John Farnam:
Yeah, yeah, yeah.
Shawn Vincent:
And how do you deal with that point of view when you're dealing with these people?
John Farnam:
Well, when you get involved in a lethal force incident on the sidewalk in front of the Drunken Monkey Bar at 1:30 in the morning, how much sympathy do you think you're going to get from a jury?
Shawn Vincent:
Right.
John Farnam:
It's not illegal to be there, but it's not smart. Smart people are in bed and sound asleep at that hour. While you have a right to do a lot of things, a lot of things you have a right to do aren't very smart, and I don't recommend. And when you carry a gun around it makes this very important. You start looking at the kinds of places you go, the hours of the day you're there, the kinds of people you associate with, and make adjustments as necessary.
Shawn Vincent:
In addition to his work as a firearms trainer, John Farnam has also served as an expert witness for both defense attorneys and prosecutors in firearms use of force cases. He follows the facts, he tells the truth, and he gives fair and honest assessments of whether the use of force was justified. It's a great example of how important experts can be in a self-defense trial. Here's my conversation with John Farnam on being an expert witness.
Shawn Vincent:
One thing I know Don's going to be pretty interested in too is your work as an expert witness in, you've been involved with self-defense criminal prosecutions either …
John Farnam:
Yes.
Shawn Vincent:
One thing I love about Don as a lawyer, he is a great trial lawyer. He's also better than anyone I've ever met at working with experts, and I think a lot of people don't realize how important expert witnesses are going to be at trial. Don, would you like to preface that for our listeners? You think you had, someone attacked you, you used your firearm in self-defense, and you declared self-defense, and that's the story, but we know that there can be video experts required. People-
Don West:
Oh yeah.
Shawn Vincent:
Tooling experts required that can repiece the fragments of a bullet and trace it to a firearm. Experts you never even thought of, and sometimes an entire case can hinge on that. Give us a preface on that before we start our conversation with John about his work in that regard.
Don West:
Some people like to say the science doesn't lie, so if you're talking about maybe harder sciences at this point, forensic pathology, blood DNA, that kind of stuff, if you've got some witness testimony that may be inconsistent with the science, then I think juries typically will defer to the science, even though in most regards the conclusion that the science is demonstrating is actually an opinion of sorts. It's just a much more commonly accepted opinion than in more of what may be considered the more subjective areas, and there's been a bit of a pendulum swing. I think the last few years where sciences or pseudoscience testimony isn't as well regarded now as it was in years past. An example might be handwriting, for example, that's been discredited in some courts. Even to some degree tool mark evidence isn't quite as convincing, I think, as it used to be. Toolmark being markings on items. In the firearms business, the tool marks were typically made by a firing pin or on the casing from being ejected, riflings on a projectile from the barrel, and that sort of thing.
That's still admissible evidence and when it's strong, it's very, very convincing, but I think that the kinds of things can really focus a jury on the science aspects, help determine trajectory, help determine muzzle distance from gunshot residue. Forensic pathologists can talk about what happens inside the body in certain circumstances, what the medical cause of death was, and that sort of thing, but I know that we're talking with John here today, so what we're really talking about, I think, is more a use of force type expert.
John Farnam:
Yes. All that forensic stuff, I frankly, am not an expert on, or certainly not enough of an expert to testify, but we were at a law enforcement conference here just last year where one of the instructors was a video expert and he goes around the country destroying cases based on video evidence and can show that there's a lot that video misses. People say, "Well, it's right there. It's on video." Don't be too sure. Don't even be too sure what you're looking at.
Shawn Vincent:
That's fascinating. I was in a case where the frame rate of the video failed to capture the muzzle flashes.
John Farnam:
Correct.
Shawn Vincent:
It didn't even look like the gun was ever fired. You couldn't tell when.
John Farnam:
Yeah. I don't even like the term expert witness because most cases I get involved in, never go to trial. I'm not a witness.
Shawn Vincent:
So, you're a consulting expert.
John Farnam:
I'm an expert assistant because most lawyers don't know a lot about certain technical areas, and the ones that Steve and I specialize in are use of force and the reasonableness of certain actions, and I've testified on both sides. I've testified for the, I should say, I have assisted the prosecution in a number of cases and I've assisted the defense in a number of cases, so I've been on both sides.
Shawn Vincent:
I'm glad you say that, too, because, in the end, the truth is the truth and a good decision's a good decision, a bad decision's a bad decision. What's funny about this podcast, Don and I have worked on a number of self-defense cases together, and of course, we're complete advocates. Don's a career criminal defense attorney and we are advocates for the defendant in these cases, and in this context, because we've done so many self-defense cases, we're an advocate for the defender, but that also means we are great objective observers of what things lead a jury to be more likely to acquit a shooter and things that will be more likely to have a jury convict a shooter, and as we do this for longer, and even as we observe other cases that are in the popular zeitgeist, we see the same mistakes lead to the same tragic consequences and then we see other behaviors consistently lead to people who are ultimately exonerated or better yet never even charged.
John Farnam:
Correct.
Shawn Vincent:
Maybe you can speak to a couple mistakes that you've seen that are common and a couple of things that people have done that have saved them when they're faced with the scrutiny of a zealous or overzealous prosecutor.
John Farnam:
Well, I should point out that I don't regard myself as an advocate. The person has an advocate. That's his attorney. I'm assisting the attorney by providing certain information he wouldn't know of otherwise, and sometimes educating the jury in that regard.
Shawn Vincent:
Sure, that's the objective part.
John Farnam:
But my only obligation is to the truth. Most cases that come to me, I turn down, just for that reason. The lawyer explains it to me and I say, "I appreciate your call. This is not something I think I can help you with, so don't call back," and that's how most of those conversations end because most of those cases, I don't want. When there's a case …
Shawn Vincent:
Meaning that the cases where they're not really justifiable.
John Farnam:
Well, I think the accused is probably guilty as charged, so I don't want the case. Most of my income comes from training. I don't like to get in the position where I rely on expert work as a majority of my income because then I'd be tempted to take cases I don't want. I say, most cases that come to me, I turn down. I don't want them. I don't like the people involved. I don't like either side and I don't want the case, and I'm not a material witness, so I can't be subpoenaed, so I just politely tell them I'm not interested.
Don West:
Sure, which actually makes you a more valuable witness when you do testify or when you do consult, I think.
John Farnam:
Once again?
Don West:
I think that actually makes you a more valuable witness when you do-
John Farnam:
Well, I think, yeah. When I think there's a case where a person has been charged who shouldn't have been, and I have a strong opinion on that, I think I can be very effective when it does go to trial, but those are the cases I'd like to get into, the righteous cases.
Shawn Vincent:
Fear and anger are both emotions that come up with armed defenders. In self-defense cases. John Farnam tells us that fear, reasonable fear, is a justification for the use of deadly force. Anger is not. In this next segment, John tells us a little bit about how to navigate that no man's land between fear and anger in a self-defense scenario.
John Farnam:
The law doesn't require you to be perfect. The law requires you to be reasonable. No matter what case you're involved in, the person probably could have done better. He probably wasn't perfect. Fortunately, the law doesn't require perfection, but things that get people in trouble, for instance, are when you use deadly force to protect yourself when you're frightened and your fears are legitimate, fear is considered a legitimate motivation. You can shoot people because you're afraid. You can't shoot people because you're angry, and we have cases where shots are fired, the assailant runs away, and then the shooter chases after them, shooting them. Well, we can't make self-defense out of that. Once the threat is clearly gone, you're required to stop using … the law requires you to stop using force once the threat is clearly gone. When you chase after someone just because you're angry and using deadly force along the way, you're going to have a problem with that. That's something that's probably going to lead to criminal charges and probably ought to.
Shawn Vincent:
Yeah, that's interesting, and that's tough for people to foresee how they're going to feel if they haven't thought about that circumstance, and I feel like in almost all the cases that we've been involved in or explored, there is some spectrum of fear to anger that involves, because the fear might be the dominant emotion that you feel, but you're also, there's a tinge of anger in there that this person's putting you in this position now where you have to make this life or death decision, but then there's a certain point where the fear is subordinate to the anger, and then the anger dictates the emotion, and some of the most tragic, frustrating cases that we've looked at are ones where otherwise law-abiding citizens were put in a place where they had feared for their lives, and then that feared turned anger and then they did something that maybe they thought they never would do.
John Farnam:
Yep. This is why in training we have to discuss all this and we have to exercise it. We have to actually get on the range and do exercises where you get a chance to go through the motions with live fire. That's why I like to, on the range when we train, I like to shoot at targets that look like people, not just round circles on a piece of paper, but pictures of people that have faces and look like people. I think people need to get used to the idea that you're applying deadly force to another human being, and we all know it's just a piece of paper, of course, but I think we need to, as close as we can, simulate that on the range to give the students that experience and let them feel those things to the greatest extent that we can.
Shawn Vincent:
All right, friends. That's the podcast for today. I appreciate you listening in. Thanks for staying until the end. We've got a lot more of this conversation with John Farnam, so when we come back in the next week or so, you'll get to hear it. Until then, be smart, stay safe, take care.