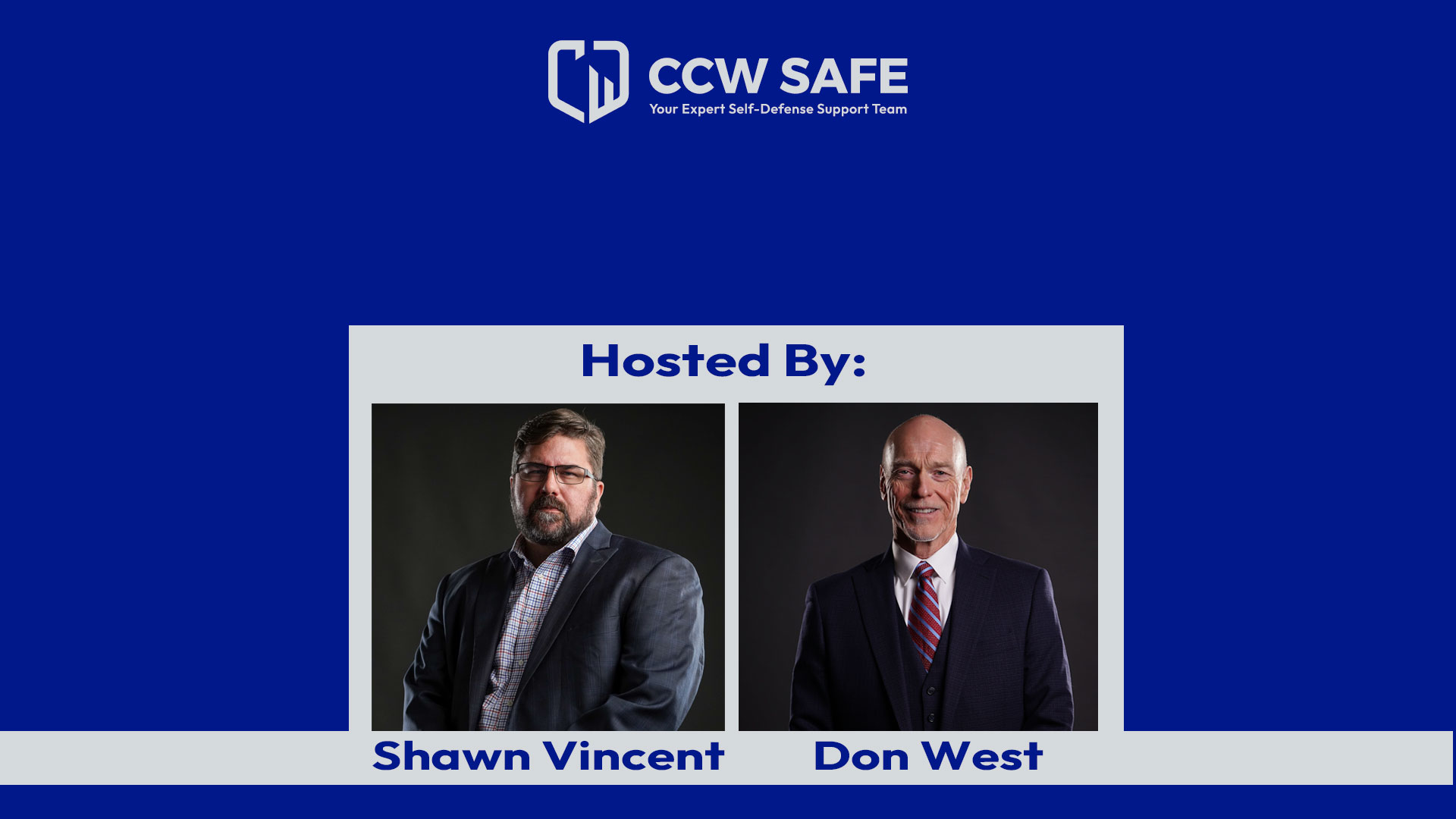 Posted on August 29, 2023 by Justin Collett in Don West, In Self Defense, Podcast, Shawn Vincent
In Self Defense Podcast 120: Legacy of the Zimmerman Verdict – Part 2
Attorney Michael Panella joins Don West and Shawn Vincent 10 years after the Geroge Zimmerman trial to discuss the consequences of the verdict on stand-your-ground laws. The conversation includes insight into why George didn't have to take the stand at trial. 
Transcript:
Shawn Vincent: 
Hey everybody, this is Shawn Vincent. Welcome back to the podcast. This is part two of my conversation with Don West and Michael Panella about the legacy of the George Zimmerman case 10 years after the verdict. I recorded this podcast in June of 2023. That's 10 years since the start of the Zimmerman trial. We were picking a jury for the trial at the end of June in 2013. Don West is National Trial Counsel for CCW Safe. You know his voice if you listen to this podcast. Most of you know that he was co-counsel on the George Zimmerman defense. Were joined today by Michael Panella. Mike, 10 years ago had just graduated law school. He was a law clerk, but he had been a part of almost the entire George Zimmerman defense from nearly the beginning right up through trial. And we got together back in June, 10 years later to talk a little bit about the case, but more importantly about some of the lessons we learned from that case and what the legacy of the George Zimmerman case has been in the 10 years since.
It seems like almost whenever there's a self-defense claim that has any controversy, it rings of themes from George Zimmerman or the George Zimmerman / Trayvon Martin case gets brought up in that context. One of the big controversies of the Zimmerman case was the idea of "stand your ground." We're going to start off our podcast today talking about just what stand your ground is. We're going to talk about duty to retreat and then we're going to throw in the wrinkle that in our opinion, the Zimmerman case was not in fact a stand-your-ground case and we'll explain why. We're going to have a conversation about what a self-defense immunity hearing is. In my opinion, we coined the term "self-defense immunity hearing." They called it a "stand your ground hearing" before we insisted that because this wasn't a stand your ground case, that name didn't apply. We chose not to have one. It was an interesting decision and there's some good lessons for concealed carriers about why you might not want to have one, especially in a high-profile case.
And then we're going to wrap up our conversation today with the decision for us not to have George testify in the case. That's of course the defendant's decision. You may not know that. Lawyers get to make a lot of decisions in the case. In the end, it's up to the accused to decide whether they're going to testify in their case. George did not in his defense, and it was a unique circumstance and it was thanks to some, of what I think are mistakes made by the prosecutors that allowed him to escape a cross-examination. So we're going to get to it. This is me, Don West who you know, and our good friend and colleague Michael Panella talking about the legacy of the Zimmerman case 10 years later.
Shawn Vincent:
I want to change gears a little bit here and talk about one of the big controversies that surrounded the Zimmerman case and continues to be a controversy and a misunderstood theory of law is this idea of "stand your ground." So Florida was the first state to put the term "stand your ground" in their self-defense statutes. It's an idea that basically extends the castle doctrine idea out to wherever you have a legal right to be, which means you don't have a duty to retreat before using deadly force if you believe that you face the imminent threat of great bodily harm or death. Whereas before these statutes were specifically written, interpretations of law were that you could be held to a standard that you needed to demonstrate that you made some effort to retreat before resorting to deadly force duty to retreat.
Don West:
It was an element of self-defense that had to be clear that either there was an opportunity to retreat and you did and was avoided. Good public policy in some respects. Or that there was an opportunity to retreat and you didn't. And if you didn't and you shot somebody when you could have avoided it by fleeing, then you didn't have the benefit of self-defense. That was one of those elements that if it wasn't present when the prosecutor tried to prove you didn't act in self-defense and they could show you had a duty to retreat and you had an opportunity and you didn't, the case is over. You're going to get convicted at that point.
Michael Panella:
The common law, so basically passed down from England to us on what is self-defense and when you can use it, is this idea of you have to "retreat to the wall." And that turn of phrase is in a lot of the early 1900s case law that we have in this country literally called retreating to the wall. And it all came from this crazy self-defense case that took place in the Wild West here in the great old United States where there was a bar fight and a guy starts running away from another dude who's chasing him with a cat o' nine tails whip. And he's running from him, running from him, runs out of the saloon, runs up into this building. You guys know about this case?
Don West:
No.
Michael Panella:
This is a real thing.
Shawn Vincent:
New stuff for me.
Michael Panella:
This is how it started. It's from like 1870 or something. He runs up into this building, this other dude is pissed and he's chasing him with this whip, and the guy continues to run up the stairs as this really angry dude from the original bar fight is chasing him all the way. And he gets all the way up to the top room in this building where he's now being confronted with the guy who's trying to get him with this cat o' nine tails. When finally he's got nowhere else to go, draws his weapon and shoots the dude. And this is called "retreating to the wall." And the question was yup, in that context, it's self-defense because this guy really did exhaust every reasonable opportunity. He ran out of the saloon, then he ran down the street, then he went up into this other building, went up the stairs, up to the final thing. The guy wasn't stopping, continued to come after him, and then finally, our hero in the story ends up shooting the dude who was trying to whip him with thing.
Shawn Vincent:
Whip him with a cat o' nine tails.
Michael Panella:
And that retreat to the wall ends up being a common law concept that gets carried over into all 50 states until 2005. It's pretty much the story about you have a duty to retreat before resorting to deadly force unless you're at your house. Because then even though you kind of do have a duty to retreat, really if you think about it, analyze this, you are presumed to be in reasonable fear. And so you're presumed to have already retreated to the wall. From a legal theory standpoint, that's what made the house different. That's what the castle doctrine did. It's not that you didn't have some duty to not kill somebody, you still do, but you're just presumed already to be in that reasonable sense of fear and already be at the wall if you're at your house so you no longer have to make that showing. That's what it always was.
And when the new self-defense laws came into place in 2005, they said, "Okay, if you're in a place you're reasonably allowed to be, even though you might not have the presumption of fear that the house gives you, if someone's coming to your house, you no longer have a duty to retreat like you were at your house." You've already retreated to the wall, if you're in a place you're reasonably allowed to be and you're not engaged in criminal activity, and by the way you're not knowingly shooting at a law enforcement officer, then you don't have a duty to retreat or at least don't have to show that before using deadly force. But you better damn well have a good reason still. And that's the thing that I think is constantly misunderstood about the so-called stand your ground law that it still has to be reasonable.
Shawn Vincent:
We've dissected all sorts of high-profile self-defense cases, seen trials through YouTube and other ways. And even if you're in a real staunch, stand-your-ground state, whenever a defender has demonstrated an effort to get away from the attacker first and can show that going to their firearm wasn't their first instinct, they fare much better even – when the situation is messy. We talked about Dean Cummings not long ago, and he got in a fight with his neighbor at his neighbor's house, ended up getting a rifle, but Dean Cummings retreated from the kitchen into the hallway, down the hallway into a back room where there was no other means of egress before he shot the attacker who was on top of him and grabbing the rifle. Messy case. I think the fact that, with some other factors, the fact that he made those efforts to get away gave him better standing. We've argued before that even if you don't have the duty to retreat, if you can, perhaps you have that moral duty, but legally you're in better standing even if you're in a stand-your-ground state if you make that effort.
Don West:
Yeah, I agree with that for a couple of reasons. One, maybe there's a moral aspect to it. It's almost always better not to kill somebody than to kill them, especially if there's any way that you can avoid it. Even if legally it says that you can, you're still better off if you don't because you're going to live with that the rest of your life. Even if you always feel justified, it's there. There's a ripple effect in your family, a ripple effect in the family of the person that died. It's not necessarily the person that you killed was the worst person on Earth that everybody would agree with you needed to be killed. It could be any one of those scenarios.
Shawn Vincent:
Unless you're attacked by Hitler.
Michael Panella:
It's a really good point because we see it from a practical standpoint, being the fallout of this even when we win.
Don West:
So there's that aspect and that's an important part of it. But legally the question then becomes was it legally justified? And a lot of times the stand-your-ground idea becomes the focus of the prosecution. Not because you legally had the obligation to retreat and didn't, but even though you had the right to stand your ground in many jurisdictions, it gives the opportunity to argue that sure, there was an attack. He had the right to use some force, maybe even deadly force, and legally he had the right to stand his ground. But look, there were in fact all of these escape routes. He could have gone out this door, it could have run down here, causing no increased danger to himself, in fact, reducing the danger to himself. He could have gotten away. Did he do any of the things that a reasonable person would've done under the same circumstances? No. He just stood there and shot the guy.
Well, then you've got the prosecutor saying, "Ladies and gentlemen of the jury, at the end of the day, you have to look at this thing, this whole case from beginning to end and decide, did that defendant who admittedly acknowledged everything, shot and killed this guy on purpose, whether that was reasonable under those circumstances? And I submit to you on behalf of the state of Florida, fill in the state of so-and-so that that wasn't reasonable." Anybody who arms himself with a weapon that can cause death in an instant, that has a reasonable way to avoid the danger to himself, that chooses to take a life instead of not, chooses to take a life instead of getting out of there is not acting reasonably. And the judge will tell you if it's not reasonable, then it's not self-defense. Bang. Then you deal with that too.
Michael Panella:
Right. And I'm glad you put it that way because like I was just saying, this is the part that everyone wants to skip over in the book, the "reasonably believed" part and the "imminent." These are the words in most of these stand-your-ground laws. And I think when I've dealt with clients that have come to me after committing, defending themselves or they're thinking about defending themselves" that's the scariest. When I get a question of, "Hey, if I use my gun in this scenario, am I justified?" My answer to them is almost always going to be "no," because you've had all this time to think about it ahead of time. Be careful, get out of that situation. Don't even.
But my point is because the law contemplates this happening where there really is no other option. It's the way it's written that it's got to be a reasonable person similarly situated to you. So it's not just any reasonable person, it's a reasonable you, that under these circumstances it's necessary to use deadly force. And it's almost as if the way that you just articulated it, Don, there is still a bit of a duty to retreat even when the statute says there's not. Because if there was another way, then it cuts against the reasonable factor.
Shawn Vincent:
And we've seen that happen.
Don West:
I think the other side of that is there's a few places around the country where the stand-your-ground is so clear in the statute that there will be a jury instruction that says you can't take failure to retreat into consideration. So there's some states where you have a much better chance of defeating that reasonableness argument, but it's still there because if it's not just on that precise thing, it's going to be in the totality of the circumstances.
Now you combine that with an attempt to get away, you combine that with a few other things like using voice commands. "Stop." Using any less lethal weapon if you have unavailable. Or maybe the best easiest thing to do is create a little distance, which creates a little time, which gives you an opportunity to reconsider. And when the person still comes at you, even though you've used voice commands, still comes at you when you've tried to get to the other side of the car or whatever the scenario is, and it's like the guy chasing him up the steps with the bullwhip. There is a point in time where no matter what, you have to defend yourself.
Shawn Vincent:
Retreating more is absurd at that point and would be seen as unreasonable.
Michael Panella:
Or you're going to die, someone is going to shoot you if you don't act.
Shawn Vincent:
Which is the real actual purpose of self-defense.
Michael Panella:
Which I think more often than not is what the scenario is.
Don West:
And a prosecutor can't effectively argue lack of reasonableness in that context when you've done the other things, too. Just not successful at it. So there is that moment, and we in our work see that. We represent people that got to that point and they're pretty easy to defend within the context of self-defense cases, a lot easier to defend than the one who just stands there and says, "Come on."
Shawn Vincent:
So this whole conversation about stand your ground and the controversy about stand your ground, that stems out of the Zimmerman case. Here's the great irony. In my opinion …
Don West:
I know what you're going to say.
Shawn Vincent:
Not a stand-your-ground case. He had no duty to retreat because in his position, what he fired, retreat was not an option. It was a physical impossibility.
Don West:
Well, in his position, meaning he was lying flat on his back with his head against the sidewalk having been banged into it a few times because he had the lumps and the cuts on the back of his head to show it, being physically mounted by another human being who was more fit, and beaten. So the only way he could have retreated would have been to physically overcome this person who was clearly trying to beat the snot out of him.
Shawn Vincent:
And had been for more than a minute.
Don West:
As George yelled for help, as he did what he could. So at that moment, and that was witnessed by someone, the media at least early on, omitted the idea, there was an eyewitness to what I just said.
Shawn Vincent:
"Ground and pound," he said.
Don West:
"Ground and pound," and he saw that up to within 10 or 15, 20 seconds at the most of the shot being fired. And nothing had changed at that point, just more beating and more helplessness. So the one case that's used as the poster child for stand your ground wasn't. Isn't that remarkable?
Michael Panella:
For another reason too. First of all, that witness you're talking about, this was occurring in front of his what is sort of like his backyard. It was a town home and it was like his back porch is where George was getting beat up, essentially. But this goes back to that retreat to the wall. See, in George's case, he was "retreated to the wall."
Shawn Vincent:
His back was against the wall.
Michael Panella:
His back was literally against the wall. It's just that the wall in this case was the ground. And that is an example of "you've exhausted your duty to retreat." So for that reason, you're right, this wasn't a stand-your-ground case. For another reason, it also wasn't, and that's because we didn't take advantage of the opportunity of pursuing a pretrial immunity hearing to declare George immune from prosecution. The other part of what the so-called stand-your-ground law did. It took away a duty to retreat if you were in a place other than your home and lawfully allowed to be there, and it gave you a pretrial ability to fight the case and determine that your actions were justified.
Shawn Vincent:
Let me add onto to that because "duty to retreat" has nothing to do with immunity from prosecution in a self-defense case. The fact that whether someone decided to stand their ground or tried to retreat doesn't have any bearing on whether their immunity for prosecution should be considered in a self-defense case because I …
Don West:
It's a labeling problem. It's confusing.
Shawn Vincent:
A reporter said, "This is a stand-your-ground case." No, he couldn't stand your ground because he couldn't retreat. It was physically impossible. "But they didn't arrest him right away because the law and the jury instruction says, stand your ground."
"Yeah, but it doesn't apply." And the immunity hearing is really … I don't think the legislature imagined the immunity hearing when they wrote the law. They just realized, "Oh, we've given them immunity from prosecution. Now there needs to be a procedure when someone claims self-defense to see if they actually should benefit from the immunity of prosecution."
Michael Panella:
I don't know. I don't know if they did. I know by the time that we had the Zimmerman case, we were blazing the trail on how one of these would be done. I remember that there had been several in Miami and there was a good judge out of Miami. Our friend Josh on our team found those cases, showed us how that judge was doing these immunity hearings. But the whole thing was up in the air about how someone could even be determined or declared immune from prosecution and circuit courts around the state were just trying to apply a procedure without any real clear directives from the statute.
Don West:
That's right. The statute sort of set it out that it was available relief but didn't provide the vehicle how you get there, didn't talk about how it's pled, how it's defended, what the actual process is. So that was being created essentially by the courts as time went, including the burden and standard of proof.
Michael Panella:
Which changed a couple more times by the legislature. So the way it was originally written, while it went all the way up to the Florida Supreme Court, they interpreted a certain way. So the burden looked at a particular way and then the legislature said, "We don't like the way you interpreted that Florida Supreme Court and rewrote the law."
Don West:
That's exactly right. So we're all sort of feeling our way and not just to try to best understand the statute and how it might be implemented. Even when you had to file the motion, was that something you could even consider after the trial had started? Could the judge do both at the same time? That was all sort of in the works at that point. And that doesn't take into account the strategy and the assessment that you have to make as the lawyers involved with your particular case and the facts of your particular case and the evidence that you think might be introduced at one proceeding versus the other, the risk and reward of putting your client on the stand, the risk to the jury trial on the criminal charge if you have a pretrial immunity hearing that's unsuccessful, and then the case goes on to trial, have you helped yourself? Have you hurt yourself? And it's not a simple thing, "Hey, we have this available to us. Let's tee it up."
Michael Panella:
No, and as a matter of fact, I remember the three of us in particular, and not everyone on our team, but a good five of us for a day, we built a whole wall, a dry-erase wall, and we had a pros and cons of pursuing an immunity hearing in George's case.
Don West:
So it'd be Shawn, Mike, Don, Mark O'Mara.
Michael Panella:
I think Josh Martel was there.
Don West:
That was sort of the core group when we had other legal interns that were in law school. But Everybody weighed in. Everybody understood the issue.
Michael Panella:
Oh sure. And so there we were, and I remember painting that wall just for this purpose. Remember there was a dry-erase paint?
Shawn Vincent:
I do remember the dry-erase paint.
Michael Panella:
And anyway, it didn't really work because it stained the wall. You could not erase that crap.
Shawn Vincent:
There's a camera shop there now.
Michael Panella:
But the point is, I remember the question of whether we were going to pursue an immunity hearing in George's case in the context of when this was 10 years ago, and no one really knew how the hell it was supposed to go because we would've been cutting in on that.
Shawn Vincent:
For our listeners, it's a hearing, but it would've been a full-blown trial to a single jurist, the judge. And here's the problem I have with immunity hearings in high-profile cases is that it requires, I think a lot of courage for one jurist to make a controversial decision when they can err on the side of "let's go to trial," knowing that a jury then is going to share that burden and that the public's going to be much more accepting of a jury's verdict than a judge's decision.
Michael Panella:
Who',s by the way, job depends on the public, that very public re-voting them in.
Shawn Vincent:
An elected judge.
Michael Panella:
Most of them are.
Don West:
So part of that strategy and assessment that I was alluding to before includes understanding the case, understanding the evidence, understanding the order of proof, the burden of proof, all of that. But then also an assessment of even if things go well, is there any chance that the judge you have on this case is going to be televised nationally? Is it going to give you the relief that you want? And if you're pretty confident because of all of that stuff, that that may not happen then in the risk-reward assessment and what are you giving up in order to get this, that in itself I think can shift the pendulum enough to say, "no, we're not going to do it this way." We're going to just go to trial and let the jurors make the decision.
Michael Panella:
And the analysis of whether you are counting on the judge denying it because even though they probably shouldn't, and whether you're trying to win this on appeal of the denial of the motion to dismiss pretrial before going to trial as a whole other strategy point. I think the three of us are trying to say is it's not a simple decision to make. Even though, and the only reason I brought it up, Shawn, is because the stand-your-ground law, whatever that means, did I think two significant things. The duty to retreat stuff and this other thing that has nothing to do with stand-your-ground. And yet that's what the laws did effectively. And we used neither in George's.
Shawn Vincent:
It's funny. And I remember being on the other side of that until I was convinced around because I think I was reasonably convinced that we weren't going to possibly win the hearing, but we were dealing with such an enormous headwind from public opinion in that case. And I felt a lot of that was because the public didn't know the actual facts of the case. And I thought that if we had a public hearing that the world would see what we knew, which spelled out for us a clear justifiable use of deadly force self-defense case. And then when we went to trial, we don't have that same headwind, it might be easier for jurors to do the right thing.
Don West:
But I remember some of that conversation and I remember the discussion that says, "what's the headline in the newspaper and what are all of the newscasters saying when his self-defense immunity hearing is denied?" Yeah. How is that reported? Because our jury panel is going to be the people that get exposed to that, not all of the facts surrounding the case that you want them to know. And what's the headline?
Shawn Vincent:
And I found that very convincing Don, and my attitude on it changed a lot. And then also there's the consideration that if you're going to do that properly, you probably have to put the accused on the stand to testify.
Don West:
Yeah. I think you have to assume that going into it, maybe you can make a decision, still a good decision, and it doesn't happen. But at some point in time, it's likely you're going to be painted into that corner. Either you don't put the client on and your evidence is weaker, maybe so weak that the judge can deny it. Because at that point in time, the defense had the burden of showing that the act was self-defense. Whereas as Mike alluded to a minute ago, that's changed now. But if we just didn't have enough evidence and we didn't put the client on and the judge denies it appropriately, then the hearing is denied.
If we put them on, and it doesn't go well for any number of reasons. You can count the reasons how a cross-examination can be devastating to your case. If we made the wrong decision on the wrong day and it just turned out that it didn't go well, we're still stuck with a denial, that's the headline. And we're also stuck with the testimony that then is offered by the state in the trial. Our bad day becomes the first exhibit that the jury sees in the criminal trial. It's a tightrope, high-risk venture to do it, especially in a high-profile case. 
Shawn Vincent:
And you're giving the state a preview of what your defense is going to be. So any tricks you have up your sleeve, if you have any, come out there. And so I wanted to talk for a second too just about this idea of the defendant, the accused, the defender testifying in a self-defense case. You and I have talked on the podcast over and over again about how to make a self-defense claim. There has to be evidence of that claim. It usually has to come from the defender, which means that oftentimes, if there's not other evidence to make that claim, they have to go on the stand and tell the jury and subject themselves to the cross-examination that comes afterward.
And what a lot of our listeners might not know is that your lawyers can't offer up other statements that you've made into evidence. The judge won't necessarily allow those. It's hearsay and the jury can't hear it unless they hear it straight from you, unless that claim comes in other ways. And I mention this because we talked about lessons learned by prosecutors in some cases from the Zimmerman case. To a large degree, Zimmerman did not have to testify in his self-defense trial because the state voluntarily included a bunch of video evidence of him explaining his self-defense claim to detectives and the other folks.
Michael Panella:
Can I just make a clarifying point on what you're saying real quick?
Shawn Vincent:
Yeah, please.
Michael Panella:
So if the defense wants to present their own client's testimony, but avoid that person being cross-examined, which is every defense attorney's dream, if I could just get my guy's statement out there but not subject him to questioning.
Shawn Vincent:
Withering cross-examination.
Michael Panella:
Yeah, that would be great. But guess what? That's called self-serving hearsay as to the defense. That's what you're saying?
Shawn Vincent:
Yes.
Michael Panella:
But the distinction is, but the state can. And the reason it's not hearsay as to the state putting in the defendant's prior statements is because there's an exception to hearsay that if it's an admission of a party opponent, it's somehow just allowed. We've just accepted this as the evidence code. It's been like this forever. So if the state wants to put in a prior statement of your guy, it's not self-serving hearsay. They can do it. But if you want to do that, you can't because it's hearsay. You have to put your client on the stand and subject him to cross-examination. I just want to make that point because we were talking about how you can't do it, but all of a sudden it got done and it got done because the state did it thinking we were never going to put George on the stand.
Don West:
I still think about that, and it's been 10 years. How did that, and why did that play out the way it did? They made the choice and they had the choice, as you pointed out. They didn't have to put in multiple statements that he made the night of the incident when he was at the Lake Merritt Police Department. They didn't have to put in the video reenactment that he did, I guess it was the next day when law enforcement, was it Sanford Police Department? Sanford Police Department out there with a videographer having him explain everything, making the drive around where he first saw Trayvon Martin, pointing at everything.
Shawn Vincent:
Bandages on his face.
Don West:
Exactly. That would have been excluded had we had tried to put it in and the state didn't want it in, just like the written statements, later on just like a statement that Zimmerman made to Sean Hannity in a television interview. We have no chance of putting that in. But they chose to introduce all of that, and I still don't know why, because I don't know how they think we would have proven self-defense sufficiently to get it enough fleshed out for the jury to really take it seriously.
The only evidence that I'm aware of thinking back when you get rid of all of those statements are two brief statements that Zimmerman made right at the time of the incident that the prosecutor tried to exclude that we had a hearing on. And the judge ultimately agreed with our argument that under certain circumstances, the evidence code allows what are characterized, not as hearsay, but as excited utterances. And Zimmerman told a neighbor who had come out immediately after the shot was fired, that "He was beating me up. I had to shoot him in self-defense." Within seconds, law enforcement arrived on the scene because Zimmerman had called them earlier on the non-emergency line, asking for a law enforcement response when he saw Trayvon Martin walking through the rain looking in houses, and George didn't recognize him and he was just a little suspicious.
So right when the officer gets there, Sanford police officer gets there, George says to him, "I was yelling for help and no one helped me." So the judge, after a lengthy hearing, controverted hearing, the judge said, "Yes, that's excited utterance based upon how the standard went and that she let them in." But that's the only real evidence of self-defense unless you accept John Good's testimony.
Michael Panella:
I was going to say that.
Don West:
He was the eyewitness that saw Trayvon Martin.
Shawn Vincent:
Saw the ground and pound.
Don West:
On top. Yeah, that was that. And maybe coupled with that excited utterance stuff and the fact that Zimmerman had a bloody nose, the back of his head was bloody. He had bumps and knocks on his head. He'd clearly been put at some risk, but I don't think they could … We couldn't prove at that point, independently that Zimmerman was actually on his back with Martin on top of him at the moment the shot was fired except for the forensic stuff.
Shawn Vincent:
All right friends, that's the podcast for today. Thanks for listening through to the end. We wrapped up there transitioning to a conversation about what the forensic evidence showed. That's where we'll pick up on part three of our look at the legacy of the Zimmerman case. Until then, be smart, stay safe, take care.