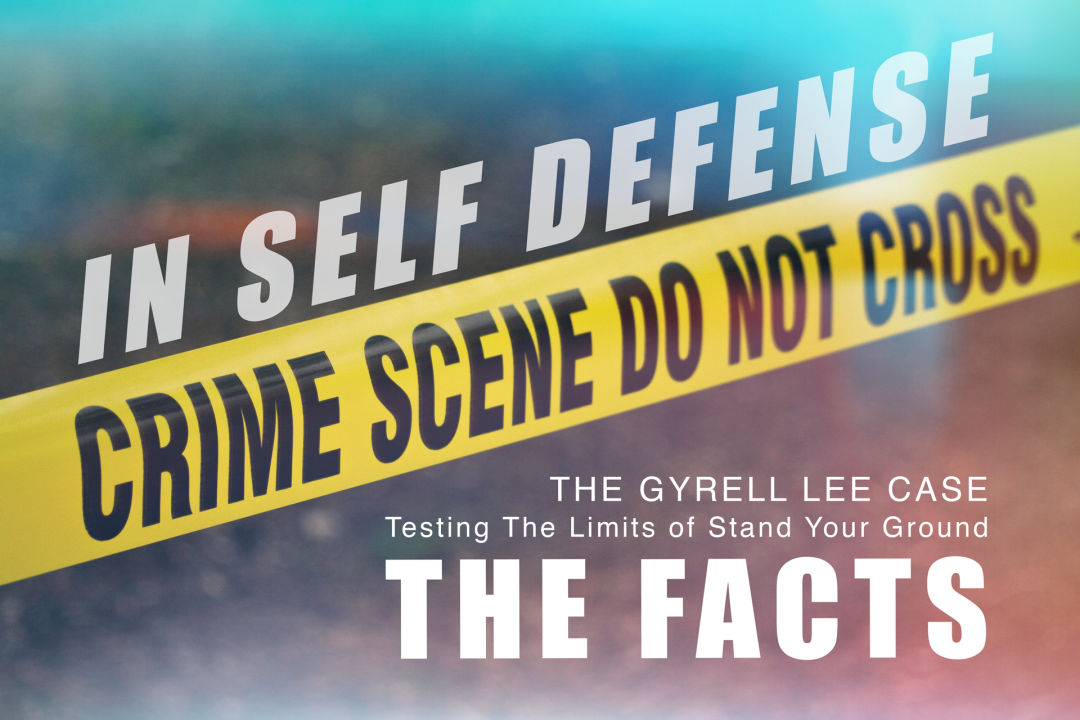 Posted on January 4, 2019 by Shawn Vincent in In Self Defense
"In Self Defense" The Gyrell Lee Case: Testing The Limits of Stand Your Ground- The Facts
The Gyrell Lee Case
Testing the Limits of "Stand-Your-Ground"
Part 1: The Facts of the Case
In our series "The Four Elements of Self-Defense," we explore high-profile self-defense shootings looking for lessons for concealed carriers. Like most of the shooters we analyze, Gyrell Lee was NOT a CCW Safe member. We've chosen his case because it provides clear lessons for concealed carriers regarding what can go wrong in a self-defense shooting.
Police in Elizabeth City, North Carolina responded to reports of a gunfight shortly after midnight on New Year's Day, 2013. When they arrived on the scene, officers found 21-year-old Quinton Epps lying motionless in the middle of the street. He had been shot multiple times. All suspects had vanished, and the primary witness had left the scene.
Less than 12 hours later, according to the local newspaper, police were notified that the lifeless, bullet-riddled body of 23-year-old Jamieal Walker had been discovered behind a home near the scene of the shooting.
Not long after, police picked up Walker's cousin, 24-year-old Gyrell Lee, for what law enforcement believed was a double homicide. Seven days later, a grand jury indicted Lee on first-degree murder charges for the shooting death of Quinton Epps. Lee claimed self-defense.
Lee spend New Year's Eve celebrating at Walker's house. Besides being cousins, Lee considered Walker his best friend. Throughout the evening, Epps, a "known troublemaker," had come by Walker's house on multiple occasions — each time more intoxicated and agitated than the last. According to a court document, "Epps became verbally abusive and aggressive." Before the final encounter, Lee, a licensed concealed carrier, retrieved his pistol from his car "out of instinct," as he told investigators. He wanted his gun, "just in case."
Ultimately, Epps arrived again, with three friends in his car. Here's how the North Carolina Supreme Court describes the final encounter:
"Defendant and Walker walked down the street to talk to Epps. Epps and Walker again argued in the street and sidewalk area as defendant watched from a short distance. Defendant saw that Epps had a gun behind his back. The argument escalated, and Walker punched Epps in the face. Epps grabbed Walker's hoodie, shot him twice in the stomach, and continued shooting as Walker turned to flee. Walker was later found dead nearby."
"After Epps fired his last shot at Walker," the Court writes, "Epps turned and pointed his gun at defendant. Before Epps could fire, defendant fatally shot Epps." They add that, "He would have shot Epps to protect Walker but could not get a clear shot because Epps and Walker were too close together during the struggle."
The murder trial lasted a week in July of 2015. Lee's attorney, Sam Dixon, told a jury of six men and six women that "this is about a man pulling out a gun, grabbing him by the hoodie and pumping him full of bullets until he dies. Don't you think you would be scared?"
Chief Assistant District Attorney Kimberly Pellini told jurors the shooting of Quinton Epps was "premeditated and deliberate," according to the Daily Advance. She pointed to evidence that one of the bullets Lee fired left a divot in the pavement beneath Epps' body, indicating Epps was down and incapacitated while Lee continued to fire. She quotes a jailhouse recording in which Lee claims he was "waiting for a clear shot," suggesting he wasn't afraid, but rather patient and calculating. She reminded the jury that Lee fled the scene, and that he hid his pistol under a trash can instead of surrendering it to authorities.
Perhaps most importantly, during closing arguments, Pellini suggested that a reasonable person would have "removed himself from the situation" and "run away."
During deliberations, the jury asked to see a photo of the bullet mark in the sidewalk and Epps' autopsy report. After seven hours of deliberation, the jury told the judge they were deadlocked. The judge, who made it clear he wanted a verdict that day, sent the jury back. Around 11:30 PM on a Saturday, the jury found Lee guilty of second-degree murder. Lee wept when he heard the verdict, as did two of the female jurors, indicating the decision had been difficult and emotional. Judge J.C. Cole ordered a sentence of 16 to 20 years in prison.
Defense attorney Sam Dixon vowed to appeal.
The appellate court upheld the trial court's decision, but the North Carolina Supreme Court agreed to review the case. What bothered the justices was that, while the trial court had agreed to include the language of North Carolina's "stand-your-ground" statue in the jury instructions, when the judge charged the jury, there was no mention that Lee had "no duty to retreat." Combined with the prosecutor's suggestion that a reasonable person would have "removed himself from the situation," as the Court writes, "The omission of the stand-your-ground instruction permitted the jury to consider defendant's failure to retreat as evidence that his use of force was unnecessary, excessive, or unreasonable."
The North Carolina Supreme Court finds that "had the trial court given the required stand-your-ground instruction, a different result would have been reached at trial." Three years after Lee's conviction, the Court ordered a new trial.
It will be up to a new jury to prove whether the failure to give the proper jury instruction really would have produced a different verdict. The original jury had four options: guilty of first-degree murder; guilty of second-degree murder; guilty of manslaughter; or not-guilty. Even without the proper "stand-your-ground" instruction, the jury had already backpedaled from the first-degree charge. While Epps clearly presented an imminent threat to Lee in the seconds after the shooting of Walker, Lee did a number of things wrong, including fleeing the scene and hiding his weapon.
An acquittal is far from guaranteed at a new trial — even with a proper "stand-your-ground" jury instruction.
In our series "The Four Elements of Self-Defense," we explore how location, escalation, reasonable fear, and post-incident actions can affect the legal defense in self-defense shooting. In the next installment, we'll look specifically at how the location of the shooting of Quinton Epps complicated Lee's legal defense.
---
SHAWN VINCENT- LITIGATION CONSULTANT

Shawn Vincent is a litigation consultant who helps select juries in self-defense cases, and he manages public interest of high-profile legal matters. If you have any questions for Shawn, or would like more articles like this, let us know belo