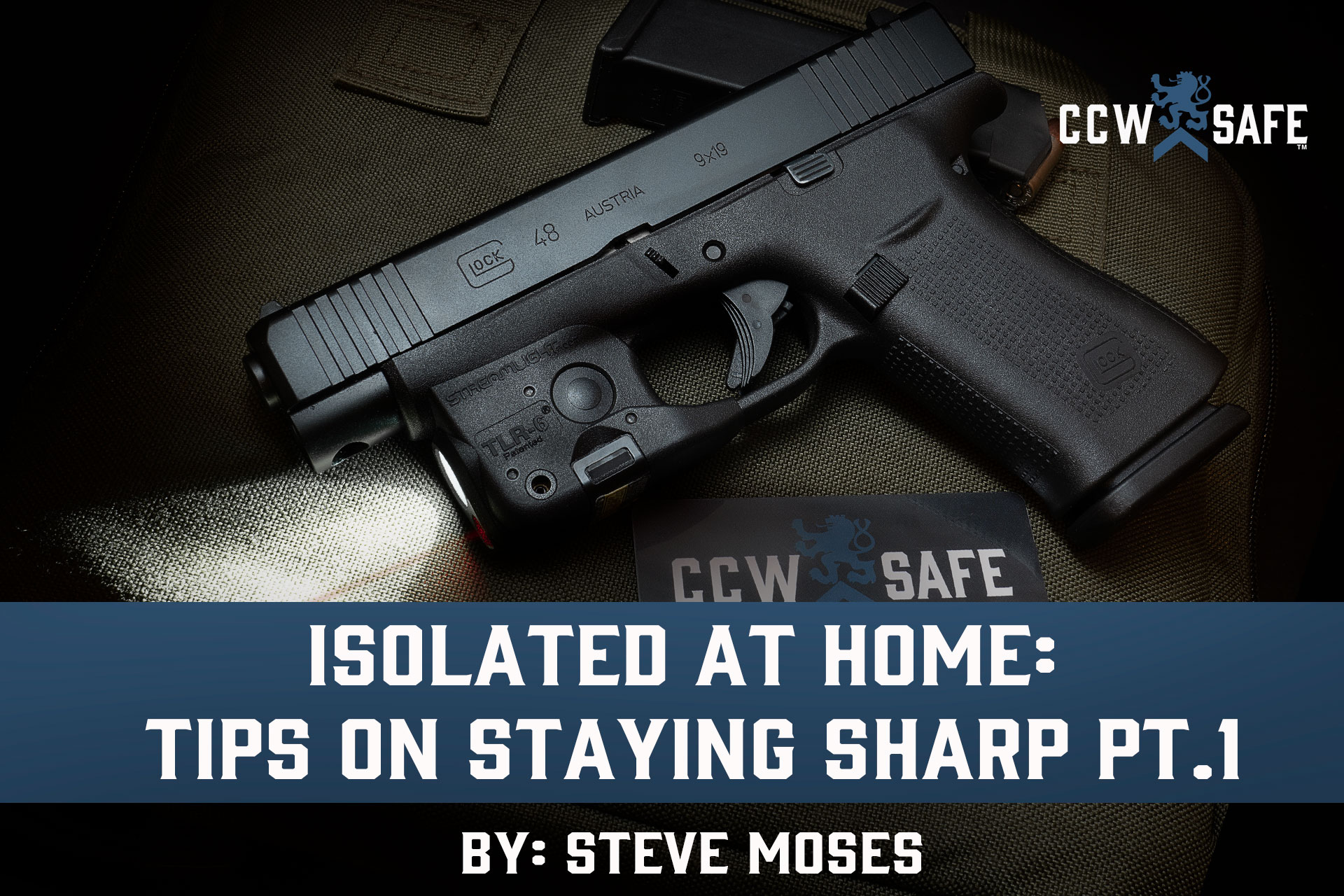 Posted on March 30, 2020 by Steven Moses in Training
ISOLATED AT HOME: TIPS ON STAYING SHARP Part 1
ISOLATED AT HOME: TIPS ON STAYING SHARP: Part 1
COVID-19 has had a profound effect on the American public, concealed carriers included. Daily life calls for most of us to be around others on a constant basis, and while some of us routinely work from home, others do not. I am more or less used to staying home much of the day. I retired from full-time employment in the oil and gas industry in late 2018 and have been fortunate to find part-time work that allows me to work from home.
However, I still had much freedom to leave the house, and a typical week for me at a minimum involved going once to the shooting range and twice each to the local fitness gym and Brazilian Jiu Jitsu school. My wife and I typically dined out on the nights that we went to the gym. That is, I did all those things up to now. As I write this on March 26, 2020, the world is a very different place due to the unforeseen impact of the Coronavirus, also known as COVID-19. It is not possible now for me to do any of those things but go to a rural outdoor range, and due to panic buying it is no longer possible to replace my training ammunition.
The idea of sitting on the couch and slowly growing into a senior citizen version of Fat Thor is not appealing. I am going to do what I always do whenever physically sidelined (which I have experienced on multiple occasions due to prior back, hernia, and hip surgeries) and that is to get better informed, maintain my strength levels as much as possible, and get in some solid dry-fire repetitions with my carry handguns in order to at least maintain, if not improve, my gunhandling skills.
I dislike it when writers make lofty suggestions designed to motivate their readers to achieve notable goals, but conveniently omit the specifics on how to actually succeed in doing so. The title of this particular article is "Isolated at Home: Tips on Staying Sharp". It is expressly directed to concealed carriers who appreciate the peace of mind that comes from knowing that they have gone to a little extra effort to manage the risks of living in a world where bad things occasionally can and do happen. There are multiple ways this can be accomplished. While I can't guarantee readers that what I do will work for them, I will set out some of the actions that I am taking in order to keep myself as physically and mentally sharp as reasonably possible.
I stay current on not only how COVID-19 is impacting where I live but also other areas both inside and outside of the United States. I am looking for signs or trends that might suggest that some action on my part might be soon necessary in order to better protect my health, safety, property, and finances. This particular virus is unlike anything else that we have experienced in the last twenty years, which includes scares associated with potential outbreaks of anthrax, smallpox, avian flu, and swine flu. Thousands of persons in the United State have been dropped from the workforce, and I have read multiple statements from health care professionals that I trust that our medical system could soon be overwhelmed by the strain as more people show symptoms, especially those with weaker immune systems.

A recent article that I wrote titled "COVID-19 and the Concealed Carrier" raised concerns on my part that crime rates may spike at some point as a result of slower law enforcement responses to property crimes.

I just read a news report stating that the Cincinnati Police Department will no longer send police officers in response to Assault with No Injury, Breaking and Entering, Criminal Damage of Property, Stolen Property, Menacing, and Phone Harassment. While it is nice to have the blinds open on nice sunny days, I keep items of value like big-screen televisions, computers, laptops, etc. out of sight to persons outside of my home or even driving by. I keep the garage doors shut and cars in the driveway locked. I do not leave garage door remote controls in vehicles parked on the driveway outside of the garage. The very act of staying as informed as possible and mentally dialed in increases the chance that I will be better able to respond quickly and effectively in the event that the unexpected happens.
There is an old saying to the effect that if you aren't working, then take advantage of that time to improve yourself. This a good time for me to research information relevant to concealed carry published by subject matter experts covering topics such as the laws of self-defense, after-action reports on self-defense shootings and what went right and what went wrong, emergency first aid, and do a search for upcoming training classes in which I might be interested. Concealed carriers committed to developing and maintaining high level of preparedness for surviving violent criminal assaults can help improve their ability to do so by visiting the Active Self Protection website and watching a surprisingly large number of actual videos showing a variety of actual criminal assaults and paying attention to the observations made by owner and host John Correria.

I am also a fan of Greg Ellifritz's weekly article blast that is posted on Facebook (to the extent that I am one of his Patreon subscribers). There have been weeks when he has written or hand- selected and provided links to well over twenty articles of interest to concealed carriers.
Part Two of this article will discuss the value to be derived from reviewing prior CCW Safe articles and podcasts, the importance of a home exercise program, the opportunity concealed carriers have to develop and maintain critical defensive handgun skills, and why there is no time like the present to practice clearing their own home.
---
Steve Moses

Steve is a long-time defensive weapons instructor based out of Texas who has trained hundreds of men and women of all ages for more than two decades on how to better prepare to defend themselves and their loved ones. Steve has completed over 80 private-sector and law enforcement-only defensive weapons and tactics classes, and has trained civilian and law-enforcement officers in six states. Moses is a reserve deputy, former member of a multi-precinct Special Response Team, competitive shooter, and martial artist. Steve has written numerous articles for SWAT Magazine and other publications. Steve is a licensed Texas Level 4 Personal Security Officer and Instructor who was Shift Lead on a mega-church security detail for seven years, and has provided close protection for several former foreign Heads of State. He is currently an instructor at Relson Gracie Jiu Jitsu/Krav Maga in Tyler, Texas and Director of Training for Palisade Training Group (www.ptgtrainingllc.com).