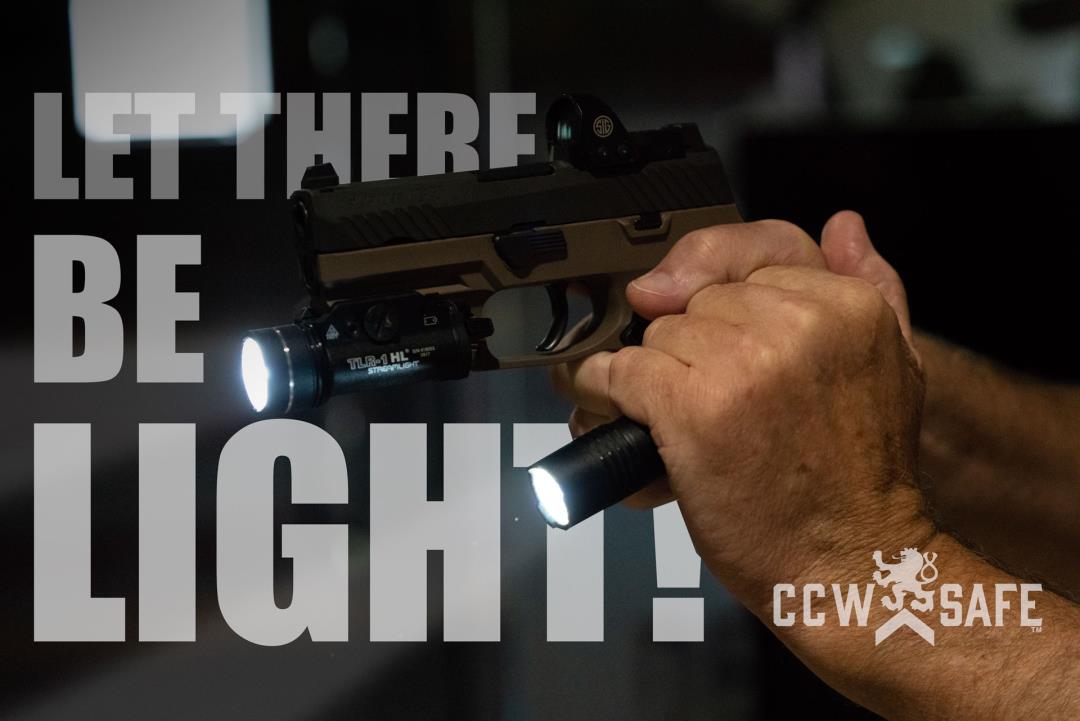 Posted on January 14, 2019 by Steven Moses in Training
Let There Be Light!
Let There Be Light!
In a recent CCW Safe article, former Marine sniper and professional mixed martial arts fighter Gerald Strebendt accepted a plea deal in the face of a murder charge for shooting an intoxicated driver named David Crofut shortly after an automobile collision. Crofut approached Strebendt and got close enough to grab the muzzle of Strebendt's AR-15 carbine before Strebendt fired the fatal shot. Strebendt called 911 as soon he exited his vehicle and was heard to shout "get back from me" multiple times. He requested an ambulance for the victim and placed his firearm on the ground prior to law enforcement arrival. Strebendt was eventually indicted, even though he claimed that in the dark he thought that Crofut was reaching into his pockets in order to grab a handgun.
This is an excellent article that goes into further detail regarding mistakes made by both parties. There is at least one fact that I find indisputable. Had Strebendt the means to light up Crofut with a beam of bright white light from a hand-held flashlight, he would have had the means to visually verify if Crofut indeed was armed with a handgun.
I mentioned in a prior article that I have experienced an encounter with a burglar where initial contact took place in a dark room without the benefit of light from any source, and it was not pleasant. I have also used a handheld light to clear a burgled apartment, a weapon-mounted light on both handgun and long-gun during dynamic entries where contact with criminals was made (as well as non-criminals), and participated in multiple force-on-force low-light courses where I used white light to good effect on other students, and white light was used to good effect on me. I highly recommend that the reader keeps suitable flashlights both in home and in the vehicle, and there is no good reason to not have a small flashlight on his or her person while out in public.
Set out below are some key reasons possession of a carefully chosen flashlight is recommended:
It allows us to identify potential threats and threat areas (dark areas in which a threat may be hiding).
If a lethal force response is required, it allows us to better see the sights on a handgun equipped with iron sights only.
A sufficiently bright light can cause abrupt contraction of the pupils and temporarily switch off the recipient's night vision.
Done properly, white light can make it difficult to ascertain with accuracy the actual location of the flashlight handler.
A strobe function combined with tactical maneuver and movement can allow the user to quickly cross open areas in greater safety.
If the flashlight user is forced to move quickly into a structure from outside, proper use of the flashlight can prevent the user from being backlit (silhouetted against a bright background).
My interest lies mostly with education, training, tactics, and skills. I believe that I see tools for what they are, and much to my wife's relief do not spend a lot of time constantly researching the newest guns, gear, and accessories. I will go so far as to describe the flashlights that I am currently using while acknowledging that there are many alternatives that should work as well, or even better.
Handheld Lights:

Streamlight ProTac 2AA: This light runs on 2 AA batteries, is programmable, and features different light levels (low, high, and strobe). It is compact, well-constructed, and affordable. This light stays on my night stand and is the one that I drop in my shaving kit during out-of-time trips. This is also the light I keep on my person when hunting. This little light produces 250 lumens on high, which is as low as I would go on a hand-held flashlight. The tail switch makes it easy to switch on and off one-handed.
Armytek Pro v3 XB-X 700: This is the flashlight that I keep in my truck. It is a single-function flashlight that generates 700 lumens with a claimed beam distance of 400 plus yards. It also has a tail switch for one-handed use. There are a number of competitors that share similar virtues, and this just happens to be the truck light that I have now. I want as many lumens as I can for nighttime use outdoors.
Surefire Sidekick: The downside to this little light is that due to design it is not as easy to operate one-handed as my other two hand-held lights. But, what do you expect from a high-quality flashlight that is this incredibly compact (designed to be attached to a keychain)? The highest light level produces an amazing 300 lumens of light. Power is derived from an integrated battery that is recharged by being connected to a micro-USB charger. There is no reason for me to leave home now without a handheld flashlight featuring a beam distance or throw of over 60 yards.
Weapon-mounted flashlights:

Streamlight TLR-3: When I was still a member of a multi-precinct Special Response Team, I ran a Surefire weapon-mounted light on a Glock 17. Surefire flashlights have a well-deserved reputation for durability and reliability, and there was always a chance that our gear would take a beating during training exercises and execution of high-risk writs. That is not the case for me today, and I find the Streamlight TLR-3 to be quite capable of meeting my current needs. This is the weapon-mounted light that I keep on my Glock 19 at night. I would not use this light to clear my home if I needed to respond to a break-in if it was necessary to leave my bedroom in order to get to another family member in another room. There are several reasons for this. I don't want to point my muzzle at anything that I am not willing to shoot in order to illuminate a threat area and using a weapon-mounted light to clear rooms places the light source right in front of my face, and white light tends to attract bullets. The beauty of the weapon-mounted light for me is the ability to free up a hand to dial 911 or grab up a child while maintaining the ability to still use white light.
In summary, the concealed carrier should recognize the value of hand-held and weapon-mounted flashlights, learn how to properly use the same to their best effect, and select flashlights that meet their needs. There are plenty of affordable options available today that are far superior to the Maglite 4-D cell models we all used in the early 1990s. I am unable to emphasize the importance of technique when it comes to using flashlights in conjunction with firearms. Almost everything seen on television and in the movies involving room clearing with flashlights is wrong.
---
Steve Moses

Steve is a long-time defensive weapons and instructor based out of Texas who has trained hundreds of men and women of all ages for more than two decades on how to better prepare to defend themselves and their loved ones. Steve has completed over 80 private-sector and law enforcement-only defensive weapons and tactics classes, and has trained civilian and law-enforcement officers in six states. Moses is a reserve deputy, former member of a multi-precinct Special Response Team, competitive shooter, and martial artist. Steve has written numerous articles for SWAT Magazine and other publications. Steve is a licensed Texas Level 4 Personal Security Officer and Instructor who was Shift Lead on a mega-church security detail for seven years, and has provided close protection for several former foreign Heads of State. He is currently an instructor at Relson Gracie Jiu Jitsu/Krav Maga in Tyler, Texas and Director of Training for Palisade Training Group (www.ptgtrainingllc.com).