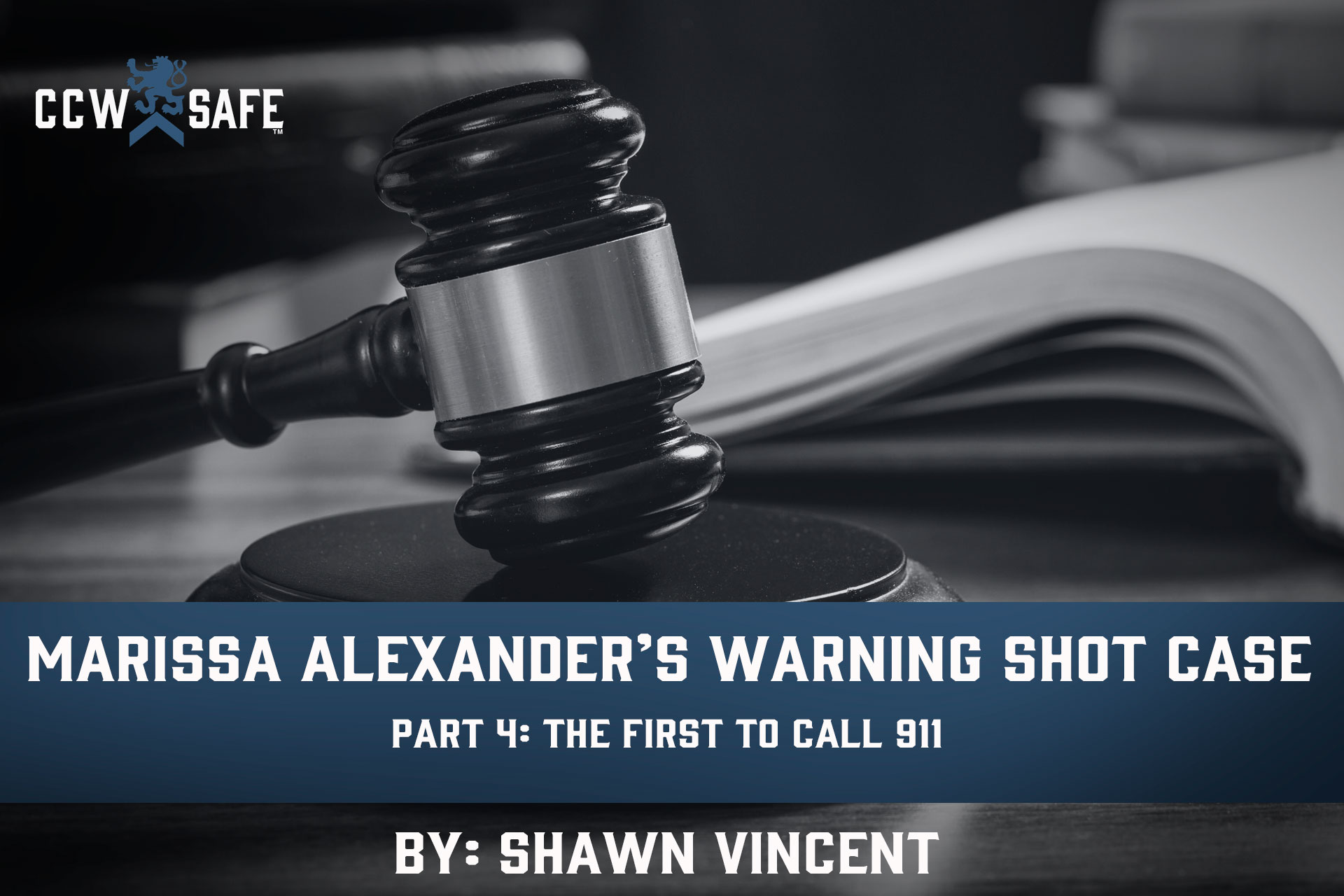 Posted on January 3, 2020 by Shawn Vincent in In Self Defense
Marissa Alexander's Warning Shot Case Part 4
Marissa Alexander's Warning Shot Case
Part 4: The First to Call 911
"The first one to call is apparently the victim." That's what Marissa Alexander said when asked about her decision not to dial 911 to report the warning shot she fired against her estranged husband, Rico Gray.
In the summer of 2010, Alexander gave birth to a premature daughter. She blamed abuse at the hands of Gray for complicating the pregnancy, and she had successfully petitioned the court for a contact without violence order. Alexander had been staying with her mother while recuperating, and on August 1, she returned to the marital home to gather some personal effects. There she encountered Gray. He wasn't violating the restraining order simply by being there, but he was in violation when he erupted into a "jealous rage," cornered Alexander in the bathroom, and tried to choke her.
Alexander, a licensed concealed carrier, escaped to the garage where she retrieved a pistol from her car. She claims she realized she didn't have her keys and said the garage door wouldn't open. So she decided to go back into the living area of the house where she encountered Gray in the kitchen. "He saw me with my firearm, threatened me, and then that's when I fired my warning, my shot. He didn't see my gun and run. He didn't do that. He saw it and decided he will threaten to kill me."
The warning shot was fired in Gray's direction. It went through the wall above the refrigerator, just to the side of an archway Gray had been standing. It had the desired effect; he left the premises in a hurry.
After the shooting, Alexander continued to gather her personal belongings. "To be honest with you, I didn't think I did anything wrong. I was in my home and nothing happened. So, I thought that that would be enough, and if he had come back, then I would have to, but at that point, that was my thinking."
She never imagined that her husband would report the shooting, but he did. After hearing Gray's side of the story, police tried to call Alexander on her cell phone, but she missed their calls. Apparently Gray told police she was barricaded in the home with a gun. Finally, her sister reached her and told her there were police outside. She had to walk out with her hands up.
She gave several statements to police, thinking that once they learned of the restraining order and heard her side of the story they'd let her go. "I'm thinking, okay, it's going to be like Law and Order or Heat of the Night," Alexander says. "I'll go to a little room, I'll tell them what happened and be like, everything is good. And it was not the case. . ."
Police charged her with aggravated assault, and she was booked into jail that day.
Marissa Alexander says she didn't call 911 because, "I didn't think I did anything wrong." Don West, veteran criminal defense attorney and National Trial Counsel for CCW Safe, stresses that "when you draw a gun and you point it in the direction of somebody, and you fire the gun, you have committed a crime right then, a very serious crime unless you have the legal justification to do that."
"Even if she didn't feel that she did anything wrong," Don says, "it doesn't make sense, if you accept her at her word, doesn't make sense that she wouldn't call the police to explain that she was attacked in her home, that she had to display a weapon, and ultimately fire it to prevent this guy with a history of violence from making good on his threat."
In legal terms, self-defense is an affirmative defense. It means the accused admits to the act, but claims the act was justified under the extraordinary circumstances. Unless some law enforcement agency with jurisdiction determines a shooting to be justified — even in the case of a warning shot — it is a crime. If a defender waits for someone else to report the shooting, perhaps hoping that nobody will, when police finally do arrive, the claim of self-defense doesn't carry much credibility.
The lesson for concealed carriers is that anytime a gun is used in self-defense — whether it was fired or not; whether someone was shot or not — it is a big deal, and unless it's determined to be justified, it is a serious crime. If you're ever involved in a self-defense incident, try to be the first to report it to authorities. Make your self-defense claim early — before others cast the mindset of the investigating officers.
And here's another important lesson: don't make detailed statements to law enforcement without advice from a lawyer. Alexander admits she was naive when she thought giving statements to police would help her case. Don West says, "For an individual to subject themselves to the investigative process on their own without the benefit of counsel is a highly risky and, in my view, a foolish thing. People that are friendly aren't necessarily your friends, and you won't understand the meaning, the real meaning, of the questions. You won't know how to modulate your answers to say what's true without saying things that could also be construed or misconstrued as harmful."
Don West has tried a lot of self-defense cases. "Frankly, the ones that are the hardest to try are the ones when we have to explain what the client said to the police."
After a self-defense shooting, try to be the first to report it; make your self-defense claim early; and don't make detailed statements to police without the advice of a lawyer.
.
---
SHAWN VINCENT- LITIGATION CONSULTANT

Shawn Vincent is a litigation consultant who helps select juries in self-defense cases, and he manages public interest of high-profile legal matters. If you have any questions for Shawn, or would like more articles like this, let us know belo