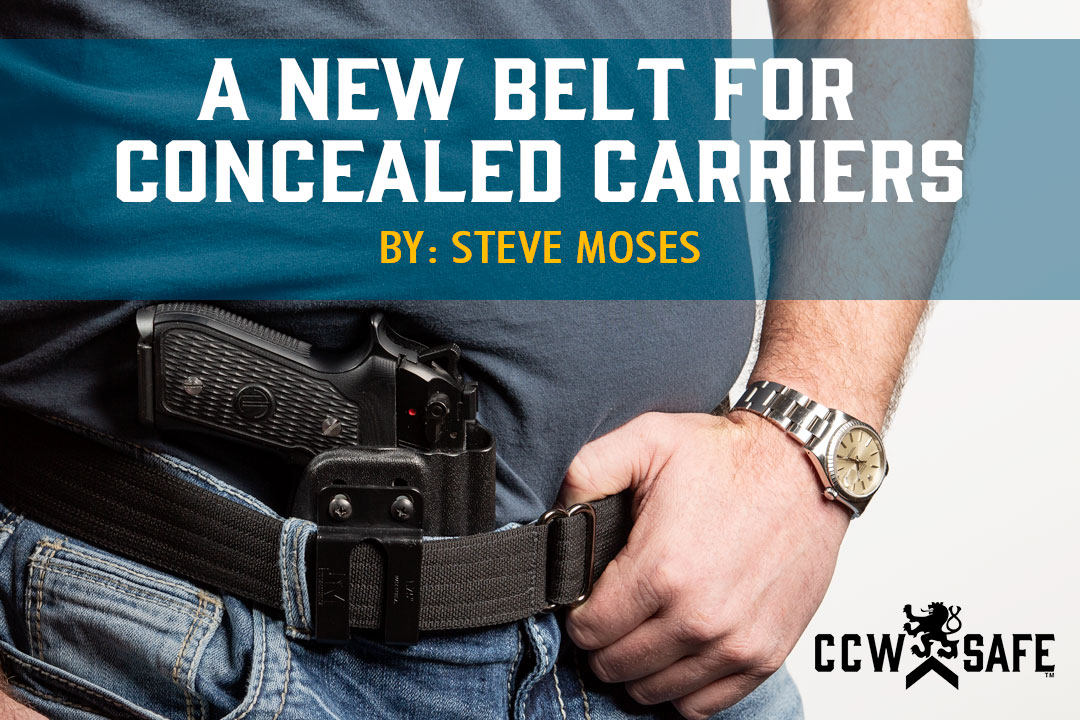 Posted on April 22, 2019 by Steven Moses in Training
A New Belt For Concealed Carriers
A NEW BELT FOR CONCEALED CARRIERS

If I were to ask a fellow concealed carrier what they were carrying, the response that I would most likely receive would be restricted to some brand and model of a handgun. If I were to press it further and ask for the maker of the belt they are using, I would not be surprised to be greeted with a blank stare. This response is understandable. More than likely their present belt does an adequate job of holding up their pants and supporting their holstered handgun, much in the same way that an upturned orange crate allows me to assume a seated position and rest my legs. Given a choice between an upturned orange crate and a more comfortable La-Z-Boy recliner when it comes to being seated, I am going with the latter. As a long-time concealed carrier, the same is true for me when it comes to selecting a belt for every day carry.
When someone tells me that I need to look at a new holster, magazine pouch, flashlight, or any other item that might be classified as support equipment or an accessory because it has a feature or features that set it out from the crowd, I typically approach it with at least some skepticism. When contacted by Bryan Eastridge and asked to review his EDC Belt Company Foundation Belt ("EDC Belt"), I said that I would because I knew Bryan to be a stand-up guy, excellent shooter, and legit defensive handgun instructor. Bryan is former military, currently a police officer with 17 years of experience, and co-founder/designer of the EDC Belt. I asked Bryan to tell me what it was about the Foundation Belt that he thought it made it stand out.
"After carrying a pistol off-duty and concealed for over 16 years I was always on the hunt for a belt that combined function and comfort. Several companies offer excellent belts which are made of very rigid materials. These belts worked great for standing at the range for 8 hours, but the bulk of my day is seated in a vehicle or in my home office, and that's where I decided I needed more comfort. I ordered a sewing machine and materials and started prototyping belts with the help of my business partner. We discovered that the bulk of carry belts on the market use a stiff material known as SCUBA webbing as their center stiffening layer which also means the belt won't mold or conform to the wearer's hips and creates a stiff non-flexing area across the lower back. I wear a stiff equipment belt for work, which becomes more challenging with age, and I have lower back problems associated with years of police work. I set out to re-engineer a belt that would be functional for concealed carry and comfortable to the wearer. I carry appendix off-duty with a Keepers Concealment Holster and a Beretta 92G Elite LTT so the need to have a low-profile buckle was paramount and the ability to thread the belt either direction was a necessity. We designed a belt that places heavy SCUBA duty webbing only where you would mount a holster, and a lighter webbing that extends across the lower back to allow the belt to form to the hips. The double-tapered end allows the belt to be threaded in either direction."
The first things I picked up on when I received the EDC belt were the double- tapered end and small double buckle. For concealed carriers familiar with most instructor belts that feature double buckles and Velcro and friction tape attachments, one feature that I find annoying is the tendency of the belt to fray the inside of the belt loops over time. Threads and fabric material will start to adhere to the friction tape, and eventually this buildup will cause the Velcro and friction tape to bond less tightly. The double tapered end of the EDC belt does not seem to fray the inside of the belt loops to this same extent.
I typically carry a Ban Tang LaGriffe on my belt between the belt loops mounted at 9:00 and 11:00 on my pants or jeans, which previously meant that I had to remove the sheath every time I removed the belt and replace it every time that I re-donned the belt. The EDC buckle is so small that I can thread it from left to right through the 11:00 belt loop, which means that I can simply leave the sheath on the belt all the time. As a long-time back patient with significant arthritis in my lower back, I had pretty much assumed that I was simply always going to walk around with a certain amount of lumbar pain. Upon replacing my then-carry belt with the EDC belt, I was quite surprised to find how much my original belt was contributing to my back pain once the pressure over the lumbar area was reduced. I was sold.
Is this belt the only belt I will ever need for concealed carry? I wear a suit or sport coat on occasion, at which time I hip carry. I typically use a reasonably robust leather dress belt for such situations, which are relatively rare. I personally have not had an issue switching back and forth between the two methods of carry. Hopefully this action will not "get me killed in the streetz."
The exclusive distributor currently for the EDC Belt Company Foundation Belt is Langdon Tactical (www.langdontactical.com) In addition to being a USPSA Grand Master, IDPA Distinguished Master, and winner of multiple national and world championships, Ernest Langdon has instructor certifications from the FBI, NRA, US Army, and US Marine Corps. Ernest was one of the pioneers in the use of the DA/SA pistol in the highest levels of competition, and the highly-sought Beretta 92 Elite LTT is a direct result of his input. Langdon knows that in addition to training and practice that good equipment is necessary to achieve the best possible outcome for concealed carriers, and I consider his decision to add the EDC belt in his product line to be high praise.
---
Steve Moses

Steve is a long-time defensive weapons and instructor based out of Texas who has trained hundreds of men and women of all ages for more than two decades on how to better prepare to defend themselves and their loved ones. Steve has completed over 80 private-sector and law enforcement-only defensive weapons and tactics classes, and has trained civilian and law-enforcement officers in six states. Moses is a reserve deputy, former member of a multi-precinct Special Response Team, competitive shooter, and martial artist. Steve has written numerous articles for SWAT Magazine and other publications. Steve is a licensed Texas Level 4 Personal Security Officer and Instructor who was Shift Lead on a mega-church security detail for seven years, and has provided close protection for several former foreign Heads of State. He is currently an instructor at Relson Gracie Jiu Jitsu/Krav Maga in Tyler, Texas and Director of Training for Palisade Training Group (www.ptgtrainingllc.com).