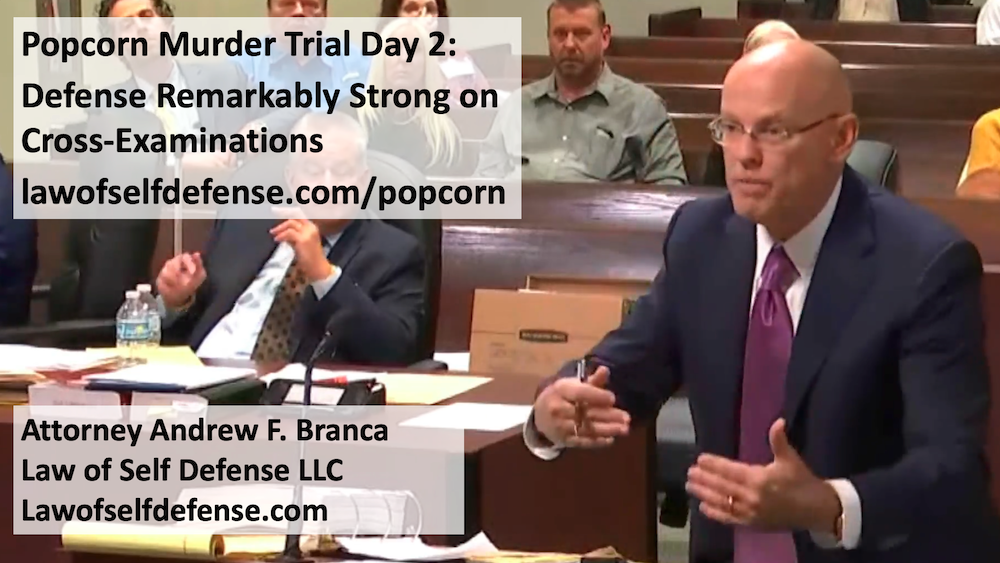 Posted on February 17, 2022 by Andrew Branca in Uncategorized
"Popcorn Murder" Trial Coverage by Andrew Branca Day 2
The opinions and statements made in this article are solely those of Andrew Branca and do not represent any position or opinion of CCW Safe. We chose to share this content in order to provide some insight to the trial process.
Popcorn Murder Trial Day 2: Defense Remarkably Strong on Cross-Examinations
Yesterday was the second day of testimony in the murder trial of Curtis Reeves, the retired Tampa SWAT Captain who shot and killed Chad Oulson in a local movie theater in January 2014 after the two men had a verbal altercation that became physical.
The shot that killed Chad Oulson also penetrated the hand of his wife, Nicole Oulson, leading to a second charge of aggravated battery. If convicted on both charges the 79-year-old Curtis Reeves is looking at a mandatory minimum of 50 years in prison—a sentence unlikely to be served in full for obvious reasons.
Yesterday's continued presentation by the State of its case-in-chief was remarkable less for the strength of the State's narrative of guilt—which has not been very robust—than it was for the strength of the defense cross-examination of State witnesses.
This performance of the defense on cross continues a very solid cross-examination of Nicole Oulson the prior day, but follows an almost shockingly poor opening statement by the defense on Monday morning. The State's opening was also not great, coming across as intentional deceptive and full of half-truths and deceptive phrasing, as we described yesterday here: Popcorn Murder Trial Day 1: Poor Opening Statements, Victim's Wife Testifies.
It's perhaps worth taking a moment to review those two competing narratives in this trial.
State Narrative of Guilt
The State's narrative is essentially that Curtis Reeves shot and killed Chad Oulson out of malice when Oulson acted disrespectfully to the retired police officer, cursing at him in the open theater in front of Reeves' wife and others, after Reeves triggered (the State is attempting to misleading argue "provoked") the confrontation by complaining about Oulson's cell phone use in the theater as Oulson was seated immediately in front of Reeves.
The verbal confrontation escalated to the physical, according to the State, when Oulson seized Reeves' popcorn from his hands, and "flicked" it back at Reeves. At that point Reeves drew a .380-caliber Kel-Tec pistol and fired the single round that would penetrate Nicole Oulson's hand and strike Chad Oulson fatally in the chest.
The State has attacked the defense claim of self-defense on essentially every element with varying degrees of credibility, including attacking the element of Innocence on the grounds that it was Reeves who "triggered" the confrontation by initiating "contact" (mere verbal contact) with Oulson; attacking Imminence on the grounds that whatever threat Oulson may have posed was already over when the shot was fired; attacking Proportionality on the grounds that whatever threat Oulson may have posed was unlikely to have inflicted death or grave bodily harm; and attacking Reasonableness on the grounds that even if Reeves had a genuine, good faith, subjective perception of a grave bodily harm attack, that perception was objectively unreasonable. The element of Avoidance is generally off the table as a target of attack on the facts of this case given Florida's stand-your-ground status. (Get our FREE infographic, "Five Elements of Self-Defense Law" infographic here.)
Defense Narrative of Self-Defense
The defense narrative is that Curtis Reeves shot and killed Chad Oulson in self-defense after Oulson engaged in physical aggression that was reasonably perceived by Reeves as using and threatening imminent force reasonably likely to inflict grave bodily injury upon him.
Prior to seizing Reeves' popcorn, according to the defense, the 6' 4" 43-year-old Oulson had hurled angry "F-bombs, turned in his seat, stood up, and leaned aggressively over the then 71-year-old in frail health, forcibly struck Reeves in the temple with a hard object, then continued to throw his hands at Reeves in the process of seizing and hurling his popcorn. The defense is placing great weight on their claims of Reeves' purportedly frail health and therefore exceptional vulnerability to grave bodily harm at the hands of the much younger and very large attacking Chad Oulson.
Indeed, so aggressive was Chad Oulson's conduct that his own wife Nicole placed her hand on his chest to restrain him. So it was that the single shot fired by Reeves in self-defense passed through her hand and into her husband's chest, with fatal result.
State Moves Through Eight Witnesses Yesterday
The prosecution moved through a full eight witnesses yesterday, with the court thankfully keeping a good pace throughout the day. This is important, as the court has stated its expectation that the trial will not extend beyond the end of next week. It's worth noting that the self-defense immunity hearing held in this case back in 2017 itself took a full two weeks.
The first four witnesses for the State were all eye witnesses who were also planning on viewing the movie to be played, which happened to be the recently released "Lone Survivor." Video of their testimony, and the testimony of every other of yesterday's witnesses, is embedded below.
Remarkably, all four witnesses were clearly biased in favor of the State, and hostile in demeanor and presentation of evidence towards the defense. Each of these witnesses obviously and deliberately parsed their language on direct questioning by the State to attempt to present their testimony in the light most consistent with guilt of the defendant.
Excellent Defense Cross-Examination of Witnesses
This is where the defense really stepped up and did an outstanding job. Their cross-examination of each of these four witnesses was effective at exposing their biased presentation of their testimony, and without over reaching or becoming excessively hostile—with the possible exception of the cross-examination of Alan Hamilton.
Alan Hamilton had at the time been an out-of-jurisdiction police officer who observed some of the confrontation between Reeves and Oulson, was present for the fatal shot, and who would secure Reeves' gun from him afterwards. Defense Counsel Escobar was quite aggressive in his cross-examination of Hamilton, and for good reason.
On direct testimony by the State immediately prior to cross, Hamilton had described Oulson's conduct as largely inoffensive. This was in sharp contrast to his testimony in a written statement made the day of the event in which Hamilton had described Oulson as leaning over his own seat so as to tower over the still seated Reeves—obviously a far more aggressive posture than Hamilton had described on direct questioning. Further, Hamilton appeared completely unwilling and unable to reconcile these two disparate views of Oulson's conduct, to the point of coming across as thoroughly biased in favor of the State.
If you have time to watch only one of the video clips below, I suggest you prioritize Attorney Escobar's cross-examination of Alan Hamilton. That said, the defense cross-examination of the remaining four witnesses of the day, all of whom were at the time of the event involved in the law enforcement investigation of the shooting, was also well-done and well worth watching.
Daily Live Commentary & Analysis of Trial
Before I share the videos of yesterday's testimony, I'll remind all of you that I will be providing real-time commentary and analysis of today's trial proceedings over at the Rekieta Law YouTube channel, as a guest of Attorney Nick Rekieta, , as I will be doing for each day of this trial. If you'd care to join me there, you can do so at this link, starting at about 8:30 am Eastern time today: https://youtu.be/vc-a06bsd78
Trial Second Day Witness Testimony
Charles Cummings, Theater Patron, Eye Witness
Direct Questioning
Cross-Examination
Jane Roy, Theater Patron, Eye Witness
Direct Questioning
Cross-Examination
Re-Direct
Re-Cross
Angela Hamilton, Theater Patron, Eye Witness
Direct Questioning
Cross-Examination
Re-Direct
Re-Cross
Re-Re-Direct
Alan Hamilton, Theater Patron, Eye Witness
Direct Questioning
Cross Examination
Deputy Eric Jones
Direct Questioning
Amy Parish, Evidence Technician
Direct Questioning
Cross Examination
Amy Kubin, Evidence Technician
Direct Questioning
Cross-Examination
Deputy Steven Bunner
Direct Questioning
Cross-Examination
Remember
You carry a gun so you're hard to kill.
Know the law so you're hard to convict.
Stay safe!
–Andrew
Attorney Andrew F. Branca
Nothing in this content constitutes legal advice. Nothing in this content establishes an attorney-client relationship, nor confidentiality. If you are in immediate need of legal advice, retain a licensed, competent attorney in the relevant jurisdiction.
ANDREW BRANCA


Attorney Andrew F. Branca is in his third decade of practicing law, specializing in self-defense law of the United States, where he is an internationally recognized expert. Andrew has contributed in this context by the Wall Street Journal, National Review, the Chicago Tribune, the Washington Post, and many others, including nationally syndicated broadcast media. Andrew is also a host on the Outdoor Channel's TV show The Best Defense and contributor to the National Review Online.

Andrew is a former Guest Instructor and subject matter expert (SME) on self-defense law at the Federal Bureau of Investigation's National Academy at Quantico and the Sig Sauer Academy, an NRA Life-Benefactor member, an NRA Certified Instructor, an IDPA Charter/Life member (IDPA #13), and a Master-class competitor in multiple IDPA divisions. Andrew teaches lawyers how to argue self-defense cases as a certified instructor with the Continuing Legal Education (CLE) system in numerous states around the country.


In addition to being a lawyer, Andrew is also a competitive handgun shooter, an IDPA Charter/Life member (IDPA #13), and a Master-class competitor in multiple IDPA divisions.

Recently, Andrew won the UC Berkeley Law School Debate on "Stand-Your-Ground," and spoke at the NRA Annual Meeting on self-defense law.