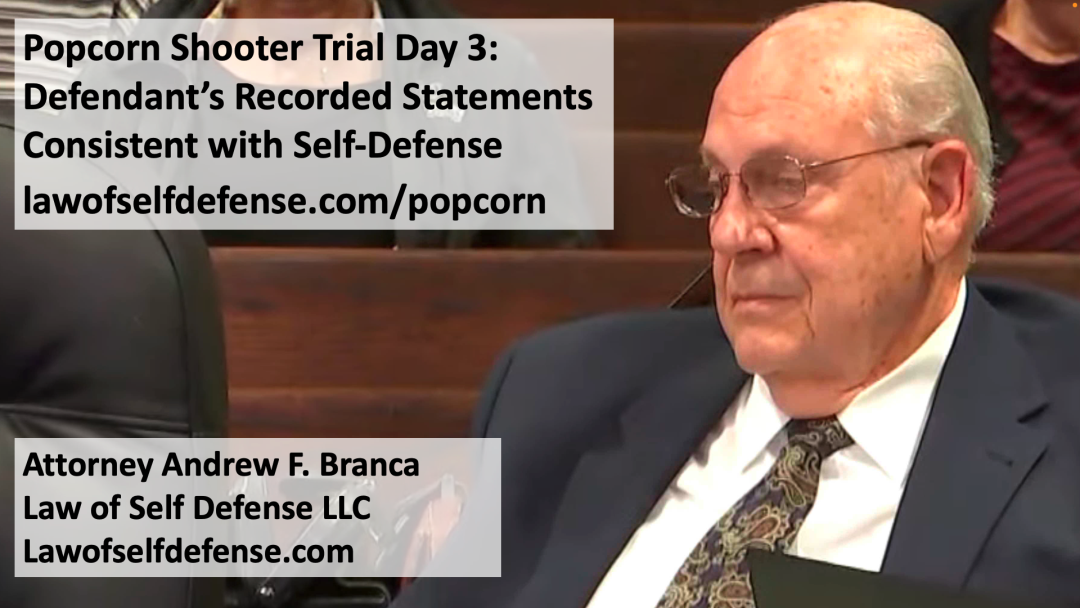 Posted on February 17, 2022 by Andrew Branca in Uncategorized
"Popcorn Murder" Trial Coverage by Andrew Branca Day 3
The opinions and statements made in this article are solely those of Andrew Branca and do not represent any position or opinion of CCW Safe. We chose to share this content in order to provide some insight to the trial process.
Popcorn Shooter Trial Day 3: Defendant's Recorded Statements Consistent with Self-Defense
Yesterday was the third day of testimony in the murder trial of Curtis Reeves, the retired Tampa SWAT Captain who shot and killed Chad Oulson in a local movie theater in January 2014 after the two men had a verbal altercation that became physical.
The State moved through an additional five witnesses yesterday, including the EMS Craig Dejonge, who provided aid to Curtis Reeves—specifically, flushing Reeves' left eye—at the scene; Detective Todd Koenig, who interviewed some of the witnesses on scene; Forensic Investigator Susan Miller, who photographed an apparent redness by Reeves' left eye; Medical Examiner John Russel Thogmartin, who did the autopsy of Chad Oulson and commented on photos taken of Reeves' face; and finally then-Homicide Detective Allen Proctor who was lead on this investigation and who conducted two recorded interviews with Reeves at the scene immediately after the shooting. The video of their testimony is embedded below.
Live stream analysis and commentary over at Rekieta Law's YouTube channel. You'll be able to find today's live show for the fourth day of this trial at: http://lawofselfdefense.com/popcorn4
The most important testimony of the day was that of then Homicide Detective Proctor, in the form of the recorded interviews of Reeves immediately after the shooting, because this interview testimony was largely consistent with the defense narrative of self-defense, and inconsistent with the State's narrative of Reeves as a malicious killer who shot Chad Oulson dead in a rage at being disrespected. Here are those two interviews presented separately for your convenience:
The testimony of EMS Dejonge and Forensic Investigator Miller was also helpful to the defense, as their observations of at least some irritation around Reeves' left temple is consistent with Reeves' claim that the physical confrontation began with a blow to his head delivered by Oulson, after which Oulson engaged in ongoing attacks towards him.
The State sought to minimize this testimony by have Medical Examiner Thogmartin diagnose an absence of injury based solely on photos he was provided of Reeves' face, but the defense effectively impeached this Thogmartin testimony on cross-examination.
The testimony of Allen Proctor took much of the afternoon, and was largely foundational in nature, in order to get into evidence the recorded interviews I've shared above. The implications of Proctor's testimony, however, go far beyond the interviews.
First, it was reaffirmed that then Homicide Detective Proctor had interviewed one of the key State witnesses, then-corporal Alan Hamilton, a theater eye-witness, first off-recording before doing so as a recorded interview. You'll recall that Hamilton was the eye witness who in an earlier statement had said that Oulson was leaning aggressively over his seat towards Reeves, consistent with a reasonably perceived threat, but then changed his testimony to make it appear less aggressive. Hamilton was then unable to reconcile this important distinction in his testimony earlier this week. Given the nature of Hamilton's earlier statement, this is obviously critical evidence on the key issue of self-defense.
The failure of Proctor to record the entirety of his interview with Hamilton is contrary to fundamental witness interview protocol, and always carries the risk that what was said off-tape either differs from what is on-tape, or perhaps contaminates what is captured on-tape. Indeed, so damaging is this violation of protocol elicited this testimony from Proctor on direct examination, in an effort to have Proctor explain the failure away.
Proctor's explanation for why he initiated his interview of Hamilton off-tape is far from compelling, especially given the importance of Hamilton's testimony to this trial:
Proctor testified to the State that everything witness Hamilton said off-tape was consistent with what he said on-tape. That claim, however, is likely to be profoundly impeached in today's ongoing cross-examination of Proctor because of other fundamental errors this lead investigator made in this case.
As one example, Proctor dated evidence bags with the wrong year. As another, he put evidence in bags labelled for different evidence. As yet another, he kept evidence—Reeves' holster—in his desk for a week or two after the event, contrary to long-standing policy that evidence must be kept in the evidence room.
None of these errors by themselves are a big deal, but collectively they undercut Proctor's overall competency and credibility. Sure, the defense is likely to argue, he says that Hamilton's off-tape statement was consistent with the on-tape statement—but can we really trust that claim, given all his other missteps?
This cross-examination of Proctor is expected to begin first thing this morning, and is likely to be conducted by the notably aggressive lead defense counsel Richard Escobar, so that is likely to be quite a show.
That said, here is yesterday's testimony:
Craig Dejonge, EMS
Direct Questioning:
Cross-Examination:
Detective Todd Koenig
Direct Questioning:
Cross-Examination:
Susan Miller, Forensic Science Investigator
Photographed day of event, but not inside theater.
Photographed Reeves in theater building, but not in theater 10.
Direct Questioning:
Cross-Examination:
John Russel Thogmartin, Medical Examiner
Direct Questioning:
Cross-Examination:
Re-Direct
Re-Cross
Re-Re-Direct
Allen W. Proctor, then-lead Homicide Investigator
Various foundational and direct & cross testimony (the recorded interviews of Reeves, already shared above, are also found within the third of these videos):
Remember
You carry a gun so you're hard to kill.
Know the law so you're hard to convict.
Stay safe!
–Andrew
Attorney Andrew F. Branca
Nothing in this content constitutes legal advice. Nothing in this content establishes an attorney-client relationship, nor confidentiality. If you are in immediate need of legal advice, retain a licensed, competent attorney in the relevant jurisdiction.
ANDREW BRANCA


Attorney Andrew F. Branca is in his third decade of practicing law, specializing in self-defense law of the United States, where he is an internationally recognized expert. Andrew has contributed in this context by the Wall Street Journal, National Review, the Chicago Tribune, the Washington Post, and many others, including nationally syndicated broadcast media. Andrew is also a host on the Outdoor Channel's TV show The Best Defense and contributor to the National Review Online.

Andrew is a former Guest Instructor and subject matter expert (SME) on self-defense law at the Federal Bureau of Investigation's National Academy at Quantico and the Sig Sauer Academy, an NRA Life-Benefactor member, an NRA Certified Instructor, an IDPA Charter/Life member (IDPA #13), and a Master-class competitor in multiple IDPA divisions. Andrew teaches lawyers how to argue self-defense cases as a certified instructor with the Continuing Legal Education (CLE) system in numerous states around the country.


In addition to being a lawyer, Andrew is also a competitive handgun shooter, an IDPA Charter/Life member (IDPA #13), and a Master-class competitor in multiple IDPA divisions.

Recently, Andrew won the UC Berkeley Law School Debate on "Stand-Your-Ground," and spoke at the NRA Annual Meeting on self-defense law.