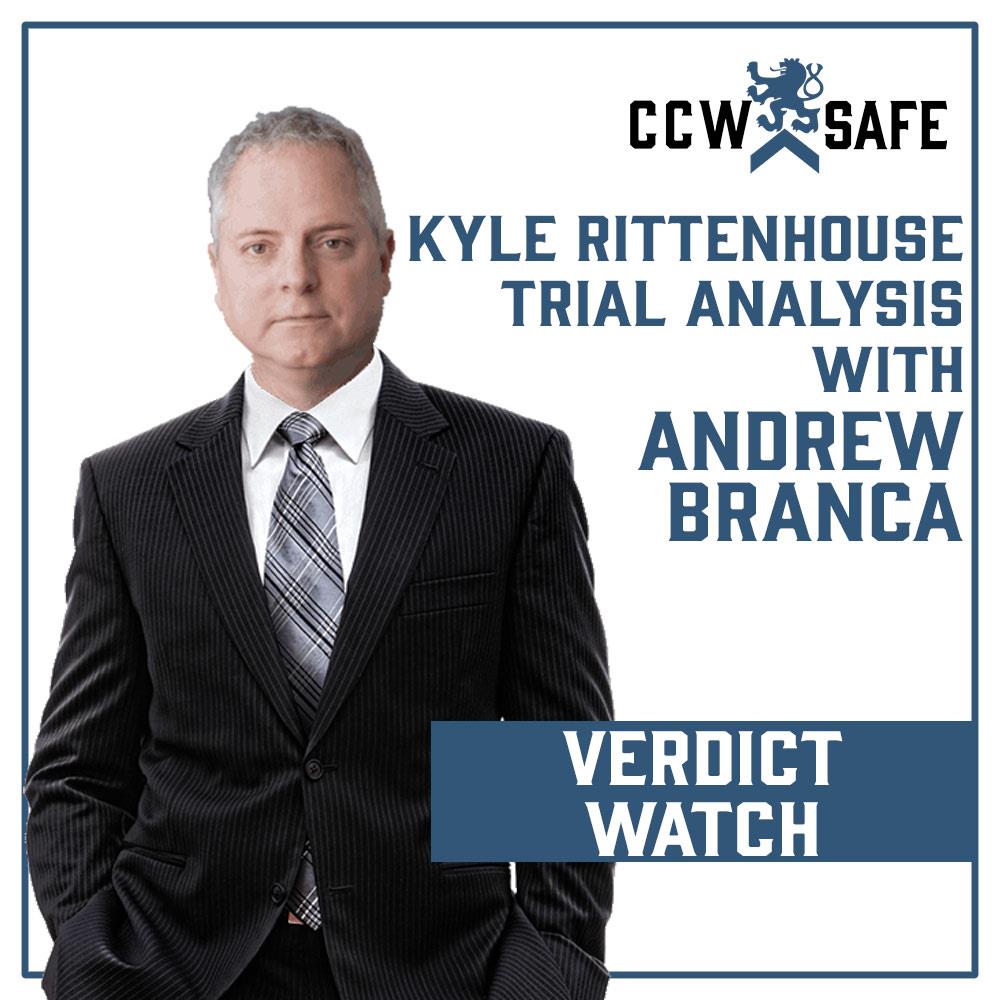 Posted on November 18, 2021 by Andrew Branca in Uncategorized
Rittenhouse Trial Coverage by Andrew Branca: Verdict Watch
The opinions and statements made in this article are solely those of Andrew Branca and do not represent any position or opinion of CCW Safe. We chose to share this content in order to provide some insight to the trial process.
Rittenhouse Verdict Watch Mayhem – Lawyers Fight Over Drone Videos, Requests For Mistrial
Today completed the third day of jury deliberations in the trial of Kyle Rittenhouse, with no verdict being achieved before the jury was sent home for the day.
The jury deliberations take place in private, of course, so we can only speculate as to what discussions are taking place amongst the 12 jurors. That doesn't mean the day was uneventful, however, as the defense once again asked Judge Bruce Schroeder for a mistrial–notably, this time a mistrial without prejudice, meaning that Rittenhouse would be subject to a retrial on these charges.
This newest request for a mistrial is based primarily on the undisputed fact that the prosecution had provided a copy of drone video to the defense that was 1/16th the resolution of the version that would be actually shown to the jury during the trial. With no way to know that the high-resolution version existed, the defense now tells the court that they would have shaped their legal arguments, and prepared their client to testify, different than they did with only the low-resolution version in their possession.
The drone video is particularly important because it is the only evidence offered by the State to support their argument that Kyle Rittenhouse has no privilege of self-defense in this case because he provoked the attacks upon himself, and therefore the State need merely prove provocation, rather than have to disprove self-defense itself.
The act of provocation–specifically, the claim that he pointed his rifle at others, provoking Josep Rosenbaum to chase him across the Car Source parking lot–is supported by no other evidence but for this video. Without the video, then, there is no act of provocation, and the prosecution would then have the unlikely-to-win task of attacking Kyle's claims of self-defense directly.
The prosecution has a Constitutional obligation to provide the defense with the evidence to be used against the defendant in court and failed to substantively meet this obligation by providing the defense with only a low-resolution version of this video, rather than the high-resolution version actually used as evidence before the jury.
Assistant DA Kraus had a laundry list of excuses for why the defense ended up with only a lower-resolution, smaller file size, different file name version of this critical drone video, including blaming everybody but himself–indeed, both this colleague ADA Binger and lead Detective Howard were blamed by Kraus, as well (of course) as the defense itself.
The judge was unconvinced by these excuses and suggested the possibility of putting the prosecution on the witness stand themselves to testify under oath as to how this video mix-up occurred.
Interestingly, a photo purportedly of ADA Kraus' laptop screen being projected onto the large 4k TV screen in the courtroom shows the presence of an imaging software named Handbrake. I lack any technical expertise or experience with Handbrake software, but apparently, a core purpose is to generate low-definition versions of high-definition videos. This has led to speculation that the provision of the low-resolution video to the defense was not an accident at all, but rather an intentional act of the prosecution. If so, this would be prosecutorial misconduct sufficiently grievous to not only warrant a mistrial with prejudice but certainly misconduct perhaps even malicious prosecution charges.
In fact, Judge Schroeder even cautioned the prosecution that he had warned them that there would be a day of reckoning about this drone video left on the prosecution's doorstep mid-trial, and the very fuzzy "enhanced" still-image photographs pulled from the video that supposedly shows Rittenhouse pointing his rifle in an act of provocation–the photos that defense Attorney Marc Richards referred to as "hocus-pocus, out of focus" during his closing argument.
Today was not to be that day of reckoning, however, as the judge simply took the defense motion for a mistrial without prejudice under advisement. He appears to be leaning towards not ruling on this third motion, or the two prior, before waiting to see if the jury will return a verdict of acquittal. If they do, then the whole mistrial issue becomes moot. On the other hand, if the jury returns any guilty verdicts, the judge can theoretically revisit these mistrial motions then.
That the drone video was playing an important role of some kind in the jury's deliberations became clear this afternoon when they asked to be able to view the video as part of their deliberations, and on the large 4k TV screen in the courtroom. This was permitted by the judge, who had the courtroom vacated so the jurors could deliberate in privacy, as is the norm.
As for why the defense, which had been asking for a mistrial with prejudice, would today ask merely for a mistrial without prejudice, we can only speculate that the defense may be concerned that with the third day of deliberations rapidly coming to a close, and the prospect of a quick acquittal now only a fond and unrequited hope, that the jury might have begun leaning towards a conviction on one or more charges.
A mistrial without prejudice would be a better outcome than a conviction, despite the awareness that a re-trial would surely follow. With presumably adequate financial resources available for a second trial, Rittenhouse may be thinking that a second shot with a different legal defense team and more aggressive jury selection might better position him for complete acquittals on all counts the second time around.
Highlights of the Day
Here are the major highlights of the day, accompanied by their corresponding video clips from the courtroom, as they were tracked in today's VERDICT WATCH post:
11/17/21: Discussion during jury instruction hearing (charging conference) on Friday, November 12, 2021, where prosecution reveals it has a higher-resolution version than what it provided to the defense:
The entire key to the prosecution's theory of the case is the purported provocation of Rosenbaum by Kyle Rittenhouse pointing his rifle at another person. This video is the only evidence the prosecution has ever offered in support of this theory. The high-definition version which was used to support the provocation theory in closing argument was never provided to the defense, and particularly not prior the defense putting Rittenhouse on the witness stand to testify–thus the defense was unable to properly prepare their client to testify. Naturally the defense was also not properly able to prepare its own closing argument to counter the prosecution narrative of provocation as purportedly demonstrated in the high-definition version of this video.
11:05 a.m.: Jury sends notice to court saying they want to view some of the videos. Defense concerned about the drone video. Also complaining about when received drone video. Also, defense attorney Richards tells court that the manual for AMP imaging software apparently says methods used in this case are intended for investigative purposes only, not for forensic use in court. When Judge Schroeder asks Binger if that's true, Binger response is that information is not in evidence.
12:55 p.m.: Parties back in court, jury wants to see videos, hashing out the procedure, limits on viewing, especially "militia" video and drone video are problematic. Prosecution explains away providing defense with low-resolution drone video to Judge Schroeder–Judge wants to take testimony from experts on this issue, doesn't believe prosecution credible on this issue. Jury to be given access to some videos, ones they requested that apparently do not include videos about which the defense has raised objections.
2:45 p.m.: Defense makes verbal motion for a mistrial WITHOUT prejudice. Prosecution makes laundry list of excuses over the state not providing defense with high-resolution drone video. Judge warns prosecution that he'd warned them there would be a day of reckoning over this drone video–and then says he's not going to make a decision now, inclined to see what the verdict is going to be.
3:15 p.m.: Jury being allowed to view Exhibit 5, the drone video, in the courtroom. Courtroom vacated so only jurors present. Will be allowed to view drone video as much as they like.
4:40 p.m.: Court recessed for the day with no verdict, back at 9:00 a.m. tomorrow.
Verdict Watch Day 3
Be sure to join us tomorrow right here at Legal Insurrection for our ongoing VERDICT WATCH coverage, as await the jury's determination of Kyle's fate.
Until then:
Remember
You carry a gun so you're hard to kill.

Know the law so you're hard to convict.
Stay safe!
–Andrew
Attorney Andrew F. Branca
Law of Self Defense LLC
Nothing in this content constitutes legal advice. Nothing in this content establishes an attorney-client relationship, nor confidentiality. If you are in immediate need of legal advice, retain a licensed, competent attorney in the relevant jurisdiction.
ANDREW BRANCA


Attorney Andrew F. Branca is in his third decade of practicing law, specializing in self-defense law of the United States, where he is an internationally recognized expert. Andrew has contributed in this context by the Wall Street Journal, National Review, the Chicago Tribune, the Washington Post, and many others, including nationally syndicated broadcast media. Andrew is also a host on the Outdoor Channel's TV show The Best Defense and contributor to the National Review Online.

Andrew is a former Guest Instructor and subject matter expert (SME) on self-defense law at the Federal Bureau of Investigation's National Academy at Quantico and the Sig Sauer Academy, an NRA Life-Benefactor member, an NRA Certified Instructor, an IDPA Charter/Life member (IDPA #13), and a Master-class competitor in multiple IDPA divisions. Andrew teaches lawyers how to argue self-defense cases as a certified instructor with the Continuing Legal Education (CLE) system in numerous states around the country.


In addition to being a lawyer, Andrew is also a competitive handgun shooter, an IDPA Charter/Life member (IDPA #13), and a Master-class competitor in multiple IDPA divisions.

Recently, Andrew won the UC Berkeley Law School Debate on "Stand-Your-Ground," and spoke at the NRA Annual Meeting on self-defense law.