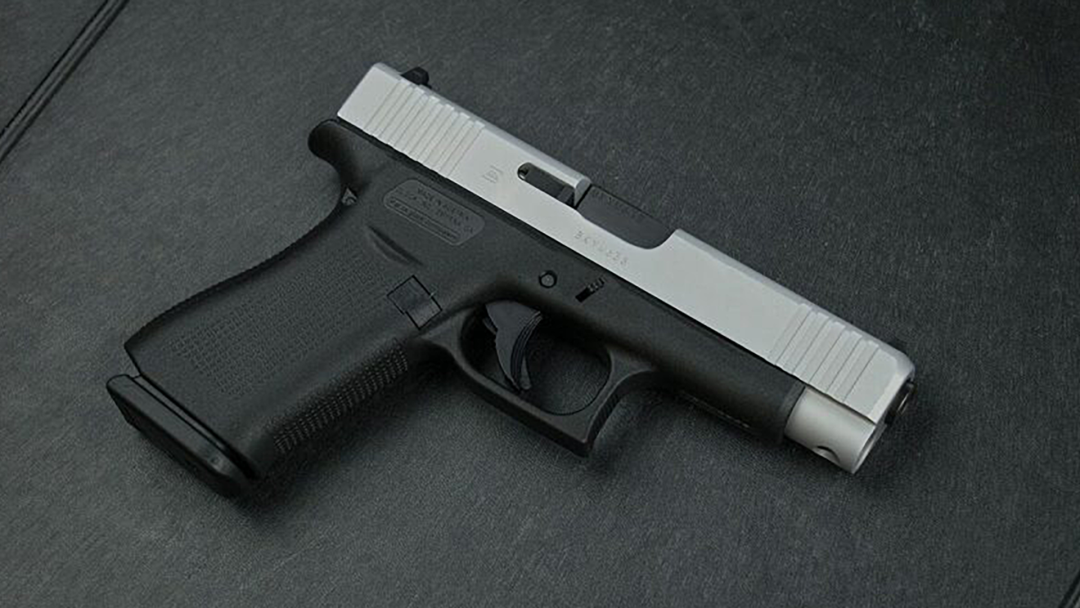 Posted on February 18, 2019 by support@ccwsafe.com in Training
Glock 48 – Best Concealed Carry Pistol
THE NEW GLOCK 48 FOR CONCEALED CARRY
At the 2019 SHOT Show, I got my hands on the new Glock 48 chambered in 9mm caliber. According to Larry Vickers (Vickers Tactical https://www.vickerstactical.com/. Larry Vickers is a retired U.S. Army 1st SFOD-Delta combat veteran with extensive firearms industry experience, who provides instruction in combat marksmanship and consultations in the tactical use of firearms), the 9mm is probably the best caliber choice for multiple reasons. These include mild recoil, added capacity, more affordable practice ammunition and terminal performance similar to that of larger calibers.
I transitioned from the .45 ACP to the 9mm over 20 years ago and have never looked back. I became a Glock fan after running 1911s, Browning Hi-Powers, and CZ-75s. My Glocks of choice have been the Glock 19 and the Glock 43, and I cycle back and forth between the two based upon my plans for the day. If my clothing permits me to covertly carry my 19, that is what I carry; if it doesn't, I default to the 43.
There has been just one problem: I occasionally found myself wearing my 43 in and around places where I would like to have greater ammunition capacity and where distances at which an engagement might occur were noticeably greater than belly-gun range. But I also had concerns about how prominently my 19 would print under my tee or polo shirt.
It Finally Happened – The Glock 48
And then Glock introduced the Glock 48, possibly the only pistol that a new concealed carrier might ever need. The Glock 48 is likely to be embraced by longtime concealed carriers who desire a handgun that conceals nearly as well as the Glock 43, shoots nearly as well as the Glock 19, and has a magazine capacity of 10 rounds.
The width of the Glock 48's grip and distance from the front strap of the frame to the trigger is such that it can be shot well by shooters with either small and large hands, which makes it something of a unicorn. The overall width of the slide is 28 mm, which is similar in size to the Glock 43, but its 185 mm overall length and 128 mm height are close to that of the Glock 19. The width of the frame is slightly larger in order to accommodate the 10-round magazine, and it may very well be that this one feature is what makes the 48 so easy to shoot for small and large shooters alike.
The Glock 48 borrows some features from Glock's Gen5 and Slimline series, e.g. short trigger distance, frame with a built-in beavertail, reversible magazine and precision-oriented, match grade Glock Marksman Barrel (GMB), which is based on the proven polygonal barrel design. The black slide bears an nDLC finish, said to provide a tougher, more durable protection than previous finishes. It is more corrosion- and scratch-resistant, lending higher functionality in adverse conditions. And Glock added front serrations, which I find attractive and functional.
A careful shopper should be able to find a Glock 48 for less than $500. I purchased one as soon as I returned from the SHOT Show and shot it the next day. The 48 sports a typical Glock 5.5-pound (more a less) trigger with no creep and a positive reset. On this same range day, I shot both a 19 and a 43, and my subjective opinion is that the recoil is only slightly more noticeable than the 19 and significantly less snappy than that of the Glock 43.
A Well-Designed Holster for Maximum Concealment
A flat-profile pistol like the 48 without a quality flat-profile holster simply defeats the purpose of the former's concealment qualities. Before I left the SHOT Show I put a call into my long-time friend and master holster maker Spencer Keepers, who is a nationally recognized marksman and personal defense instructor. By the time I arrived in Texas, I had two of his outstanding Keepers Concealment minimalistic KYDEX Appendix Inside-The-Waistband carry holsters sitting on my dinner table.
If you don't know who Spencer is, you should. He is an excellent instructor, and several years ago when I decided to transition from traditional hip carry to appendix-carry, I enrolled in his Appendix Carry Skills class. The holsters I referred to above are his Keeper and Errand models. The Keeper is the first design conceived by Keepers, and this patented AIWB holster has become part of the EDC (everyday carry) gear configuration used by the highest levels of instructors, law enforcement officers, military personnel and concealed carriers across the country.
Keepers' Errand holster is designed specifically for those times concealed carriers need to gear up quickly with a smaller gun, for use during short periods of time such as when you're running errands. The Errand can be worn with or without a belt owing to its quick-detach plastic clip modification, making for super-easy on and off. Women love this holster, and it's great for guys hanging around the house in sweatpants, shorts, etc. since no belt is required. The Errand also works great for all-day carry, with or without a belt. However, when I leave the house, I make sure that I wear it with a belt in case I end up in a tussle, simply because of the extra retention that the belt adds.
For those of us who don't always know what we don't know, a properly designed appendix-carry holster requires different features than a normal inside-the-waistband holster. This includes considerations geared toward better concealment, comfort and ease of draw. After much trial-and-error, Spencer came up with a model that I think rates an 11 on a scale of one to ten. I wear my Keepers Concealment holsters almost any time that I am clothed.
A Gun is Only as Effective as the Shooter
One last caveat: Extremely short-waisted persons might find that the Glock 48 is slightly too long to comfortably appendix-carry. If this is the case, however, Glock has something for them as well. The newly introduced Glock 43X features the same frame and 10-shot capacity as the 48, but the Glock 43X slide has the same dimensions as the proven Glock 43. I have not shot one yet and so refrain from making further comments, but I would think that this pistol deserves consideration if the 48 is not suitable.
As always, pistols like these are still only tools, and it is up to the user to maximize their performance. Train when you can and practice even when you don't want to. As Cliff Byerly of Hill Country Combatives has said, "The day chooses you."
---
ABOUT STEVE MOSES

Steve is a longtime defensive weapons instructor based out of Texas, who has spent more than two decades training hundreds of men and women of all ages on how to better prepare to defend themselves and their loved ones. Steve has completed over 80 private-sector and law-enforcement-only defensive weapons and tactics classes, and has trained civilian and law-enforcement officers in six states. Moses is a reserve deputy, former member of a multi-precinct Special Response Team, competitive shooter, martial artist and author of numerous articles for SWAT Magazine and other publications. A licensed Texas Level 4 Personal Security Officer and Instructor, Steve was Shift Lead on a mega-church security detail for seven years, and he has provided close protection for several former foreign Heads of State. Currently, Steve is an instructor at Relson Gracie Jiu Jitsu/Krav Maga in Tyler, Texas, as well as Director of Training at Palisade Training Group, LLC.