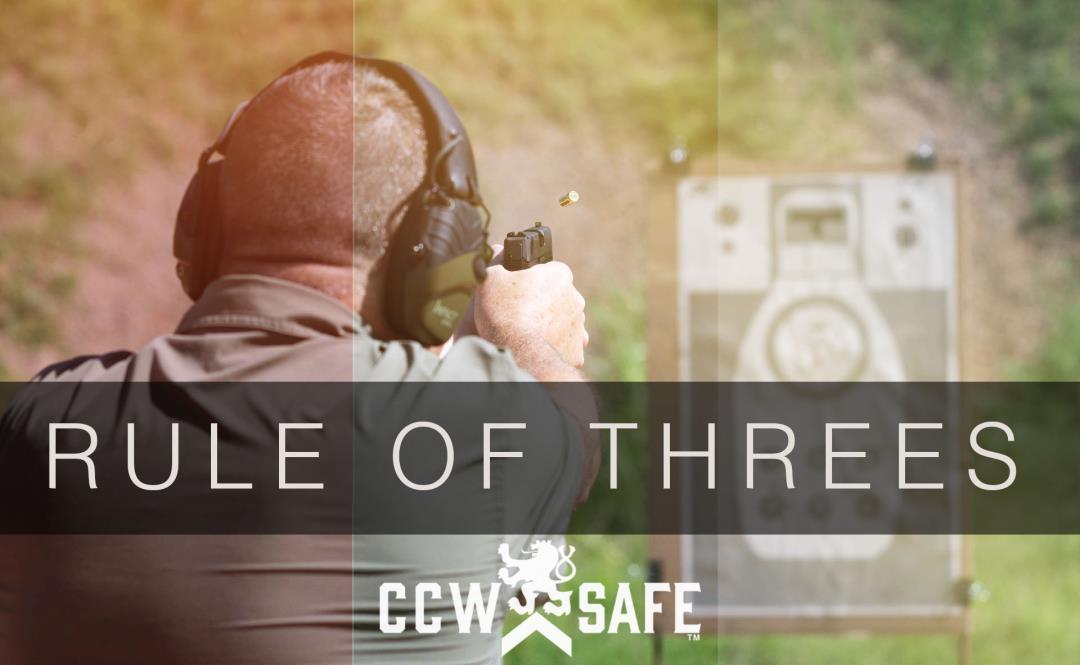 Posted on January 28, 2019 by Steven Moses in Training
The Rule Of Threes
THE RULE OF THREES
Three yards, three rounds, three seconds. According to my friend, mentor, and master defensive firearms instructor Tom Givens, most gunfights involving civilians and felons takes place at a distance of approximately three to five yards, approximately three and one-half rounds are fired, and no further shooting takes place after approximately three seconds.
Tom Givens has been involved in defensive firearms instruction for over 40 years. He spent over 25 years in law enforcement and security and owned and operated the Rangemaster pistol range in Memphis, Tennessee for an additional 18 years. Tom currently travels throughout the United States teaching, and he has taught thousands of men and women proven defensive shooting techniques and tactics that, if performed properly, are capable of greatly increasing the odds that they go home safely every night, even if some day they find themselves face-to-face with another person intent on killing them.
Tom's gift to all of us is the fact that he has created and maintained a database covering the circumstances involving gunfights in which his students were involved. As I write this, his students have engaged in 63 known civilian-sector gunfights. One gunfight took place at contact distance (the student slapped the gun-hand down of his assailant before shooting him) and one took place at 22 yards. However, by far most of them took place at a distance of about nine to fifteen feet (length of a car or less), and typically between two and three rounds were fired by the student. His students won all 63 gunfights and lost none. Several students were shot during the exchanges, with three suffering serious injuries. An additional three students also died during robberies. All three had one thing in common, which is that they all chose to go unarmed on the last day of their life.
Most incidents were financially motivated, followed by domestic violence. There were indeed a few anomalies, including an assault at a gas station by an emotionally disturbed person, and an attempted murder when a teenager shot at a neighbor across the street with a .22 rifle due to an earlier exchange of words. The criminal actor in most situations must have shared the same playbook, as they simply closed distance on their target and then drew a gun. The students quickly and competently drew their own handguns from concealment and shot their assailants, typically eliciting no little surprise on the part of said assailant or assailants. From all appearances, all students simply defaulted to their training, and shortly thereafter they were all still alive and most of the time physically very little the worse for wear.
Here is where the number three comes back into play for the concealed carrier. One, get a handgun, take at least one (more is better) defensive shooting class from a reputable defensive firearms instructor, and maintain skills learned through consistent practice. Two, carry that handgun whenever possible. And three, maintain a level of general awareness anytime we are out of an environment that we can't entirely control, and be cognizant that every time some questionable party closes distance unexpectedly or unexplainably, violence may quickly follow.
---
Steve Moses

Steve is a long-time defensive weapons and instructor based out of Texas who has trained hundreds of men and women of all ages for more than two decades on how to better prepare to defend themselves and their loved ones. Steve has completed over 80 private-sector and law enforcement-only defensive weapons and tactics classes, and has trained civilian and law-enforcement officers in six states. Moses is a reserve deputy, former member of a multi-precinct Special Response Team, competitive shooter, and martial artist. Steve has written numerous articles for SWAT Magazine and other publications. Steve is a licensed Texas Level 4 Personal Security Officer and Instructor who was Shift Lead on a mega-church security detail for seven years, and has provided close protection for several former foreign Heads of State. He is currently an instructor at Relson Gracie Jiu Jitsu/Krav Maga in Tyler, Texas and Director of Training for Palisade Training Group (www.ptgtrainingllc.com).