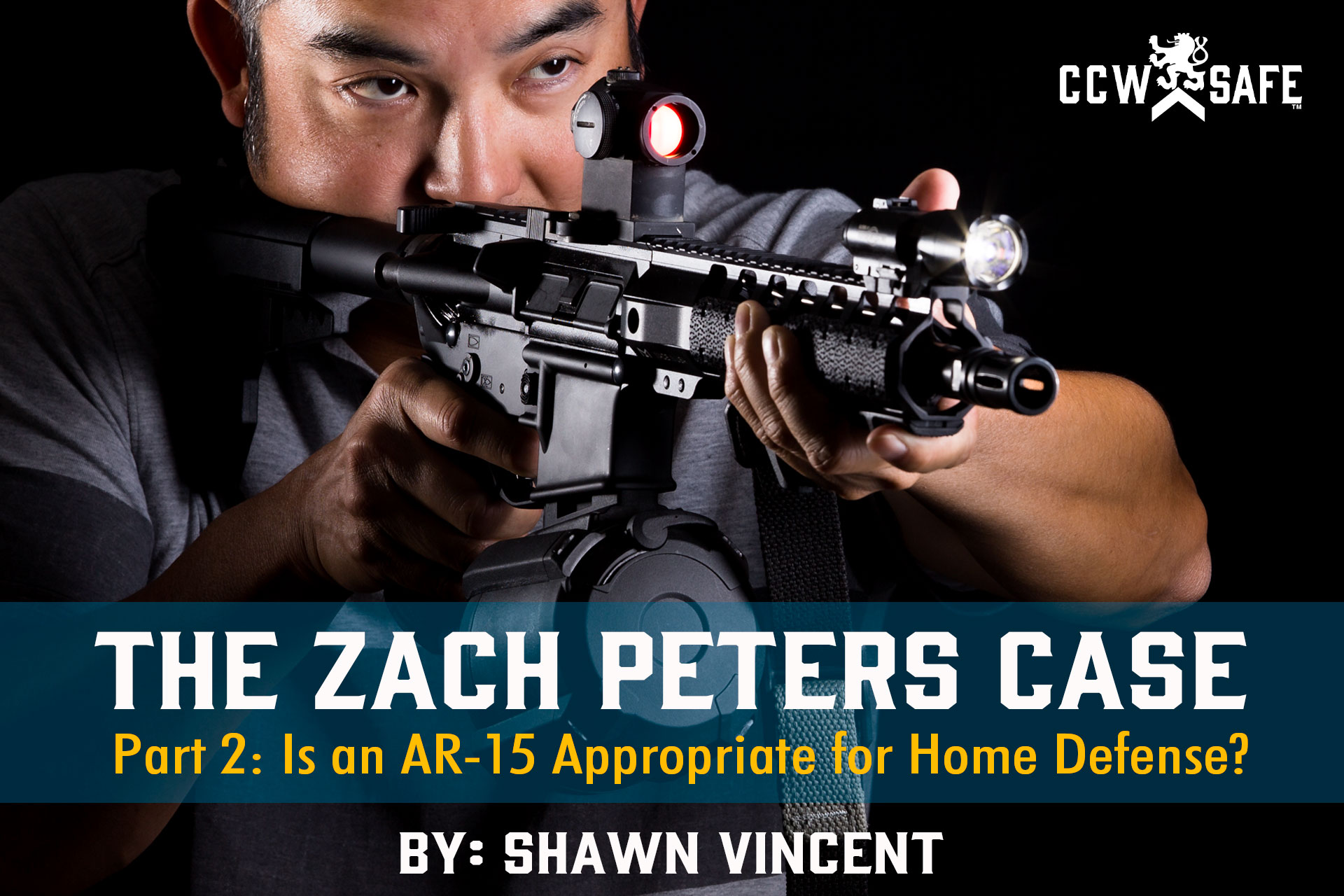 Posted on May 24, 2019 by Shawn Vincent in In Self Defense
The Zach Peters Case Part 2: Is an AR-15 Appropriate for Home Defense?
The Zach Peters Case Part 2:

Is an AR-15 Appropriate for Home Defense?
"Upon making entry to the home," the Wagoner County Sheriff's Office statement reads, "one of the residents fired a rifle striking all three of the suspects." The "resident" referred to was 23-year-old Zach Peters, who was home alone at his parents' house. The "suspects" were three teenagers, all dressed in black, with gloves and masks. They had forced their way into the house through a backdoor around 12:30 pm on March 27, 2017. One was armed with a knife; another had brass knuckles.
Zach Peters was armed with an AR-15, and after a tense exchange of words, he fired at the intruders and then retreated into a bedroom, locked the door, and dialed 911. He told the dispatcher he had shot two of them, not realizing he had hit all three. Two collapsed in the kitchen while the third made it out to the driveway before succumbing to his injuries. All three died.
Ultimately, this triple homicide was deemed justified. Nonetheless, the case drew national headlines, perhaps because of a perceived controversy over the use of an AR-15 for home defense. One report from NBC News reminded readers that the "AR-15 was the weapon used in mass shootings such as Newtown, the Aurora movie theater in Colorado and San Bernardino."
Don West, criminal defense attorney and National Trial Counsel for CCW Safe, says that the use of the AR-15 may have drawn headlines, but it probably had very little impact on the investigation or the decision on whether or not to charge Zach Peters. The family owned the rifle legally, and Zach used it appropriately in this case.
"What's more likely to affect a self-defense case," West says, "is when someone makes custom modifications or uses stickers or logos — things that might make it seem like they are looking for someone to give them an excuse to use their weapon — something that suggests they consider themselves a particularly 'bad-ass' kind of person, and they put that attitude on display." A prosecutor, West warns, may try to use that evidence to illustrate a shooter's mindset was not compatible with justifiable self-defense.
In our series The Four Elements of Self-Defense, we explored the Gerald Strebendt case where the veteran Marine sniper and former professional mixed martial arts fighter used a .223 caliber rifle to defend himself against an angry motorist after a late night collision on a desolate highway. While the use of the legally-owned "AR-15-style" rifle had no legitimate legal bearing on the prosecution, the District Attorney seemed to feel the rifle — combined with Strebendt's prior incidents and boastful social media posts — was an expression of Strebendt's aggressive demeanor and cavalier attitude towards violence. Strebent served several years after a negotiated plea.
Remington, the manufacturer of an AR-15-style rifle, is facing a remarkable civil claim that could make the company liable for Adam Lanza's use of their rifle during the Sandy Hook Elementary School shooting. Based on established case law, such a claim would traditionally be tossed by a judge, but the Connecticut Supreme Court in March of 2019 ruled that the lawsuit could proceed — largely because of evidence that the company targets young men with their marketing, using slogans such as "consider your man card reissued." It's not the rifle that has Remington in legal hot water; it's the attitude they have ascribed to it.
Don West says the choice of a self-defense weapon is very personal. "It depends on how you feel you'll use it, what you are comfortable with, what you can manage effectively, and what you can shoot accurately." It's quite possible that, from a tactical perspective, an AR-15 or other rifle checks those boxes. Zach Peters shows us that, when used responsibly, the choice of a rifle for self-defense can have little legal bearing on whether or not a shooting is considered justified. On the other hand, Gerald Strebendt teaches us that a cavalier attitude towards violence can cast a rifle in a sinister light.
The lesson for the concealed carrier is that your attitude and mindset about self-defense and gun ownership may be reflected and amplified by your choice of weapon. For modest, responsible gun owners, the choice of a rifle may have little to no impact on the investigation of a self-defense shooting. For a braggadocious, irresponsible gun owner, the choice of a powerful, menacing-looking rifle can betray a mindset that evidences malice in an otherwise justifiable self-defense shooting.
---
SHAWN VINCENT- LITIGATION CONSULTANT

Shawn Vincent is a litigation consultant who helps select juries in self-defense cases, and he manages public interest of high-profile legal matters. If you have any questions for Shawn, or would like more articles like this, let us know belo