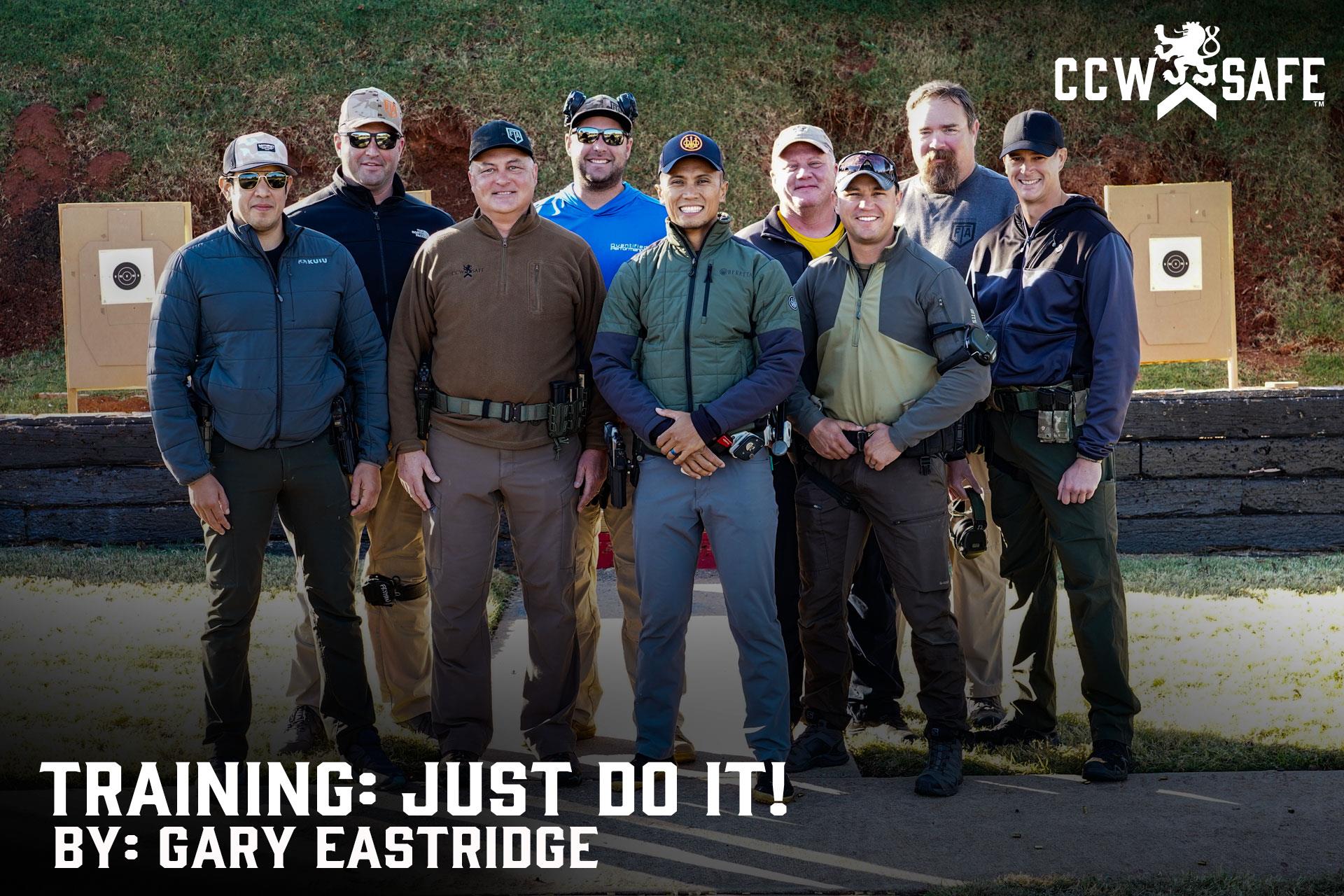 Posted on January 31, 2022 by support@ccwsafe.com in Training
TRAINING: JUST DO IT!
Set out below are some things concealed carriers might want to consider when selecting an instructor or course.
At CCW Safe we encourage members to seek training with the understanding that selecting a trainer can be a daunting task. This is especially when one is considering the costs of a course. Even a reasonably priced course can be costly for the average person. Course fees, range fees, travel costs, ammunition costs, and other expense can easily turn a $250 course into a course that costs several hundred to a thousand dollars. The one thing that is worse than the costs is the potential to take a course and leave feeling you didn't learn anything, or the course wasn't geared to your needs. Here are a few tidbits to consider when seeking training.
Training in the civilian world needs to apply to the civilian world. Hot helicopter insertions using night vision and carbines is not applicable to the everyday concealed carrier. The topic of sub-second draws and split times has been argued ad nauseam in the instructor community. What does all of this mean to you as a student? Determine your needs and select your instructor and their course carefully. Identify your goals and find the training that will help you achieve those goals.
Most instructors come from one of 4 backgrounds.
Competition
Military
Law enforcement
Civilian
Training courses are usually geared towards one of the following topics.
Marksmanship
Concealed carry tactics
Specialty courses such as defensive shotgun, defensive carbine, pistol-mounted red dot optics, appendix carry, and specialty tactics (usually law enforcement and military)
Medical skills
Combatives
I personally like a course that might touch on all of the above. This may not always realistic, but I enjoy learning new skills and tactics and finding those that apply to me.
Many instructors have more than one of those backgrounds. Some military members compete in civilian matches, and I personally know several law enforcement officers who compete in civilian matches as well as law enforcement matches. I also know many instructors whose background originated with an interest in shooting that eventually evolved into them developing their skills to the point they decided to teach. My personal take is that all backgrounds CAN have value in the training environment, but none of those backgrounds alone makes someone a good instructor.
Lets's look at some of the pros and cons of the backgrounds.
Competition
The skills of a top level competitive shooter can truly be amazing. If you have ever watched Rob Leatham or JJ Racaza run a pistol you know it is a work of art. These are two different men with two different styles who are extremely successful. They can teach you how to be efficient in movement, trigger control, sight picture/alignment and shooting. I was lucky enough to attend a Larry Vickers/Rob Leatham advanced pistol course a couple years ago and I left a better shooter. Leatham taught me things that were the opposite of some of the law enforcement training I have received, but yet they worked.
A competitive shooter may not have any hostile environment experience. However, the skills they teach can still apply to a hostile environment.
Military
Our country has been at war for the past twenty years. There is a plethora of highly trained former special operations operators offering training these days. When I started training in the 1980s Navy Seals, Green Berets, Delta operators, MEUSOC, and other high speed-low drag guys and girls were like unicorns. I read about them, but never saw them in the wild. I now know several former Delta soldiers, a dozen or so SEALs, and a truckload of other specialty MOS military members now. Some are great instructors, and some not. What do they bring to the civilian world? Hostile environment experience. Why do we conceal carry? For when our docile environment becomes a hostile environment. Some have real-world experience in carry and defending themselves in combat. The average concealed carrier is usually surprised to find that many have covert operations experience in non-permissive environments. They understand fighting to survive, fighting through adversity, and fighting through injury. Many from this last era of wars will have more critical incident experience than a civilian will experience in a ten lifetimes.
The negatives for the military instructor with a military background may be teaching tactics and skills that are geared towards a civilian environment but lack context and applicability. Too much "oorah" or "hooah" scorched earth tactics may not apply in the civilian realm.
Law Enforcement
I often hear how cops can not shoot, and I have to be honest that there is some truth to the statement. However when compared to those who conceal carry as a whole, cops do pretty well. Every year at the Rangemaster Tactical Conference law enforcement officers make it to the shoot-off. Law enforcement instructors have considerable experience in conflict resolution, and like military instructors they may experience more critical incidents in a year than most civilians will in a lifetime. Many law enforcement officers that end up as instructors have law enforcement pistol competition and/or special operations training.
The negatives for a law enforcement instructor may be similar to that of a military member. Much of the tactics of law enforcement can be more offensive than defensive. Officers frequently have to put themselves in situations rather than avoiding a situation like a concealed carrier.
Civilian instructors
I know several top-tier instructors who have no law enforcement, military, or formal competitive experience. But what they do have have is teaching skills. And since the purpose of a firearms course is to learn, teaching skills may be the most important aspect of firearms training. A civilian instructor may lack real-world experience in a manner similar to an instructor from a competitive background. However, the knowledge and skills that they do possess and are able to share still apply to the hostile environment.
So what does all of this mean to you as a student?Backgrounds and experience alone will not make them a good instructor. They have to have teaching skills and the ability to show how what they are teaching works.
So what do I look for in an instructor? Depending on my needs, I look for skills in the area I am trying to improve. I am a firm believer in being the best marksman I can be. The fundamentals of marksmanship are critical for a concealed carrier. I want to be able to shoot accurately enough to address a threat without creating a threat to innocent bystanders. The defensive incidents I have studied and been involved in never occur in a sterile environment. Once I have learned to shoot accurately and efficiently I like to focus on the specifics of my carry style. If I want training in appendix carry I will go to Spencer Keepers at Keepers Concealment. If I ever go to a red dot (unlikely) I will definitely seek out training from Scott Jedlinksi from Modern Samurai Project. Both are from the civilian and competitive world.
Once I have determined my needs, I look for an instructor who has training and or experience in that area (preferably it is both). I look at the instructor's background and his or her catalog of courses. I research the instructor. I learned a new acronym a few years ago: GTS ("Google that stuff"). Google the instructor. Look at their website and their social media and hopefully you will find some After-Action-Reports. These reports can be very helpful in selecting a course and instructor. When looking at an instructors bio I want to see what their training and experience level is. If I see a bio that has vague info (or as I call it "fluff)" I look elsewhere. Set out below are some examples of good information and not-so-good information.
Good information:
I served with US military unit XYZ.

I served with the Whatever City police department for X number of years with specialties listed. I shot USPSA, IPSC, IDPA followed by accomplishments.

I have attended the following training (training listed).
Worthless information:
I served with special operations (no unit listed).

I was a metro area police officer (no agency listed)
I have attended many training courses (no course listed).
I am a competitive shooter.
I have been very lucky to attend some top-tier training events. I have learned from military, law enforcement, competitive shooters, and civilian instructors. I found value in each regardless of the teacher's background.
Gary Eastridge


Gary is a retired law enforcement officer. He started with the Oklahoma City Police Department in February 1979, retiring in 2000 as an Inspector in the Homicide Unit. Gary also served as a department firearms instructor after receiving his CLEET certification in 1986. After retirement he worked as a police officer with the International Police Task Force (IPTF) in support of the United Nations Mission in Kosovo (UNMIK). Gary worked homicides with counterparts from 53 nations as well as mentoring local Police officers. Gary was named Chief Investigator for the Oklahoma County District Attorney's office in January of 2007, where he served until his retirement in April of 2017 to accept his position with CCW Safe. He reviewed all officer involved shootings occurring in Oklahoma County as well as in custody deaths and other significant and high profile investigations / prosecutions.