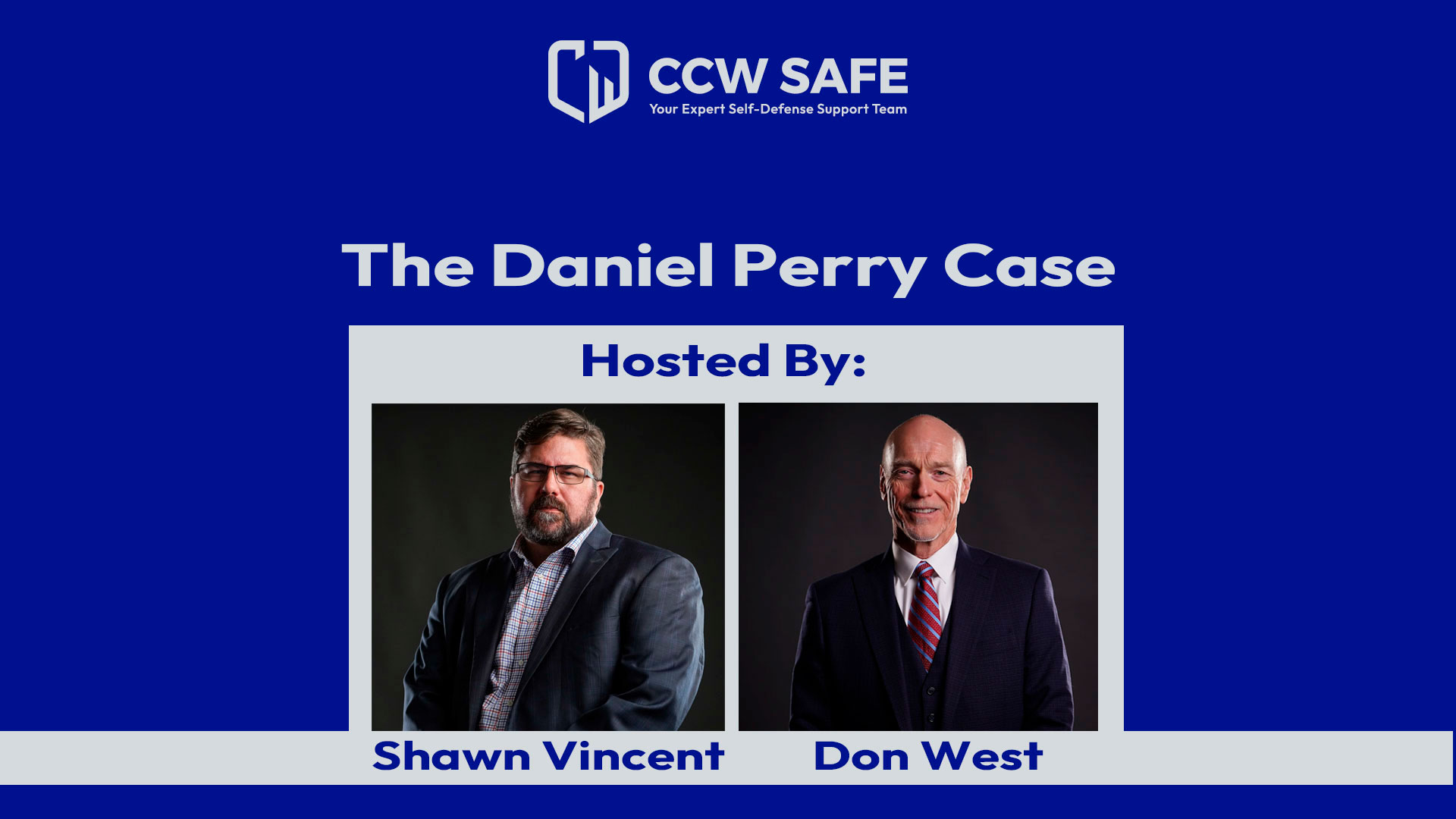 Posted on September 28, 2023 by Justin Collett in Don West, In Self Defense, Podcast, Shawn Vincent, Steve Moses
Video Series: The Daniel Perry Case Pt. 3
Don West and Steve Moses join Shawn Vincent to discuss how Sgt. Daniel Perry's conflicting statements to law enforcement helped unravel his self-defense claim in the shooting of armed protester Garrett Foster. 
Shawn Vincent:
Hey everybody, thanks for joining us. I'm Shawn Vincent. This is part three of our conversation about the Sergeant Daniel Perry shooting of Garrett Foster. This took place back in Austin, Texas in the summer following the police killing of George Floyd. Maybe you know this case. Sergeant Daniel Perry, an army sergeant, he was driving an Uber, moonlighting to make extra money. He drove his car into a crowd of demonstrators who were marching in Austin and the crowd surrounded his car. There was some banging on his car. He felt intimidated. A man named Garrett Foster, who was wearing tactical gear, he was legally carrying his AK47, approached the vehicle. Daniel Perry said he feared for his life, he shot and he killed Garrett Foster. Those are the main facts.
If you haven't seen our parts one and two of the conversation, you can go back and do that, but even if you didn't, that won't affect your enjoyment of today's conversation. I'll be joined by Don West. He's National Trial Counsel for CCW Safe, and our friend Steve Moses. He's a well-regarded firearms instructor and a CCW Safe contributor.
So with the facts that we know, that's what we knew when the shooting happened. It was more than a year before Daniel Perry was arrested. The trial was just back in April of this year. That's 2023. And what we learned in trial is there are some things that are a little bit different than what we initially thought. We've come to learn that Daniel Perry said that Garrett Foster raised the rifle at him before he fired. He gave a statement to investigators that suggests that he hadn't raised his rifle yet. He just feared that he would. Witnesses also say that Garrett Foster didn't raise the rifle. Steve Moses, in this episode, is going to mention that Daniel Perry rolled his window down to engage with Garrett Foster before he fired. That would demonstrate that the fear of the imminent threat wasn't necessarily there.
We also learned that Daniel Perry ran through a red light to turn to get to where the protesters were. Daniel Perry said that he had been texting and that's why he didn't realize that he was suddenly in the midst of these demonstrators. There was evidence presented at trial that suggests that he was not on his phone at that time. It made him look like a liar and made him look like he intentionally went towards the protesters. We're going to talk about some social media evidence about things that Danny Perry posted online before this event that really did him in at trial. Don mentions this a little bit, but when you take his previous statements to suggest he was looking for a confrontation with this evidence that was presented at trial, and then compare that to how they conflict with his initial statements and his initial account of what went on, we can start to understand how somebody was convicted of murder for shooting somebody who approached them in tactical gear and carrying a rifle.
It's an interesting conversation. Here's me talking with Don West and Steve Moses about the Sergeant Daniel Perry shooting of Garret Foster.
Don West:
There was an initial narrative that seemed to be published extensively that Daniel Perry was a moonlight Uber driver, and he was out working, and that by accident he made a wrong turn and all of a sudden winds up in the middle of this protest and people are swarming the car and, in moments, this fellow with the AK47 is approaching him aggressively and raised the gun and pointed it at him, and that's when Daniel Perry shot him five times. We know that's not completely true. Aspects of it may be true, but that's a pretty sympathetic and compelling narrative in favor of self-defense. Tragic probably, but not necessarily unlawful if those facts bear out. But the more information that was released, and frankly not much of it that I recall was released for that whole year that he was being investigated prior to him being indicted. You learn more about whether he ran a red light, whether he was actually texting, was he actually purposefully going into the crowd, what he had said on social media about his views of protestors, and that first very concise, tight explanation began to unravel. And I circle back to Shawn's quotation of the statement that he made to law enforcement early on that he was afraid he was going to aim the gun at him. I don't know-
Shawn Vincent:
"I believed he was going to aim it at me. I didn't want to give him a chance to aim it at me."
Don West:
Yeah, so I don't know what exactly he meant by that. I can tell you though, as a defense lawyer, that's a mess. All of a sudden you're backpedaling trying to figure out what he meant by that. I think that's a big mistake he made in the case was making statements like that, trying to explain things at a minimum that was awkward and clumsy, not compelling, and certainly not particularly supportive of a claim of self-defense. Just with that little excerpt without having the benefit of counsel, we want people to say, "I was attacked. I had to act in self-defense," but when you get much beyond that, you run the risk of exactly the thing that Shawn quoted that he said, which meant I think his lawyer started having to push uphill.
Shawn Vincent:
Right. It sounds like what he's saying is that I wasn't in imminent fear for my life at that moment, but I was afraid I was about to be in imminent fear, which means he fired a moment too soon before that window of legal justification opened up. That could be an interpretation of what he said, right, Don?
Don West:
Yes, and that's something you would have to explain and perhaps backpedal from in some way, or explain why that wasn't exactly what he meant to say or what he would've said had he thought it through, he would've said it differently. As soon as you start having to reconfigure and explain something that you said to the police, that starts the case off, you put yourself at great exposure and highly vulnerable to it being taken out of context or misinterpreted, and frankly, we know, and I think you were about to say that Detective Fugitt did not arrest him at that moment, but he certainly got that statement, and I think – didn't Fugitt say ultimately that in his mind self-defense was still a possibility and that justified why he didn't place him under arrest at the moment?
Shawn Vincent:
Yeah, the article he said he testified at trial. Adversarially to the prosecutor, by the way. It's only in self-defense cases, Don, where I've ever seen the prosecutor get rough with a law enforcement officer on the stand.
Don West:
You don't see that very often, yeah.
Shawn Vincent:
Because this law enforcement, because this law enforcement officer testified that he thought Perry had a legitimate claim of self-defense and that's why he let him go.
Don West:
The interesting thing to me is all of that, and now our perception of the case has changed so dramatically from the way that it was initially described.
Shawn Vincent:
The fact, and I don't know how they disprove this or discredited this at trial, but his claim that he was texting and didn't know he was driving into the protesters, I don't know how they discredited it, but it seems like that was roundly discredited and that's consciousness of guilt evidence, isn't it Don? If he's making up stories to try to make it look better for him, that makes it look so much worse.
Don West:
Yeah. You're stuck with everything you say right from the beginning, and if it doesn't match up perfectly, not with just other statements that you make and statements that others may make, but also the physical evidence, and you're really talking about physical evidence, do they have text messages or data of some sort to disprove what he was saying? If what you say doesn't match up with that, it's exactly right. You've lied in their mind. There being, well you might start with law enforcement then the prosecutor, but ultimately who really matters is have you lied to the jury? And it doesn't really matter whether you were lying then or you're lying now, once you are seen as a liar and the most critical points of your defense depend on the jury believing what you say about the important stuff, you've just dug yourself a huge hole.
Steve Moses:
One thing that I kind of wanted to bring up is there was a reference to him running a red light, and I was a little bit curious as to why exactly the prosecution thought that was something that pointed towards him wanting to be someplace he probably shouldn't have been. And then the other thing is in terms of texting, is it simply possible also that he was just simply looking at his phone as opposed to actively texting on it or anything else at that time? It just does not really make sense to me what exactly transpired when he ran a red light, then claimed he'd been texting and he didn't notice that there was a crowd. That's a weird story to me.
Don West:
Well Steve, if we're playing devil's advocate just a little bit, all of that is very legitimate, good areas for deep exploration, and it would make a whole lot more sense if he hadn't already posted on social media, "I might have to shoot some protesters on my way home."
Steve Moses:
Exactly. That makes sense to me. Shawn, one of the things that caused me a little bit of concern about this of course, was the fact that at some point, apparently during that encounter, he rolled down the window. And that in and of itself just kind of suggests that imminence was not a major factor to him right that moment if he was, "Okay, I need to roll down my window before I can shoot this guy," as opposed to, "Oh my gosh, I need to shoot this guy right now and I shoot him through the window."
Shawn Vincent:
That's a great point, Steve. Because we explored a case out of Davy, Florida where there was a road rage incident, and the defender was a Marine veteran, and he was talking on his phone and he cut a guy off in traffic. And this guy got mad at a red light, he rolled his window down because he was saying, "Hey, that was my bad. I'm sorry about that," but the other guy was already on the rampage and came out of his car with his gun and they got in the gunfight. They both died. A tragic case. And one of the conclusions we came to in that case is that whether or not he meant to apologize, just rolling down the window in that low-context of road rage is almost an escalation of it. It's an engagement where what you want to do is disengage, so by rolling down the window in the Perry case, Steve, you're suggesting that this is a guy who is looking to have an engagement with somebody who's coming up to his car.
Steve Moses:
Very suspicious. I'm very suspicious. I think many of the things that took place with Foster would definitely cause me concern, most especially if I were in my car and I was basically not in a position where I could drive off. But I don't think that whatever Foster did caused him at that particular moment to think, "Oh, I need to go ahead and shoot this person." There was just something about rolling down the window to do that that just suggests that, okay, maybe he was acting upon something that he'd wanted to do for some time, or this is one of those times, can I shoot him, may I shoot him, must I shoot him? And there's been several guys that I think probably are the ones that were responsible for coming up with that. But I think basically this may have been, "May I shoot him," as opposed to, "Must I shoot him?" I think that might be what occurred here.
Don West:
Since we're talking about the may I/should I paradigm, let me also attribute some of that thinking and very scholarly work on that paradigm to Steven Harris, who's a lawyer in Florida who has written extensively on it, and regardless of how you come to that, if you find his articles and discussion, it's a very valuable process and well worth the time to go through and understand how he explains it.
Shawn Vincent:
Steve, you're talking about when Perry's in the car, is surrounded by these protestors and whether he found himself there on accident or whether he drove there on purpose, still scary when a guy comes up to you with a rifle. But it really does change your perspective on his culpability if he chose to put himself in that position. It re-frames how we think about it doesn't it?
Steve Moses:
It does for me. It also reminds me a little bit of … was it Drejka, in which he shot a man after being pushed to the pavement?
Shawn Vincent:
That's right.
Steve Moses:
Where's that pause, and then I believe it was like, okay, he took a microsecond where the victim actually took a step back and then shot him, very much I think perhaps that was perhaps his thinking. I think that's just something that we as concealed carriers need to take into consideration the fact that just because, "Hey, I'm actually lawfully probably okay to go ahead and use a gun or threaten use of force and everything," it may not be one that's actually mandated and one that I need to do in order to protect my life.
Shawn Vincent:
You talked a little bit about the hay that the prosecutors made about him running the red light, and so let's set up a scenario. Let's assume that he knew that there were protests going on in Austin. I think that he did. He knew that they were downtown, he knew he was downtown. He knew that encountering that was a possibility. Whether or not he saw he had turned into that crowd, how soon before that, a little better situational awareness, let's say, could have alerted him to what was going on and then he could have made a different decision about whether he wanted to engage with those folks by driving close to them.
Steve Moses:
Oh, absolutely, absolutely. And even giving him the benefit of a doubt, is that if he had actually been driving down a street and all of a sudden he saw them ahead of him and he didn't have any side streets to turn off of, in circumstances like that you're not having probably heavy traffic anyway. I would probably be perfectly happy trying to back out of there or just do a J-turn and go the other direction. Typically, you're not going to just be driving all of a sudden, poof, there's a crowd of 20 people that just magically emerge. You had probably plenty of signs that something was going on, and rather than driving towards that or getting any closer, then the best thing to do would be to exit that area immediately.
You're an Uber driver, perhaps you needed to pick somebody up and everything, well then if you've got protests going on, it's probably not going to be safe for you, it's not going to be safe for them. You always have the option of refusing that or finding a different route in order to get your job accomplished. And I think that's a big part of it is people don't want to be inconvenienced. Sometimes life is just inconvenient, and you're going to probably just have to do something that maybe you normally wouldn't have done. That maybe takes up more time, but in the long run is a lot safer.
Shawn Vincent:
Is not more inconvenient than a criminal prosecution.
Steve Moses:
Oh, absolutely, absolutely. It's kind of like when you see people driving and they miss their turn and they just slow way down, or they start trying to crowd over and everything. Well, in some instances, car wrecks incur. And I'll tell you what, it's very inconveniencing to have your car banged up and in a shop or have your insurance rates, or actually maybe being injured, killed, or hurting somebody else. So in that particular instance, go ahead and be inconvenienced, take the extra time and do the safest thing that's possible.
Shawn Vincent:
All right, that's it for this segment. Next time we're going to dive deep into the social media posts and the messages that Daniel Perry sent in advance of this incident that demonstrated that he had the desire to have a confrontation with demonstrators and had envisioned a scenario where he would have to shoot somebody, and how that really detrimentally affected his criminal defense. Until then, be smart, stay safe, take care.
Don West:
And it doesn't really matter whether you were lying then or you're lying now.