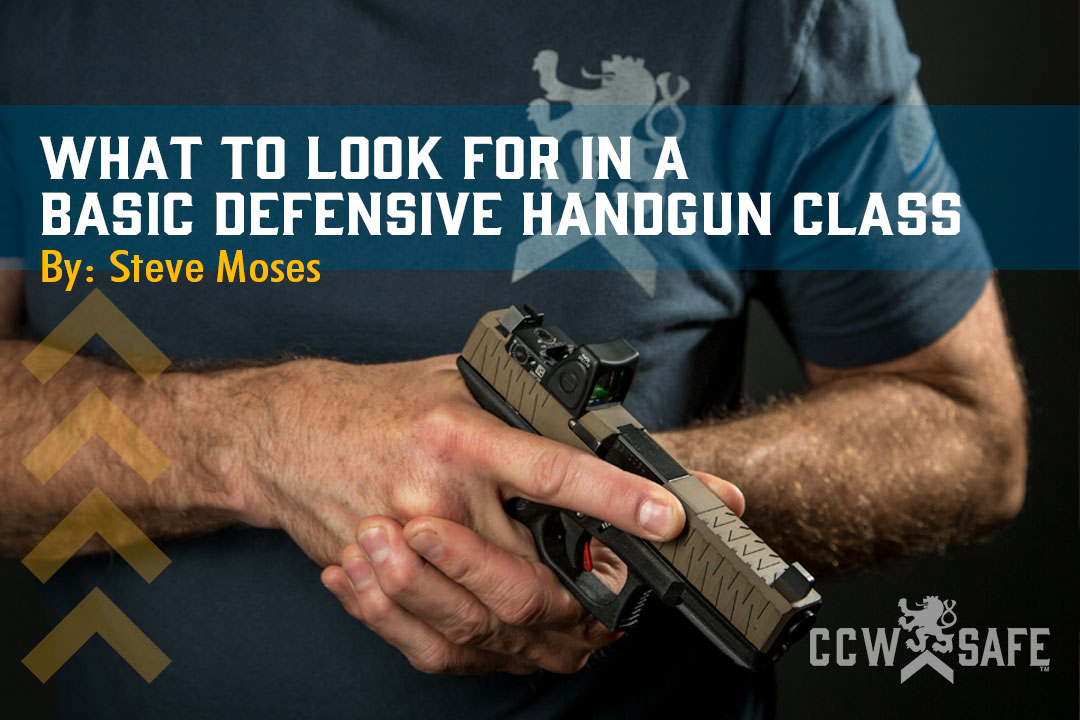 Posted on April 29, 2019 by Steven Moses in Training
WHAT TO LOOK FOR IN A BASIC DEFENSIVE HANDGUN CLASS
WHAT TO LOOK FOR IN A BASIC DEFENSIVE HANDGUN CLASS
In my opinion, concealed carriers should look for basic defensive handgun classes that teach knowledge, gun safety, gunhandling, and marksmanship skills necessary to deal with the most likely defensive shooting scenarios in which they may find themselves involved. The majority of these events will take place outside of the home at relatively close range and may involve multiple attackers. Less likely, but not statistically insignificant, encounters may involve home intruders. It is my understanding that assaults on females are often committed by males that they know, whether partner or someone else they know. A basic class is no place to cover topics like active shooter response, hostage rescue, vehicle self-defense, team tactics, and low-light shooting.
It is important to realize that not all defensive handgun trainers come from the same backgrounds, possess the same levels of knowledge, have the same egos, and own the necessary abilities to effectively convey critical information and diagnose and correct small gunhandling and shooting errors. Flashy websites and glowing reviews performed by anonymous parties are no guarantee that an instructor is competent to prepare students to deal with potentially the most dangerous situation in which they may find themselves ensnared and the possible legal nightmare that might follow.
In my opinion, a basic defensive handgun class will not involve a high round count. A significant part of the class should revolve around awareness, avoidance, disengagement and/or de-escalation, and tactics that might convince a potential or actual attacker that it is in their best interest to not follow through. Most criminal assaults follow a timeline of See, Choose, Close, and Act, which means that the assault can possibly be interrupted during the first three phases. Instructors should clearly explain Use of Force options appropriate to the level of force threatened by an attacker or attackers, and consequences for utilizing the incorrect option. At some point, safely and competently presenting a concealed handgun and shooting with the accuracy necessary to stop a determined attacker as quickly as possible may be needed, so quality time spent on teaching the proper basics is critical. Distances and speed requirements should reflect the distances at which most assaults occur while acknowledging that anomalies do occur.
Instructors should have a verifiable reputation for being knowledgeable, patient, safety-oriented, and yet demanding. It may not be possible for many concealed carriers to hit an 8" bullseye target at 25 yards, but it is possible for most concealed carriers to eventually get to the point that they can draw a handgun from under a concealed garment and get his or her first solid hit on the same target at the distance of a parked car in under two seconds.
Vetting instructors may require some effort. It pains me to say that there is a range of instructors that varies from completely unacceptable to simply outstanding, so the old maxim "Buyer Beware" applies. In my opinion, the better instructors should be able to provide a resume that shows they have trained under some of the best-known civilian trainers and have completed legitimate instructor classes. This is not advice from me advising new students to avoid some talented instructors whose backgrounds are entirely law enforcement or military. I recommend training with these individuals after establishing a solid foundation based upon the laws, rules, and even attitudes of the communities in which they currently live.
If a reader were to ask me what the difference between a basic gunfight, an intermediate gunfight, and an advanced gunfight was, I would struggle to answer. At the moment that an individual or individuals is threatening to or in the act of trying to injure or possibly kill me or my loved ones, I suspect that any difference that might matter is slight. What will matter is my ability to see what is unfolding, process it correctly, and respond using guess what? Basic skills! Mastery more often than not is the ability to perform the basics without error at a high degree of competence. The majority of concealed carriers who have completed a solid basic defensive handgun class, routinely practice, and pro-actively use the knowledge they learned in order to operate more safely as they go about their lives have greatly lessened the chances they will come up on the losing end of most common deadly force situations.
From there we can even better prepare ourselves for more complex situations. We want to be better prepared to deal with the home intruder in low light, the carjacker, and the active shooter. It might surprise the reader to learn that an acceptable active shooter response for concealed carriers includes safely disengaging the scene if possible in such a way that they don't get shot by the shooter or responding law enforcement. If someone suddenly attacks us at close range with a cutting instrument before we can get to our handgun, we want to have an effective response in place. It is important to us to have some basic medical equipment on her person and the knowledge to correctly use it if called upon. All of this however, is predicated upon the concealed carrier having a solid defensive foundation, and the best way to start is by taking a basic class from a competent instructor.
---
Steve Moses

Steve is a long-time defensive weapons and instructor based out of Texas who has trained hundreds of men and women of all ages for more than two decades on how to better prepare to defend themselves and their loved ones. Steve has completed over 80 private-sector and law enforcement-only defensive weapons and tactics classes, and has trained civilian and law-enforcement officers in six states. Moses is a reserve deputy, former member of a multi-precinct Special Response Team, competitive shooter, and martial artist. Steve has written numerous articles for SWAT Magazine and other publications. Steve is a licensed Texas Level 4 Personal Security Officer and Instructor who was Shift Lead on a mega-church security detail for seven years, and has provided close protection for several former foreign Heads of State. He is currently an instructor at Relson Gracie Jiu Jitsu/Krav Maga in Tyler, Texas and Director of Training for Palisade Training Group (www.ptgtrainingllc.com).