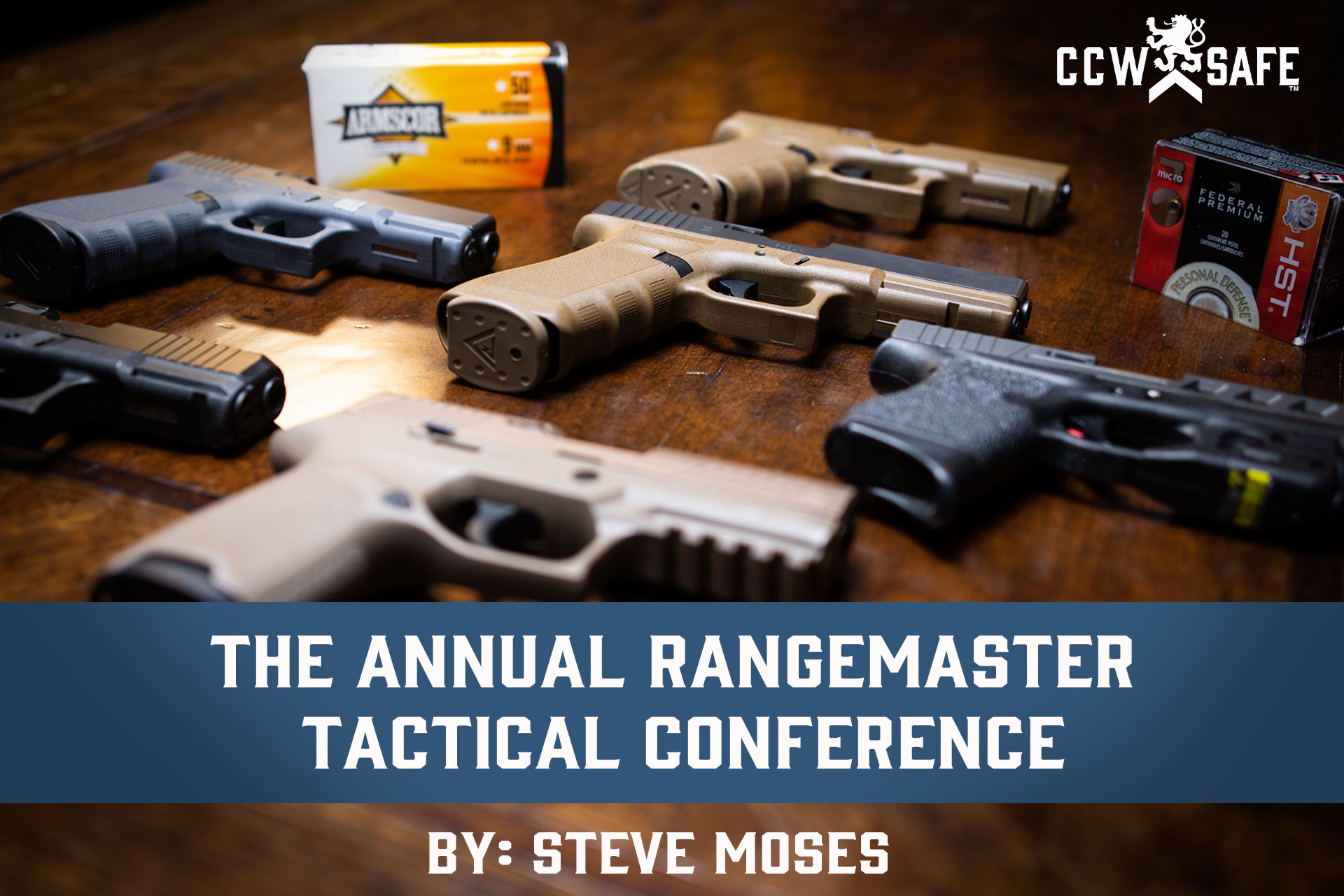 Posted on December 16, 2019 by Steven Moses in Training
WHY CONCEALED CARRIERS SHOULD FLOCK TO THE ANNUAL RANGEMASTER TACTICAL CONFERENCE
WHY CONCEALED CARRIERS SHOULD FLOCK TO THE ANNUAL RANGEMASTER TACTICAL CONFERENCE
"This is the premier training event of the year for anyone interested in personal defense. Dozens of well-known trainers will conduct two-hour and four-hour blocks of instruction in handgun, shotgun, empty-hand skills, emergency medical and trauma care, legal issues, defensive tactics, and much more. Trainers include Tom Givens, Lynn Givens, Massad Ayoob, John Farnam, Craig "Southnarc" Douglas, Chris Cerino, Gabe White, Tatiana Whitlock, Karl Rehn, Wayne Dobbs, Darryl Bolke, John Hearne, and many more. Attendees may participate in as many training blocks as time allows over three full days of training. There is also a defensive pistol match. Your conference fee covers attendance at any training block and entry in the pistol match. This is the 22nd year for this event, and we're excited to come to the Dallas area for the first time. Tac-Con fills several months in advance every year, so please don't delay. Detailed information, equipment lists, lodging info, etc. will be sent to registered attendees by email."
The wording above was taken directly from the announcement for the 2020 Rangemaster Tactical Conference, and by the time this article is published the event is likely to be close to being be sold out. I attended my first Tactical Conference in 2004, and since that time I have attended every event except one (which I missed due to a death in the family). It is my opinion this is the best training opportunity available every year for concealed carriers.
In my opinion, concealed carriers should never stop being students. It is easy to become a "dinosaur" if much of their doctrine is stuck in the past. One of the best ways to avoid that is to attend courses taught by multiple instructors, and the beauty of the Tactical Conference is that Rangemaster owner and instructor Tom Givens, already one of the best instructors in the United States, hand-selects the instructors that will be presenting classes covering a wide variety to topics. Set out below are some of the classes that were taught at the 2019 conference:
Ammo Update: Loads for Personal and Home Defense (Martin Topper)

Handgun Draw: Making the First Shot Count (Erik Pakieser and Rolf Penzel)

Improvised Trauma Cara: The McGyver School of Medicine (Sherman House)

Social Lever gun (Lee Weems)

Strategies, Options, and Tactics (Claude Werner)

History of the National Tactical Invitational (Skip Gochenour)

Translating Technical Skills into Tactical Success (Gabriel White)

Critical Fundamentals: Skills and Drills (Wayne Dobbs)

Just Enough Jits (Cecil Burch)

Preparing for Medical Emergencies on the Range (Caleb Causey)

Controversial Acquittals (Massad Ayoob)

Great American Gunfights (John Hearne)

Intro to Handguns- Ladies Only (Eve Kulcsar and Julie Thomas)

Mission Drives the Gear Train (Darryl Bolke)

Recoil Management (Paul Sharp)

Take a Seat (Tatiana Whitlock)

Take it Back: Hostile Weapons Disarms and Recovery (Fletch Fuller)

Beyond the 1% (Karl Rehn)

Empty-Hand Skills for Gunfighters (Greg Ellifritz)

Surviving the Extreme Event (John Holschen)

All about Optics (Jon Skubis)

Concealed Carry and the Modern Women (Tatiana Whitlock)

Domestic Defensive Handgunning for Operators (John Farnam)

Between Harsh Words and a Gun (Chuck Haggard)

Police-Citizen Contacts (Lee Weems)

Home Invasions (Tom Givens)

Getting Your Gun into the Fight (Cecil Burch)

Active Killer Response (Ed Monk)

Experiential Learning Lab (Craig Douglas)

Refinement and Practice for the Armed Citizen (Brian Hill)

Social Shotgun (Tom Givens)

Street Encounter Shooting Skills (John Murphy)

The 5 W's of Risk (William Aprill)

Trauma Care for Your Pet (Lauren Pugliese)

Appendix Holster Skills (Spencer Keepers)

Small Impact Weapons-Saps and Jacks (Larry Lindenman)

Changing Gears (Ashton Ray and Tim Chandler)

Close-Range Carbine (John Hearne)

Practical Folding Knife Skills (Chris Fry)

The Evolution of Modern Firearms Training: A Century of Gradual Progress (Tom Givens)

Martial Arts for Middle-Agers (Steve Moses)

The Changing Face of the Industry (Aqil Qadir and Tiffany Johnson)
It should be readily apparent that this is likely the most cost and time-efficient way for concealed carriers to train under some of the best trainers in the self-defense community. Cost for the three-day 2020 Tactical Conference is only $395.00, which is equivalent to or less than many two-day training courses. As if that is not enough, there is plenty of opportunity to meet and socialize with other like-minded concealed carriers and trainers. I would be one of the first to admit that I have been hugely impacted over the years as a result of my attendance at the Tactical Conferences, and that I think that the classes that I teach today are far better as a result. Probably the greatest compliment that I can offer to Tom Givens and the Rangemaster crew is that I intend to continue attending the annual Tactical Conferences as long as I can.
---
Steve Moses

Steve is a long-time defensive weapons instructor based out of Texas who has trained hundreds of men and women of all ages for more than two decades on how to better prepare to defend themselves and their loved ones. Steve has completed over 80 private-sector and law enforcement-only defensive weapons and tactics classes, and has trained civilian and law-enforcement officers in six states. Moses is a reserve deputy, former member of a multi-precinct Special Response Team, competitive shooter, and martial artist. Steve has written numerous articles for SWAT Magazine and other publications. Steve is a licensed Texas Level 4 Personal Security Officer and Instructor who was Shift Lead on a mega-church security detail for seven years, and has provided close protection for several former foreign Heads of State. He is currently an instructor at Relson Gracie Jiu Jitsu/Krav Maga in Tyler, Texas and Director of Training for Palisade Training Group (www.ptgtrainingllc.com).